Full-Day Yala National Park by Ajith Safari | Award Winning Guide
Private trip
·
Up to 6 people
Full-Day Yala National Park by Ajith Safari | Award Winning Guide
Private trip
·
Up to 6 people
Highlights

Details

Includes

Meet At

Availability

Guide

Cancellation & Rescheduling
Highlights
Highlights
Award-winning guide who has been hosting for more than 30 years
Knowledgable Driver/guide
Hotel pickup and drop-off
Details
Details
Explore the breathtaking landscapes of Sri Lanka with Ajith Safari Jeep Tours. As the only operator mentioned in Lonely Planet and the number one provider on Trip Advisor for more than few decades.Our team of experienced driver-guides and tour designers are committed to making every effort to fulfill your life-long dreams. We offer a range of safari packages to suit every interest and budget, from encountering Asian elephants to witnessing the elusive Sri Lankan leopard.We take pride in our commitment to eco-friendly and sustainable operations, ensuring that our safaris safeguard the natural beauty of Sri Lanka. For over 25 years, we've served clients from around the world with comfort, enjoyment, and adventure.Join us on an unforgettable safari through Yala National Park and experience the beauty and wonder of Sri Lanka like never before. With our expertise, instincts, and dedication to excellence, you're sure to have a memorable and exceptional safari experience.
Tags: Wildlife Safaris, Wildlife Safaris
What's included
What's included
Coolbox with Snacks and Water.

All game drives in our 4x4 customized Luxury Jeeps (Exclusive jeep for you, No sharing with others, Private tour)
Meals other than mentioned in the inclusion
Show all inclusions & exclusions
Where You'll Meet
Where You'll Meet
Your host provides free pick up from:
Anywhere in Yala
Anywhere in Tissamaharama
Anywhere in Kirinda
Anywhere in Kataragama
Anywhere in Weerawila
Please indicate in the booking form where you would like to be picked up from.
Anywhere in Yala
Free hotel pick up and drop (From the hotel in Yala, Tissamaharama, Kirinda, Kataragama, Weerawila, Hambantota area)
Details
Availability
Availability
Prices shown in SGD
What You'll Do
What You'll Do
Itinerary: Yala National Park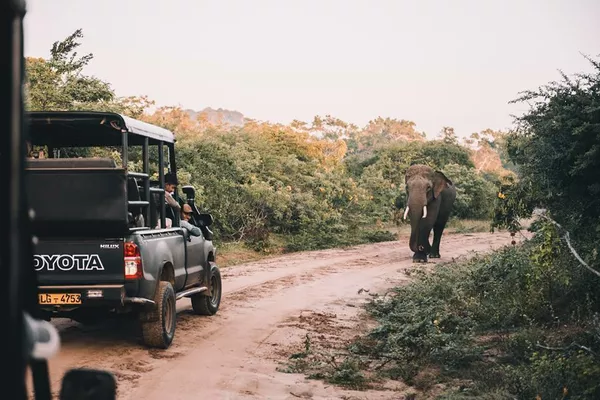 Today you will get the chance to spot wildlife in Yala National Park
First Try is to get in to the park as one of first Jeeps. That will give us maximum opportunities everyday.  
Early morning first 2 hours and the day end last hour and half is the golden hours for the leopard spotting.  
Therefore we will not waste our time with the common animals or birds within this time.   
After this Golden Hours we will change the driving style in to explaining process and stop by every single thing we see on our route.  
Within this tours to Yala, Big 3 is Leopard, Sloth Bear & Elephants. Other than that Many other different animal like Crocodiles, Monkeys, Dears, Birds, Mongoose...  
Many people in there reviews mentioned that the Yala is very busy, I have to say this. We will not drive only the main road of the park. Over set of Toyota Hilux/Toyota Land Cruiser Jeeps are able to Drive any road in the park and we will.
View details
This is a sample itinerary and may be weather-dependent. Start/end times may depend on transport chosen.
Meet your host
Meet your host
Ajith Safari Jeep Tours is one of Sri Lanka's leading safari providers that specialize in custom-made small group safaris in multiple locations around the island. Their knowledge of the game animals, roads and the local cultures is unmatched. At the same time, they have the ability to ensure your safety during the safari due to their expert knowledge of driving through any kind of terrain.
36 years experience
Fluent English
Community-Based
Litter-Free
Wildlife-Safe
Cancellation & Rescheduling