Details

Includes

Meet At

Availability

Itinerary

Guide

Cancellation & Rescheduling
Details
Details
Bromo tour packages from Surabaya are the best recommended packages for those of you who want to have a vacation to mount Bromo in East Java. This trip has a duration of 2 days 1 night which is perfect for those of you who have short vacation time.In this 2 day tour you can enjoy the best spots in Bromo, such as: Seeing the sunrise at the top of Penanjakan, Seeing the active crater of Bromo, Enjoying the view on the savanna and lastly the photo session at Whispering Sands. Besides that, you will drive a hardtop Jeep to enjoy the natural beauty of mount Bromo.During the tour we will provide complete facilities ranging from transportation, lodging accommodations around Bromo, to entrance tickets to Bromo National Park. We will start this tour by picking up participants from the city of Surabaya. Pick-up can be located at the airport, station or inn in the city.
Suitable For: Vegetarians, Pet-Friendly
Tags: Nature Walks, Mountain Climbing, Hiking
Trip Highlights
What's included
What's included
Transportation from Surabaya for 2 Days 1 Night

Private car with air conditioning + gasoline + Licensed driver

Fee highway and Parking car

1 night hotel *3 around Bromo

Entrance fee ticketing to National park for foreigner tourist

Mineral water for whole trip
Guide full trip additional IDR. 300.000,- / Day
Show all inclusions & exclusions
Where You'll Meet
Where You'll Meet
Your host provides free pick up from:
Surabaya hotel or airport
Surabaya hotel or airport
Surabaya, Surabaya City, East Java, Indonesia
Details
Availability
Availability
Prices shown in SGD
What You'll Do
What You'll Do
Day 1: Surabaya - Bromo National Park
Pick up from Surabaya - Hotel in Bromo
11.00: Pick up participants in Surabaya (Juanda airport, station, terminal or hotel)
11.30: Head to the inn in the Cemoro Lawang area or around Bromo with an estimated travel time of 2.5 - 3 hours.
14.00: Arrive at the inn, check in and free program.
View details
Day 2: Bromo Tour - Drop in Surabaya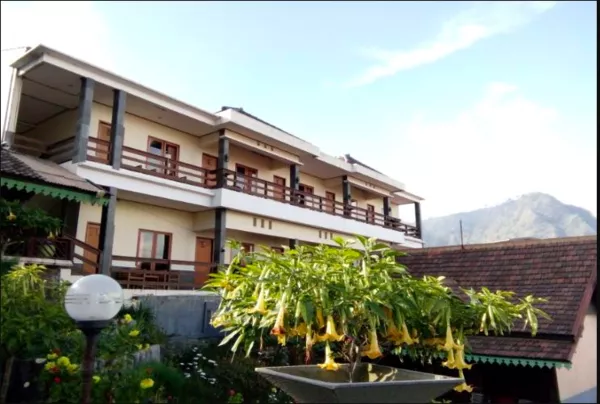 You will trek to Sunrise point and explore bromo area with Jeep
02.00: The participants wake up to prepare for the Bromo tour.
03.00: Drive with a Hardtop Jeep to the top of the climb to see the sunrise.
06.00: After the sunrise tour, continue the journey to the crater of Mount Bromo and Pura Poten.
08.30: After exploring Bromo, return to the inn for breakfast, cleaning and packing.
11.00: Check out and we will take you to Surabaya.
14.00: Arrive in Surabaya and the program ends.
View details
This is a sample itinerary and may be weather-dependent.
Meet your host
Meet your host
A tour operator in East Java, based in Probolinggo and Surabaya city specialized in providing tours in Bromo, Ijen, Malang city and other activities in East Java. They also have Eco tour program in Baluran National Park and turtle conservation in Sukamade.
9 years experience
Basic English, Bahasa
Community-Based
Litter-Free
Cancellation & Rescheduling
Helpful Questions
Enough money to bu souvenir in Bromo
Warm jacket (can rent at Bromo)
Hi, how much to hire a driver from surabaya to mount bromo
Yi long , 08 Feb 2023
Can i contact the tour operator directly?
valerie, 14 Aug 2022
Hi Valerie, You will be provided with the tour operator's contact number once the booking is confirmed (: