Ultimate Yacht Party with Karaoke, Beer Pong, BBQ, and More!
Private trip
·
Up to 12 people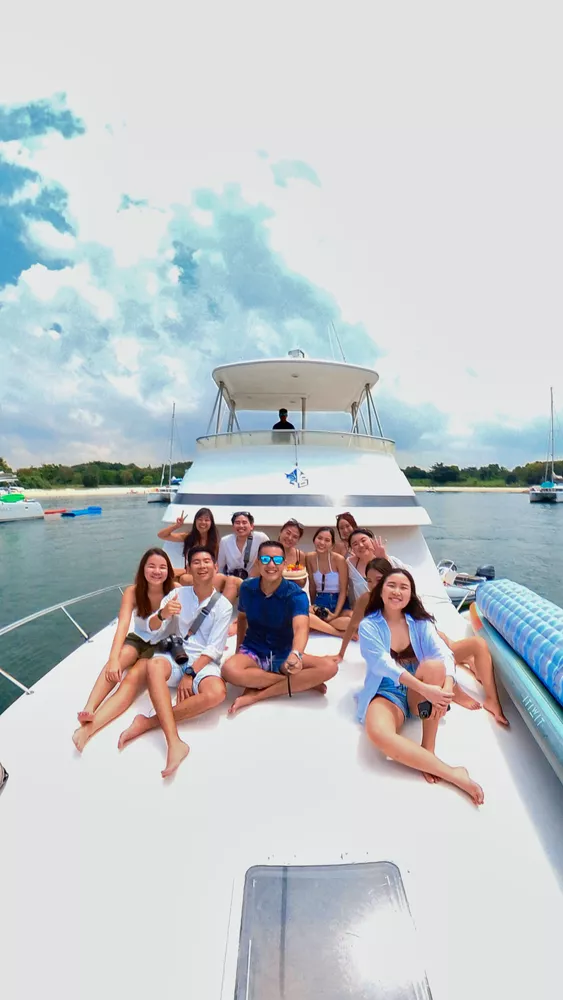 Ultimate Yacht Party with Karaoke, Beer Pong, BBQ, and More!
Private trip
·
Up to 12 people
Highlights

Details

Includes

Meet At

Availability

Guide

Cancellation & Rescheduling
Highlights
Highlights
Party like a VIP on the White Pearl - the perfect yacht for club parties
The perfect yacht for any occasion - the White Pearl has it all
Goes to Lazarus (Eagle Cove or Lazarus Jetty)
Details
Details
White Pearl offers a unique and exciting activity perfect for any occasion! Picture yourself cruising along the beautiful waters of Singapore, surrounded by the stunning skyline, while enjoying the ultimate karaoke experience with your friends or colleagues. Sing your heart our with our top-of-the-line sound systems and feel the party vibes as you play beer pong on the deck. And to top it off, our onboard grill will serve you up a mouth-watering BBQ feast. With White Pearl, you can indulge in all of these exciting activities and more, all while soaking up the sun and enjoying the beautiful views of Singapore. Don't miss out on this unforgettable experience - Book your charter now!Yacht DetailsWhite Pearl is a 43ft Riviera Platinum with an extended swim platform. She is equipped with air-conditioning, a toilet with shower, a kitchen with an induction stove & microwave, a BBQ Charcoal, and a karaoke system.Yacht Facilities & Amenities60K+ songs Karaoke System with 2 mics55" TV with Netflix & moreJBL Partybox 100 Bluetooth SpeakerBeer Pong TableToilet with showerKitchen induction stove & microwaveBBQ Charcoal GrillIce MakerFridgeWater Sports & ToysStand Up Paddle BoardExtra Large Water MatXL Floatie (fits 3 pax)Dice for drinking games
Tags: Yacht Rentals, Yacht Rentals, Kayaking, Stand-Up Paddleboarding
What's included
What's included
4-hours onboard White Pearl

1 Paddle Board (Subject to availability)

1 XL Water Mat (Subject to availability)

Powerhouse Karaoke System

XL Ice Box (ice not included)
Additional Weekday Hour: $150

Additional Weekend Hour: $200

BBQ Cooking & Cleaning Service: $100

Fishing Equipment: $30/set (baits not included)

Cutlery & Plates (Only available for Private Dining Charters)

Peak & Public Holidays subjected to surcharge of 20% which is collected separately when booking is confirmed.
Show all inclusions & exclusions
Where You'll Meet
Where You'll Meet
Meet at
Marina at Keppel Bay Lobby
Marina at Keppel Bay Lobby
2 Keppel Bay Vista, Keppel Bay Vista, Singapore
Details
Availability
Availability
Prices shown in SGD
What You'll Do
What You'll Do
Itinerary: Trip to Lazarus Island
Have fun on a luxurious yacht with many amenities!
Depart from Marina at Keppel Bay
Anchor at Lazarus Island. Enjoy BBQ or chill in the waters with complimentary water toys. The High Seas Yacht is equipped with the best sound systems, karaoke, and water toys to party your hearts out.
Return to Marina at Keppel Bay
View details
This is a sample itinerary and may be weather-dependent.
Meet your host
Meet your host
High Seas Entertainment is a premier provider of entertainment and adventure on the high seas. Our company offers a range of activities, from thrilling water sports and exciting fishing expeditions to peaceful sunset cruises and memorable island adventures. We strive to provide our guests with a truly unforgettable experience, filled with fun, excitement, and relaxation. Our team is dedicated to delivering the highest quality service and creating customized trips to suit the individual needs and preferences of each and every one of our guests. Whether you're a solo traveler, a family, or a group of friends, our team of experienced guides and knowledgeable crew will ensure that you have a safe and enjoyable time on the water. With a fleet of top-of-the-line yachts and boats, High Seas Entertainment has all the equipment and resources necessary to make your experience on the water as comfortable and memorable as possible. From top-notch fishing gear to snorkeling equipment and everything in between, we have everything you need for an adventure of a lifetime. So come and join us for an adventure on the high seas! Whether you're looking for an action-packed day on the water or a relaxing and scenic voyage, High Seas Entertainment has the perfect adventure waiting for you.
1 year experience
Fluent English, Bahasa, Chinese
What others are saying
What others are saying
Activity Reviews (2)

Host Reviews (6)

 
Cancellation & Rescheduling
Helpful Questions
Camera: Capture memories of your charter experience to share with friends and family.
Comfortable shoes: Wear comfortable shoes that won't slip on the deck or get damaged by the water.
Drinks: You can bring your own drinks, but some charters may provide them. Check with the charter company beforehand to confirm.
Hat: Bring a hat to keep your head cool and prevent sunburn on your face and neck.
Personal items: Don't forget to bring any personal items you may need, such as medication or a change of clothes.
Snacks: Bring some light snacks to enjoy during the charter.
Sunglasses: Shield your eyes from the sun's glare and add a stylish touch to your outfit.
Sunscreen: Protect your skin from harmful UV rays while enjoying the beautiful views of the ocean.
Swimsuit: If you plan to take a dip in the water, don't forget your swimsuit.
Towel: Dry off after swimming or water activities.
Are kids less than 5 year old also considered as 1 adult ? How about less than 3 year old ?
Megha Susan , 07 Jun 2023
1. Does it come with corkage waiver? 2. Timing able change it to 6pm-10pm or 5pm-9pm? 3. Does it come with Ice?
LUCAS, 29 Mar 2023
Hi Lucas. Corkage is wavier. And about your request timing, it will depend on which date you are keen on.
Possible to have 15 pax ?
Ju, 07 Mar 2023
Hi Ju, For safety reason, we only allow up to 12 pax on board. Thank you for your understanding :)
Are pets allowed?
Zann, 27 Feb 2023
Hi Zann, We allow pets onboard, however they are not allowed inside the cabin at all times. Hope it helps!