4Hr Yacht to Lazarus Island | Kayak, SUP, Watermat, Fishing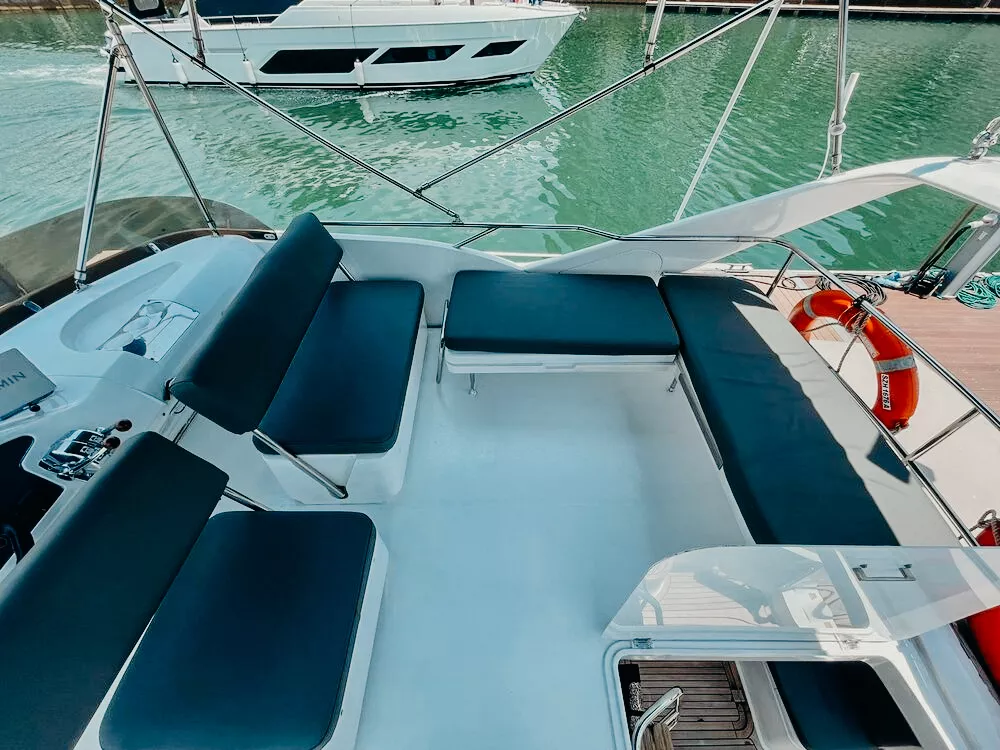 Details

Itinerary

Includes

Availability

Meet at

Host

Reviews

FAQ
4Hr Yacht to Lazarus Island | Kayak, SUP, Watermat, Fishing
Highlights
Great Value for Money
Lazarus Island route
Lots of water activities - Kayak, SUP, Snorkelling Gear, Water Mat & Fishing Rods Included!
Corkage Waived
Enjoy 4 hours charter to Lazarus Island on this 42-footer monohull yacht, with a usual capacity of 20 persons. Plus point: it includes lots of water activities!Boat Details The Princess 42 - Zen Sea is a well-equipped yacht option in Singapore. This 42-ft yacht has 2 cabins, 1 bathroom and has a usual capacity of 20 persons. There is no shower in the bathroom, but there is a shower head on deck for guests to rinse off after water activities. Other facilities include: air-conditioning, microwave, refrigerator, stereo and a TV. This single hull yacht is much faster than sailing catamarans, but is also stable. The yacht provides a great variety of water toys - floating mat, floats, kayaks snorkelling gears, fishing rods & artificial baits, paddleboard and also water guns. You can also opt for BBQ on board for an additional charge (though you'll need to bring your own pre-marinated food). Pet-friendly For guests who would like to bring their dogs, only small dogs are allowed and must be on a leash at all times also cannot enter the saloon (confined areas). Please also bring the boots and life vests for the dogs.
What You'll be Doing
12+
Itinerary:
Sails to Lazarus island and have fun with water activities!
Show Details
What's Included
4H Charter of Zen Sea Yacht
Fishing Rod & artificial bait x 3
$267.5 for each additional hour
$107 for Grill Rental and assistance to BBQ
Cutlery/Plates/Cups (please do bring your own!)
Availability
Prices in SGD
Select Time for 03 Dec 2023
Where We'll Meet
Start Point
Meet-up at ONE°15 Marina Sentosa Cove (ONE°15 Marina Sentosa Cove, Singapore, Singapore)
15 mins before selected timeslot
Useful Information
Start & Ends
Daily
08:00AM - 12:00PM
01:00PM - 05:00PM
06:00PM - 10:00PM
Cancellation & Other Policies
Cancellation

As Zen Sea would be holding the slot for you and turning down other potential customers, you won't be able to cancel after you book.

Reschedule Policy

Should the customer choose to reschedule the charter for any reason (weather, illness etc), a reschedule fee of S$200 will apply. This is because the yacht has already paid for the crew fees in advance. This fee is waived only if the Captain determined the weather to be unsafe to sail.
See More
Suitability / Accessibility
Pet-Friendly
Child Friendly (No Minimum Age)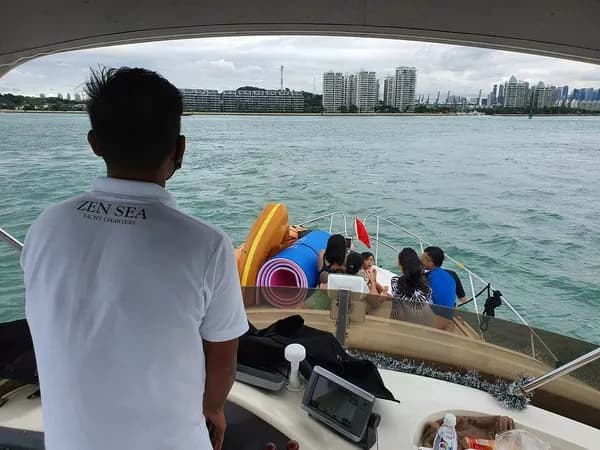 Zen Sea
Zen Sea is a yacht charter company that was founded in 2020 with the mission of helping guests create unforgettable memories on Singapore's sunny island. Their experienced team is dedicated to providing a fuss-free and luxurious yacht charter experience, so guests can relax and enjoy the breathtaking views.
Experience: 3 years
Speaks: Fluent English
Acceptance rate: 94%
Top Rated Host
Keep your payments secure by using the Seek Sophie website for all transactions and communications.
Helpful Questions
Hi Seek Sophie, can i check the following for this yacht - (1) Are there power plugs on board the yacht? (2) Can we choose to cruise for the full 4 hours instead of docking at Lazarus? We might not be doing any of the water activities, and happy to sail for the full duration. (3) Can we bring decoration on the yacht, such as inflatable decorations? We understand that confetti balloons are not allowed, but what about inflatables within the cabin that we can deflate afterwards?
Amanda, 17 Sep 2023
Hi Amanda, I'm happy to provide answers to your questions: Yes, there are power plugs available on the boat. Certainly, you can choose to sail. You can decorate the boat, but please make sure to adhere to the policies set by the boat operator. For more specific details, you can reach out to us via email at chat@seeksophie.com.
Hi! Can I ask if my dog is allowed in the airconditioned cabin? She's 2kg tiny! Wanna celebrate her gotcha day!
Flora, 15 Jun 2023
Hi Flora, For pets on board: They are required to wear boots to prevent scratching different surfaces such as fiberglass, cushions, leather, wood, etc. They are also not permitted to enter confined areas, such as the saloon, and should wear a life vest. These are standard requirements, and the dogs that were on board with us complied well. We appreciate your understanding. Hope that helps :)
Hi, we have a 2 years old toddler, is 2 years old toddler consider a head count?
Ray, 11 Jun 2023
Hi Ray, Yes, 2 years old toddler consider as headcount
Hi! Is it possible to request for a different excursion timing from the options provided (e.g. 3.00pm to 8.00pm) if we add on an additional hour?
J, 10 Jun 2023
Hi there, We understand that you're interested in booking a charter with us and would like to know about our availability on a specific day. To provide you with accurate information regarding our availability to accomodate your request, we recommend reaching out to our dedicated customer service team at chat@seeksophie.com. They will be able to assist you promptly and check the availability for your desired date. Hope that helps :)
Not your usual touristy stuff
Here you'll find some must-sees. But mostly you'll find what's real - not just what's on show for tourists.
Handpicked guides
We're a marketplace, but a highly curated one. We'll only recommend guides who we love.
Planet-Friendly
We believe that travel shouldn't harm our planet. We offset all carbon emissions for trips booked on Seek Sophie.