Halong Bay Full Day Trip from Hanoi | Inclusive of Kayaking
Join-in trip
·
Up to 45 people
Halong Bay Full Day Trip from Hanoi | Inclusive of Kayaking
Join-in trip
·
Up to 45 people
Highlights

Details

Includes

Meet At

Availability

Guide

Cancellation & Rescheduling
Highlights
Highlights
Surprise Cave and Titop Island Visit
Kayak included in price!
Tasty lunch served onboard, with veggie options available on request
Inclusive of return transfer from Hanoi via expressway
Details
Details
With Daily Vietnam you will have 5.5 hours on the water - the longest day route for Halong Bay, so it ensures that you see all the highlights! It also takes the fast expressway from Hanoi, which cuts Hanoi-Halong travel time down by half. The expressway route means that there are no stops along the way at tourist trap shops! During this trip you will be visiting Surprise Cave, one of the largest and most intriguing caves in Halong Bay. You will also stop at Titop Island where you will be able to climb to the peak for an amazing panoramic view or if you wish, you can chill at Titop Beach. Finally, you can also enjoy some kayaking or bamboo boating in the bay. The team is reliable, with competent guides who speak Basic English. Daily Vietnam Tour also has a great vegetarian menu and is able to accommodate vegetarian diets.
Tags: Sightseeing Boat Cruise, Sightseeing Boat Cruise
Trip Highlights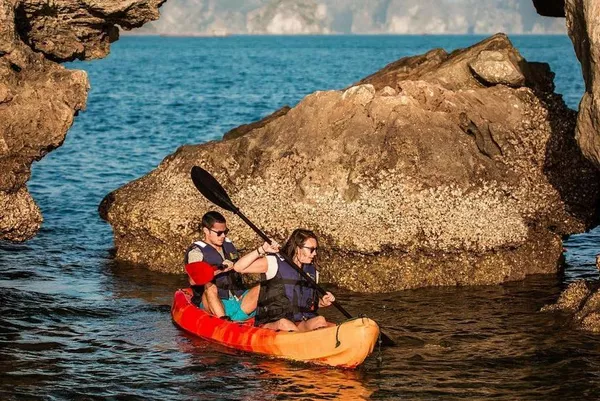 What's included
What's included
English speaking guide during the trip

1 bottle of mineral water

Return transfer from Hanoi Old Quarter
Show all inclusions & exclusions
Where You'll Meet
Where You'll Meet
You can choose to meet at
62 Hang Hom
, or your host provides free pick up from:
62 Hang Hom
62 P. Hàng Hòm, Phố Hàng Hòm, Việt Nam
Details
Availability
Availability
Prices shown in SGD
What You'll Do
What You'll Do
Itinerary: Hanoi - Tuan Chau Harbour - Surprising Cave - Luon Cave - Tip Top Island - Tuan Chau Harbour - Hanoi
Today you will see incredible views atop Titop Island, kayak and explore caves
8h00-8h30: Pick up at your hotel at Hanoi Old Quarter or at Daily Vietnam Tour - 62 Hang Hom,Ha Noi
11h30-12h00 Arrive at Tuan Chau Harbour
12h30 - 13h00: Enjoy lunch on the boat
13h30 - 14h00: Visit Surprise cave
14h30-15h00 : Kayaking at Luon Cave
15h30 - 16h30: Swimming or climbing up at Titop Island
17h30-1800 Back to Harbour
20h30-21h00: Arrive back to Hanoi Old Quarter
View details
This is a sample itinerary and may be weather-dependent. Start/end times may depend on transport chosen.
Meet your host
Meet your host
Established in 2015, Daily Vietnam Tour is run by a group of young, enthusiastic and friendly local guides who hail from Hanoi. They are highly reliable, efficient and most importantly, super keen about providing customer-centric services. They will do their very best to make your trip to Halong Bay the highlight of your travels!
8 years experience
Fluent English
Community-Based
Litter-Free
What others are saying
What others are saying
Activity Reviews (6)

Host Reviews (26)

 
Cancellation & Rescheduling
Other Policies
Other Policies
Child Pricing
Children will pay a discounted price
Please click on the
booking form
to see child prices
Helpful Questions
Backup batteries and charger
Cash (for purchasing drinks during happy hour, buying souvenirs or tips)
Light jacket/sweater (for the evenings)
Umbrella and/or light rain jacket
hi there! what happens in the event of bad weather? can we get a full cash refund of the trip? Thanks!
Audrey , 20 Mar 2023
Hi Audrey, If in any case, the weather is deemed unsafe or dangerous, we will have to cancel the booking and we would like to assure you that you will receive a full refund for the booking made. Please note that the refund will be processed via the same method used for payment. If the payment for your booking was made through debit/credit card, the refund will be credited to your bank account.
Hi Team, I would like to do day cruise with my family of 4 (3 adult and 1 child) on 4th Dec-22. Noted Pick up and drop off from Hanoi city is complimentary. Do you have option of Pick up from Hanoi cetral (For cruise in Halong Bay) on 4th Morning (as usual) and after Cruise, Pick up from Halong Bay on 5th (instead of 4th evening) to drop off in Hanoi ?
Shiva kumar, 14 Nov 2022