Full-Day Pasir Ris to Ubin Kayaking Adventure | With Kelong Lunch!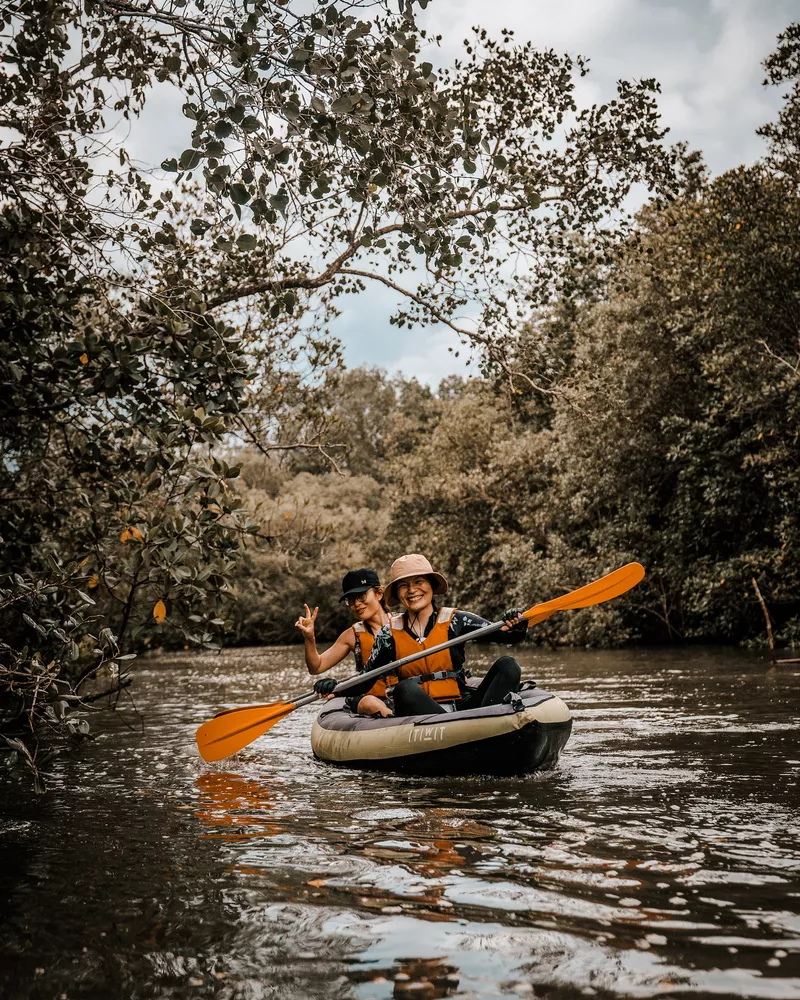 Details

Itinerary

Includes

Meet at

Host

Reviews

FAQ
Full-Day Pasir Ris to Ubin Kayaking Adventure | With Kelong Lunch!
Highlights
Highly-rated intimate tour with award-winning guide
One-way ~8km journey from Pasir Ris to Pulau Ubin - no backtracking
Visit places accessible only by boat
Immersive experience deep into the mangroves
Land excursion on Ubin and Pulau Ketam
A meal at a floating restaurant in the middle of the sea!
Escape to a very different Singapore on a full-day adventure and soak in the best that nature has to offer. Get to indulge in a range of experiences - attempt an exciting channel crossing on open waters from Pasir Ris to Ubin, explore mysterious mangrove forests and tidal rivers, learn about Ubin's hidden history, spot wildlife like otters and eagles, and dig into lunch at a floating restaurant in the middle of nowhere!Apart from kayaking, you will also get out of the boat to explore a biodiverse intertidal sandbar, smell the incense at a century-old shrine, capture great views of a beautiful granite quarry lake, and cool off with a dip in the calm waters along a river estuary. Our full-day trips are longer and more immersive than a typical kayaking trip, but will include all you need for an exciting and restorative journey. With our inflatable kayaks, we can easily do one-way journeys with different start and end points, for optimised routes with minimal backtracking. Basically, less effort, and more reward!Location and TimingThe start point is at Pasir Ris Beach. We kayak from Pasir Ris to Ubin and to the floating restaurant, where we will have lunch, followed by a chartered bumboat trip to Changi Point Ferry Terminal, where we end the tour. For groups smaller than 6 pax, we will kayak back from the floating restaurant to Pasir Ris beach (carpark A) instead of getting a chartered bumboat to Changi.Tour start times are contingent on tides of the day, and may range between 7am and 12pm.Important NotesAs we use double-seater kayaks, bookings must be made for an even number of guests (e.g. 2, 4, 6 or 8 guests). If there is an uneven number, 1 guest would be joining the guide on his kayak.The trip is suitable for first-time kayakers, but a basic level of physical strength and endurance is needed.Participants should be able to swim 50m with a life jacket, be comfortable with getting a bit muddy, and with being surrounded by nature.Trips are suitable for children 6-12 years old, if the child is (i) accompanied by a participant above the age of 18 in the same kayak, (ii) able to swim 50m with a life jacket, and (iii) comfortable and able to stay calm in the water with a life jacket.
What You'll be Doing
7+
Itinerary:
Kayak through the mangroves and explore the interesting sights that Ubin has to offer!
Show Details
What's Included
Meal and drink on the floating restaurant (one rice/noodle dish per person)
STB-licensed English-speaking guide
Private bumboat charter from floating restaurant directly back to Changi Point Ferry Terminal
Additional food and drinks at the floating restaurant
Availability
Prices in SGD
Select Time for 09 Dec 2023
Where We'll Meet
Start Point
Meet-up at Pasir Ris Beach next to Georges @ The Cove restaurant (Georges @ The Cove, Pasir Ris Road, Singapore)
Meet at selected timeslot
Notes: See you at the grass patch at the right side of Georges @ The Cove restaurant. Find us with the green and grey kayaks.
End Point
End at Changi Point Ferry Terminal (if the group is smaller than 6 pax, we will end at Pasir Ris Park carpark A) (Changi Point Ferry Terminal, Lorong Bekukong, Singapore)
Useful Information
Start & Ends
Select your preferred date to see timings.
Cancellation & Other Policies
Cancellation

Cancel 7 days before activity for a full refund

Minimum Participants

If there are fewer than 4 participants, the host may reschedule or refund your booking.
See More
Suitability / Accessibility
Vegetarian food available
Child Friendly (Recommended Age: 6+)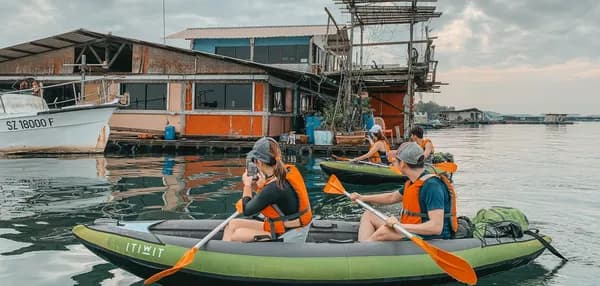 Sneak-Peek Singapore
Sneak-Peek Singapore's tours were started in 2016 as a way for a group of passionate tour guides to share interesting places and unconventional stories about Singapore! Born and raised here, the founders like to give you a sneak peek into the hidden side of Singapore that you would not otherwise get to know about without a guide!
Speaks: Fluent English
Acceptance rate: 92%
Top Rated Host
Keep your payments secure by using the Seek Sophie website for all transactions and communications.
Helpful Questions
Wear clothes you can get wet in; for footwear, best are outdoor sandals, followed by booties, and then shoes (avoid flip flops).
🍼 Water bottle with water
🎒 Waterproof bag (let me know if you need one)
👕 Extra set of clothes and towel
👖 Sun-protection sleeves and leg coverings (if have)
🩴 Another pair of footwear for after kayaking
Hi there! I am Paul Keh, and my girlfriend bought this experience for us together some time in June for my birthday. She will only be in Singapore til the first week of December, and I realize that there are no longer any more slots for this trip before then :( It would really break her heart if I didn't get to spend time with her on this experience that she planned, and I was wondering if (1) there are any other trip planned for in November- early December (2) are there any other experiences that we could go for (organized by your company) that we could go for in exchange? My phone number is 97981965, and I am contactable by WhatsApp too. Please feel free to contact me if you can! I want to make the best use of the experience, and it would mean the world to me if you could help in any way. Thank you (:
Paul, 14 Nov 2022
Hi Paul, thanks for reaching out. Unfortunately we're fully booked for Nov to early December. Surely, our Customer Service team will be in touch with you shortly and assist you further with your inquiries. Hope it helps.
Hi, are there any available slots for December?
JH, 11 Nov 2022
Hi JH, I'm afraid this activity has no available slots for December, but this one has one scheduled on 31st Dec: https://www.seeksophie.com/options/2hr-kayak-adventure-in-quarry-with-floating-picnic
Is this a dog friendly activity?
Amanda , 24 Sep 2022
Hi Amanda! Pets can be brought along if the pet can sit calmly and still for long periods of time. And if you are ok with the pet not being able to enter the restaurant :)
I read that it is approximately 7 hrs, will it be physically demanding? I am worried that my arms will fail me towards the end of the day haha, I am an avg built female, who exercises once/twice a week. Thanks!
ZY, 23 May 2022
Hi ZY, only a basic level of physical strength and endurance is needed but trip is suitable for first-time kayakers! You will be fine :)
Not your usual touristy stuff
Here you'll find some must-sees. But mostly you'll find what's real - not just what's on show for tourists.
Handpicked guides
We're a marketplace, but a highly curated one. We'll only recommend guides who we love.
Planet-Friendly
We believe that travel shouldn't harm our planet. We offset all carbon emissions for trips booked on Seek Sophie.