Mount Batur Sunrise Trek & Natural Hot Springs | Less Crowded Trail
Details

Itinerary

Includes

Meet at

Host

Reviews
Mount Batur Sunrise Trek & Natural Hot Springs | Less Crowded Trail
Highlights
Take in the sunrise from the top of an active volcano with views of Mt Agung and Mt Abang
Enjoy breakfast at the summit of Mount Batur - including an egg prepared via volcanic steam!
Explore the volcanic crater as you make your way down
Enjoy the views of the caldera lake as you take a dip in natural hot springs!
Let's face it, some experiences are popular for a reason. You may find it a little crowded at the summit of Mt. Batur, but once you see the sun peek out from behind Mt Agung and Mt Abang, you will not regret it!In order to take in the beautiful sunrise atop the 1,717 meter high volcanic mountain you will need to be prepared for 3-5 hours of round trip hiking (depending on your fitness level). This will include several stops along the way. You will need to start the hike around 3:45am.What to ExpectStart of the Trek The experienced guides of Mt Batur Sunrise Trekking will begin the trek from a lesser known starting point, giving you a more private experience along the way. The trek will begin in darkness, but don't worry, your guide will provide you with head lamp to illuminate the path. You will start off on a rather wide dirt road and occasionally see locals whiz by on motorbikes. Later you will turn into a narrow jungle trail and finally turn into a more rocky exposed mountain face path. The first half is fairly easy but once reaching half way, the path becomes a bit more steep and slippery, but with some perseverance it can be conquered.Reaching the Summit You will reach the summit just as the sky begins to turn from black to inky blue. Once at the top you can settle in and watch the sky turn to pink and orange as the sun begins to emerge. You will be able to enjoy the surroundings from a comfortable seat, overlooking the village rooftops at the bottom, sipping a hot drink and having a yummy banana sandwich and hard boiled egg cooked in the volcanic steam! Psst.. it's cold at the summit, especially in early morning! Make sure you have a jacket and long trousers are also a good idea. The Descent After finishing breakfast and taking some time to get all the desired photos, you will head to the rim of the main crater, here you will have another great vantage point. If it's not too cloudy you will even be able to see Mount Rinjani from the neighboring island of Lombok. Your guide will also tell you a little more about the history of Mt Batur and it's long track record of eruptions. As you start the decent you will be walking down a very narrow path with steep slopes to both sides (dragon's back - makes for some awesome shots!). This trail will turn into a very gravely lava sand for a short period - be prepared to slide! The final bit of the terrain will be rocky and sturdy, albeit at times slippery if wet. The trek will complete around 8:30am, but depends on your pace.Back to Your Hotel On the way back to your hotel, you can choose to stop by a Balinese coffee plantation. Here you can learn about the importance of the plant to Balinese life as well as observe the locals processing the beans in a traditional way. Here you can sample some coffee luwak, considered one of the best coffees in the world. Please note the stop at the coffee plantation is not included in the price. You will pay at the entrance. Approximate travel times with moderate trafficFrom Ubud - 1h00minFrom Canggu - 1h45minFrom Kuta - 2h00minFrom Seminyak - 2h00minFrom Uluwatu - 2h40min
What You'll be Doing
1+
Itinerary:
Concurred the sacred peak of Mount Batur on an early morning with experiences local guide
Show Details
What's Included
English speaking local trekking guide
Light breakfast (banana sandwich, hot drink, egg, fruits, biscuits)
Mineral water during your hike
Locker for your belongings
This Activity is no longer available. How about browing similar activities below? Or contact us if you need any help!
Useful Information
Cancellation & Other Policies
Cancellation

As Mt Batur Sunrise Trekking would be holding the slot for you and turning down other potential customers, you won't be able to cancel after you book.

Reschedule Policy

You can reschedule 12 hours before travel
See More
Suitability / Accessibility
Pet-Friendly
Vegetarian food available
Child Friendly (Recommended Age: 1+)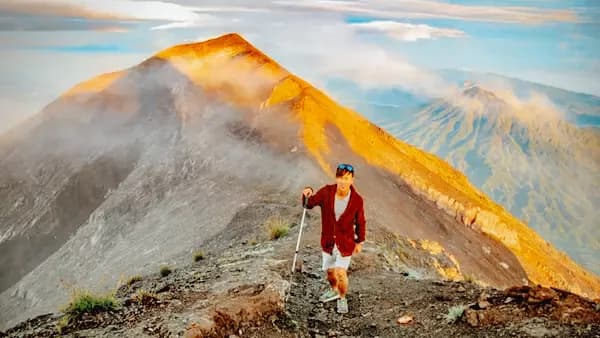 Mt Batur Sunrise Trekking
Mt Batur Sunrise Trekking is owned and managed by Jero, a Mt Batur area local who has come from a farming family. Although he had grown up helping the family with onion and tomato farming, he had always loved hiking the mountain with his cousins and friends. After getting a degree in business at a local university he decided that his own native land was rich with opportunity. He created a website with out much experience and started Mount Batur Sunrise Trekking hoping to share the beauty of the mountain with visitors and make a better living for himself and his family. Jero and his team have been Mt. Batur trekking guides since they were kids, for more than 25 years. He now employs over 20 local guides which he trains for English and deep understanding of the mountain and makes sure they are licensed by the government.
Speaks: Fluent English
Acceptance rate: 98%
Keep your payments secure by using the Seek Sophie website for all transactions and communications.
Not your usual touristy stuff
Here you'll find some must-sees. But mostly you'll find what's real - not just what's on show for tourists.
Handpicked guides
We're a marketplace, but a highly curated one. We'll only recommend guides who we love.
Planet-Friendly
We believe that travel shouldn't harm our planet. We offset all carbon emissions for trips booked on Seek Sophie.