Immersive Street Theatre | Go Back to Singapore's Swinging 1960s
Details

Itinerary

Includes

Availability

Meet at

Host

Reviews

FAQ
Immersive Street Theatre | Go Back to Singapore's Swinging 1960s
Highlights
Immersive experience that takes you back to Singapore's swinging 60s
Unique walking/audio tour through fantastical sets (you'll have never seen something like this!)
Great as a solo experience, on a date or with friends
HighlightsImmersive audio experience that takes you back to the now defunct New World's Amusement ParkDiscover fantastical sets recreating 1960s Singapore (you'll have never seen something like this!)Great as a solo experience, on a date or with a couple of friendsDetailsNew World's End is an immersive audio experience set in the 1960s that tells the story of Kiran and Rosa as they fall in love at the now defunct New World's Amusement Park. This 60 mins experience takes you on an exploration of the lesser-known parts of Jalan Besar. Pick up a pair of headphones and an MP3 player. Through 16 audio tracks of narration, you'll be led on a night walk through hidden back alleys and fantastical theatrical sets.You'll be entirely immersed in the heyday of Singapore's first cabaret New World's Amusement Park. Expect to see glittering cabaret lights, a dingy apartment and a collapsed hotel room. You can't go back in time, but you can enter this intimate universe for a while..The StorylineThis audio experience tells the story of Kiran and Rosa, two lovers caught up in the glitz and glamour of the swinging 60s at New World Amusement Park, where cabarets, boxing matches, and film screenings drew crowds every night.Explore Jalan Besar through the eyes of these characters and visit their old haunts and memories. Step into hidden back-alleys and fantasy rooms with theatrical sets and installations as the story unfolds into a thrilling tale intertwined with history and tragedy. The cabaret awaits your arrival.[For a limited time only!] Exit Stage LeftStep into a bygone world at Exit Stage Left, where romance, history, and local spirits converge. Inspired by the love story in New World's End, this immersive bar invites you to experience Singapore's most enchanting decade – the 1960s – all while sipping on hyper-local cocktails.Exit Stage Left is the first bar solely using spirits distilled locally. All drinks are made with spirits from Singapore distilleries and locally grown botanicals to offer a twist on familiar flavours and tastes. The bar will run from 1 November 2023 to 31 January 2024. Entry to bar is separate and only available on site. Tickets for Exit Stage Left are priced at $20, inclusive of 1 complimentary cocktail or mocktail from our selected menu, and subject to a first-come-first-serve basis within the 12-seater space.About OH! Stories OH! Stories is an experiential arts group blending storytelling and art. Their thoughtfully-crafted audio experiences plunge you into stories rooted in real histories like never before. Through these experiences, discover and learn about forgotten histories so that you feel more connected to the city you live in.Important Notes● The 60-min audio tour is narrated only in English. Headphones and MP3 players will be provided, but participants can bring their own as well (3.5mm jack)● Visitors are advised to wear comfortable footwear in this rain-or-shine experience.● Some locations in the route are not wheelchair-accessible● Recommended for ages above 16, but no strict age regulation (customers judge if suitable)
You love art and theatre - the storytelling here is really original
You want a fun/lowkey evening with friends or a date!
You love alternative stories about Singapore
What You'll be Doing
14+
Itinerary:
Walk through the streets of Jalan Besar and relive Singapore's swinging 1960s with theatrical sets
Show Details
What's Included
Available Add-ons:
Additional History: A First Class Journal (

S$ 19

)
Availability
Prices in SGD
Select Time for 03 Dec 2023
Where We'll Meet
Start Point
Meet-up at 85 Desker Road (85 Desker Road.)
Meet at selected timeslot
Know someone who might like this?
Useful Information
Start & Ends
Every Wednesday

07:30PM - 08:30PM

Every Thursday

07:30PM - 08:30PM

Every Friday

07:30PM - 08:30PM
See More
Cancellation & Other Policies
Cancellation

As OH! Open House would be holding the slot for you and turning down other potential customers, you won't be able to cancel after you book.

Extenuating Circumstances Policy

In the event that one or more participants are tested positive (or suspected) for Covid-19, customers can choose to reschedule the booking to a later date (subject to availability)
Suitability / Accessibility
Child Friendly (No Minimum Age)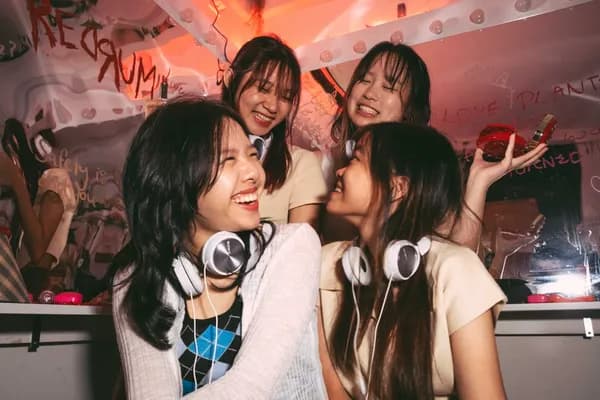 OH! Open House
OH! Open House is an independent arts organisation that tells alternative stories of Singapore through art. Since 2009, we have provided more than 20,000 people with the unique experience of appreciating art and heritage outside of museums and galleries – from strangers' homes to underutilised public spaces. We work with artists to present art in unconventional locations, or in surprising new ways. Through our diverse programmes, OH! creates opportunities to understand and connect with the everyday on a more meaningful level.
Speaks: Fluent English
Acceptance rate: 99%
Top Rated Host
Keep your payments secure by using the Seek Sophie website for all transactions and communications.
Helpful Questions
Hi can this experience be gifted?
Ashley , 17 Jun 2023
Hi Ashley, you can gift this experience by using the link below: https://www.seeksophie.com/experiences/singapore-oh-stories-new-world-s-end-an-immersive-theatrical-experience-o1ojqnovj4?gift_experience=1 However, please remember to fill in your own details. Once you complete the payment and receive the booking confirmation email, kindly forward it to your friend. In case your friend is unable to attend the activity on the selected date, please advise her to contact us at chat@seeksophie.com to make necessary adjustments. Hope that helps!
Is the timing choices as such? 1 hour duration starting at 6.30pm, 9pm and 9.30pm. just found it odd that the 9pm and 9.30pm is overlapping. Or is it meant to be 8.30pm? Thanks.
Abby, 24 Apr 2023
Hi there, can I check if you have slots left for 23 April Sunday and what time does the tour happens?
V, 11 Apr 2023
Hi there, yes we do have slots available for 23 April. The time slots are 6:30pm - 7:30pm, 9:00pm - 10:00pm and9:30pm - 10:30pm. Hope it helps :)
Hi, looking to book this for 28 Jan but I will have a group bigger than 6 persons. Possible? Thanks!
Raspal, 16 Jan 2023
Hi Raspal, Yes it's possible! May we know how many pax will be coming? You can send an email to us at admin@seeksophie.com so we can further help you :)
Hi, I've some relatives visiting sg for the first time and this would be a nice experience for them. Unfortunately we can only do a weekday. Are you able to open a weekday spot? Say 23, 24, or 25 Jan? Our booking will be for 4 adults. Thank you, Ange
Ange, 10 Jan 2023
Hi Ange! We do have slots on Wednesday on 25th of Jan :)
Not your usual touristy stuff
Here you'll find some must-sees. But mostly you'll find what's real - not just what's on show for tourists.
Handpicked guides
We're a marketplace, but a highly curated one. We'll only recommend guides who we love.
Planet-Friendly
We believe that travel shouldn't harm our planet. We offset all carbon emissions for trips booked on Seek Sophie.