Pier Fishing at Bedok Jetty (Age 7+)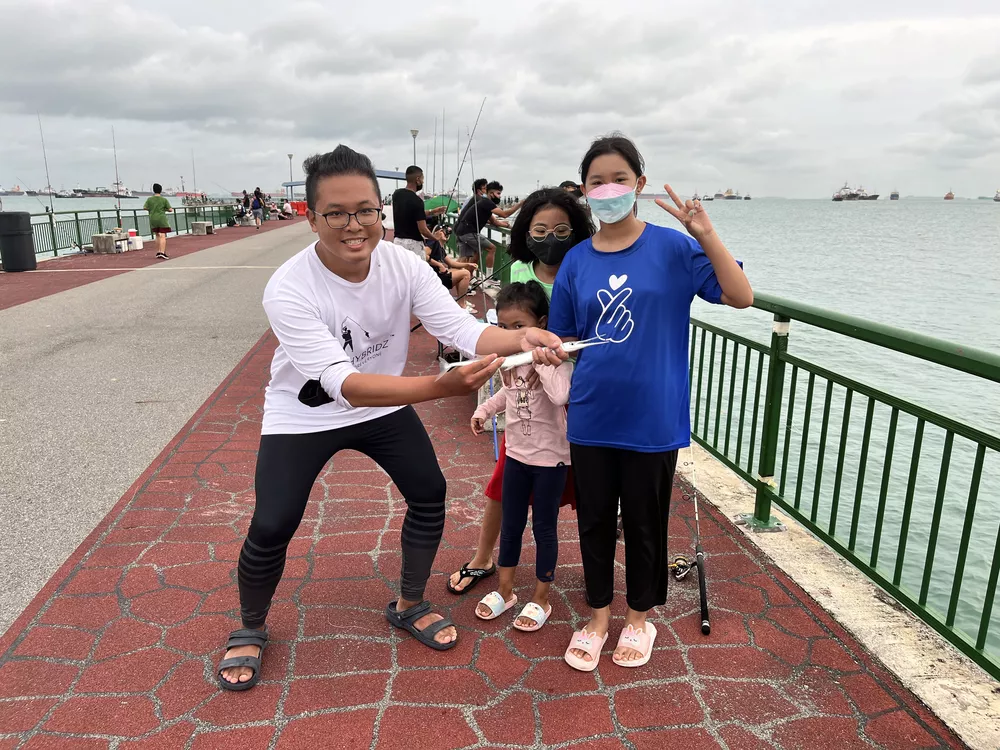 Details

Itinerary

Includes

Availability

Meet at

Host

Reviews

FAQ
Pier Fishing at Bedok Jetty (Age 7+)
Highlights
5-star review on Tripadvisor, Seeksophie, Klook and Google
Top 3 Singapore Kayaking & Canoeing Tours on Tripadvisor
Top 5 Singapore Fishing Charters & Boat Trips on Viator
Top 5 Best Singapore Fishing Charters & Tours on Tripadvisor
Great for team-building / couples / large groups / families
Looking for a rustic, more personalised experienced that showcases the less seen side of Singapore? Can't wait to get away from the hustle and bustle of the city center? Join us now for an adventure of a lifetime! Nothing is better than enjoying the sea breeze with your friends and loved ones, while picking up an entirely new sport! Ever wanted to try fishing but never got the chance to? Look no further! At PureHybridz, we provide a safe and enjoyable experience for all ages and no prior fishing knowledge is required! There is no better way to learn the basics than a 2 hour practical session on a fishing pier itself!Expect to:Learn the basics of what constitutes a fishing setupSimple knot tying Gear maintenanceDifferent saltwater techniques from bottom fishing to float fishingProvided:All fishing gear and equipmentBaitDecent sized catches can be brought home as well! (juveniles will be released for sustainable fishing)Also, feel free to contact our friendly guides anytime after the lesson for advice :)
What You'll be Doing
27+
Itinerary:
Get ready for your very first catch! Singapore Fishing Lessons for all ages and backgrounds
Show Details
What's Included
Fishing Gear and Equipment rental
Fish of decent size may be brought home
Available Add-ons:
Limited Edition Purehybridz Drifit Shirt (

S$ 19.9

)
Beginner Fishing Rod, Reel and Line (

S$ 88

)
Availability
Prices in SGD
Select Time for 23 Sep 2023
Where We'll Meet
Start Point
Meet-up at Bedok Jetty (Bedok Jetty, Singapore)
15 mins before selected timeslot
Notes: Wear adequate sun protection - cap, barf, long sleeved shirt and pants. Bring sunscreen and water.
Useful Information
Start & Ends
Every Saturday

11:00AM - 01:00PM

01:00PM - 03:00PM

Every Sunday

11:00AM - 01:00PM

01:00PM - 03:00PM
Cancellation & Other Policies
Cancellation

As Purehybridz would be holding the slot for you and turning down other potential customers, you won't be able to cancel after you book.

Reschedule Policy

Reschedule up to 2 times
See More
Suitability / Accessibility
Pet-Friendly
Child Friendly (Recommended Age: 6+)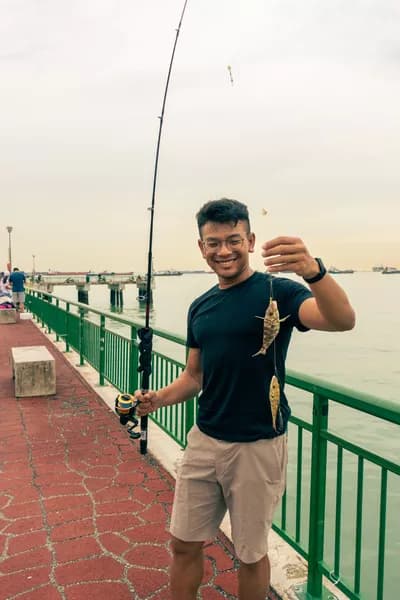 Purehybridz
Purehybridz aims to be the one-stop portal for Singapore Fishing Lessons. They have packages that cater to different budgets of different demographics, from pier fishing to kayak fishing and even boat fishing!
Experience: 2 years
Acceptance rate: 86%
Keep your payments secure by using the Seek Sophie website for all transactions and communications.
Helpful Questions
Bring water for hydration
Wear adequate sun protection - cap, barf, longsleeved shirt and pants, sunscreen
Hello, am I able to buy the experience as a gift voucher and have the recipients choose dates and times themselves.
Grace, 07 Apr 2023
Hi Grace, Unfortunately, this experience currently cannot be gifted at the moment due to some technical issues. However, I do have an alternative suggestion that I believe you might be interested in. Have you considered gifting a Seek Sophie gift card instead? With the gift card, your friend can choose any activities from our website, and it has no expiry date. This way, your friend can still enjoy a memorable experience, and you can rest assured that they will love their gift. If you're interested in proceeding with a gift card, you may check out the following link: https://www.seeksophie.com/gifts/SG?gclid=Cj0KCQjw_r6hBhDdARIsAMIDhV914H_tI5IOs7uW_rWWEnPXKlf6ptqXku_Y9MfSvaRU4WdNK8bS4yIaAnmPEALw_wcB Hope it helps!
I have a Girl Scout troop of 10 girls ages 14-15. I'd like to take them fishing what's the best rate you can give me? There will also be two adults, not fishing. Thanks! Looking for January 7 in the morning.
Melinda Murphy, 22 Dec 2022
Hi Melinda, the price for a group of 10 is $130. There's currently availability for this activity on January 7th. You can book directly on this page: https://www.seeksophie.com/options/4892. Thank you!
Our toddler(2+) wants to tag along. Do we need to pay for her?
Joseph, 05 Jul 2022
Hi Joseph, This activity only suitable for age 5 and above. If the little one wants to tag along, we won't charge. However, he/she will not get to do the activity and get the fishing rod :)
Not your usual touristy stuff
Here you'll find some must-sees. But mostly you'll find what's real - not just what's on show for tourists.
Handpicked guides
We're a marketplace, but a highly curated one. We'll only recommend guides who we love.
Planet-Friendly
We believe that travel shouldn't harm our planet. We offset all carbon emissions for trips booked on Seek Sophie.