[Private] Leg-Paddled Kayak to Seletar Island or Pulau Ubin (Age 5+)
Details

Itinerary

Includes

Meet at

Host

Reviews
[Private] Leg-Paddled Kayak to Seletar Island or Pulau Ubin (Age 5+)
Highlights
Easier kayaking style - great for beginners
Perfect for families (Age 7+)
Explore hidden gems and familiar sights from a fresh perspective
Explore different coasts of Singapore with Aileron Yak, Singapore's first leg-pedalled kayaking expedition provider! In this private kayaking trip, you can choose your route and preferred date according to the kind of adventure you're looking for. Leg-paddled kayaking is much easier than usual kayaking so it's perfect for families or beginner kayakers. Why Leg-Paddled Kayaks It's a lot easier than normal kayaking, plus you get to go FAST! Experience 'cycling' in the sea on your kayaks. With leg-paddled kayaks, you get the flexibility of still being able to use your hands for snacking, drinking, and taking photos and videos of your experience! You'll also get to cover greater distances with less effort. For the speed-lovers, paddle with your legs and also the normal arm paddles to zoom through the waves! How to Customise Do let us know which route you would like to go on during check-out! Meeting points will differ depending on the selected route.Available Routes:1. Ubin Adventures (10km route) Kayak around the mangroves and dock at Pulau Ubin to visit the German Girl Shrine and the Ketam Quarry viewpoint. End off the expedition at a floating restaurant for lunch or dinner.2. Explore Bongsu Mangrove and Seletar Island (8km route)Meander down Simpang River to the mangroves of Khatib Bongsu, and end at Seletar Island to observe the traditional Kelongs around. This route is suitable for novices or those of adequate fitness level.Time slotsTwo slots are available each day: 8.30am - 1pm and 2.30pm - 7pm, subject to availability. Important NoteDo note that the meeting point differs depending on the kayak route chosen. 1.Ubin: Beside Kokomo Beach Club | 2. / 3. Bongsu: Irau Drive PlaygroundFamily FriendlyThis is great for families with children (age 5+) as tandem kayaks are available.
What You'll be Doing
2+
Itinerary:
Kayak Singapore's Coasts
Show Details
What's Included
Leg-paddled kayak and accessories required
Lunch at Floating Restaurant - For Ubin Adventures
Where We'll Meet
Start Point
Meet-up at Singapore (Singapore)
15 mins before selected timeslot
Notes: Meeting point differs depending on the kayak route chosen. Ubin: Beach beside Kokomo Beach Club | Khatib Bongsu: Irau Drive Playground
This Activity is no longer available. How about browing similar activities below? Or contact us if you need any help!
Useful Information
Cancellation & Other Policies
Cancellation

As Aileron Yak Adventures would be holding the slot for you and turning down other potential customers, you won't be able to cancel after you book.

Reschedule Policy

48 Hours before Able to reschedule
See More
Suitability / Accessibility
Child Friendly (Recommended Age: 7+)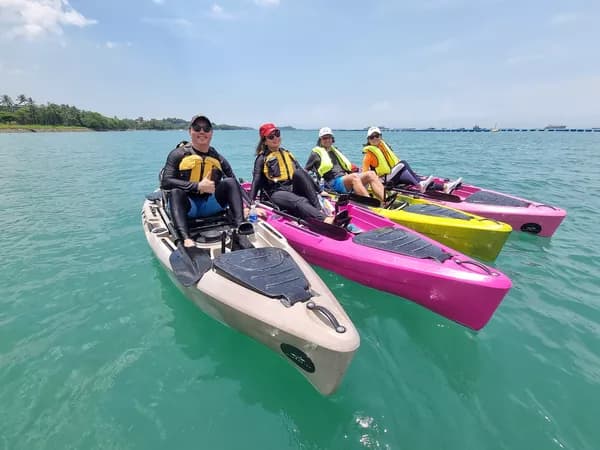 Aileron Yak Adventures
Rediscover and uncover the hidden sides of our sunny island with Aileron Yak. The founder, Alvin Yeo, has over 100 hours of leg pedalling kayak experience under his belt and is well known in the kayak fishing community. He founded Aileron Yak Adventures to welcome people of all ages to experience life over the waters and be as passionate about it as he is!
Speaks: Fluent English
Acceptance rate: 78%
Keep your payments secure by using the Seek Sophie website for all transactions and communications.
Not your usual touristy stuff
Here you'll find some must-sees. But mostly you'll find what's real - not just what's on show for tourists.
Handpicked guides
We're a marketplace, but a highly curated one. We'll only recommend guides who we love.
Planet-Friendly
We believe that travel shouldn't harm our planet. We offset all carbon emissions for trips booked on Seek Sophie.