Resin Pour Tray Workshop
Join-in trip
·
Up to 6 people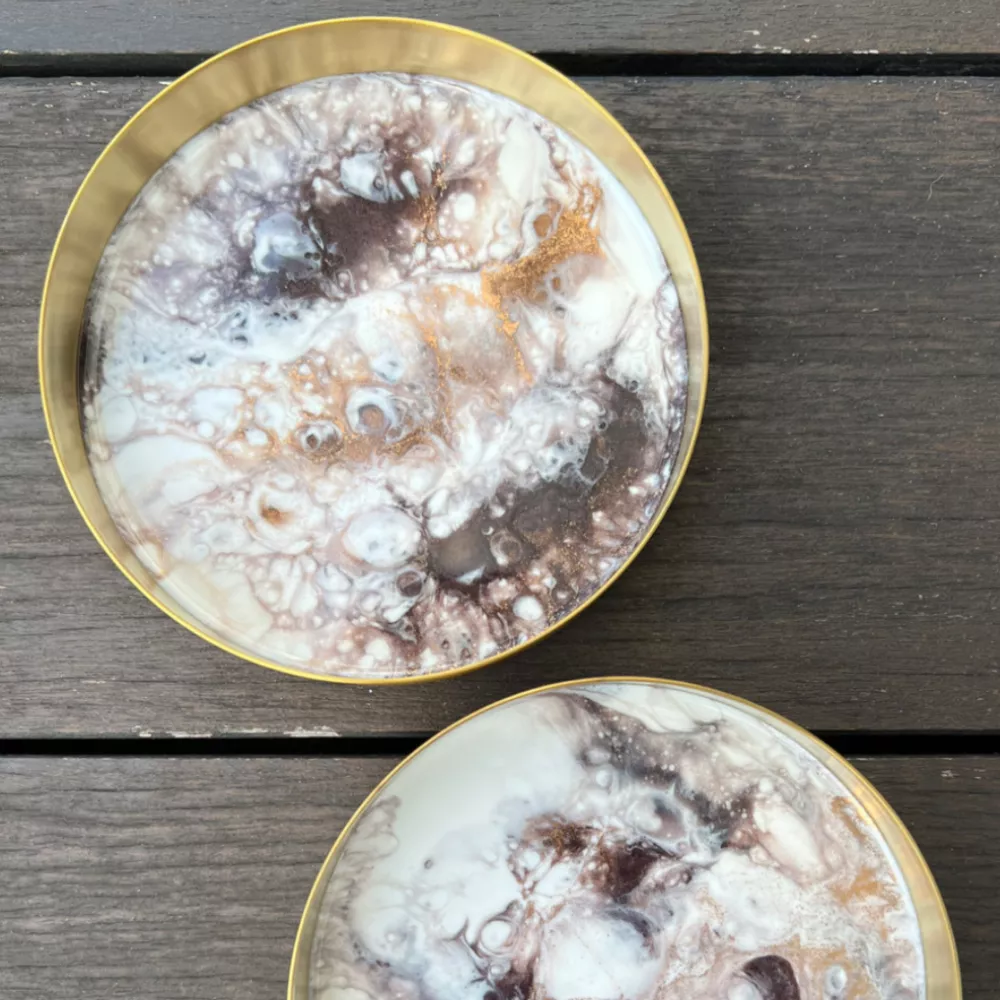 Resin Pour Tray Workshop
Join-in trip
·
Up to 6 people
Highlights

Details

Includes

Meet At

Guide

Cancellation & Rescheduling
Highlights
Highlights
Learn the techniques of resin pouring and how to create the best marbling effect. Participants will learn get to pour resin into their own 20cm brass tray. Every resin pour is unique and not one is the same. Our resin we use is from the USA and is food safe and solvent free.
Details
Details
During this 1.5 hour workshop, we take you thru the 3 different type of resin pouring methods and guide you to create your very own resin tray using colours of your choice. Resin is composed of 2 parts; a hardener and resin. When mixed together a chemical reaction occurs and after 24-48 hours the resin sets to a hard high gloss glass surface. Different effects can be created by the type of pouring, mixing different colours and different additives. As resin takes 24-48 hours to cure and fully set, these trays will be couriered to you. We will also apply a clear layer of resin over your resin tray to create a 3D effect for you.This workshop requires min 3pax to start. No kids below the age of 12 allowed.Please abide by these house rules AT ALL TIMES during the workshop- Masks to be worn at all times if workshop is attended in the studio- No food & drinks allowed. - No refunds or rescheduling once workshop is booked. - If there are new government regulations pertaining to Covid19 that prevents this workshop from happening, the workshop will be scheduled till further notice. - 10 mins grace period will be given if you are late. - Our workshop starts promptly please be punctual. No refunds will be given for absentees or lateness. No time extension of the workshop will be given. 
Min 3 persons requirement:
Please note that this experience require a minimum of 3 persons to proceed. You may book for fewer than 3 persons, but if there are fewer than 3 persons booked for the date, you may be asked to reschedule to another date.
Suitable For: Vegetarians
Tags: Other Creative Workshops
What's included
What's included
All materials will be provided.

Courier fees are also included in the workshop fees as well.
Where You'll Meet
Where You'll Meet
Meet at
By Hand Collective Studio
By Hand Collective Studio
1090 Lower Delta Rd, Lower Delta Road, Singapore
Details
Availability
Availability
Prices shown in SGD
Meet your host
Meet your host
By Hand Collective is a space where artisans and makers meet, create and connect and inspire.
4 years experience
Fluent English
Cancellation & Rescheduling
Have a question?
Your question would be very useful to the rest of the travel community!