Werewolf on Zoom | Strategic Role Play Game
Details

Itinerary

Includes

Meet at

Host

Reviews
Werewolf on Zoom | Strategic Role Play Game
Highlights
Fun, strategic interactive team game
Learn about organisational behaviour & influence
Great for onboarding new team members
This is a 2-hour strategic role-playing game on Zoom. Werewolf is more than just a game - it is a social deduction game that helps you identify your own cognitive biases, influencing style and lets you get to know your team members in a fun and relaxed atmosphere. It's perfect for onboarding new team members. About WerewolfThe village is your mission, defend it or destroy it.One minute, you are a Villager protecting your home with every fibre of your being. The next, you are a Werewolf, framing your friends, accusing them of wanting to destroy your village, when it's you all along.Werewolf is a game that tests your judgement and moral character. Werewolf is a game that models conflict in organisations, between the informed and uninformed. It is a game that uses logic and persuasion. It is a leadership tool to understand influencing styles, cognitive biases, and the assumptions that we commonly make. It tests your ability to deal with uncertainty. It works as a teambuilding activity as it forces you to build trust and make alliances at a moment's notice.About your hostAnna Ong is the Founder of WYSH. She is an ex-banker turned storyteller and entrepreneur. She produces a show in Singapore called What's Your Story Slam that promotes storytelling in Asia through personal narratives. WYSH offers experiential training, coaching and consulting services in Improv, Storytelling and Applied Theatre – all of which have been proven to bolster capability in soft skills, enabling individuals to perform with greater confidence and impact, and teams to drive better collaboration and productivity. To get started, you need:The latest version of ZoomDesktop/Laptops preferred over iPads or PhonesGood internet connectionHeadphones (preferred but not required)A quiet environmentA working camera on your computerA spot with good lightingPaper and penVideo Conferencing Platform*The operator is able to host sessions via Zoom *Invitation to join the session will be provided closer to the date of the event*If your organisation uses a different platform (i.e. MicrosoftTeams), the operator is able to join with an invitation from you
What You'll be Doing
Itinerary:
WEREWOLF on Zoom
Show Details
What's Included
WEREWOLF on Zoom conducted by improv coach - Anna Ong
Where We'll Meet
Start Point
Meet-up at Zoom Online from Home! (Singapore)
Meet at selected timeslot
This Activity is no longer available. How about browing similar activities below? Or contact us if you need any help!
Useful Information
Start & Ends
Every Tuesday

10:00AM - 12:00PM

02:00PM - 04:00PM

Every Wednesday

10:00AM - 12:00PM

02:00PM - 04:00PM
See More
Cancellation & Other Policies
Cancellation

As WYSH - What's Your Story? would be holding the slot for you and turning down other potential customers, you won't be able to cancel after you book.
Suitability / Accessibility
Child Friendly (No Minimum Age)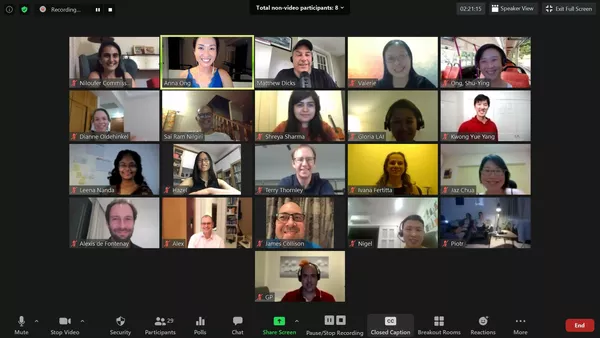 WYSH - What's Your Story?
WYSH (What's Your Story, Huh?) is a consultancy based in Singapore that provides coaching, consulting, and corporate training using storytelling and improvisation comedy techniques. WYSH helps individuals and teams be better communicators, to work off the top of their intelligence. All workshops are led and designed by Anna Ong.
Experience: 5 years
Speaks: Fluent English
Keep your payments secure by using the Seek Sophie website for all transactions and communications.
Not your usual touristy stuff
Here you'll find some must-sees. But mostly you'll find what's real - not just what's on show for tourists.
Handpicked guides
We're a marketplace, but a highly curated one. We'll only recommend guides who we love.
Planet-Friendly
We believe that travel shouldn't harm our planet. We offset all carbon emissions for trips booked on Seek Sophie.