The Ultimate Guide to Nusa Penida
The Ultimate Guide to Nusa Penida
How to Get There, Getting Around & What to See!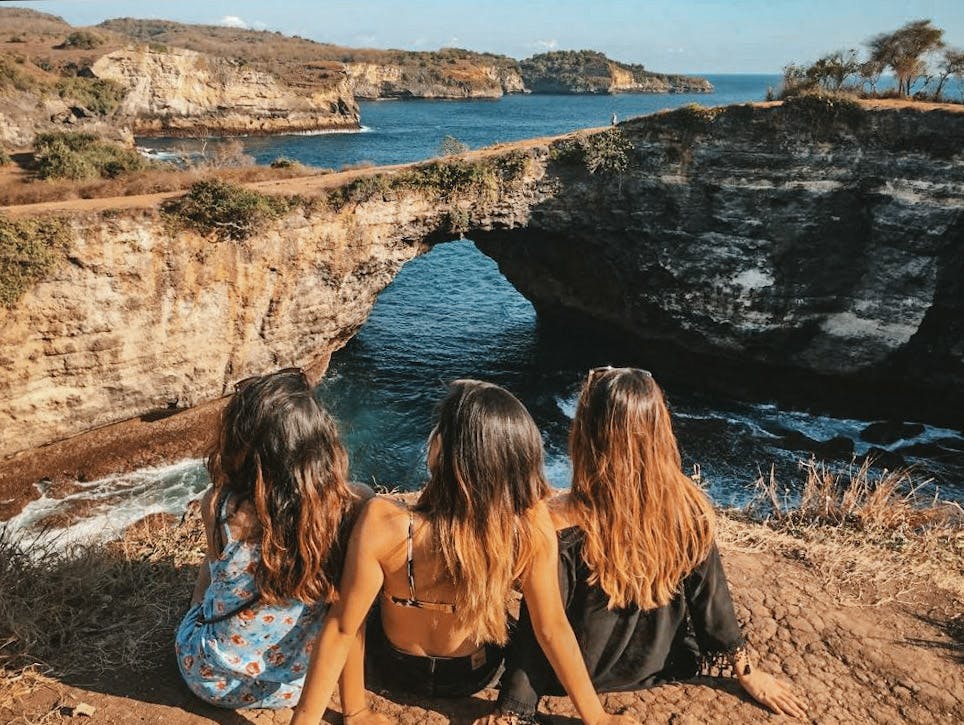 Easily one of Asia's most picturesque islands, Nusa Penida is an island off mainland Bali with stunning landscapes surrounded by epic blues and unique rock formations.

While Nusa Penida has been getting more touristed over the years, it still reminds us of Bali from more than 10 years ago. Even getting there can be an adventure in its own - boarding the boat to Nusa Penida was certainly a chaotic experience. Here are our top tips on how to get there, what to see and more!
Ready to go? Check out all the Nusa Penida experiences here!
Getting There - The Basics
1
Fast Boat from Bali
To get to Nusa Penida, you will need to take a fast boat from Bali. Fast boats depart from Pantai Matahari Terbit Harbour in Sanur and Kusamba Port in Kusamba Beach. The main one is in Sanur and has recently been upgraded with convenient jetties and modern check-in. The Kusamaba Port is more convenient if you are coming from the east side of Bali, but offers less fast boat operators.
2
Buying a ticket
There are over 20 companies departing daily from the port in Sanur. A one way ticket is around IDR 150K per person no matter which company you choose. It's a good idea to buy tickets online in advance, especially during high season (July-August). Some companies can include a hotel pick up and drop off. Tickets can also be purchased at the harbour on the day of your trip.
3
Departure times
Most of the fast boats located in Sanur leave at around 7.30am and then again during the mid morning around 10am, followed by an afternoon departure around 2.30pm or 3.30pm. They come back to Bali in clusters from 8am to 10am and 3.30pm to 4.30pm.It takes about 35-45 minutes to get there, depending on weather conditions. Arrive 30 minutes before your scheduled departure.
4
Arriving to Nusa Penida
The most common port of arrival is Banjar Nyuh Harbour. Most of the fast boats departing from Sanur go there. Right at the shore you can rent a scooters or hire a car and driver. Sampalan is the other Harbour, and some of the boats that depart from Kusamaba will go here. Sampalan may be the better option if you are planning on visiting the east side of the island.
3 Ways to Get Around the Island
5
Rent a Scooter
If you are looking for an independent experience, you can attempt to rent a scooter at the Banjar Nyuh Harbour or at the accommodation you are staying. A one day hire starts at around IDR 70K. However, scooter rental should be reserved for highly experienced drivers, as the roads around Nusa Penida are quite challenging and not of great quality.
6
Hire a Car & Driver
Hiring a car and driver will make for a more comfortable and safe drive. You can find a driver once you get to Nusa Penida at the harbour or your hotel or guest house can help to arrange. Drivers will charge per destination rather than by the hour or distance driven. Prices start around IDR 500K and go up quickly from there.
7
Go on an All-Inclusive Day Trip
For a hassle free way to get around and see the best parts of Nusa Penida, you will want to book a tour in advance. An all inclusive trip will include a hotel pick up and drop off in Bali, a car and driver in Nusa Penida that will meet you at the harbour. It can even include a boat charter for snorkelling if you wish to experience the waters off the coast of the island.
This is one of the best ways to support locals on the island, and see the best of the island.
8
East vs West Side
As the island is bigger than it looks and the road quality is not great, it's not possible to see it all in a day. Most day tour companies will offer a choice of a west or east trip. The west side of Nusa Penida has the more well known spots like Kelingking and Broken Beach with a fairly short drive from the harbour. This side also has the boat only accessible snorkelling spots. On the east side you will find Diamond and Atuh Beaches and more cultural points of interest such as Goa Giri Putri Temple and seaweed farms. This is a bit less crowded, albeit a bit of a further drive from the harbour.
Top Places to See - West
9
Kelingking Beach (T-Rex)
This is perhaps the most famous beach on Nusa Penida. Located on the southeastern coast of the island, Kelingking Beach is known for its crystal clear waters and stunning cliffside which looks like the head of a T-Rex. The best way to experience Kelingking Beach is to hike down the cliff and swim in the turquoise waters.
10
Broken Beach
This epic rock encircled cove with an archway, opening up to the sea is more than it's pretty looks. As you stand at the cliff's edge looking over the deep blue waters, you may be able to catch a glimpse of the beautiful manta rays peacefully dancing in the current. A surreal image!
11
Angel Billabong
Located on the southwestern coast of Nusa Penida, Angel's Billabong is a natural infinity pool surrounded by towering cliffs and crystal clear waters. The best way to experience Angel's Billabong is to enjoy the beautiful views from the top of the cliffs. The waters can be unpredictable with tide rushing in very quickly.
12
Crystal Bay
This cozy little bay, blessed with super clear waters is great for beach goers and snorkellers alike. You will see quite a few boats docking here with snorkellers looking to find vibrants corals, colorful fish and even some turtles.
13
Peguyangan Waterfalls
You can't be afraid of heights to experience these waterfalls. To get there you will need to descend a very steep set of wiry blue stairs. Aside from the effervescent stream of water pouring over from a jutting cliff's edge, you will also see a cascading set of natural pools. As this place is not on the day tour itinerary, you can get a great reprieve from the crowds.
14
Tembeling Beach and Forest
Once you pass through a thick forest down a very rocky and steep path you'll find some greenish looking pools, but don't stop there, keep going and you'll hit some that are crystal clear. Since they are so close to the ocean they look like infinity pools. If you head all the way down you will find a white sand beach.
Best Snorkelling Spots
15
Wall Bay
Perhaps most impressive site here is that of the gorgeous blood-red finger corals, which thrive at Wall Beach. You may even get a glimpse giant Moray eels, octopi, sweet-lip emperor fish, the red-toothed triggerfish, batfish, and more. The current is a bit strong, but you will see more fish here.
16
Manta Point
It may be hard to convince a manta novice, but witnessing a manta ray gently riding the current is second to none. If you would like to get a good chance of becoming a member of the manta admirer club, you need to come to Manta Point. The best time to visit is during manta ray season, which typically runs from May to October.
17
Gamat Bay
This spot is quite difficult to reach by land, which has been helpful to preserve the ocean life nearby. This clear water spot is known for vibrant coral reefs and colourful schools of fish. Turtles are also known to hang out here.
Top Places to See - East
18
Diamond Beach
Diamond beach gets its name from the diamond shaped rock cliffs which jut out of the beautiful blue waters. If you have the time, you can climb the many stairs all the way down to the beach to enjoy the water up close.
19
Atuh Beach
Atuh Beach is known for the epic view of a rock island formation which ends in an arch and sticks out of the gorgeous turquoise waters. If you come here during low tide, the view of the arch is supplanted by an ocean bed full of otherworldly rocks.
20
Goa Giri Putri Temple
The locals say that if you have the right intention, no matter how big you are, you will be able to get through the tiny crevice leading to the temple. Once inside, you will witness the biggest cave and temple in Nusa Penida. This place is sacred for the Balinese, with many coming from the main island to take part in purification.
21
Teletubbies Hills
This unique landscape features rolling green hills that resemble the set of the popular children's TV show "Teletubbies." The best time to see them is during rainy season (December-March) when the hills turn bright green. You'll get the best perspective if you have a drone!
22
Seaweed Farms
Dotted along the northeastern coast of Nusa Penida and invisible during high tide, are seaweed farms. Introduced to the island only in the 80s, this export led crop has made a revival during Covid. Interacting with a seaweed farmer is a great way to learn more about the local way of life. Book a tour that goes to the east part of the island for this unique experience.
Bonus Things to Do
23
2 in 1: Visit Nusa Lembongan Too!
If you are visiting Nusa Penida, might as well visit jump across and visit the neighboring Nusa Lembongan. Check out its spectacular views at Panorama Point and Devil's Tears. There are day tours that combine the two so you don't have to worry about the logistics.
24
Dive Nusa Penida
One of the best ways to see Nusa Penida is deep under water. Divers come here for the manta rays and the mola mola a.k.a. sunfish. Both of these creatures are amazing in their own right. This is a great spot to experience diving for the first time!