6 Best Ways to See Mount Batur
6 Best Ways to See Mount Batur
Hiking and other off-piste ways to see Bali's most iconic volcano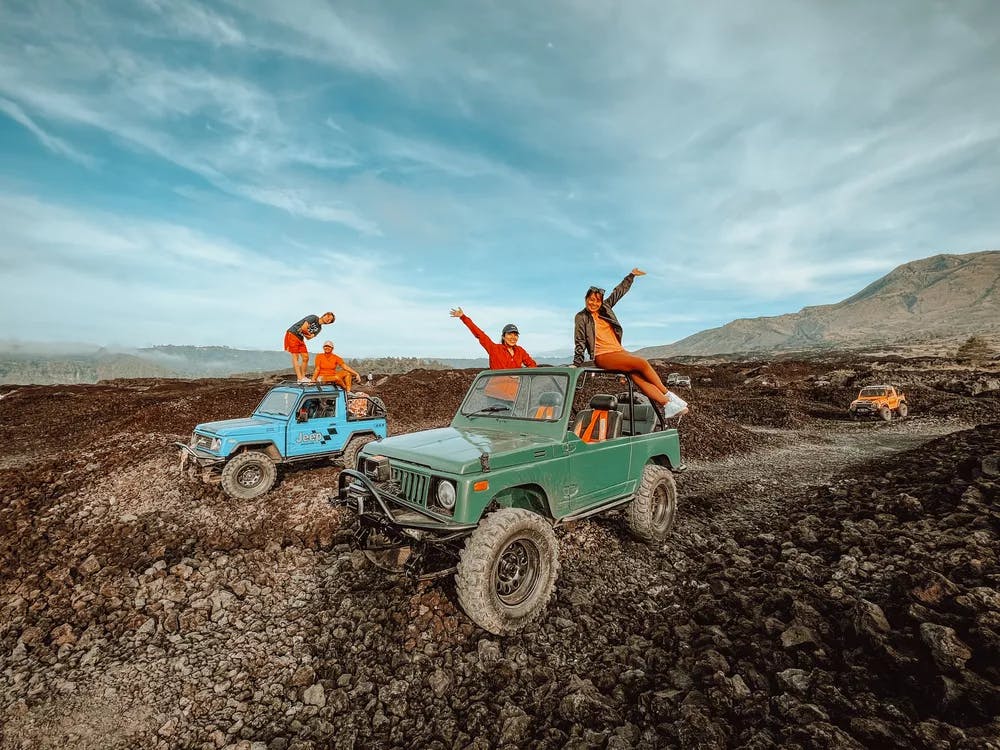 If you are traveling to Bali, no doubt Mount Batur volcano is on the top of your list of places to see. But there are so many ways to see and experience it - what's the best option for you? It will depend on your fitness level, tolerance for crowds and capacity for adventure! We've broken down the various options so that you can make the right choice :)
Ready to book? Check out all our handpicked Mount Batur trekking & Jeep experiences here!
1
The Classic: Sunrise Trek to Batur's Summit
This sunrise hike is the most popular way to see Mount Batur. During peak season, up to 600 people hike this each day!
For the sunrise trek you'll normally need to leave your hotel around 3am to travel to the start point of the hike. The hike takes approximately 2 hours each way and is beginner friendly. At the top, you'll get to see epic panoramas of Mt Abang and Mt Agung.
Top tip: We would highly recommend going with a guide who takes a less crowded route up so that you can enjoy the climb in peace!
Frequently Asked Questions
How hard is the Mount Batur hike?
It's one of the easiest volcano climbs, and is very beginner-friendly. The climb is on a very well-trodden path, the incline isn't very steep, and it only takes 1-2 hours each way (4 hours in total). So if you're able to walk for 4 hours on a moderately inclined path, you should be able to do the climb without much trouble.
How long does it take to climb Mount Batur?
It can take 1-2 hours to summit Mt Batur, depending on how fit you are - so in total going up and down will take you 4 hours. If you do the alternative Batur caldera route (which has 20-40 persons a day compared to the usual summit route of 300-600 persons), it'll take 30-60 minutes to climb each way.
It is the most popular hike in Bali because you get to see a gorgeous sunrise (in good weather!), panoramic views over Lombok island and Mt Agung after a reasonably easy hike. So it's worth it if all you're looking for is some time out in nature and a good view. The only downside is that the mountain is very touristed, and it sees 300-600 hikers a day - so you will have lots of people around you during the climb. If you prefer a less touristed route we would highly recommend the alternative Batur caldera climb which only sees 30-40 persons a day - this climb is slightly easier (half the time), it gives you a gorgeous panoramic view and it also includes a boat ride across the Batur caldera lake which is cool!