Top 5 Non-Touristy Things to Do in Bali
Top 5 Non-Touristy Things to Do in Bali
If you're looking for Bali's hidden gems, here are some of our favourites! We promise no Bali swing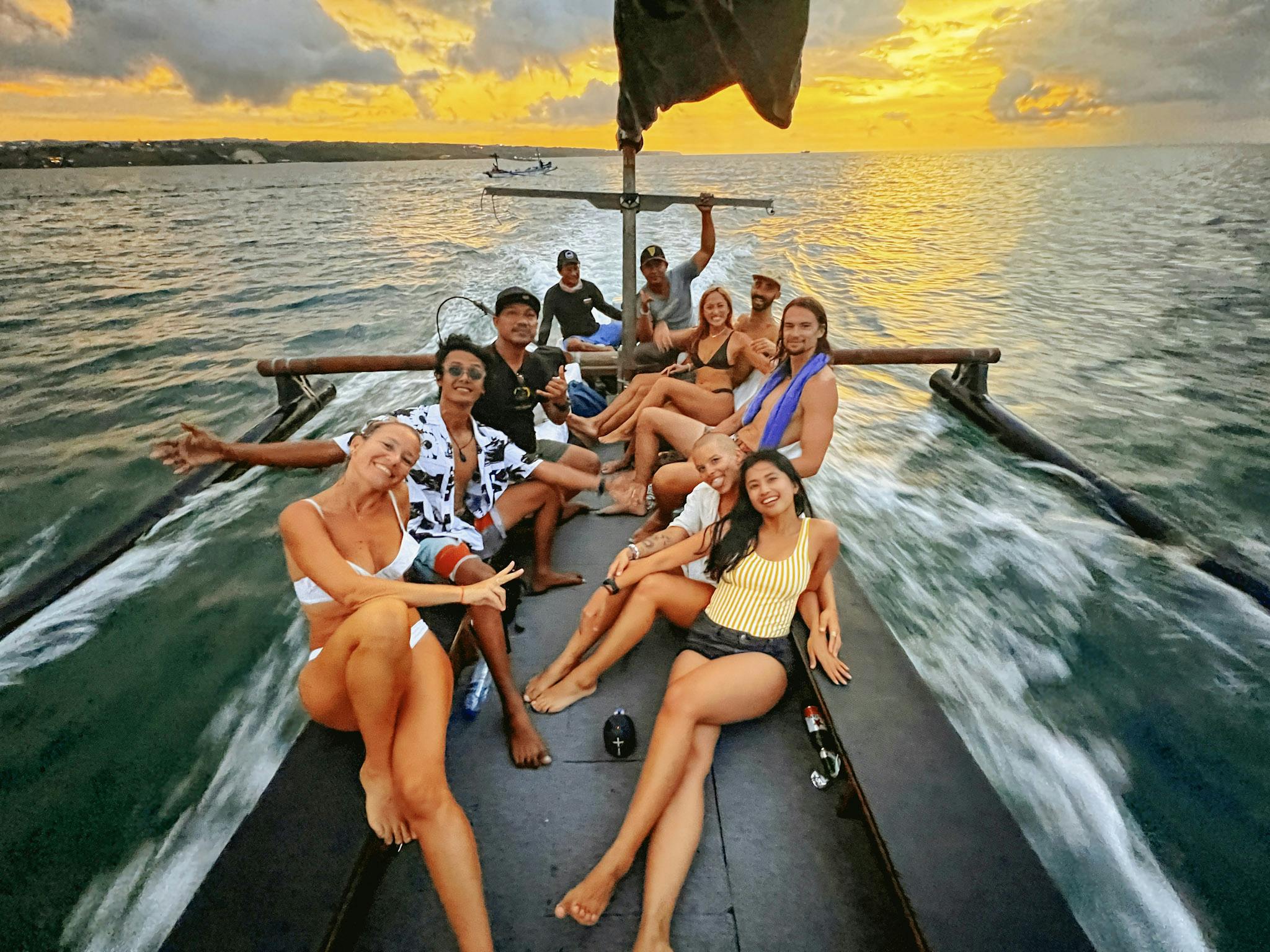 Most people know Bali for its IG-famous Bali swing and crowded beach bars, but there's so much more heart to Bali than that.
If you're looking for something a bit more authentic than the usual jam packed tourist hotspots, try out some of Bali's less touristed experiences. Here, you can discover Bali like it was before over-tourism, and see Bali's authentic heart.
Here are our top 5 non-touristy suggestions!
✨ See Mt Batur, BUT via an alternative route! The usual Batur route has 300-600 hikers a day so it gets a bit jammed. Instead, try the alternative non-touristed caldera route for a gorgeous sunrise over Mt Batur, plus you'll get to take a fun boat ride across the Batur caldera lake!
✨ Paraglide over Bali's coastline. This sounds adventurous, but it's actually really chilled as it's a tandem ride so you'll have someone there with you while you coast over amazing views.
✨ Go waterfall canyoning! This is like a water playground at the waterfall. You slip, you slide, and you fully immerse in nature without needing to do a long hike to get to a waterfall! It's incredibly fun, and is one of our fave things to do in Bali. Try it!
✨ Visit an eco-coffee farm. Most of the coffee farm visits in Bali are pretty unsustainable as they visit Luwak (civet cat) coffee farms where the wild Luwaks are kept inhumanely in small cages. Instead, visit this rare, community-owned coffee farm (without luwaks!) to see traditional coffee farming methods, and learn how they produce great coffee while benefitting the local villages.
✨ Catch the sunset on an old-school Balinese jukung boat! You'll take a traditional Balinese fishing boat across the waves of Uluwatu, around the Middle-Earth like cliffs, to see the sunset at one of the best spots in Bali. Top Tip: Afterwards, get seafood on the beach at Jimbaran - the catch there is brought in by local fishermen daily!
---
☄️ Bonus Tip 1: It's not in the video, but one of our favourite local things to do in Bali is the traditional Melukat (purification) ceremony. The Melukat is something that local Balinese people do as often as once a month, and also at every important occasion. The ceremony usually takes place around waterfalls as water is believed to be able to cleanse your energy. We loved doing the ceremony at Taman Beji Griya waterfall, an incredibly spiritual and locally revered place about an hour from Ubud. You can hire a driver to take you there for the day to do the ceremony.
☄️ Bonus Tip 2: Another favourite thing to do is go on a hunt for the best Babi Guling in town! For the foodies out there, Babi Guling is the most well-known local Balinese street food. Fun fact: Wealthy families in Bali with large home compounds sometimes have warungs (small restaurants) within those compounds, and the best Babi Guling spots are often hidden within those. Our favourite spot for yummy Babi Guling in Bali is Warung Jero Kawan - they make incredibly flavourful pork cooked five ways. It's about forty minutes from Canggu/Jimbaran and you can hire a driver, or Gojek to take you there.
Try these out and let us know what you think!
Frequently Asked Questions
What should I not miss in Bali?
For many people, Bali brings to mind beautiful villas, rice terraces, waterfalls, cliffside beaches and a spiritual local culture. For first-timers in Bali, what most people would recommend as 'must-dos' are the usual places such as Monkey Forest Sanctuary, Tegallalang Rice Terrace, Pura Tirta Empul Holywater temple and Gates of Heaven. You'll find all of these listed on every blog! All of these are quite touristy and you can cover these all within a day. For us, those aren't what make Bali special though and it's difficult to understand real Bali by doing those activities. Bali is really special to us because of the unique mix of centuries' old spirituality, traditional customs that are deeply held and modernity. It also has some of the most incredible natural sights which are still less known to tourists, and you can see why people fell in love with Bali before the traffic jams. The activities we would highly recommend in Bali are: a purification ceremony (if you can do one at a waterfall, that's much nicer), spending a couple of days in Nusa Penida to avoid the crowds and to really immerse in island life (the east side is a must for us!), a hike (try Batur or Agung for a challenge), going to a coffee farm (Bali Beans is the best), and our favourite waterfall, Sekumpul waterfall. If you have time, we would also highly recommend a cooking class (especially if it's coupled with a local farm visit) because the Balinese are obsessed with their food, and also a visit to Trunyan village (which is Bali's oldest village with a magic tree). You can couple a visit to Trunyan village with a hike/jeep ride up Mount Batur as they're in the same area. If you love art or being creative, another thing we really love above Bali is its artistry. Everywhere you go in Bali you'll notice woodcraft, clothing and art done to the highest level. Many of the art villages around Ubud these days are for tourists only, but there are still a few small art areas especially around Sidemen that are authentic. You can do jewellery making with a master artisan in Sideean or Ubud, or do Batik painting to understand how Balinese Batik is different from the rest of Indonesia.
When you mention Bali, people mainly think of rice fields, epic beaches, volcanoes and surfing. Since Eat, Pray, Love, Bali has also become known as a wellness destination for yoga retreats, meditation and other spiritual experiences such as purification and shaman healing. Bali is a large island though so when you get to know the island better you'll find that different parts of Bali are known for different types of experiences. If you're looking for cafe culture and surfing, head to Canggu. Canggu is pretty hipster and where the digital nomads hang out. So here you'll find avocado toast, instagrammable cafes and yummy ramen. If you're looking for ricefields, volcano hikes and wellness experiences, head to Ubud.Ubud is where usually families would stay and anyone else who wants more nature activities. Ubud is where the rice terraces are, where Monkey Forest is, and is closer to Mount Batur. If you're looking for glam beach bars, and advanced surfing, head to Uluwatu. Conferences (like the G20!) are mainly held in the Nusa Dua area and Seminyak/Kuta used to be where people would go for clubs and parties. Our favourite area though is Sidemen which is where you'll find the gorgeous serenity of rice fields, volcano views and waterfalls without the crowds of Ubud. It's basically like Ubud before Eat, Pray, Love! It's very sleepy here so if you're looking for peace and quiet, Sidemen is for you. Sidemen is also where you'll find epic places to stay such as glam treehouses with infinity pools.
How many days in Bali is enough?
Depends on what you're in Bali for, and how far you've travelled :) For first timers in Bali, generally a week in Bali is enough to have a mix of relaxation and the 'must-do' activities. But 10 days is perfect if you want to truly experience Bali beyond the tourist crowds, or if you want to base yourself in multiple locations (e.g. Canggu for half the time, and Ubud for the other half). Even two weeks in Bali may not be enough if you're looking to see Bali beyond its touristy experiences because Bali is so huge and there are so many incredible things to do. The thing about Bali that most people don't know is that Bali is huge and the time taken to go from place to place is quite long, especially with traffic! For e.g. the best known places in Bali are Ubud and Canggu/Seminyak - during peak hour, it can take 2-3 hours each way to get between these places. So even though 7-10 days feels long, you can't actually cover that much ground each day because of the traffic. If you only have a week and it's your first time in Bali, you should base yourself in Ubud as that's where many of the 'must-dos' are - i.e. Monkey Forest Sanctuary, Tegallalang Rice Terrace, Ubud art market, cooking classes and it's close to Mount Batur. If you base yourself in Canggu, it'll be more of a chilled week - for surfing, yoga and cafe culture. Note that travelling to different attractions will take a bit longer from Canggu. If you'e not fussed about checking off all the touristed stuff, we would recommend spending a week in Sidemen even if it's your first time as you'll see the beauty of Bali before the tourist crowds, and find out why so many people fell in love with it. If you have 10 days, you can base yourself in a couple of areas to enjoy the cafe culture of Canggu, as well as the nature of Ubud. You can also go to Nusa Penida (which we highly recommend as an overnight trip!), and you can do more local things like visit a coffee farm, a local village and even try a waterfall purification ceremony. If you have 2-3 weeks, you can also venture further afield to really special places like Menjangan National Park where deer roam and incredible coral reefs abound, or do an overnight trip to see Mt Ijen, the otherworldly volcano with blue flames.
What do people do in Bali?
The touristy things that people do in Bali include: the Gates of Heaven Lempuyang Temple (popularised by IG), the Bali swing, Monkey Forest, Mount Batur sunrise hike, Tegalalang Rice Terraces and Kecak Fire Dance at Uluwatu Temple. Usually people in Bali will also try a cooking class, and a yoga and surfing lesson as well. Bali is also great for adventure sports like white water rafting (River Ayung), Paragliding, Rock climbing, ATV, surfing - so if you prefer those, Bali also has a ton to offer!
What are the hidden gems in Bali?
If you love hiking, we would highly recommend doing the Batur caldera trek instead of the usual Batur summit trek, as it's far less touristed with a similar panoramic view plus you'll get to take a cool boat ride across the Batur caldera lake. If you're super fit and looking for a challenging hike, definitely try hiking Mt Agung which is far less crowded and a more challenging and interesting hike. Agung requires 8-10 hours of hiking vs Batur's 1-2 hours - so it's not for the faint hearted! If you have an extra day or two, you should definitely do an overnight trip to Mt Ijen, the volcano with otherworldly blue flames that you can hike on an overnight trip from Bali (guides can provide transport from Bali). To really understand Balinese culture we would highly recommend doing a purification ceremony (which the Balinese do once every month, and at every important occasion) which is believed to help with the cleansing of negative energy in the body with water in sacred parts of Bali. The other thing that's awesome to try is Balinese martial arts which really helps you understand the role of community and tradition in the local villages. If you're a foodie, you should definitely try a cooking class that includes a local market visit so that you can really get to see how the food is sourced and produced - which is a really big part of the local culture. Also, if you're based in the Canggu/Kuta area you should definitely go for cheese tasting, and visit the winery - it's fascinating to see how the Balinese have adapted modern food production methods and made them Balinese. Also do go on a Babi Guling hunt for the best Babi Guling - it's the most famous local Balinese street food and the best versions of Babi Guling are actually in a local's house - ask us if you'd like recommendations! If you're looking for an adventure, definitely try waterfall canyoning! It's super fun as it is basically an outdoor playground in nature, where you can get to slip, slide and play in the great outdoors. There's canyoning for every level from beginners to advanced. We would also highly recommend (tandem) paragliding as you'll get to see Bali from a totally different viewpoint and it's surprisingly zen! Also, if you love chasing sunsets you should definitely do the sunset cruise on a traditional Balinese jukung (fishing boat) - it takes you across the Uluwatu cliffs, across Middle-Earth-esque dramatic landscapes, and to the best spot in Bali for sunset viewing.