15 Awesome Birthday Experiences for Him [2022]
15 Awesome Birthday Experiences for Him [2022]
Celebrate the special guy in your life with something he'll remember for years!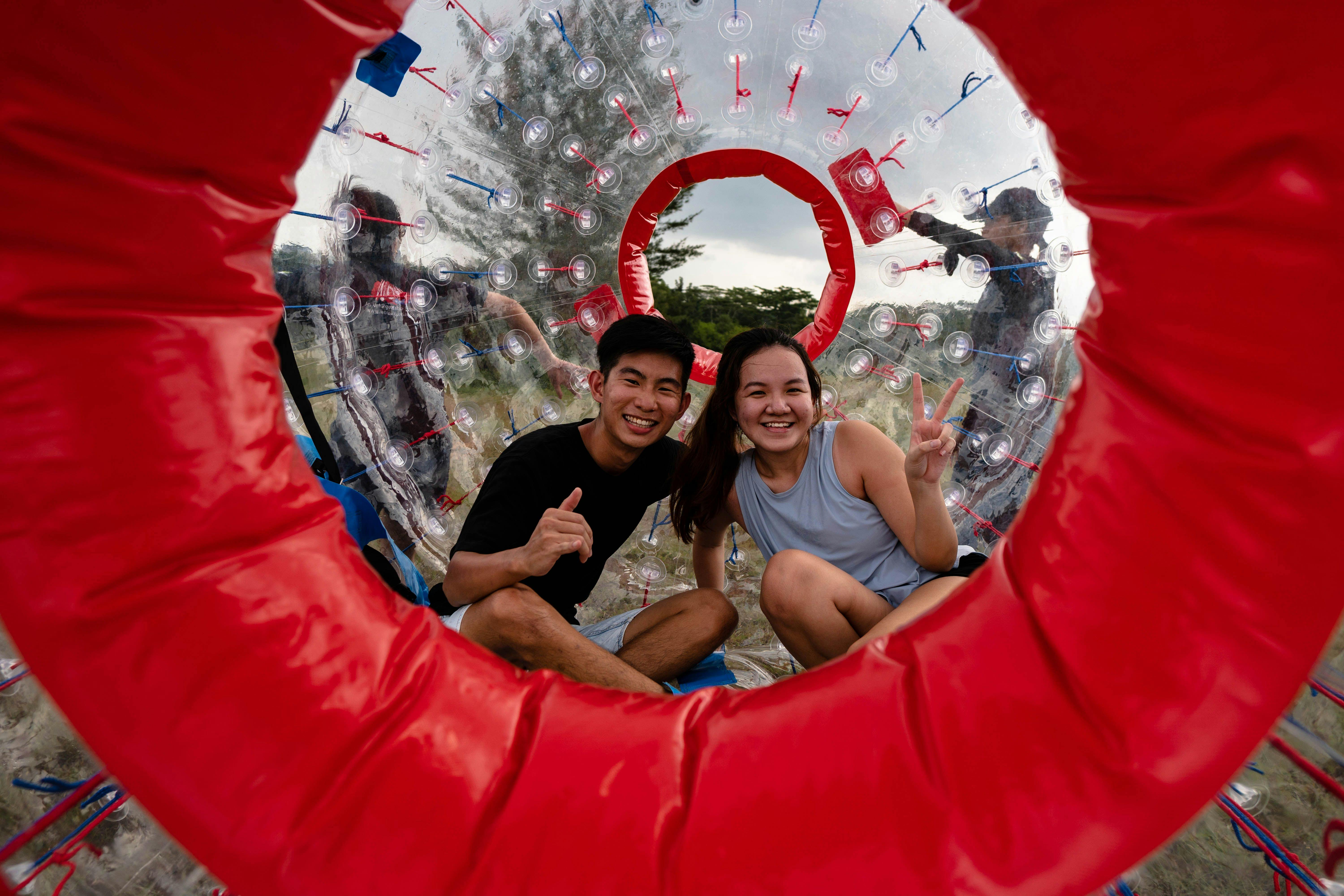 One of the questions we get asked most at Seek Sophie is what experiences we would recommend for a birthday. Here are some of our favourites ways to celebrate that awesome guy in your life.
1
Enjoy Street Theatre Together
If your guy loves the arts, this is a really special one to do together. This is an immersive street theatre experience in a hidden part of Singapore. Armed with an audio guide, you'll be led through gorgeous fantastical sets in Jalan Basar, and be transported to Singapore's in the swinging 1960s. You can't go back in time, but this experience will certainly give you an intimate glimpse of the past.
2
Take Him Gin Tasting
This is great fun whether or not your guy loves gin! It's a cool location, great value and a really fun way to spend the afternoon. At this gin tasting session, he'll get to smell gin ingredients and later identify them in the gins, try out homemade bitters (with cool flavours like Szechuan peppers and cinnamon), and get to taste a LOT of drinks.
3
Treat Him to Private Dining
If he's a foodie, this is the next level up. More than just food and drink, a private dining experience is a really intimate, memorable experience. Here you're invited into someone's beautiful home, treated like an honoured guest and you can enjoy yummy food cooked with a huge amount of love and care. You'll leave with your bellies full, and your hearts even fuller!

(Private dining is usually for a larger group of 4-5 so bring friends or family along!)
4
Private Rooftop Movie Screening with Cocktails
This is one of our favourites for a special surprise celebration! Here, you'll have a beautiful secret rooftop garden all to yourself, where you can enjoy a private movie under the stars 🤩 This comes with 3 cocktails per person, and the host will provide a screen, projector and Apple TV (so you can stream movies from your own Netflix account). You can also bring your own picnic, or order food to be delivered!
5
Enjoy a Coffee Masterclass
If he loves his caffeine fix, he'd love a coffee masterclass experience! In the coffee masterclass he'll learn all about the different types of coffee beans, the secrets of coffee brewing, and even how to store coffee beans for maximum freshness. Bonus - he'll also learn how to make pretty latte art!
6
Learn Longboarding Together
This is such a great experience to do as a couple or with friends! If he loves rock climbing, skating or sports generally, he would love this. Under the guidance of passionate instructors, he'll learn the basic techniques of longboarding, which includes pushing, carving, and braking. If he's a natural, he might even pick up a cool trick or two! It's super addictive - try it and see!
7
Leather Crafting with Skilled Artisan
This leather crafting course is a really cool experience for the creative guy in your life. Here, they will learn the art of traditional leather craftsmanship from skilled artisans. Not only do they get to make their own leather piece, they'll also get to monogram it with their name/initials for the perfect bespoke item.
8
Kayak into Nature
This is the perfect experience if he's outdoorsy! We sometimes call this a kayaking omakase - not because you get a 10-course meal, but because you never know what route you're going to get. You need to trust your kayaking guide! Clarence your guide has a real sense of adventure and loves showing his guests new hidden areas of Singapore. To amp up the adventure, you'll also enjoy a field-cooked lunch on one of the islets along the way - nothing fancy, but we think you'll enjoy it after your adventure!
9
Make Yummy Cocktails Together
Cocktail making is a classic gift that anyone would love (unless they don't drink of course!). Here you'll get to learn from some of Singapore's top mixologists how to make classic cocktails. Afterwards you'll also get to enjoy drinking what you create ✌🏻 We promise it'll be a fun (and tipsy!) afternoon out.
10
Conjure up Magic Together
Is your guy a budding magician, or does he love watching cool street magic on YouTube? If so, he'd love learning how to do his own tricks! This Street Magic experience with a professional magician is a super fun and mind-blowing experience. It's an afternoon where you're invited into a mystical world where magic still abounds. What better way to herald in a new year than magic?
11
Sunset Wine & Dine on a Private Yacht
If you've already done island hopping on a yacht, this is even more special. Here you'll head out to Lazarus Island for a special 2-course meal with wine. Bonus: you'll also get to try your hand at fishing, with the guidance of experienced guides. If you catch anything, the crew will BBQ it to add it to your meal! It's fishing + private yacht + sunset wine & dine all in one - an evening to remember.
12
Go on a Catch & Cook Adventure
If you're looking for an outdoor adventure for a super adventurous guy, this is IT. Not only will you explore Ubin's mysterious mangrove forests via leg-paddled kayaking (beginner-friendly!), you'll also get your hands dirty shucking fresh mussels and try the traditional way of fishing. Afterward, you'll cook up a seafood feast (your fresh catch!) in the wild.
13
Go Crazy with Graffiti
This is great for the guy who can't draw for nuts, but who loves trying out new fun things! The experience takes place in a cool warehouse location, and is an awesome chilled way to spend an afternoon. There you're given a couple of spray cans each, you get your own wall and you're off to vandalise however you like!
14
Have a Axe Throwing Competition
Well it's not technically a competition but it's even more fun if you make it one! Take your friend/SO axe throwing for their birthday, and see who can hit the target most. Loser buys drinks 🤪 It is a surprisingly a great way to have fun and is both silly and therapeutic at the same time.
15
Learn the Art of Coffee Making
We all love coffee at Common Man, so you know that this Barista course will be legit. Perfect gift for the coffee lovers in your life! Here you'll learn the art of coffee making from pulling perfect shots of espresso, mastering milk frothing techniques and of course, creating super pretty latte art.