12 Unique Ways to Go Kayaking in Singapore
12 Unique Ways to Go Kayaking in Singapore
Kayak the seas of Singapore in more ways you can imagine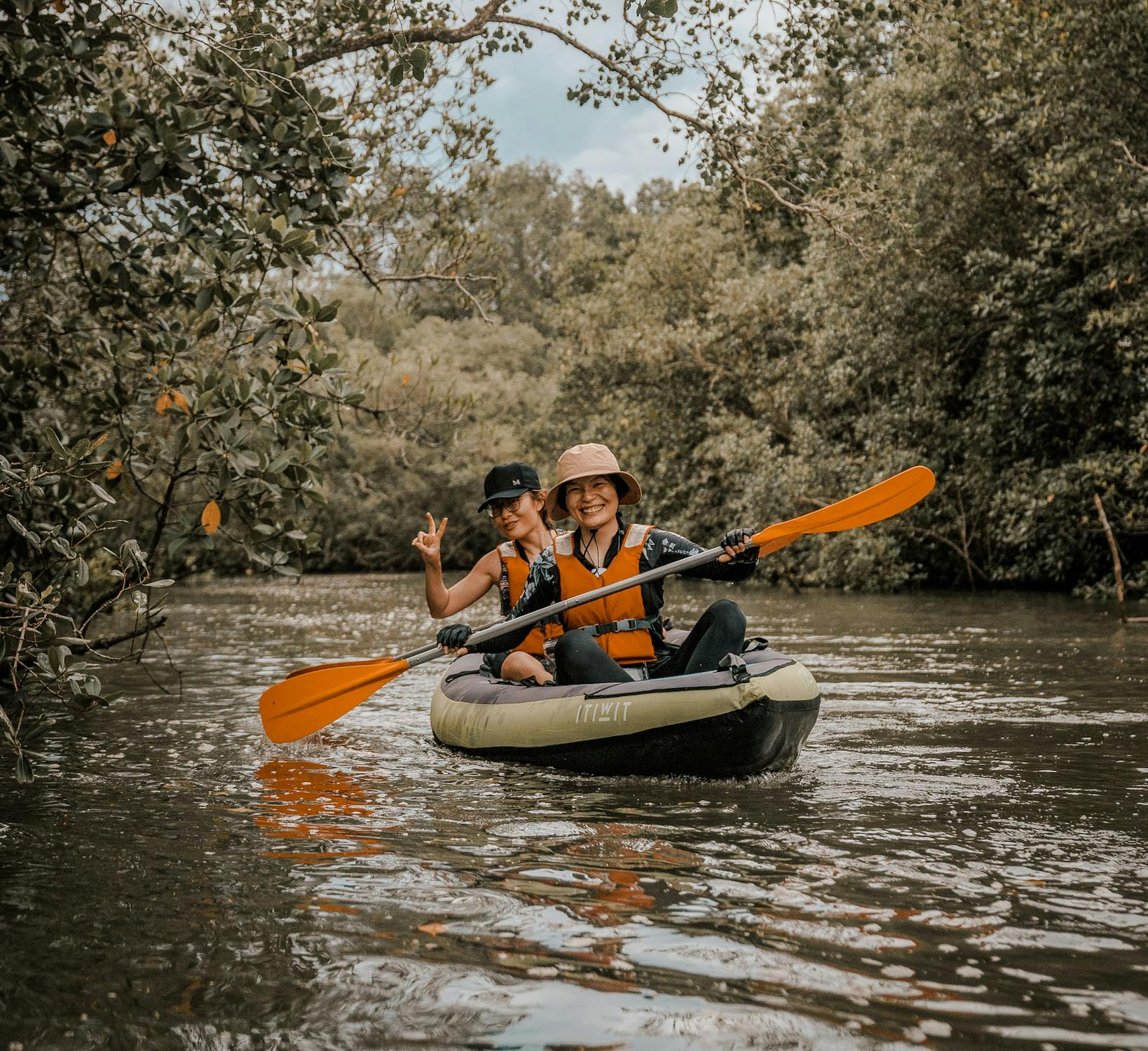 Kayaking is THE best way to discover all the nature of Singapore - where you can't reach by foot, you can by kayak. Explore the mysterious mangroves of Ubin, find hidden islets on our island seas, go kayak fishing and more - the adventures are endless!
Mangrove Kayaking at Pulau Ubin
1
Kayak, Swim and Have a Kelong Lunch
Any avid explorer will love this jam-packed day of adventure kayaking! Here you'll be kayaking the high seas of Pulau Ubin - paddle through gorgeous mangroves, swim in the ocean and spot lots of wildlife (like the cutest otters! 🦦) But the BEST part's the lunch in our last standing kelong! As you dig into your meal in the sea breeze, we guarantee it'll be an experience like no other.
Go Kayak Fishing!
Pet-Friendly Kayak Trips
Frequently Asked Questions
Where is the best place for kayaking in Singapore?
Our favourite place is Pulau Ubin and its neighbouring islands. Here you can see the biodiverse wildlife if you're lucky (such as otters, grey herons and sea eagles), get close to the gorgeous mangrove forests (it feels like Lord of the Rings!), and see a completely different part of Singapore. You'll also get to see the floating fish farms, and houses on stilts that still home indigenous peoples today. It's a great day out in nature!
Do I Need A Permit To Kayak In Singapore?
No, you don't need any special certifications or licence to kayak in Singapore.
Can A Beginner Do Kayaking?
Contrary to popular belief, kayaking isn't a difficult sport to learn. You don't even need to know how to swim - you can try kayaking so long as you're comfortable in the water with a life vest! It's great for everyone and simple to pick up, even for beginners. You'll need to learn a few basic paddling skills to safely navigate waters. It also helps to engage with a professional guide or instructor for entering and exiting a kayak, performing the forward and sweep strokes, and familiarising yourself with kayak safety.
What do you wear for Kayaking in Singapore?
We would recommend wearing a hat, and light-weight long sleeves, and trousers for kayaking to avoid sunburn. You should also avoid wearing flipflops as they may come off easily in the water - instead, you should wear light sneakers. Also do bring a small waterproof bag (a ziplock bag will do!) to keep your phone and other valuables from getting wet.
Can You Kayak Anywhere In Singapore?
There are permitted areas for kayaking in Singapore - you can go kayaking in the sea at Pulau Ubin or Sentosa, or you can kayak closer to land at Macritchie Reservoir, and Siloso Beach. We would recommend sea kayaking as it's more of an adventure - you'll get to see wildlife and get closer to nature that way!