We Tried These Unique Private Dining Experiences and They're Amazing
We Tried These Unique Private Dining Experiences and They're Amazing
More than just a meal, private dining is a special memory that will last for ages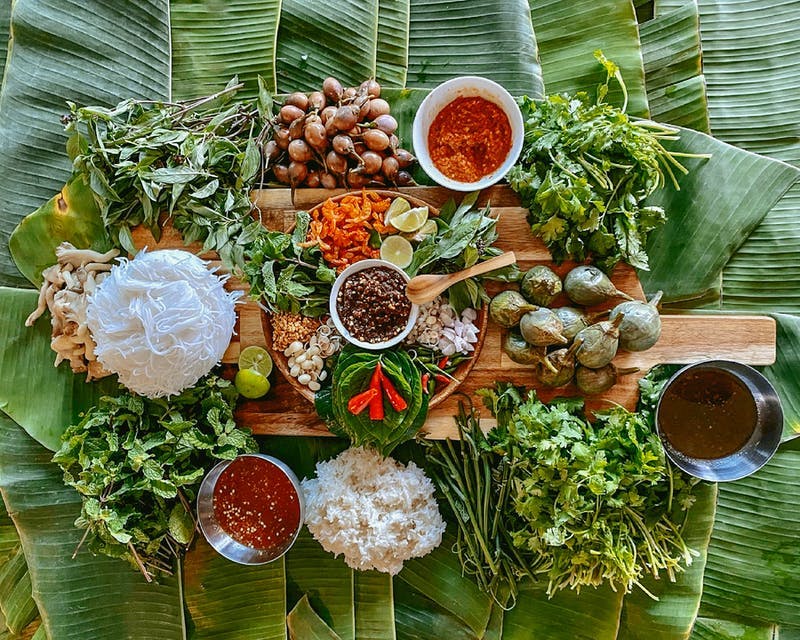 One of our favourite trends in the last couple of years is the rise of the private dining scene in Singapore. There's something really special about being able to peek into someone's lovely home, and enjoy food that's often better than restaurants! 😍
Here are some of our favourite private dining kitchens in Singapore, that we'll return to over and over again. If you have a special occasion coming up, or a friend visiting from abroad - give these a try!
The Most Versatile (and Talented!) Home Chef in Singapore
One of our favourite private dining finds in the past couple of years is Primateve. Primateve's private dining is held in a gorgeous bohemian home in Holland Village, and hosted by Soong.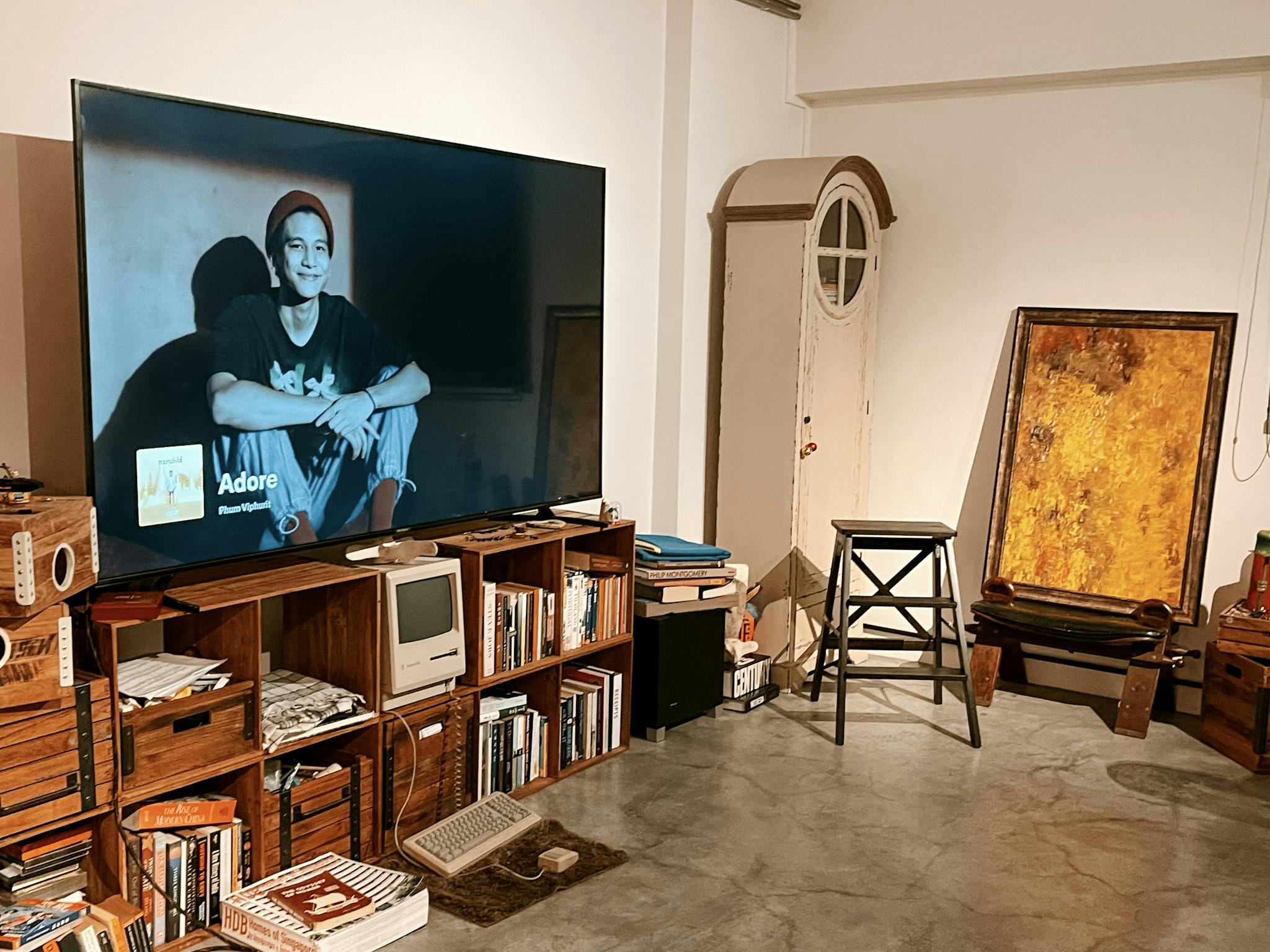 If you're looking for an always surprising, creative and super talented chef, Soong is IT. The food offered by Primateve is constantly evolving, and always very special.
Soong's an ex-AP journalist who has been everywhere from North Korea to Afghanistan, and takes inspiration for his cooking from his travels.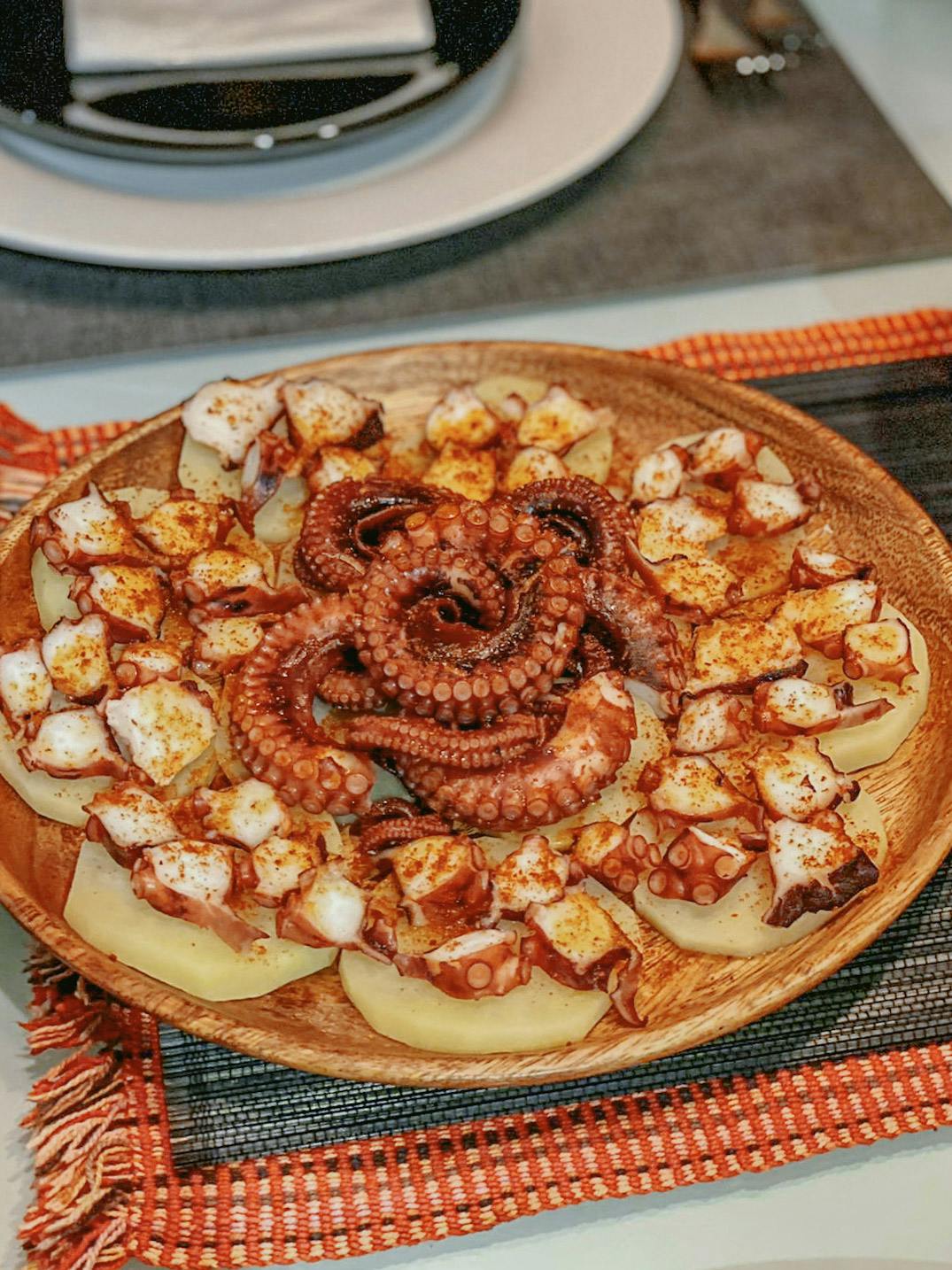 He's the rare, ultra talented chef who is able to make different cuisines shine in their own unique way 🤩 We have honestly loved everything that we've tried at Primateve.
Here, he offers a ton of menu choices: from Asian seafood grazing platter, to Balinese feast, to Spanish tapas. Regardless of which menu you pick, Soong will infuse the experience with something special.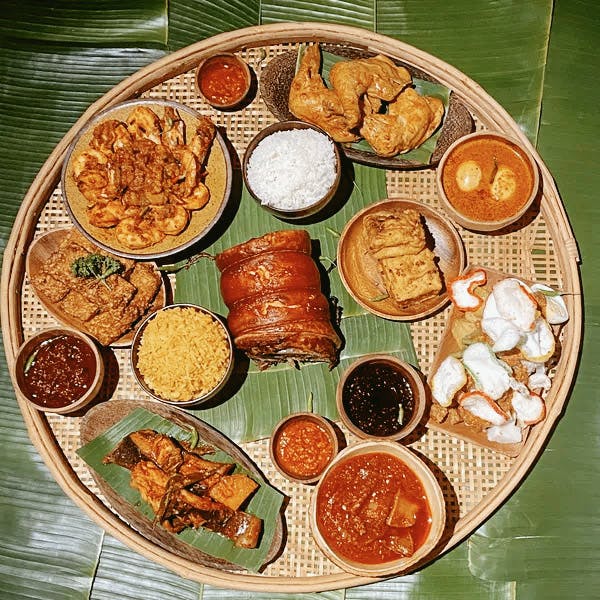 Take his Asian seafood grazing experience - it isn't just a usual meal, it's an adventure! The 3-hour adventure starts off with foraging in the neighbourhood for edible plants that you will use later in your meal. You'll never walk past a shrub without spotting edible possibilities again!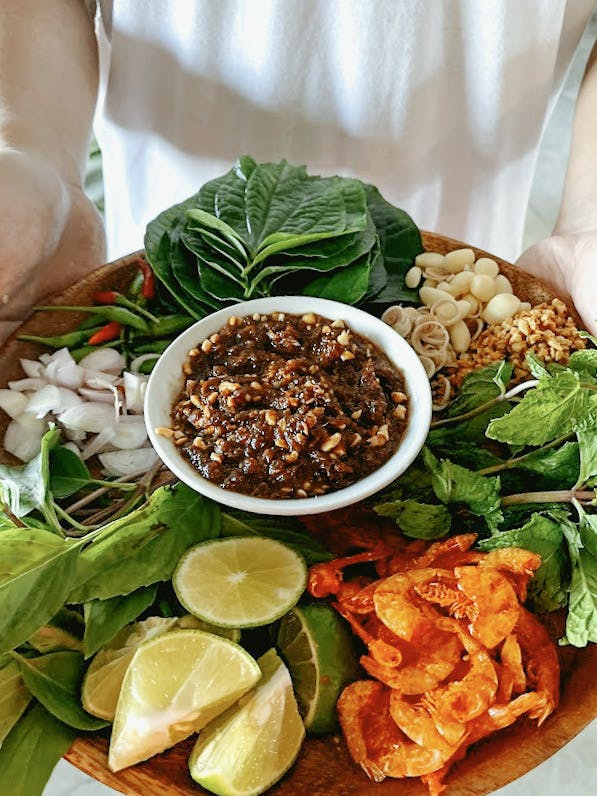 Then you'll head back to their gorgeous home for a Thai seafood feast of snapper, prawns & squid. It's served beautifully as a communal grazing platter for guests to dig in.
Hands down, the seafood we had here was some of the freshest seafood we've had in Singapore. And the homemade sauces that accompanied them were 🔥 !!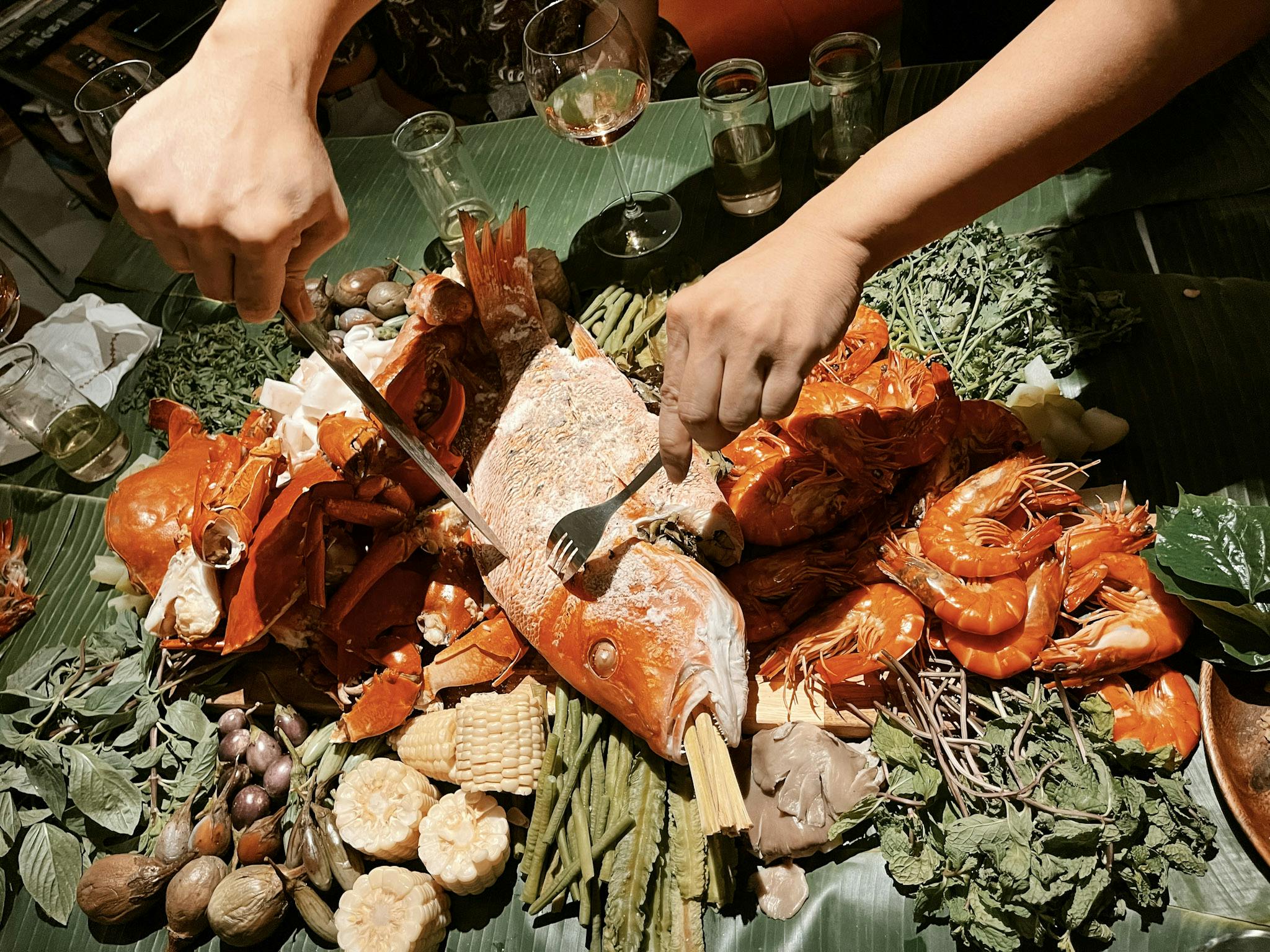 It's not so much a meal, but a communal feast adventure with a dash of the wild! It was one of the more unforgettable meals we've had in ages. Book the edible adventure here.
And then there's Primateve's Spanish tapas.. hands down, one of the best Spanish meals we've had in Singapore. You'll get to enjoy 7 amazing tapas courses, with gorgeous homemade bread. We loved the bread so much we had four loaves 🙈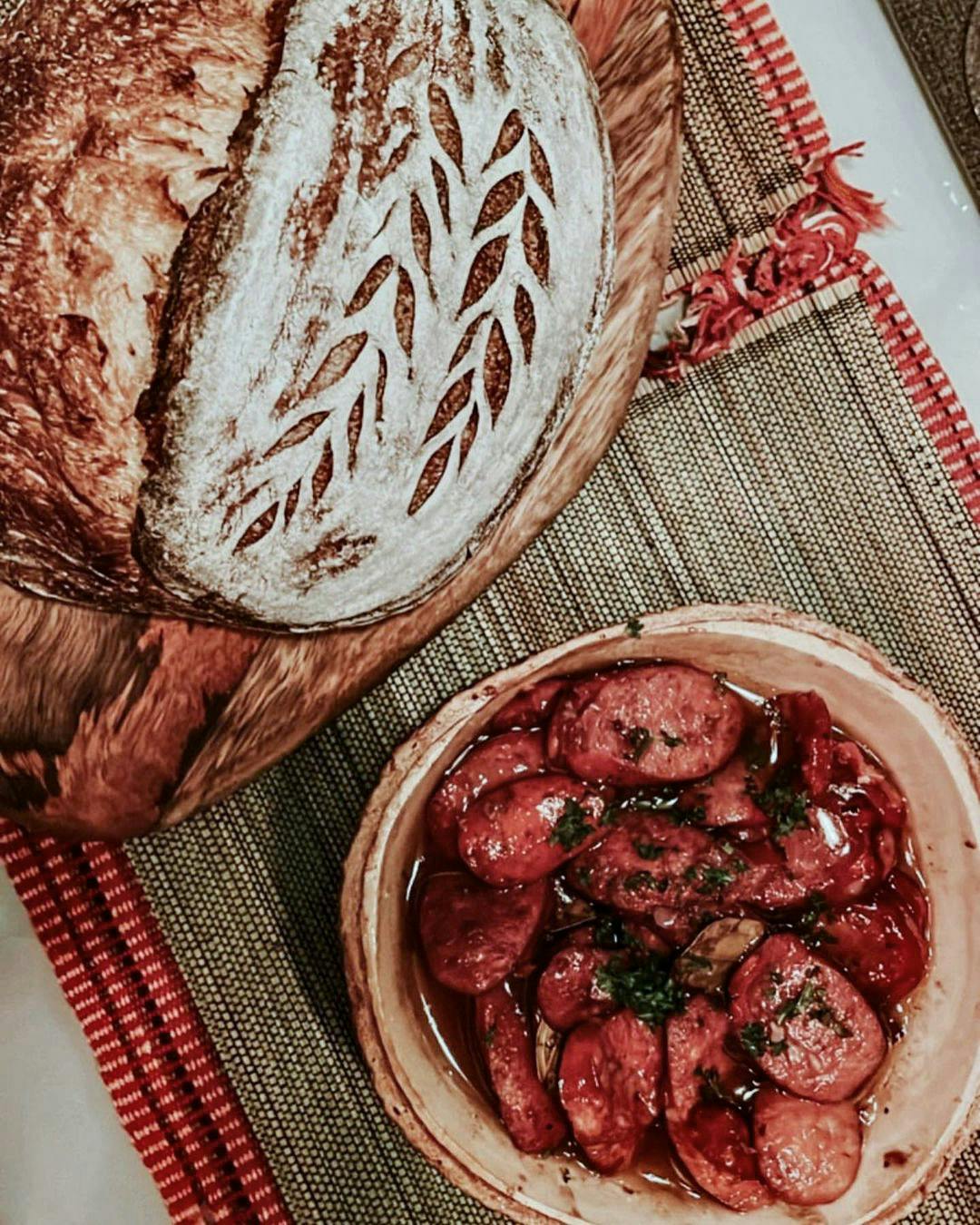 And the garlic prawns are 🔥 They were so special that when they were first served, we couldn't initially identify the sauce. The garlic sauce here is sweeter, juicier and more flavourful than any we've had in restaurants!
After we finished the prawns, we wiped up all the sauce with the bread. YUM!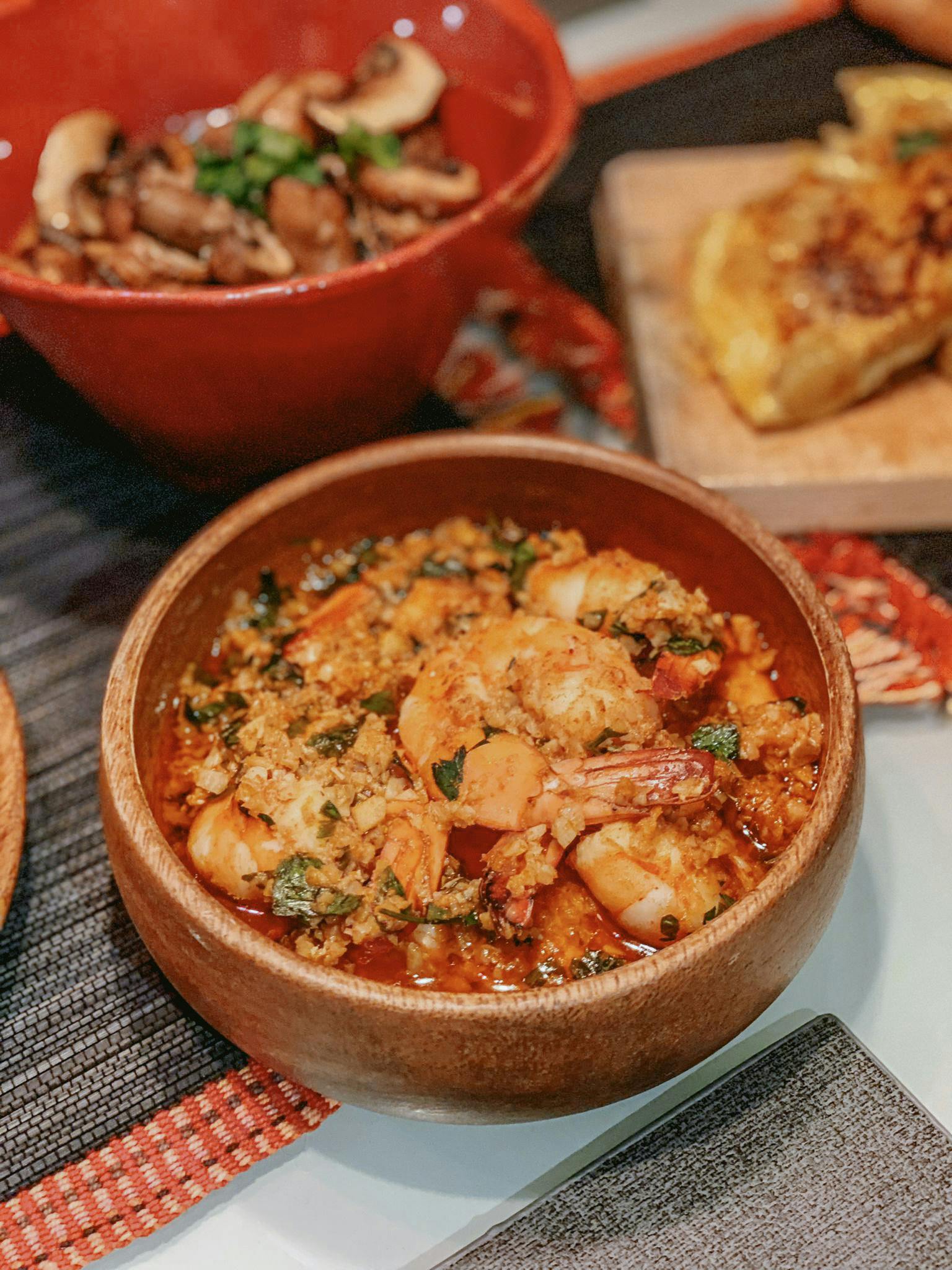 Food aside, Soong and his partner Li-Ann are seriously lovely too. Being in their home is like being invited to a best friend's place. They're super warm and will do everything to make your visit perfect (including digging up every loaf of bread in their fridge for our greedy group)! Book the Spanish tapas private dining here.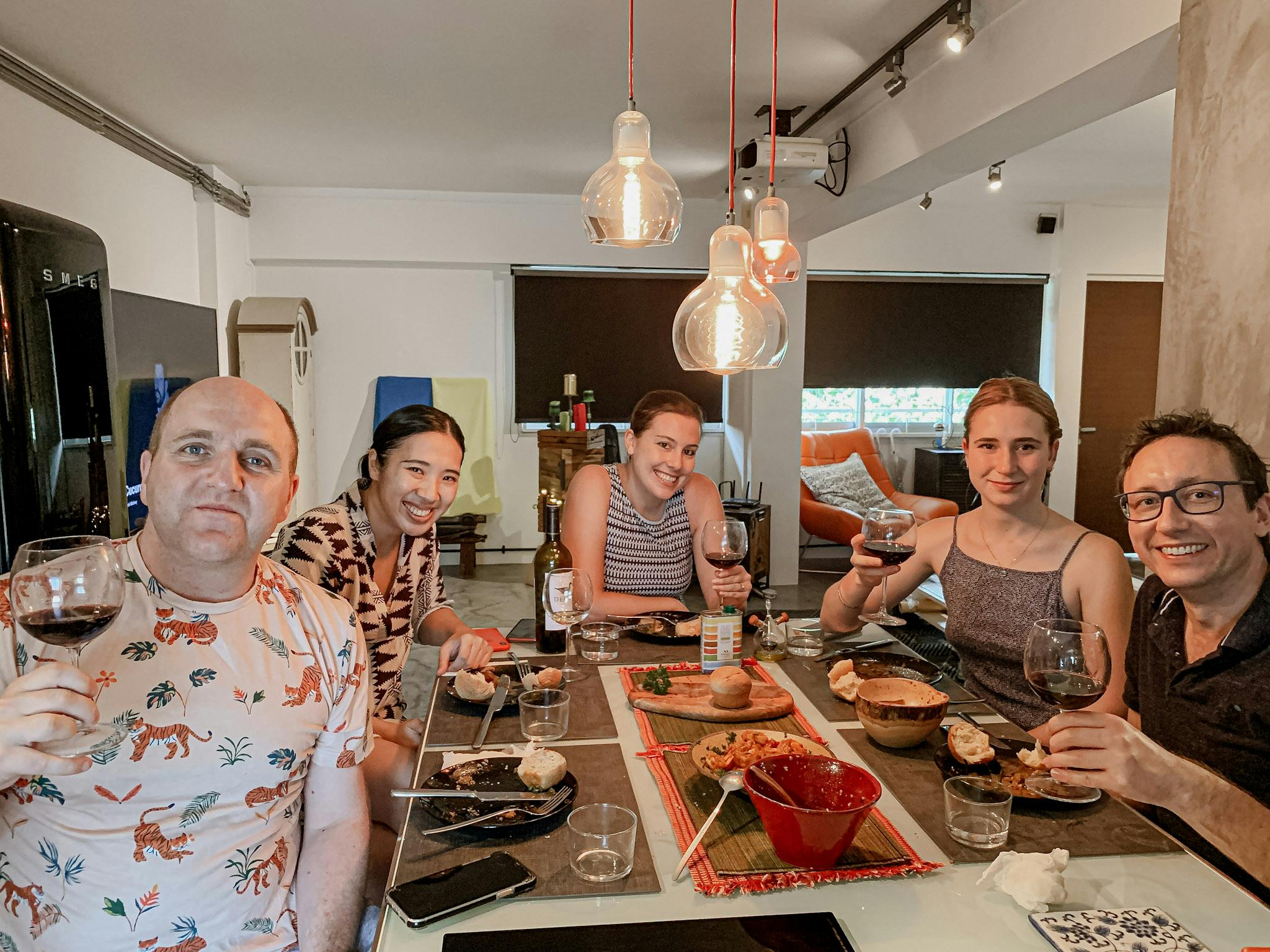 If you have a birthday coming up, or a hen do, or ANY occasion really, go to Primateve. Incredibly varied and yummy food, super interesting hosts and lovely bohemian home. We promise you'd love it!
See here for more information and to book Primateve's amazing private dining experiences.

Enjoy a Taste of Nostalgia at Aunty Pek's Peranakan Kitchen
Do you remember visiting your grandmother's house as a kid, and even before opening the door, you would smell the lovingly home-cooked meal that has been simmering on the stove all day?
Aunty Pek's home kitchen brings us right back to those memories, like a warm hug. 💗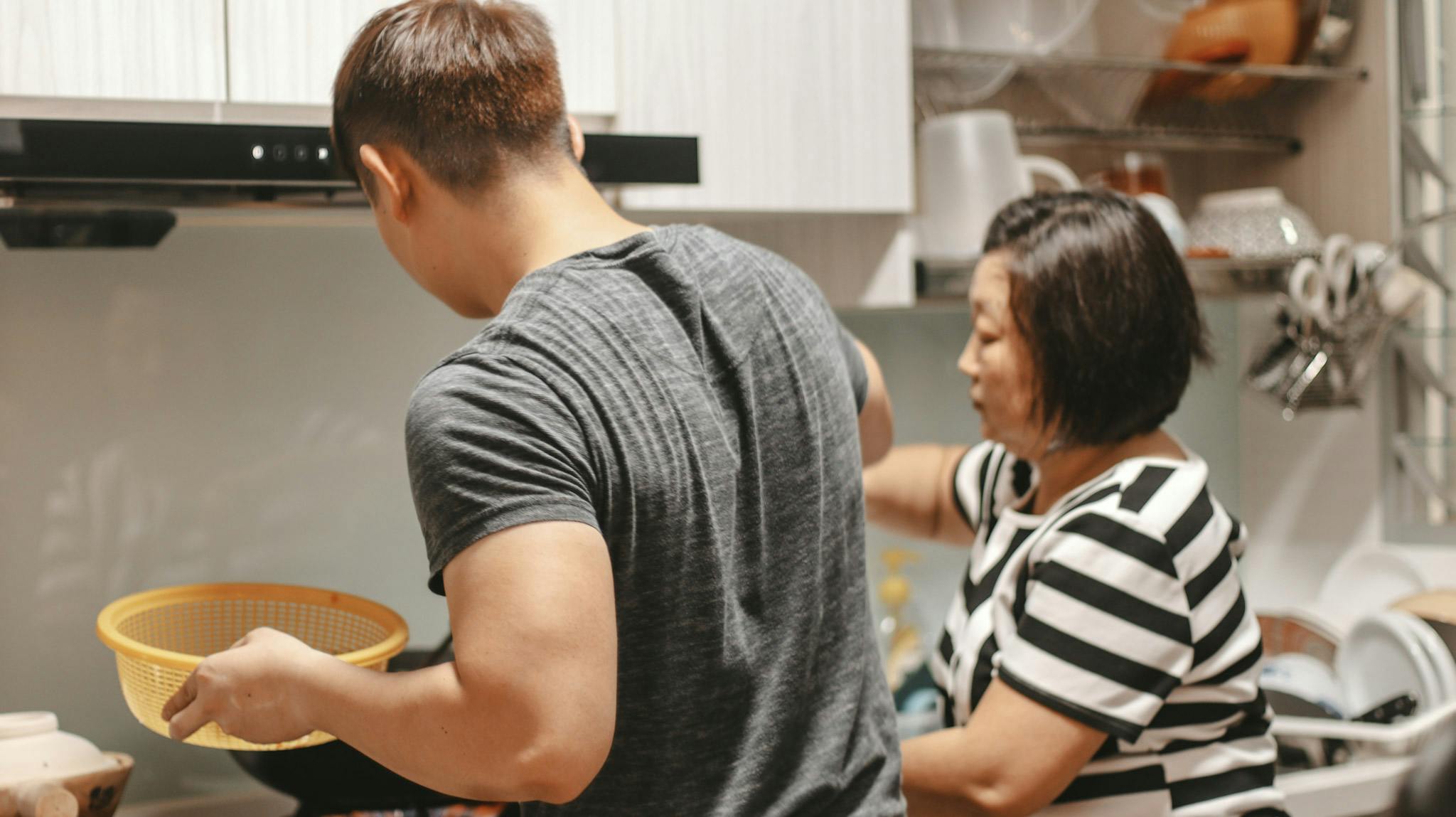 Here you'll enjoy a home-cooked feast cooked with a lot of love. Plants are plucked from Aunty Pek's edible garden, sauces are homemade from family recipes, and soups are simmered for most of the day.
It reminds us of being at our grandmother's when she would spend all week preparing 8 to 10 courses for a special occasion, and the only thing that she would ask in return was for us to have another helping of food!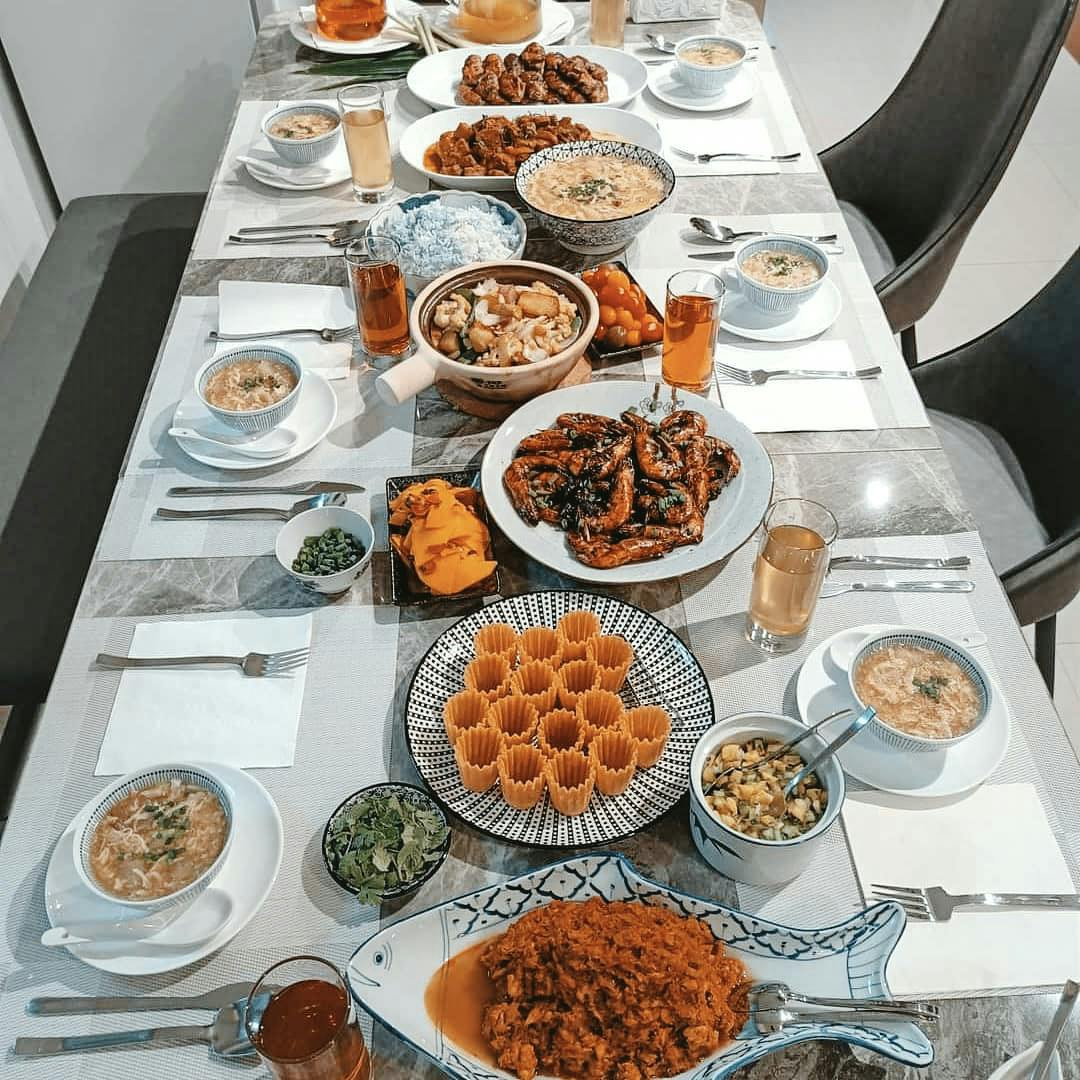 Before the meal, you can wander around Aunty Pek's home-grown edible plants garden; a humble set up outside her flat. She'll be happy to share her wealth of knowledge on herbs, spices and how to turn them into delicious sauces.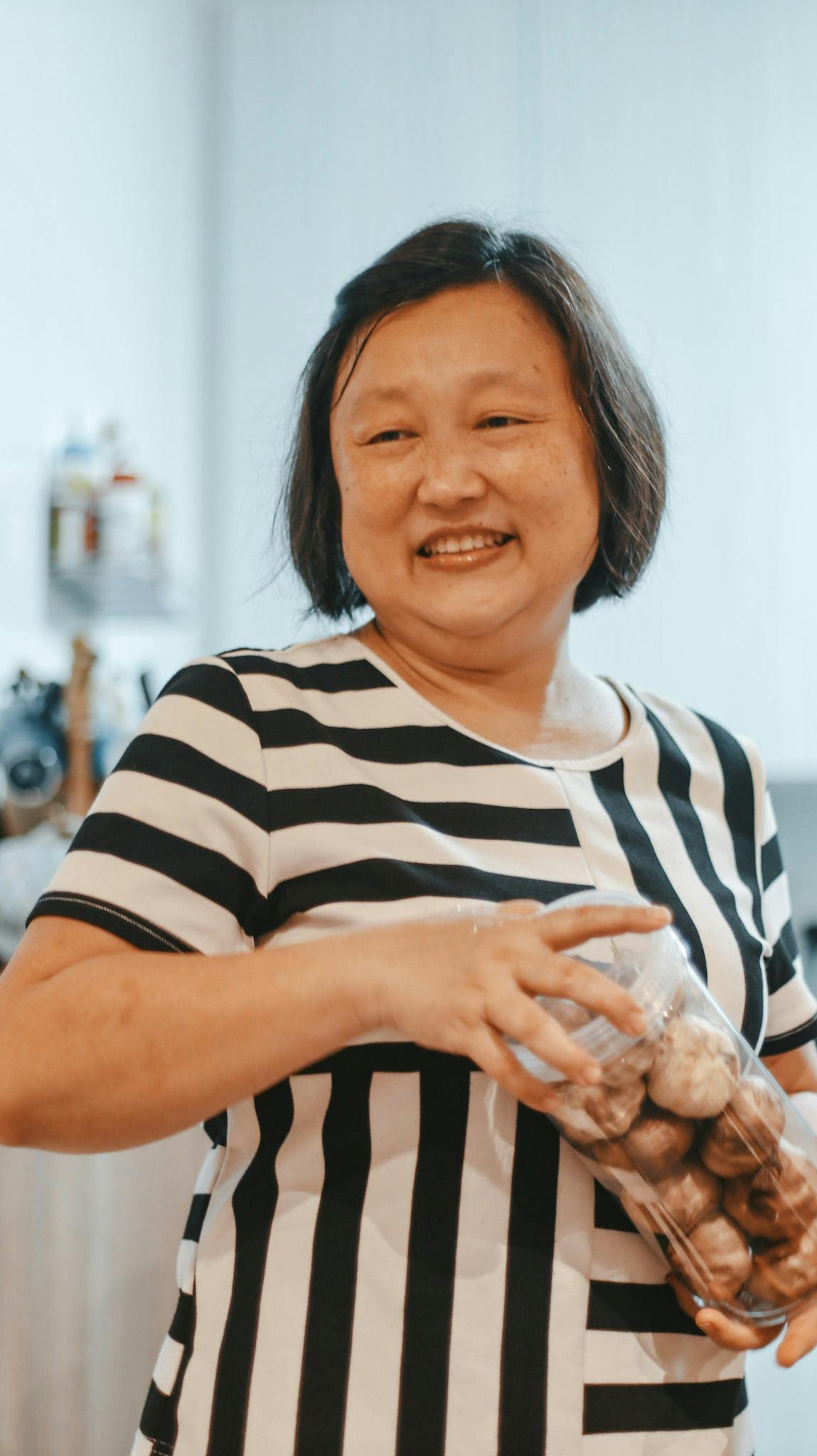 All the food here is cooked lovingly with family recipes that have evolved over a generation, and will be very different from the Peranakan food that you're used to having in restaurants!
Outside this home, you'll never be able to find the incredibly succulent home-cooked chicken wings marinated in homemade pineapple sauce, or the award winning Babi Assam with Aunty Pek's secret sauce. That's what's so special about home dining - getting to try much-cherished recipes that you won't find in any restaurant.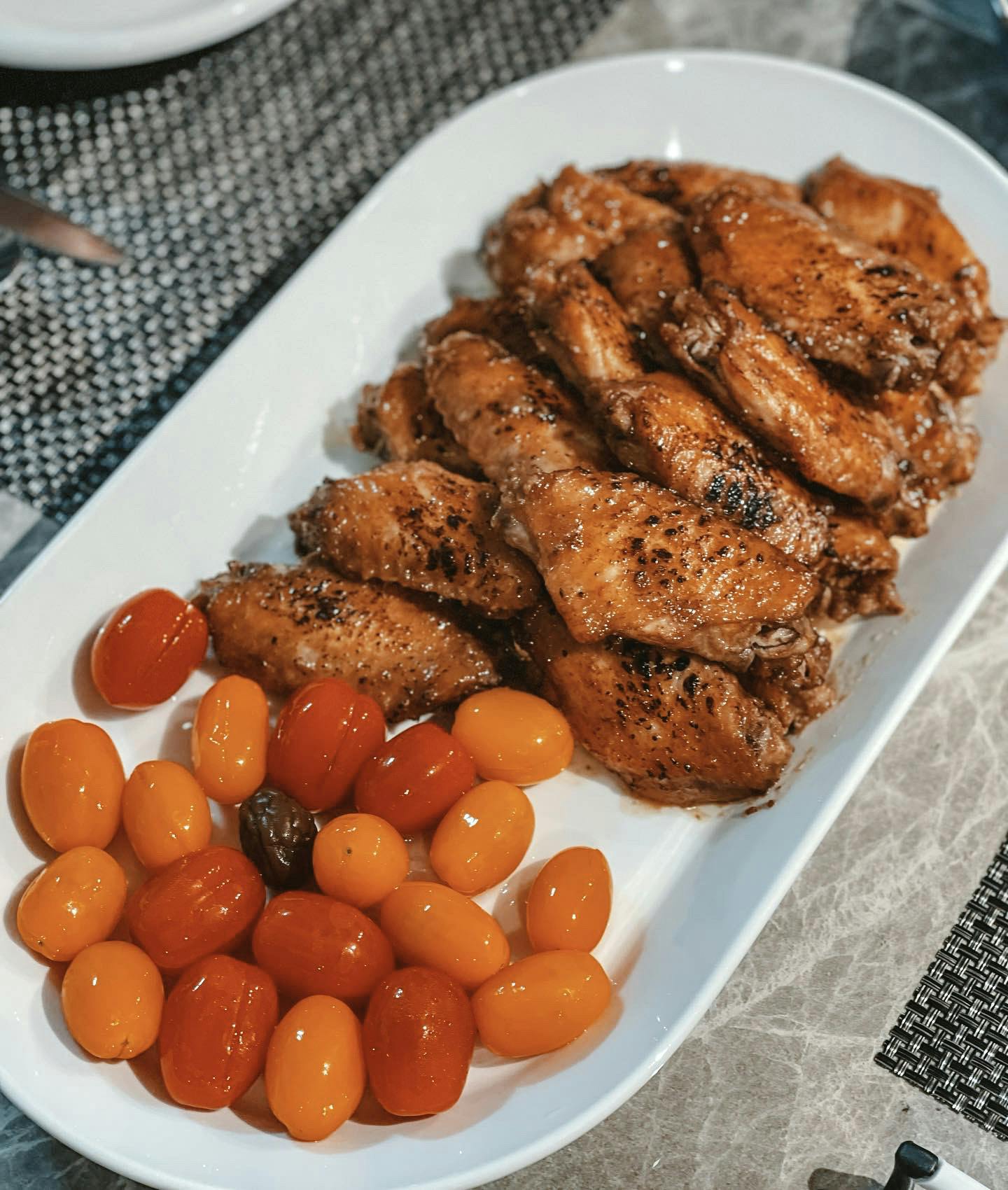 Some of the dishes that really stood out for us were the Kueh Pie Tee and the Fish maw, crab meat and sea cucumber soup! The Kueh Pie Tee incorporated Aunty Pek's rich and spicy rempah that got us absolutely hooked 😩 And as for the 8 hour-simmered soup, it felt so hearty and homely! 🍲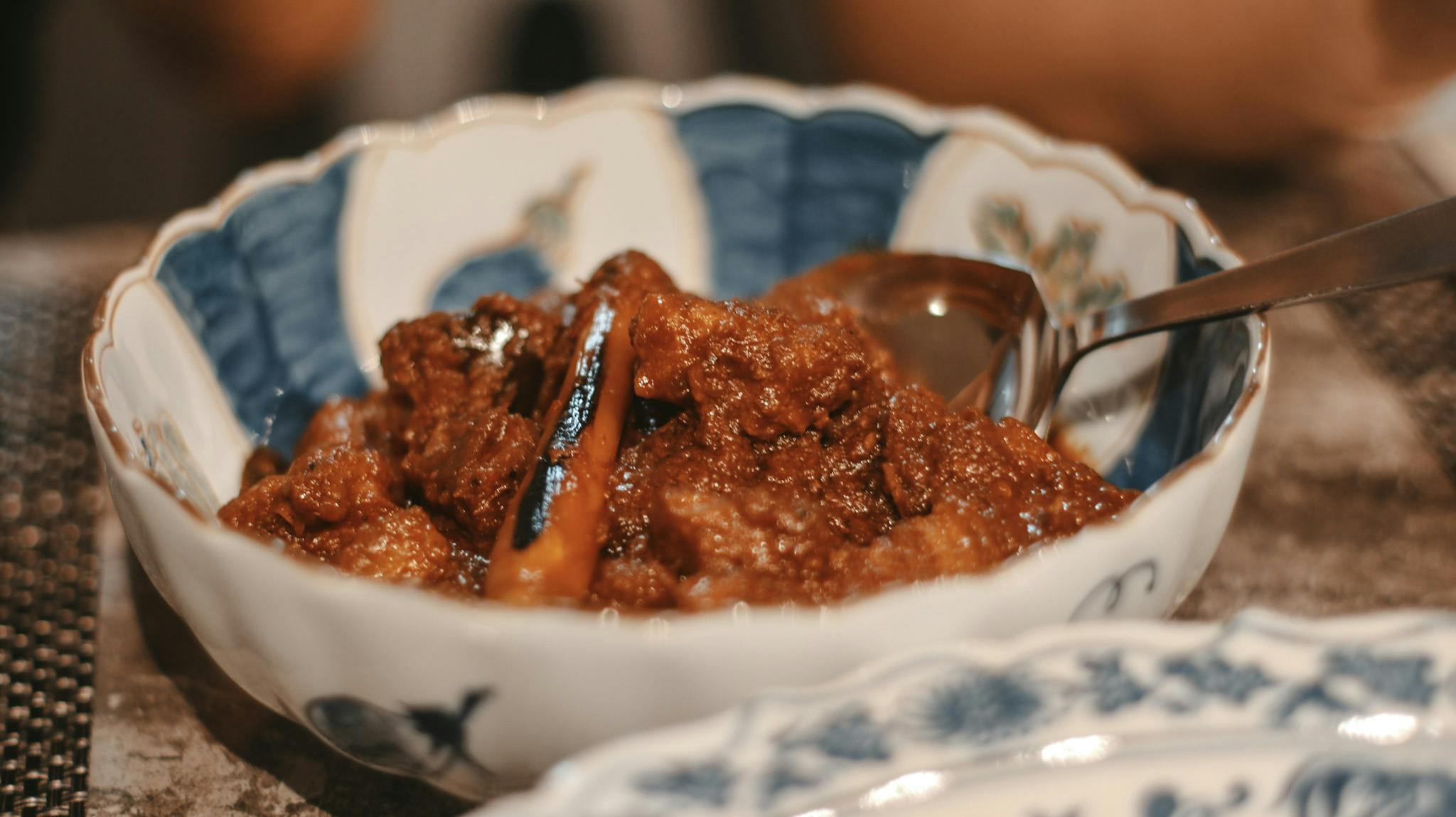 It's so apt that the calligraphy above the dining table reads "回家吃饭" [Come Home for Dinner]. Eating at Aunty Pek's really does make you feel like you're home.
We miss Aunty Pek's cooking just talking about it, and we urge you to go try it out as well! You'll leave here with a full tummy and an even fuller heart ❤️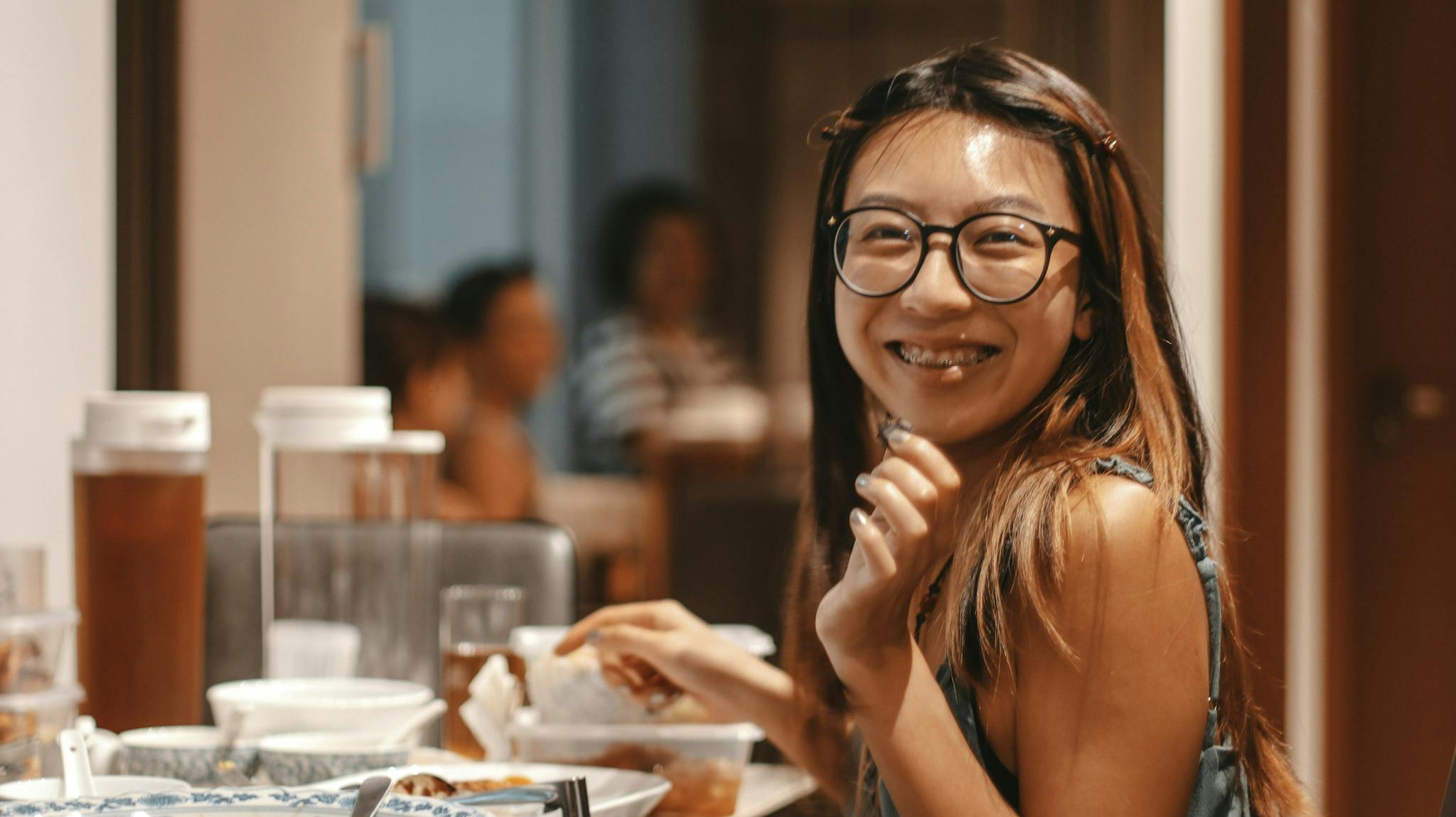 See here for more information and to book Aunty Pek's gorgeous home-cooked Peranakan feast.

Cook Caribbean Soulfood in a Gorgeous Shophouse Home
Getting a peak into someone's home is one of our fave things about private dining. And here at Elika's gorgeous shophouse home, we found the industrial-chic home of our dreams 🤩
We were also really excited to try Caribbean soulfood, which is really hard to find in Singapore!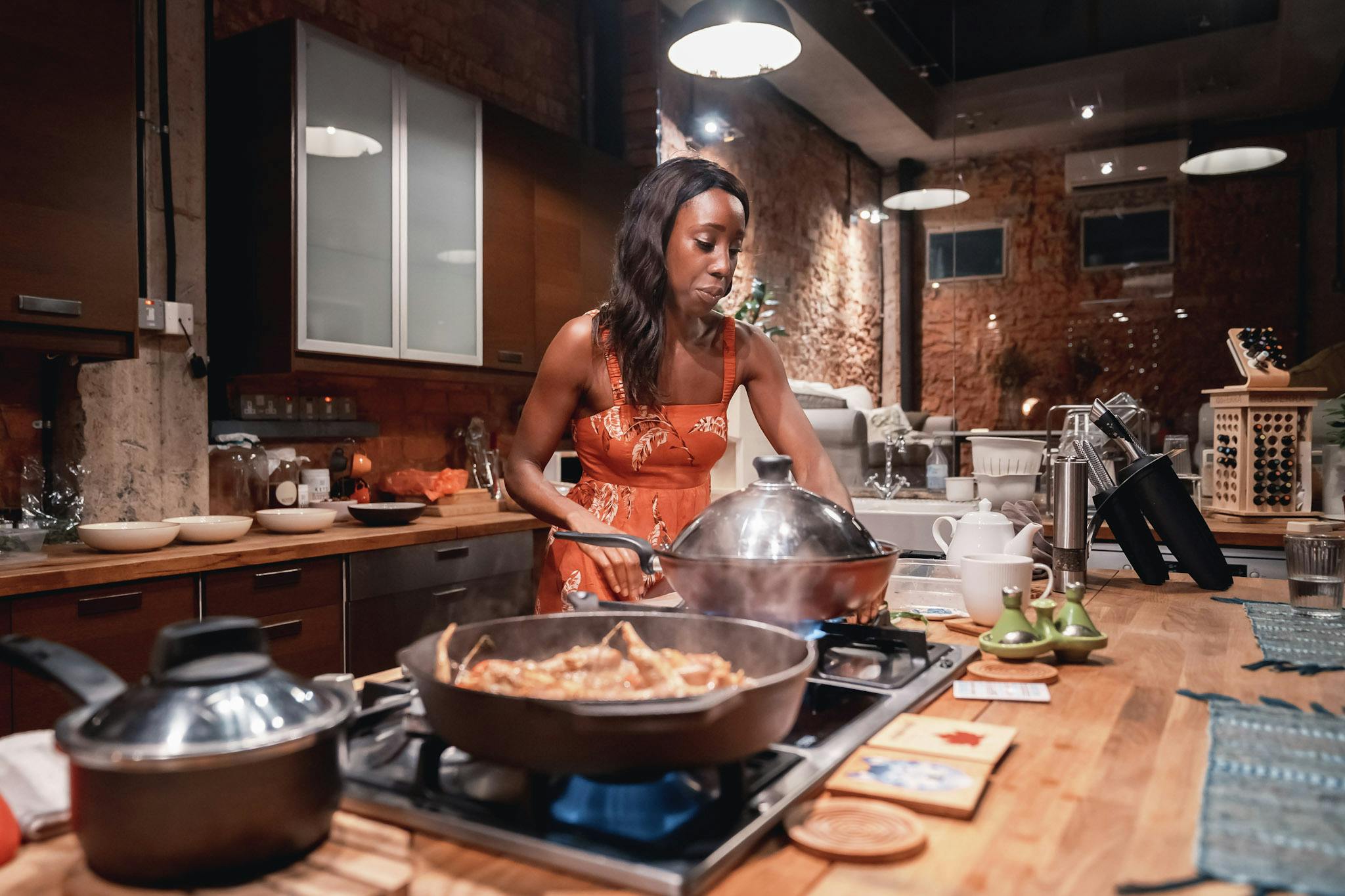 Elika's home is in an industrial chic shophouse, behind a tantalising red door. As Elika welcomed us, we got excited at what lay behind the red door.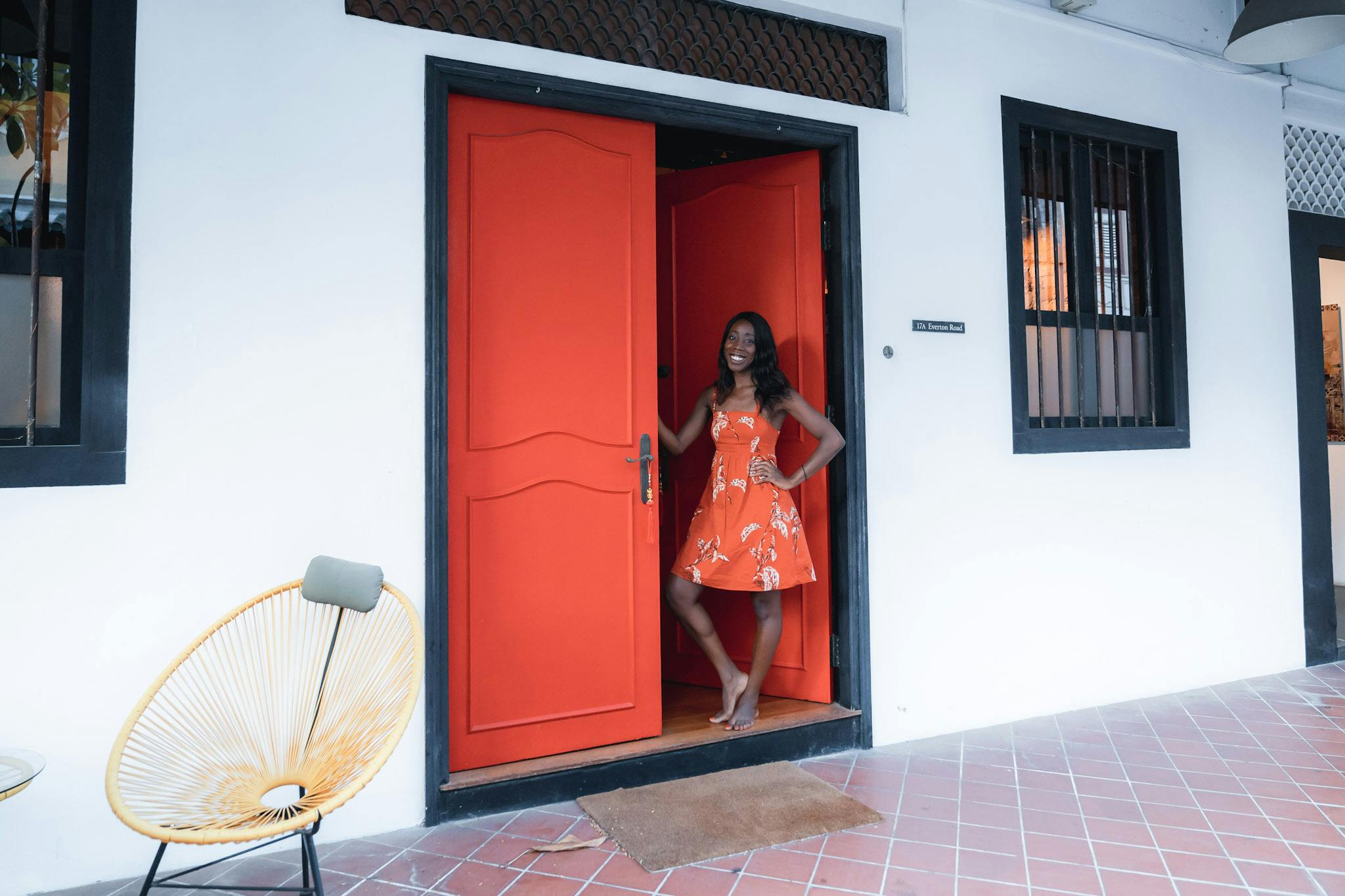 Inside, we were not disappointed! Elika's home is gorgeous, with beautiful brick walls that we're total suckers for, and that channel serious New York or London vibes for us.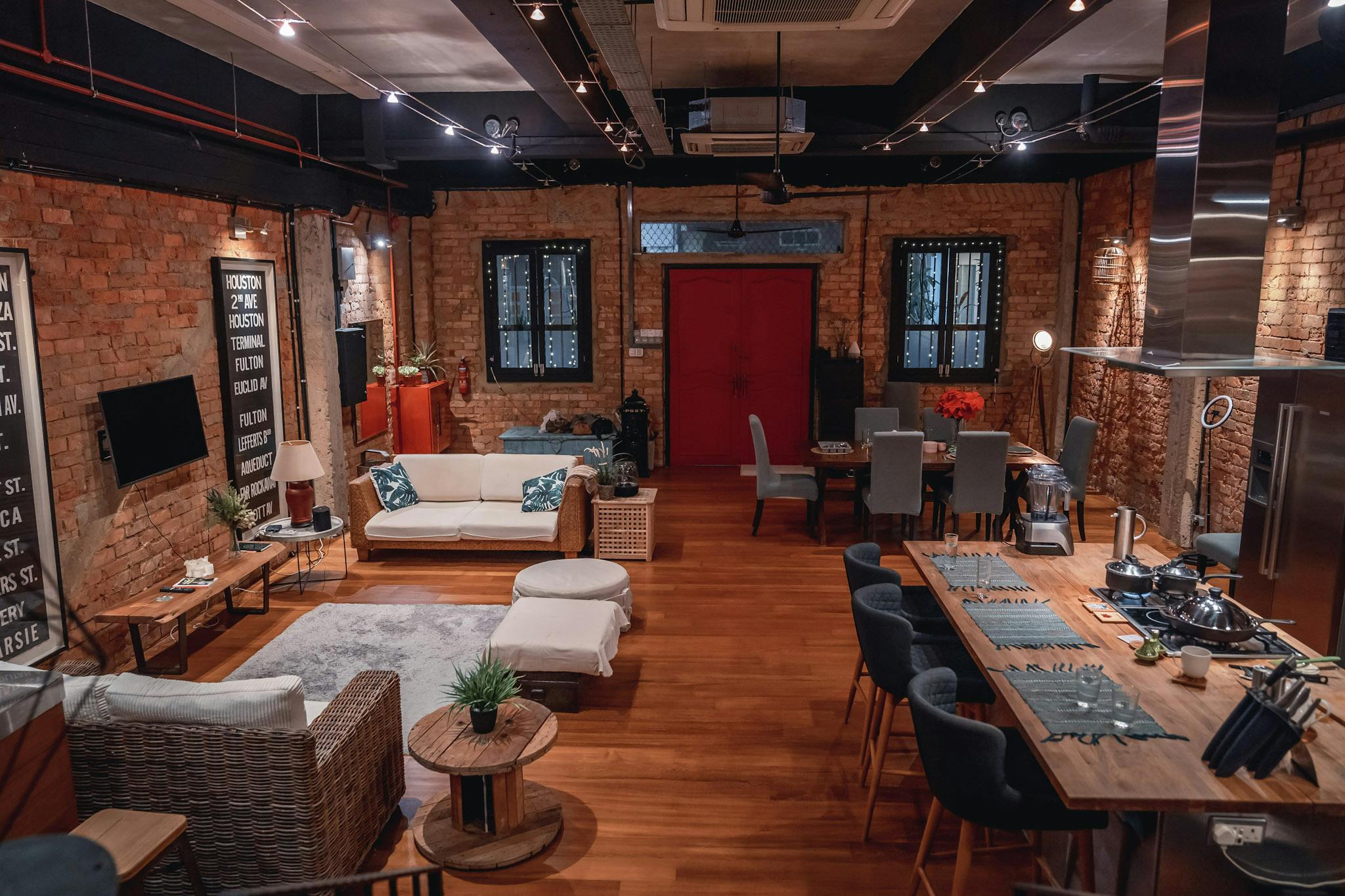 Her home is filled with lovingly curated artefacts, including antiques that her neighbourhood 'uncles and aunties' have gifted her over the years! (That just goes to show how warm Elika is! 😍)
It's one of the most gorgeous homes we've been in, and a great place to spend the evening with family/friends!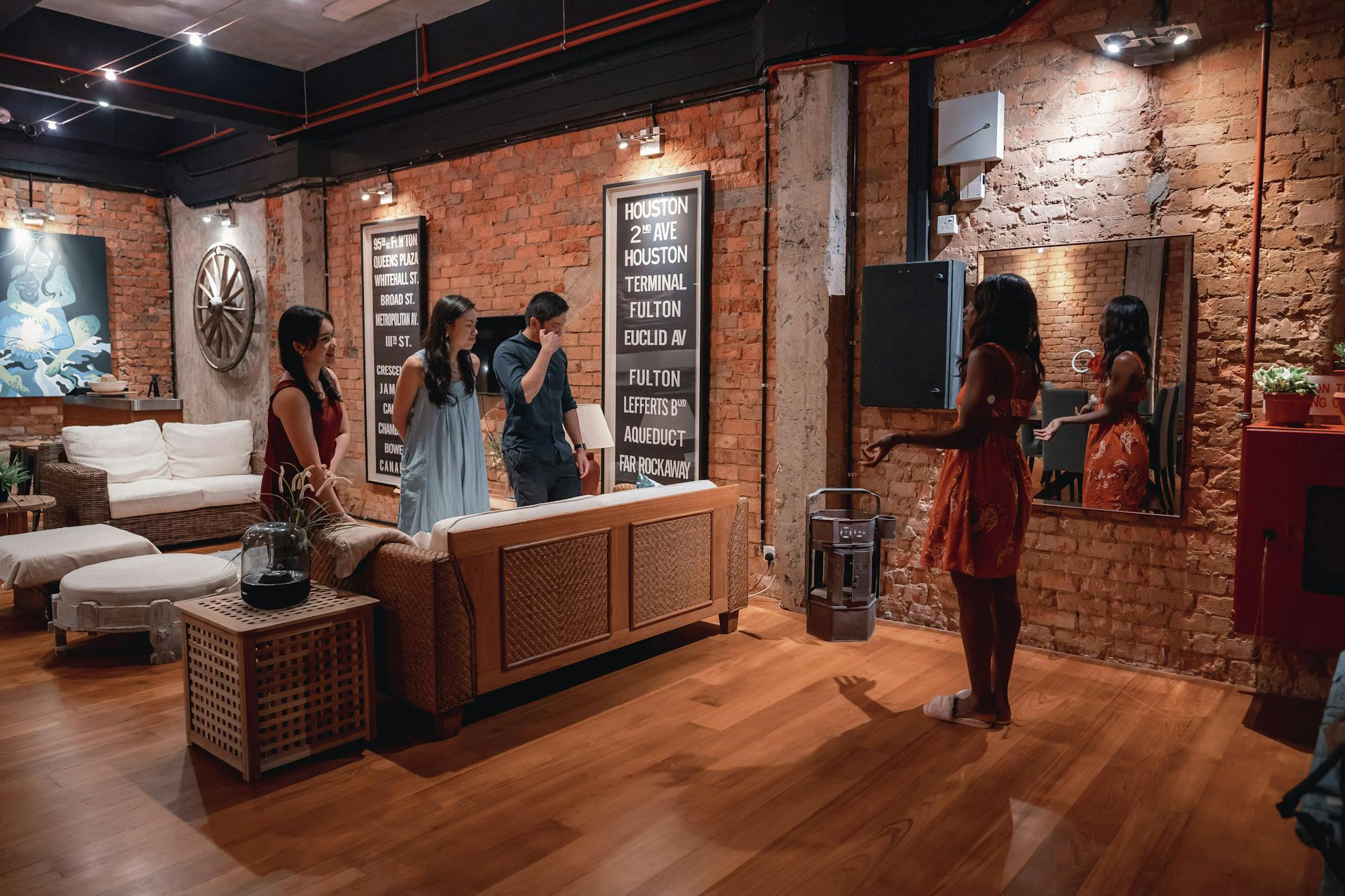 This is also not a usual private dining experience. You'll not only get to feast here, you'll also get to learn how to cook Caribbean soulfood, how to source for the best ingredients, and Elika's mindful philosophy to cooking and eating.
As well as being a super talented chef, Elika is a certified nutrition coach and a food consultant. So what you eat here is not only super yummy, but it's also incredibly thoughtful and nutritious.
Her philosophy is simple - she believes that in order to treat our bodies right, we have to go back to basics and simply eat what our bodies were developed to digest, rather than following superfood trends. So things that our grandparents likely would have eaten would be sufficient.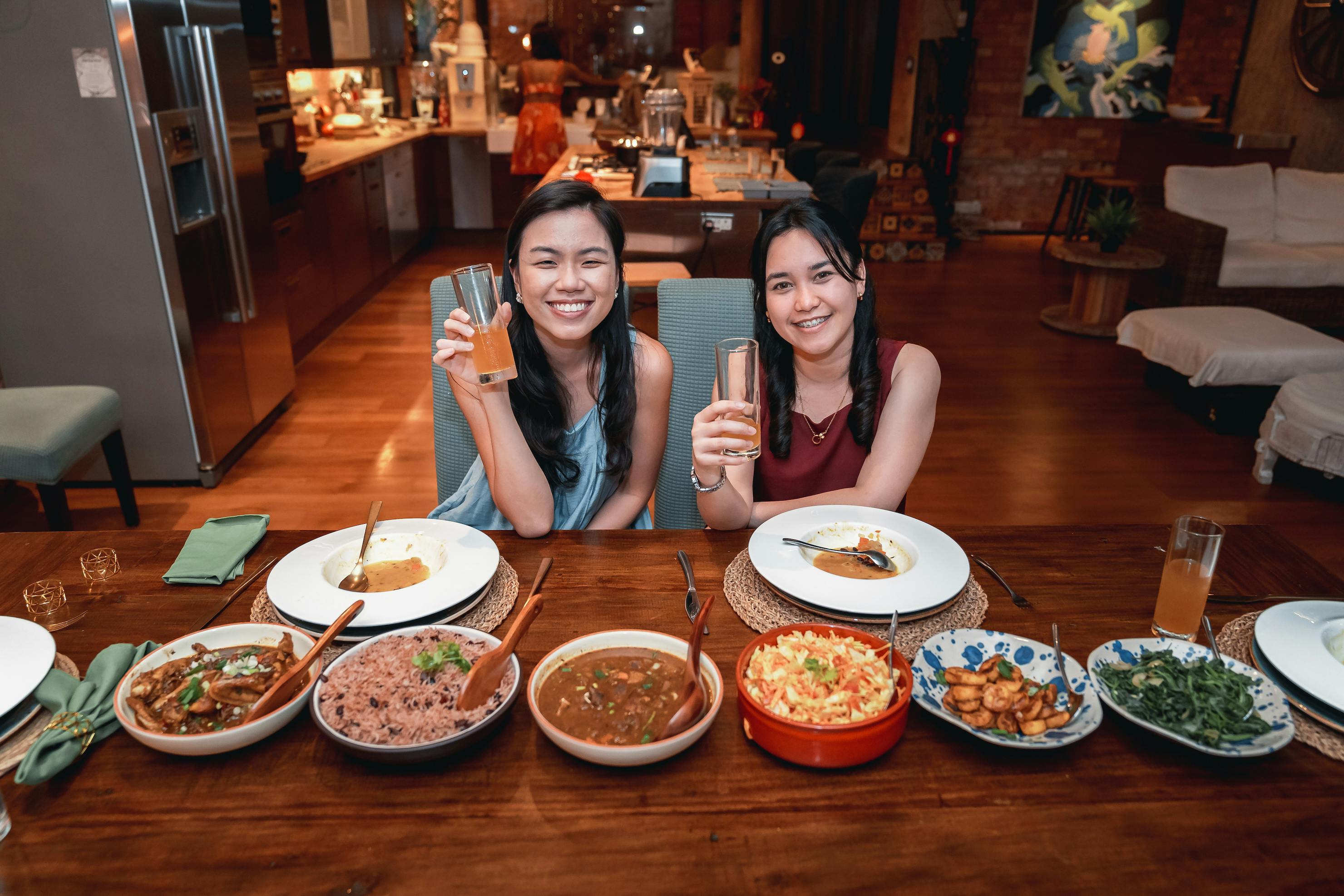 Elika's philosophy really shines through in her food. You won't get anything artificial here - just wholesome food made with top-quality ingredients and bursting in flavour.
We had a luscious 8-course meal from traditional chicken stew, to an incredibly fresh Pumpkin coconut curry. Everything was so fresh and flavourful - a hearty meal that's good for the soul!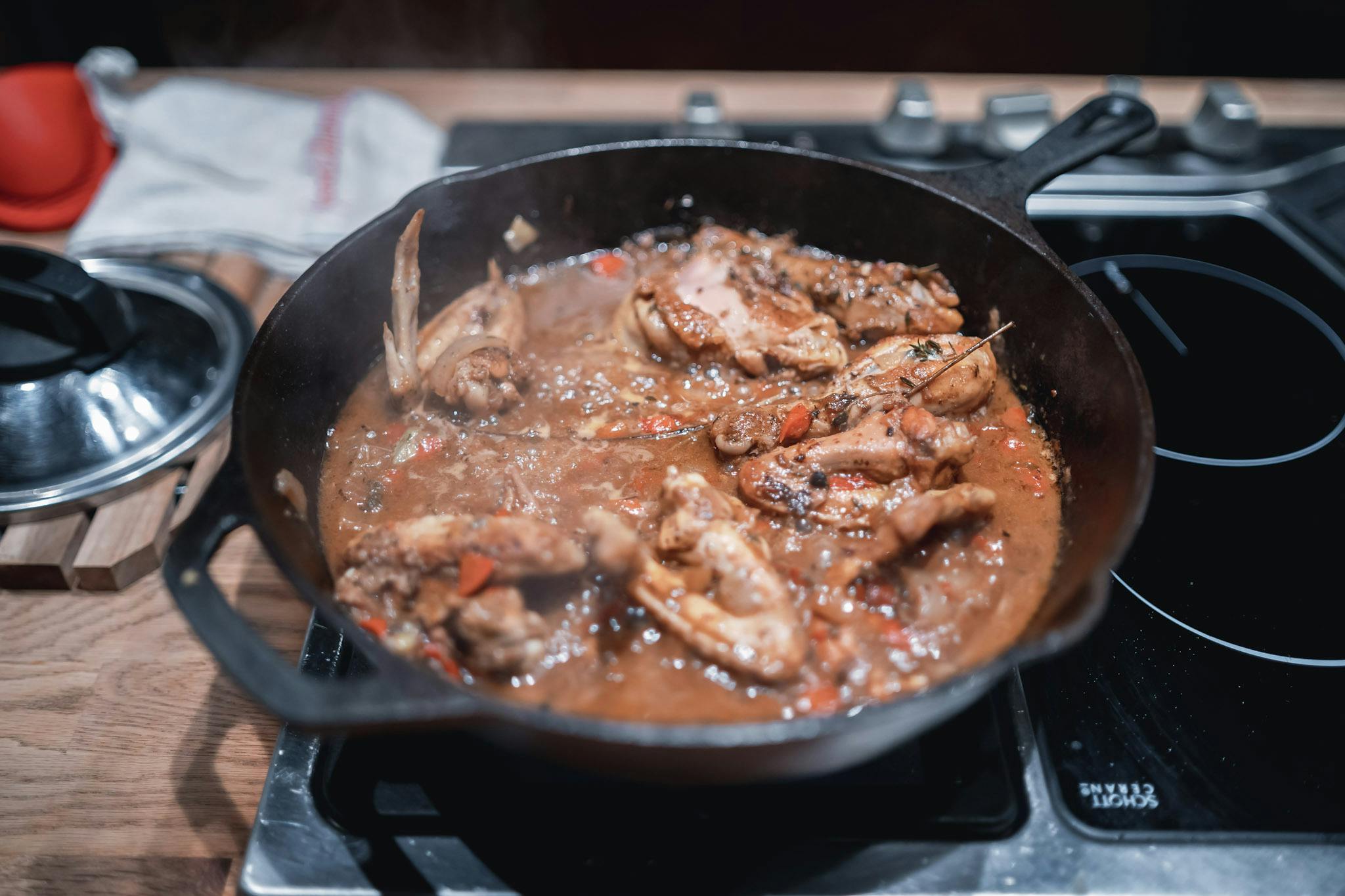 Our favourite was the incredible Caribbean coconut & cassava cake dessert. It was just so different from what we had before and full of fresh, natural ingredients.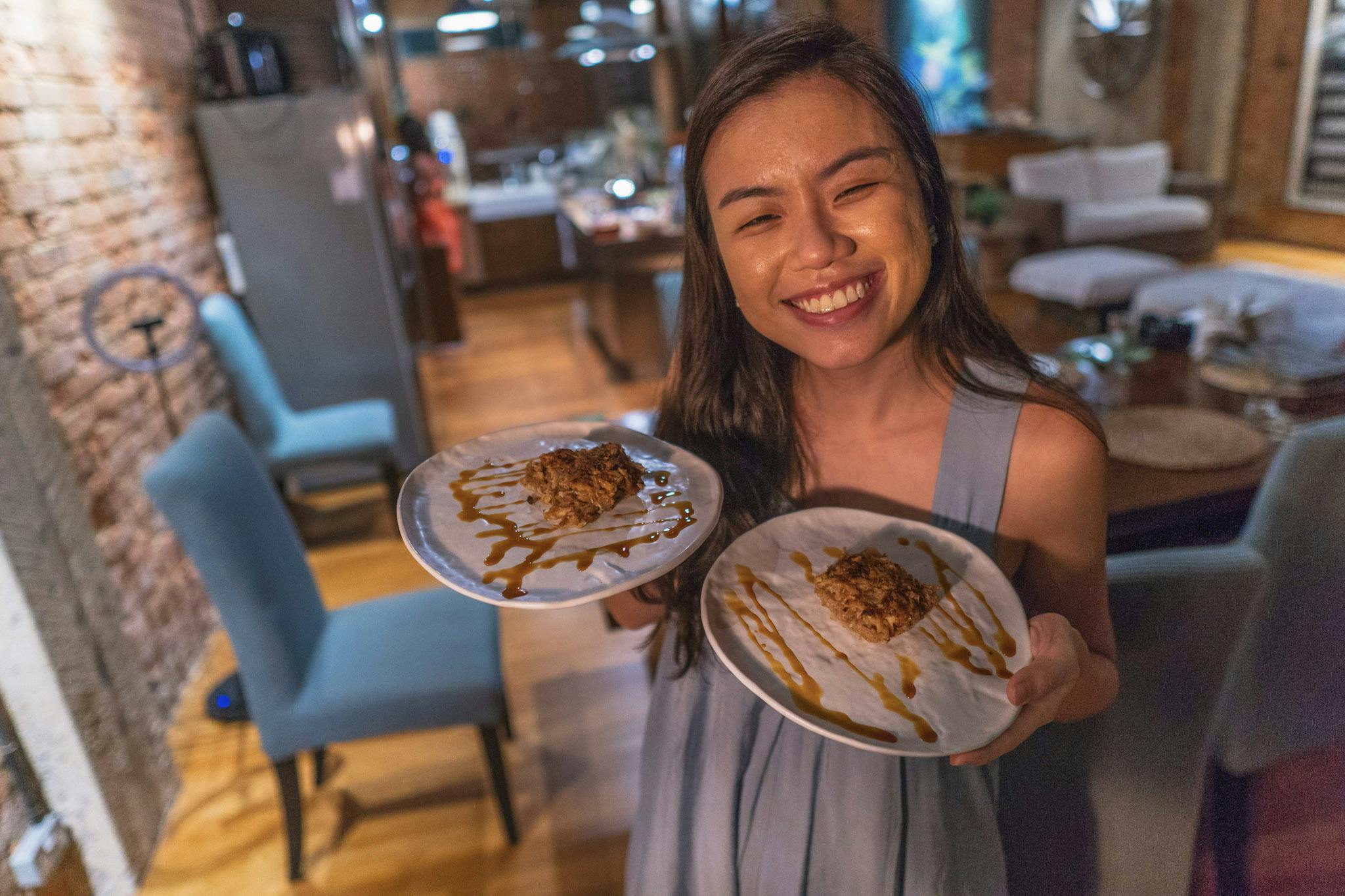 After being at Elika's, we realised that getting a taste of the Caribbean is so much more than just the food itself. It's about the culture, the warm hospitality, the learnings and the stories that Elika shares.
If you are curious about how Caribbean food tastes, you can always visit a restaurant. But if you would like a glimpse of renowned Caribbean hospitality and get the full Caribbean experience, we would highly recommend visiting Elika!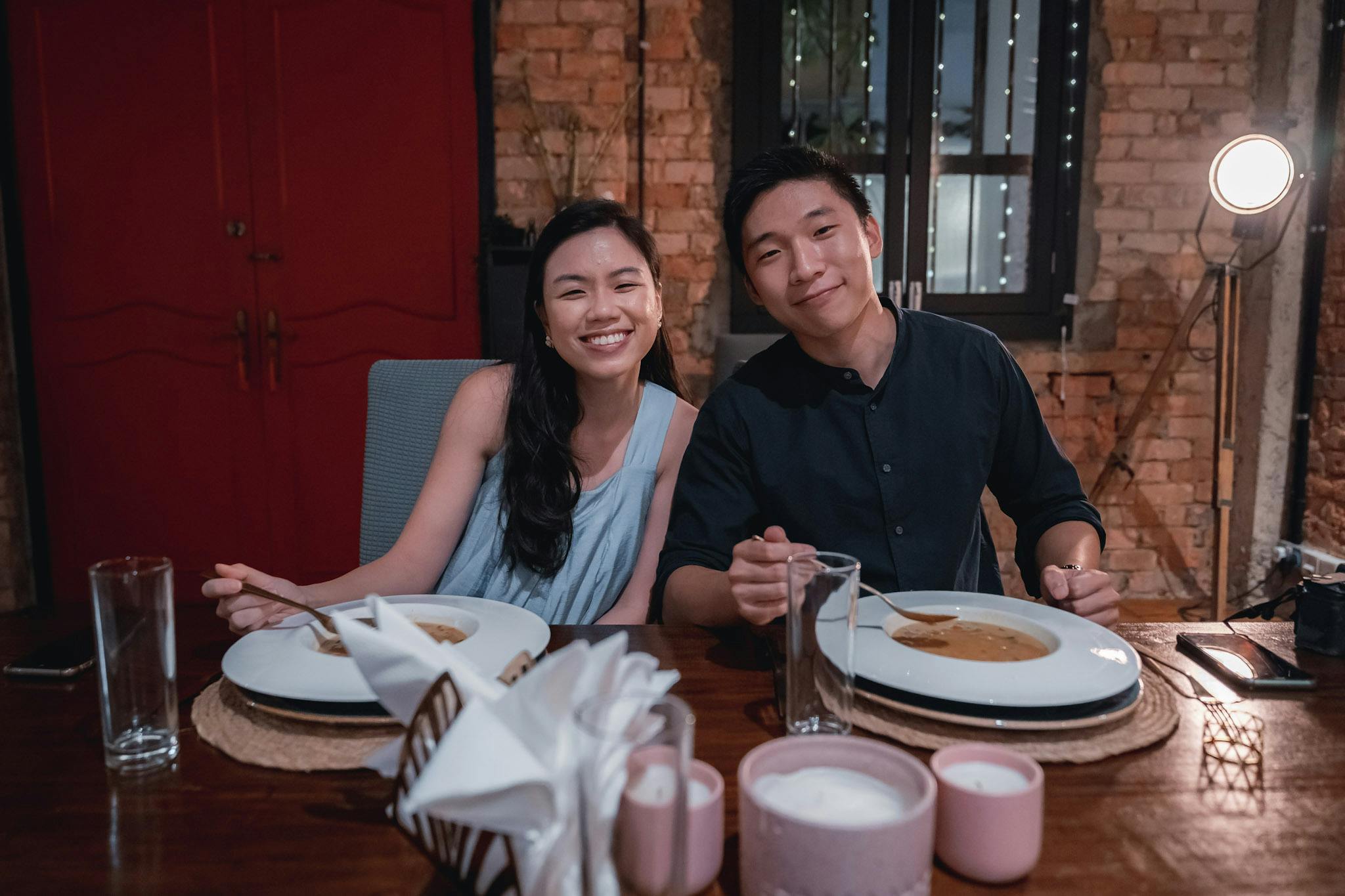 See here for more information and to book Elika's amazing Caribbean soulfood feast.