Your Complete Guide to Trekking in Sapa
Your Complete Guide to Trekking in Sapa
Tips on which trek or homestay to choose, best time to go, and all you need to know to plan your perfect trip to Sapa.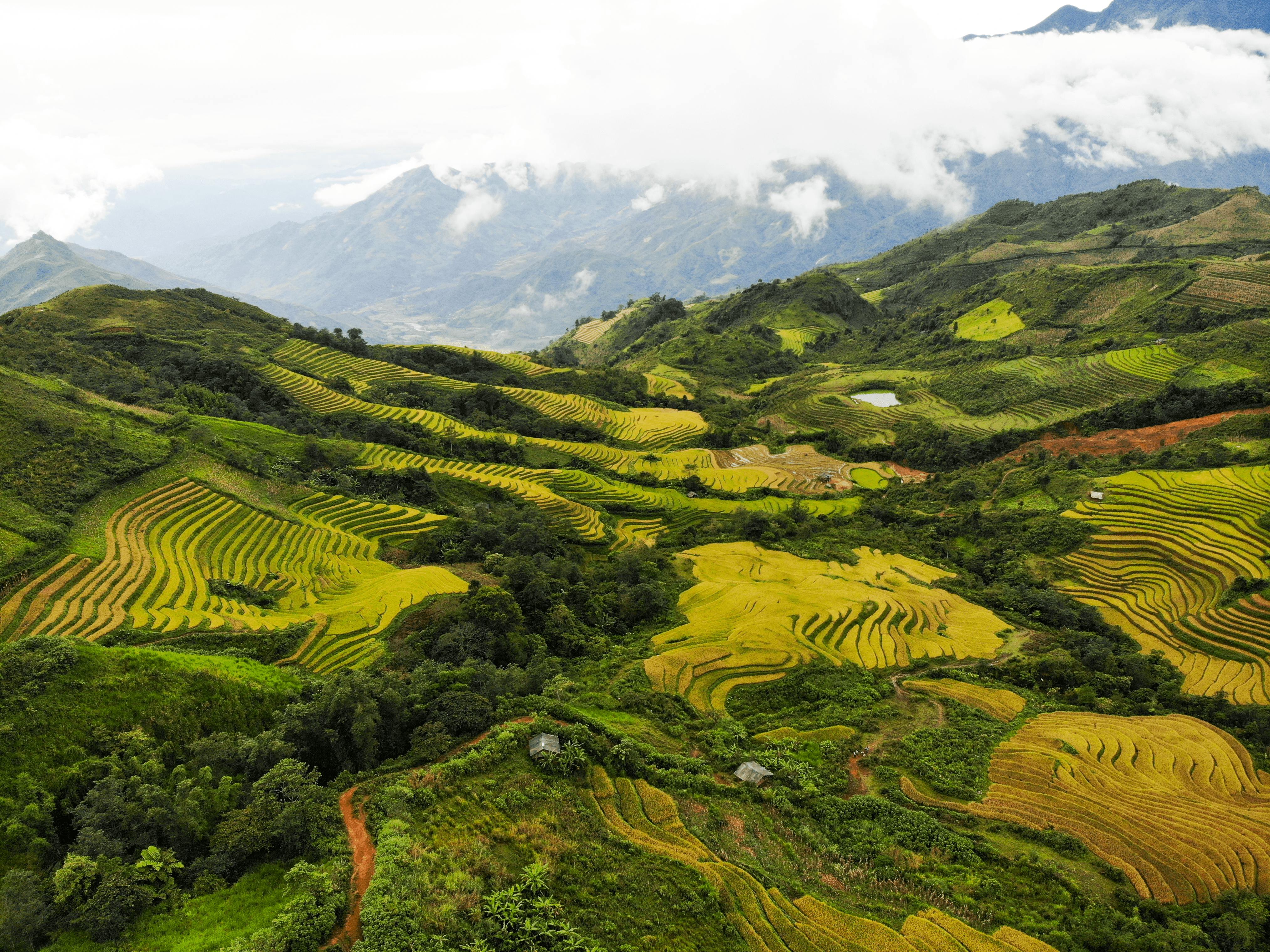 Lush green rice terraces — one of Vietnam's most iconic views! Away from the hustle and bustle of Hanoi and located in the misty clouds of North Vietnam, Sapa is famous for both its beautiful green and golden landscapes and its rich cultural heritage and traditions. With so much to offer, we've put together a complete guide with insider tips to help you get the most out of your Sapa trekking and homestay experience.
1
Take a sleeper bus or train to get to Sapa from Hanoi
The closest international airport to Sapa is Hanoi. The most common way to get to Sapa from Hanoi is by an overnight sleeper bus. A one way trip takes between 6-7 hours, costs about $10 USD and is surprisingly comfortable to sleep in! Most travellers take the 10pm bus from Hanoi and arrive in Sapa Town by 4am. You're allowed to continue sleeping in the bus until about 6am, and with most meeting times for trekking tours at around 7 or 8 am, the timing works out perfectly.

For a more comfortable ride, choose to travel by train. We recommend Chapa Express for a premium cabin experience. You will depart from Hanoi train station at 10pm, arrive at Lao Cai train station, and hop on a shuttle bus and reach Sapa Town by 7am.
2
Best time to go: Summer for green and Autumn for golden rice terraces
The rice fields turn an amazing lush green colour in June, but it's also the busiest period with lots of domestic travellers. Summer is also the rainy season, so be prepared for sudden storms. They pass pretty quickly though!

Alternatively, consider going during Spring in March to May where it's still the dry season, making it ideal for trekking.

But by far the best time to visit Sapa is during autumn in September and October, because that's when the rice fields turn a beautiful golden yellow and farmers begin harvesting. The weather during this period is also great for trekking.
3
Spend at least a night in a homestay for the best Sapa experience
We recommend spending at least a night in a homestay over a day trek because we feel it's the best way to experience Sapa and make the most out of your six hour journey from Hanoi. Not only will you get to explore more rice fields, bamboo forests and ethinic minority villages, you'll also get to enjoy home-cooked meals and make friends with your homestay guides and fellow travellers.

For those short on time, a day trek will allow you to see the highlights of Sapa - the most popular ethnic villages and rice terraces.
4
Head to Sin Suoi Ho Village for an off-the-beaten-path homestay experience
Stepping into Sin Suoi Ho is like stepping back in time to Sapa 10 years ago, before travellers discovered it. We fell in love with its pristine views of endless rice terraces, impressive waterfalls and its charming village life. Despite its ruggedness, the guesthouses are extremely cosy, exceptionally clean and well maintained.

Sin Suoi Ho remains untouched by the effects of tourism, and is unheard of among travellers, making it a good non-touristy alternative to Sapa.

Sin Suoi Ho is quite far from Sapa Town (100km away!). The easiest way to get to Sin Suoi Ho is to take a bus from Hanoi to Lai Chau (at least 8 hours). From there, you'll hop on a motorbike for a picturesque ride through the countryside hills.
5
Include Mt Fansipan in your Sapa itinerary for an extra challenge
You can easily pair your Sapa trekking and homestay experience with a Mt Fansipan climb in a 2D1N trip.

Mt Fansipan is the tallest mountain in Indochina and offers various scenic points along the way, and a breathtaking view at the summit (if it's not foggy). The ascent is challenging and will take around 5-7 hours depending on your fitness level.
6
Support local by booking with social enterprises that give back to the community
You will notice that most of the guides in Sapa are female. There are a few tour operators in Sapa that are social enterprises, such as Sapa O'Chau and Sapa Sisters, that empower Hmong youths by helping them finish high school, training them in the hospitality industry and giving them fair paying jobs.

Although trekking with social enterprises is more expensive, you can't help but feel good knowing that your tourism dollars are helping the local community!
7
What to pack: bring a backpack instead of a luggage and wear good trekking shoes
Bring a backpack instead of a luggage to save you the trouble of pulling your luggage up the steep hills from the main road to your homestay entrance. On motorbike rides, we managed to fit a 60L backpack in front while carrying a normal sized 27L on our backs.

A pair of trekking shoes with a good grip is also essential in reducing the likelihood of you slipping when trekking.

Sapa remains cool all year round and is prone to fog, so do bring lightweight and water-resistant clothing. It gets very cold in winter, but you will still perspire while trekking, so be sure to bring enough warm layers that you can easily put on and remove.
8
Sleep in affordable homestays with basic amentities without heating or air-conditioning
Sapa is considered the countryside and most of the homestays are very affordable with basic amenities. They are not 4-star hotel conditions, but are sure cosy and homely.

There is no heating so it does get quite cold in winter. We wore four layers of clothing and snuggled under the thick duvets they provided. Thankfully, Sapa doesn't get that hot in summer, averaging at around 25°C/77°F in July, so nights should be pretty cool!
9
Consider buying some handmade Hmong embroidery to support the local community
Selling handmade embroidery is the way most Hmong women earn a living. It's almost certain that for every trek you go on, there will be a few Hmong ladies who will accompany you and your group, and assist you if you need help going up and down the hills.

They will carry baskets of Hmong embroidered wallets, bags, scarves etc. that they've made themselves and will sell them to you at the end of the trek. It takes them a few days to make an item and costs less than $10 USD.

Knowing that this is their only source of income to provide for their family, we try and support them by buying some items when possible. Support them if you'd like, but please don't feel obligated to do so!
10
Spend a few hours in Sapa Town to visit cosy coffee shops
Before leaving Sapa, be sure to spend a few hours in Sapa Town and popping by a few local coffee shops. One of our favourites is Gem Valley, and is known to have the best views in Sapa. Enjoy a banana pancake, drink some Vietnamese coffee and have one last look at the beautiful Sapa scenery before heading back to Hanoi.

Another cosy place recommended to us by one of the locals is Color Bar. This cosy and hip place has a selection of exciting and yummy cocktails. 10/10 for ambience too!
You May Also Like