What's the difference between Halong, Bai Tu Long & Lan Ha Bay?
What's the difference between Halong, Bai Tu Long & Lan Ha Bay?
Halong Bay has two other twins - Bai Tu Long & Lan Ha Bays. Here's how you decide between them!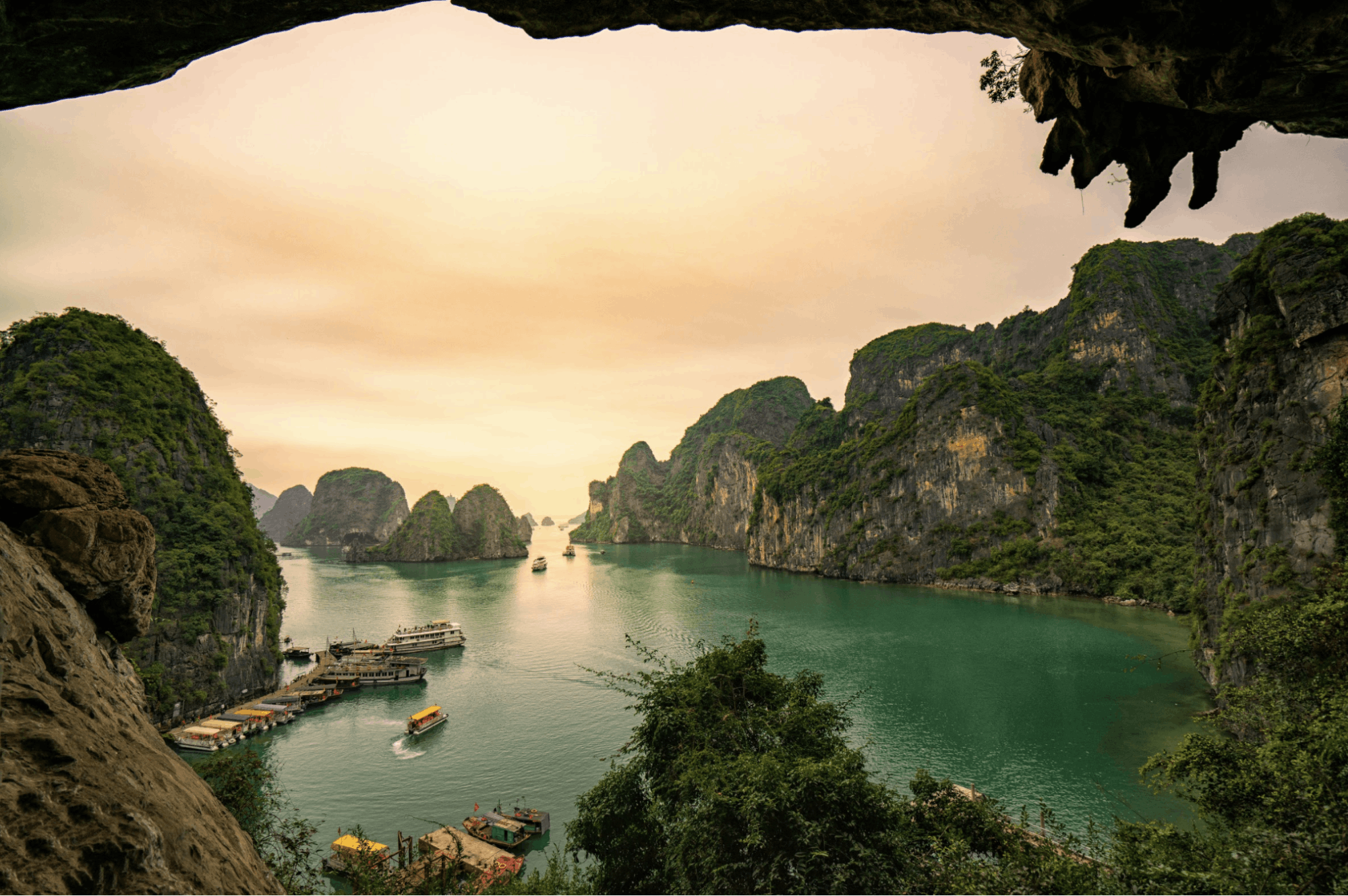 1. Halong Bay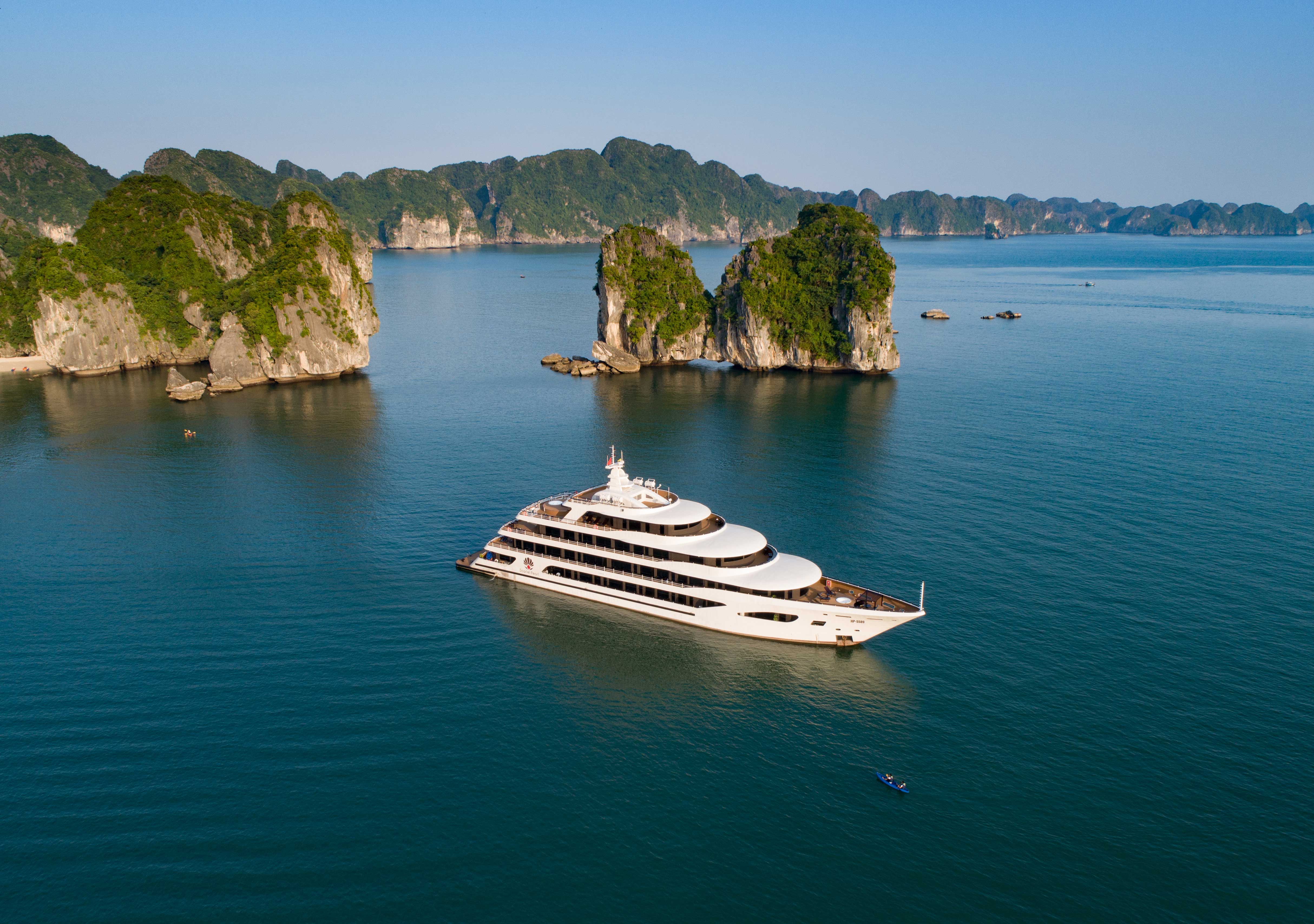 The most famous bay out of all, Halong Bay is a UNESCO World Heritage Site and also a Wonder of The world. You've probably heard about it if you're planning a trip to Vietnam.
Most cruises take the Halong Bay route, so regardless of whether you're a budget traveller or a luxury traveller, you'll find a boat for you here.
The Halong Bay route is best suited for travellers looking for a luxury experience since almost all the five-star boats will take this route. We're talking about serious luxury here - from jacuzzis on deck, to 360-degree floor to ceiling views overlooking Halong's iconic landscapes. So if you're looking to pamper yourself, go for the Halong Bay route.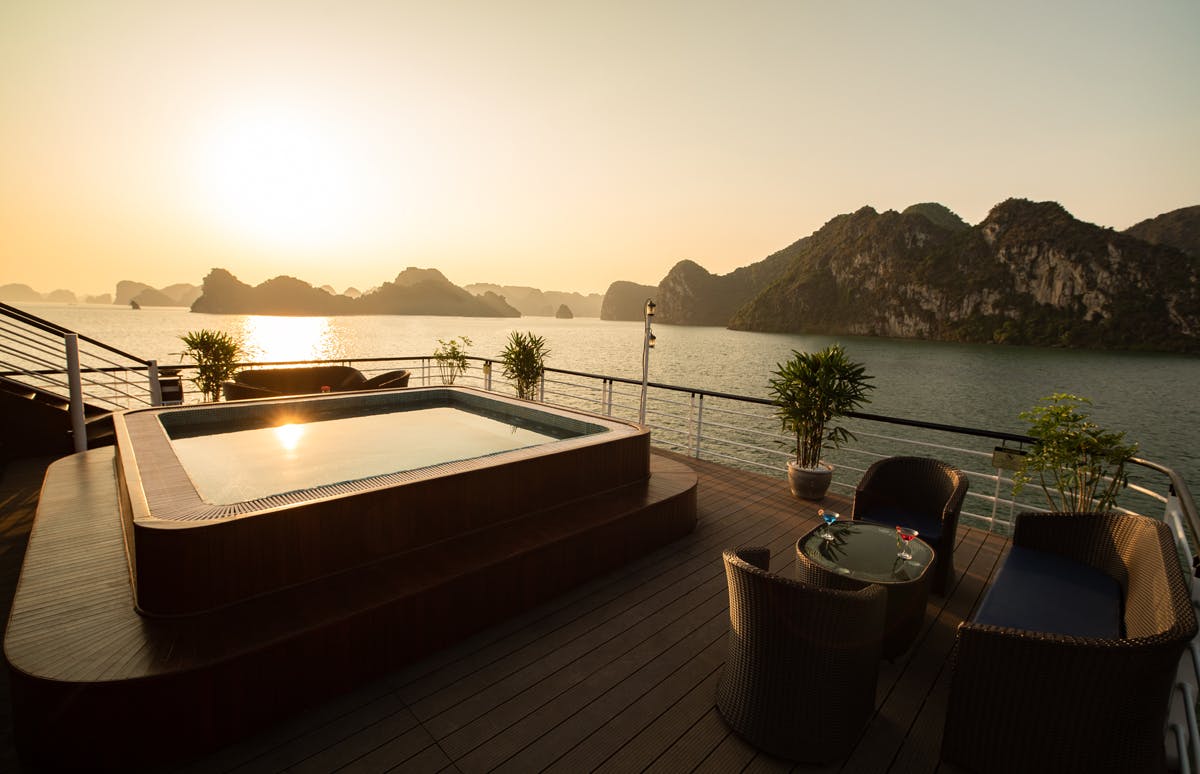 The activities on the Halong Bay route are broadly similar to those on the other routes, with two notable differences. Sung Sot Cave, the largest cave in the area, and Titov Island with panoramic views across the bay are both located in Halong Bay. So if you're looking to check those two sights off your bucket list, then go for the Halong Bay route.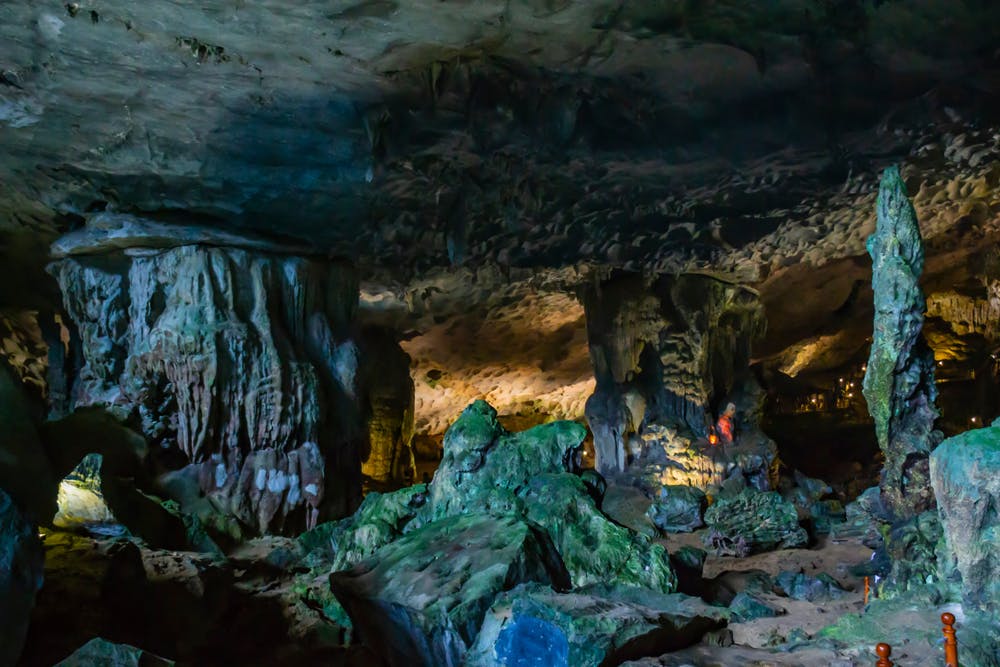 The downside of Halong Bay is that you can't really avoid crowds here. If you prefer a more private experience, choose cruises that time their land excursions to avoid peak times, or the cruises with private piers for embarkation, or even better, head to the further out Lan Ha Bay or Bai Tu Long Bay for identical landscapes with fewer tourists. For those who want to squeeze in as much as possible, look out for the cruises that combine a Halong Bay cruise with a visit to Bai Tu Long or Lan Ha Bay.
To get to Halong Bay, you would need to travel from Hanoi to Tuan Chau Port. 
If you still have questions and are looking for a more detailed guide to Halong Bay, read it here! We answer some of the most commonly asked questions here, like is Halong Bay worth it, how do I get there, when's the best time to go etc!
TLDR: You should choose Halong Bay if you
- are looking for a luxurious getaway from the city 
- want to visit the viewpoint of Titov Island or the mega caves on the Halong Bay route 
2. Lan Ha Bay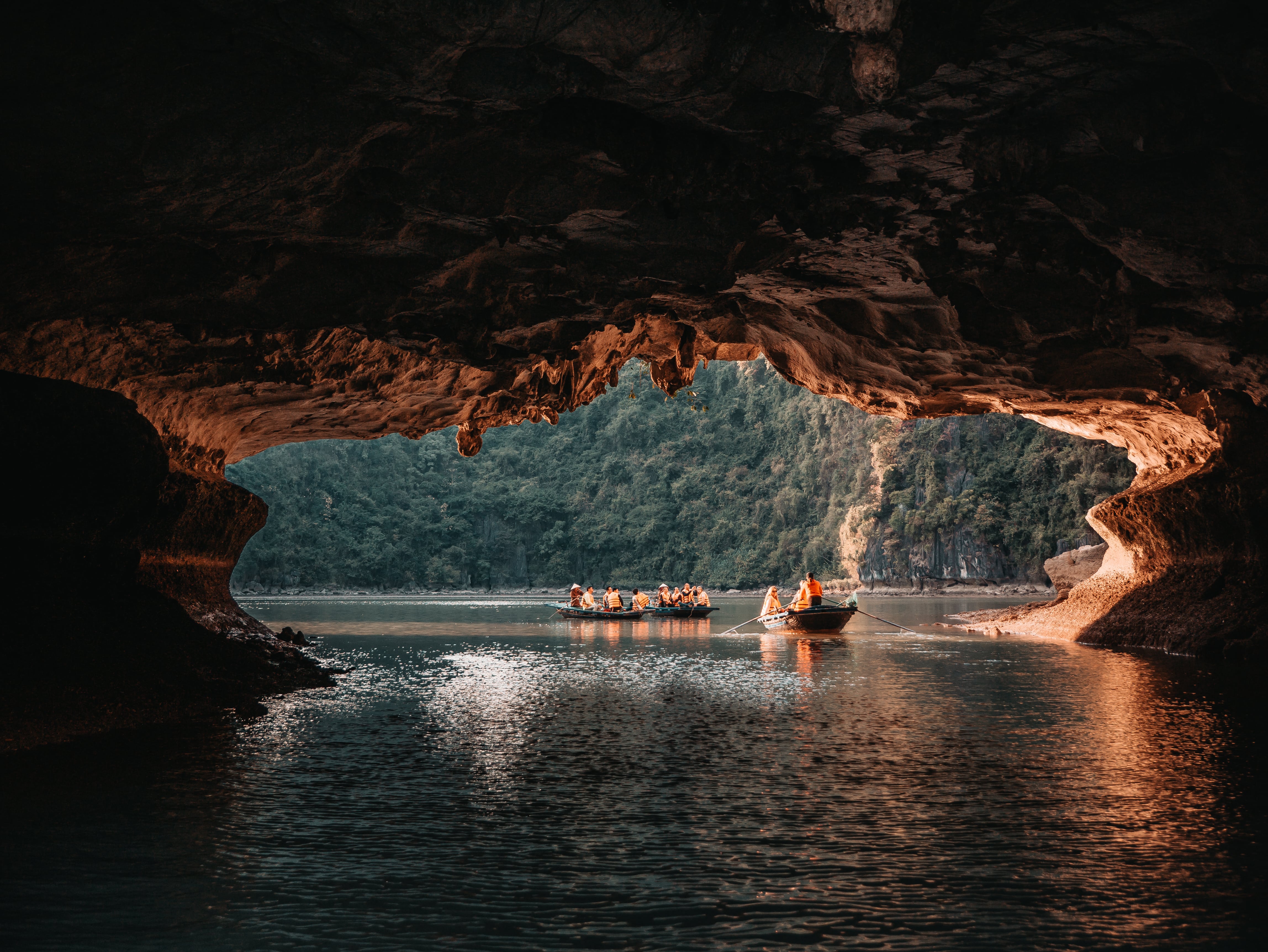 Located South of Halong Bay, Lan Ha Bay is a lesser known alternative. While it may not be a UNESCO Heritage Site, it has a virtually indistinguishable landscape to Halong Bay. You can take a Lan Ha Bay cruise from either nearby Cat Ba Island (the cheaper cruises go from here), or take a Lan Ba Bay cruise that provides transport from Hanoi (these tend to be more expensive). 
For backpackers and travellers looking for a more interesting cruise itinerary, we would recommend staying on Cat Ba island and taking a Lan Ha Bay cruise from there. The cruises that depart from Cat Ba tend to be more basic, but better-priced and with more varied activities on their itinerary (like rock-climbing and kayaking with bioluminescent plankton).
Regardless of whether you're doing the Lan Ha Bay cruise from Hanoi or from Cat Ba island, you'll find fewer boats here than you would at Halong, and more adventurous excursions. The excursions on a Lan Ha Bay cruise include trekking in Cat Ba National Park, cycling, visiting a historical war cave on Cat Ba island, and also snorkelling to see diverse marine life, from colourful coral reefs to crustaceans.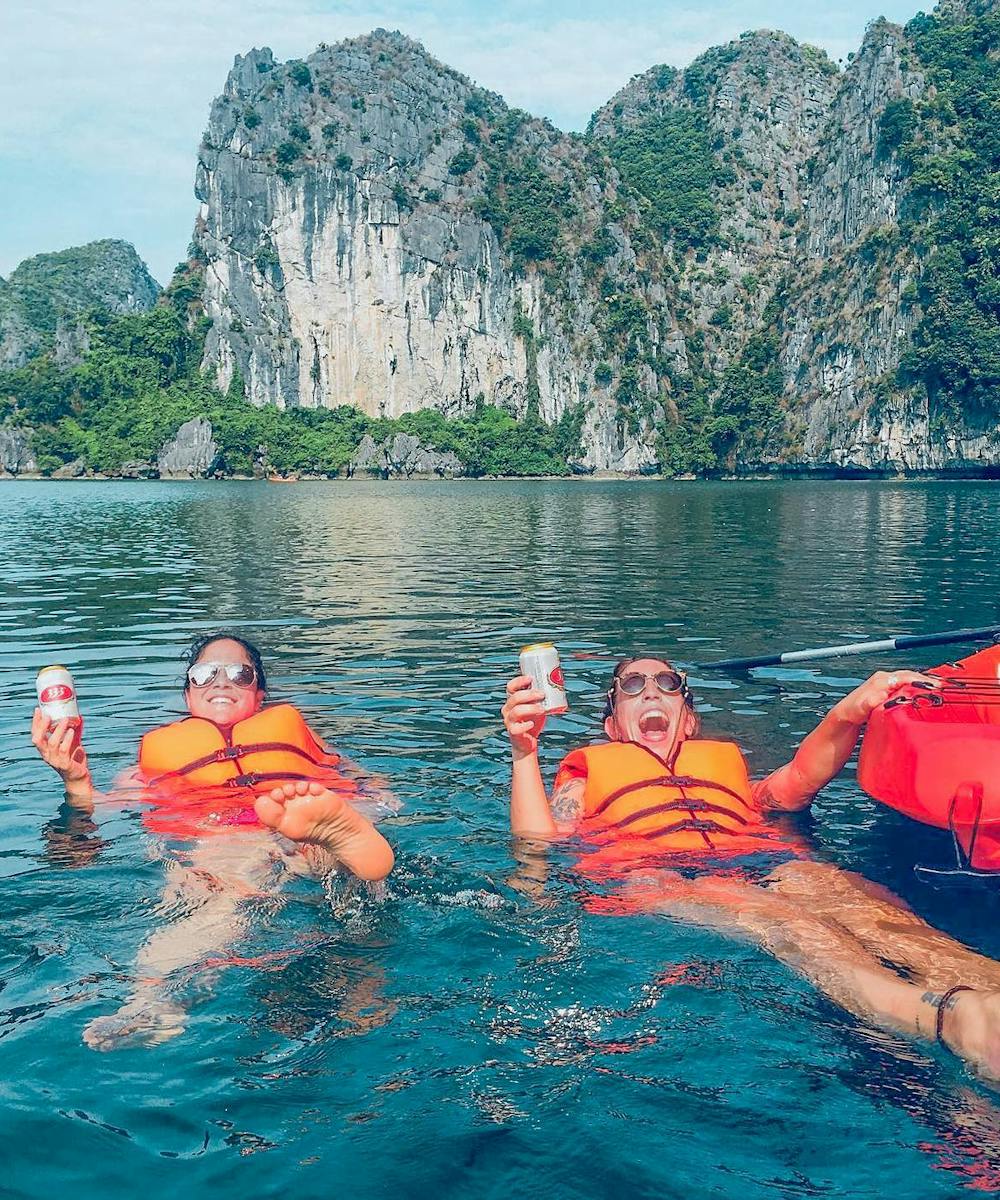 If you're looking for luxury, Lan Ha Bay probably isn't for you as the cruises that take this route tend to be more authentic and accessible. However if you're looking for a more social atmosphere and a younger crowd, this is the best route to choose out of the three bays.
To get to Lan Ha Bay, you would need to travel from Hanoi to GOT Port (2 hours by bus). From here you'll take a speedboat ride (10mins) to reach Cat Ba Island where Lan Ha Bay is. 
*Many of the Lan Ha Bay cruises include pick up from Hanoi so you can choose to go from Hanoi or from Cat Ba if you want to spend more time there.
TLDR: You should choose Lan Ha Bay if you
- are coming from Cat Ba island, as the cruises from Cat Ba island primarily go to Lan Ha Bay 
- want more adventurous excursions such as longer hikes, rock climbing and night kayaking 
- want a cruise experience with a more social atmosphere - since Lan Ha Bay tends to attract a younger crowd and backpackers
3. Bai Tu Long Bay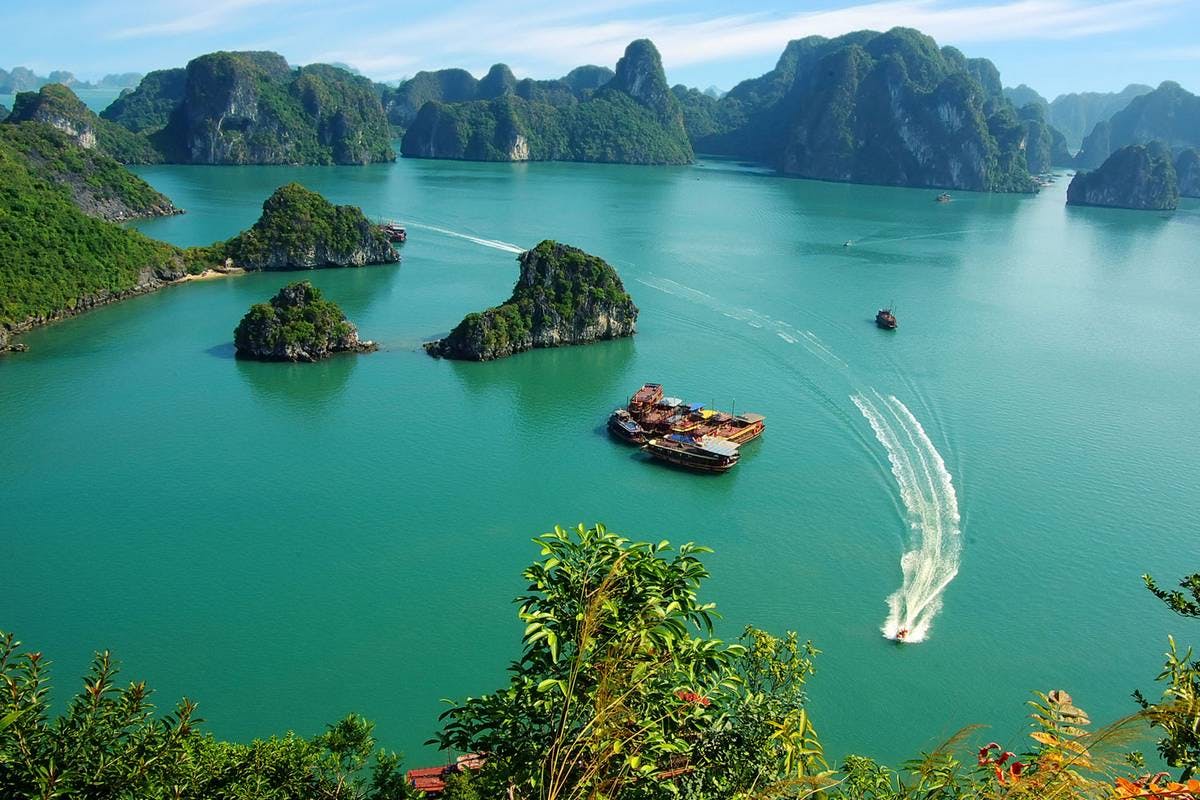 Far from all the tourist sites and located East of Halong, Bai Tu Long Bay is yet another lesser known alternative to Halong. Just like Lan Ha Bay, the limestone karst makes for a similar landscape to Halong, just with lesser crowds and tourists! In fact, Bai Tu Long Bay is probably the least developed compared to its sister bays so the number of cruises here will likely be the least!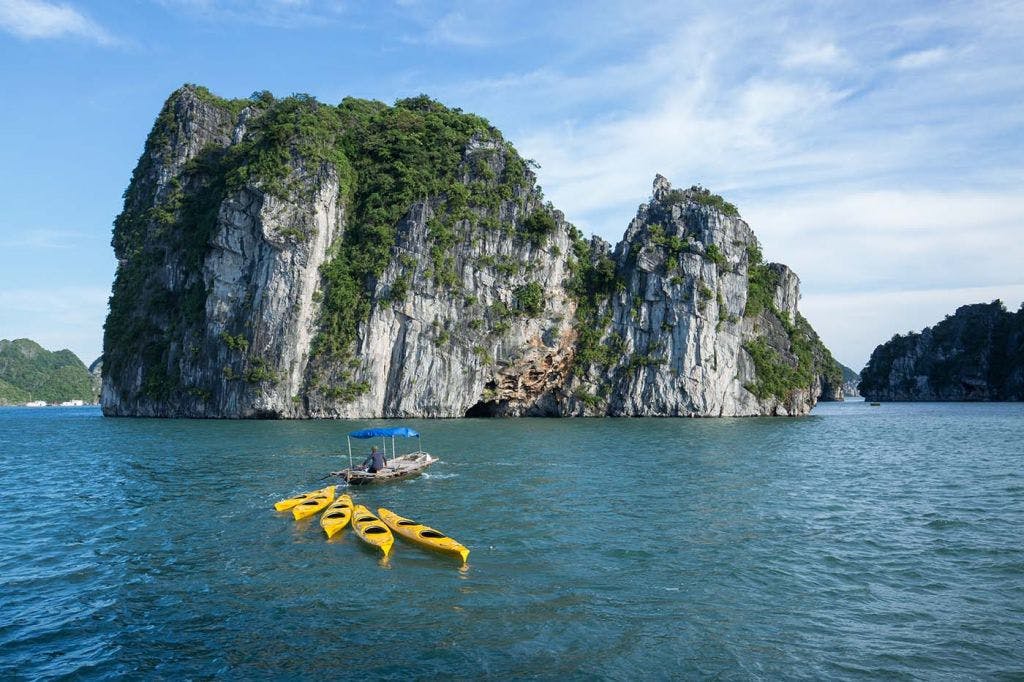 The boats here, similar to Lan Ha Bay, are comfortable but not as luxurious as those in Halong. They also tend to be slightly more expensive (difference of about $30-50) because of how little cruises go here. If you're looking for a nice, quiet spot to retreat from the busy city life, Bai Tu Long Bay is for you. For those who are looking to visit Bai Tu Long, we recommend a longer itinerary (2 days or more). This is because it is a little further out and we don't want for you to waste your time travelling all the way without getting the best out of it!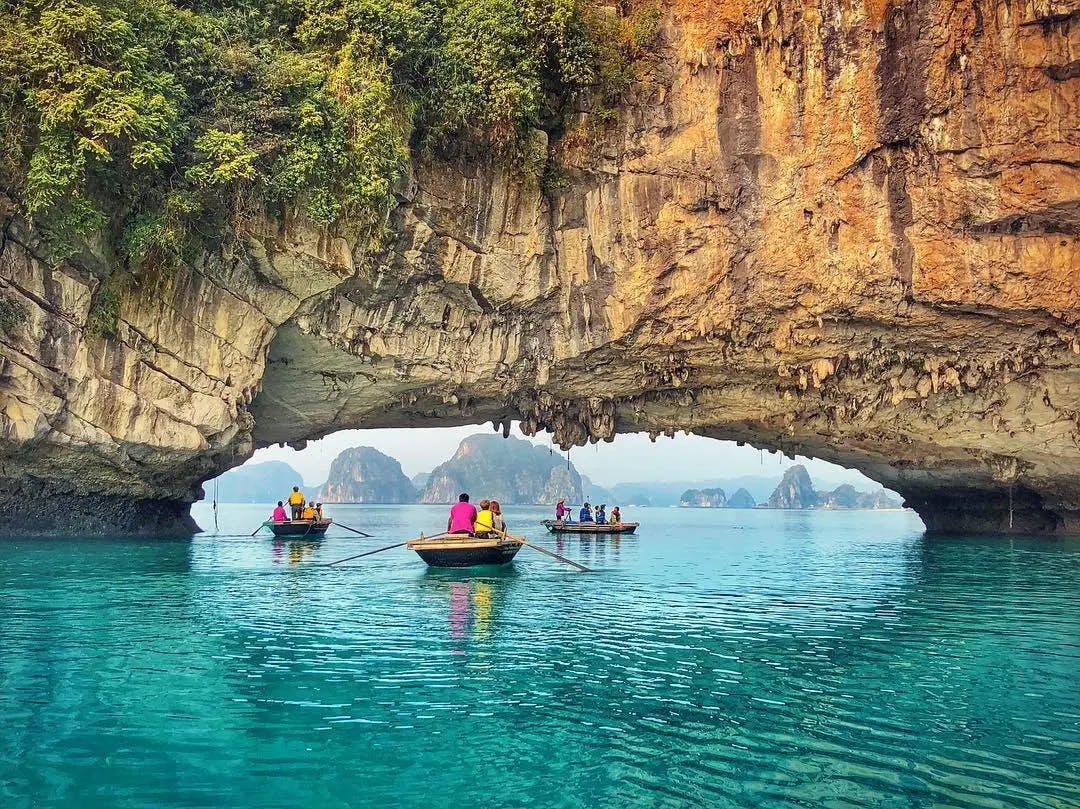 This is a great route for those travelling in small groups (such as families) because you can bond through cooking classes, squid fishing and kayaking. All of which is quite similar to what Halong offers, just with lesser crowds! For those who have heard about Vietnamese fishing villages and are keen on visiting one, don't worry as Bai Tu Long has its very own Vung Vieng Fishing Village. It may be less populated compared to Cua Van but authentic nonetheless. Another reason why we say Bai Tu Long is great for small groups is because of the beaches it offers, which happens to be the best and most isolated beaches in the area. Ban Chan beach is a great one with plenty of space for you to play beach volleyball or just chill!
To get to Bai Tu Long Bay, you would need to travel from Hanoi to Hanoi's International Cruise Port Gai Port. 
TLDR: You should choose Bai Tu Long Bay if you
- want to spend time on beaches without struggling to find a spot
- have plenty of time and want to explore at your own place
- want the most secluded location (out of the three!)
Bonus: Vinh Hy Bay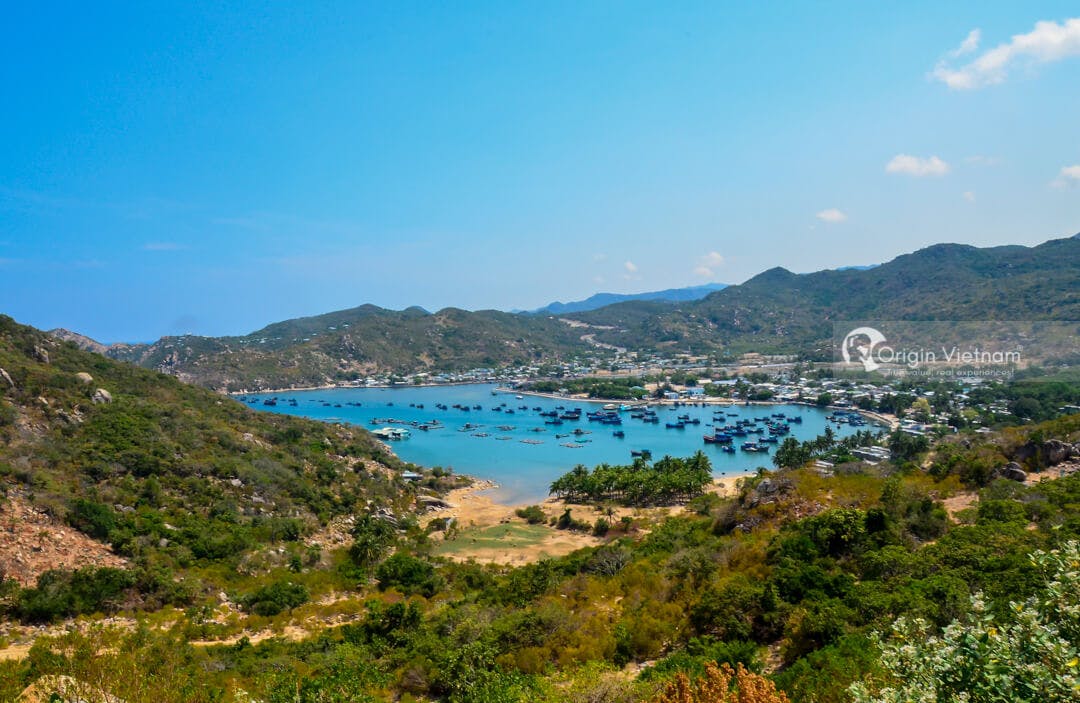 Small and untouched. Vinh Hy Bay may not be a UNESCO site or boast similar limestone landscape as others. But instead, it offers great coastal views with beach backdrops, mountains and vineyards.
Being an eco-tourist spot, this bay has preserved its rural beauty with high mountains, extensive green forests, waterfalls and a small fishing village. With a good book and a chair in front of the view, you're bound to forget all your stress.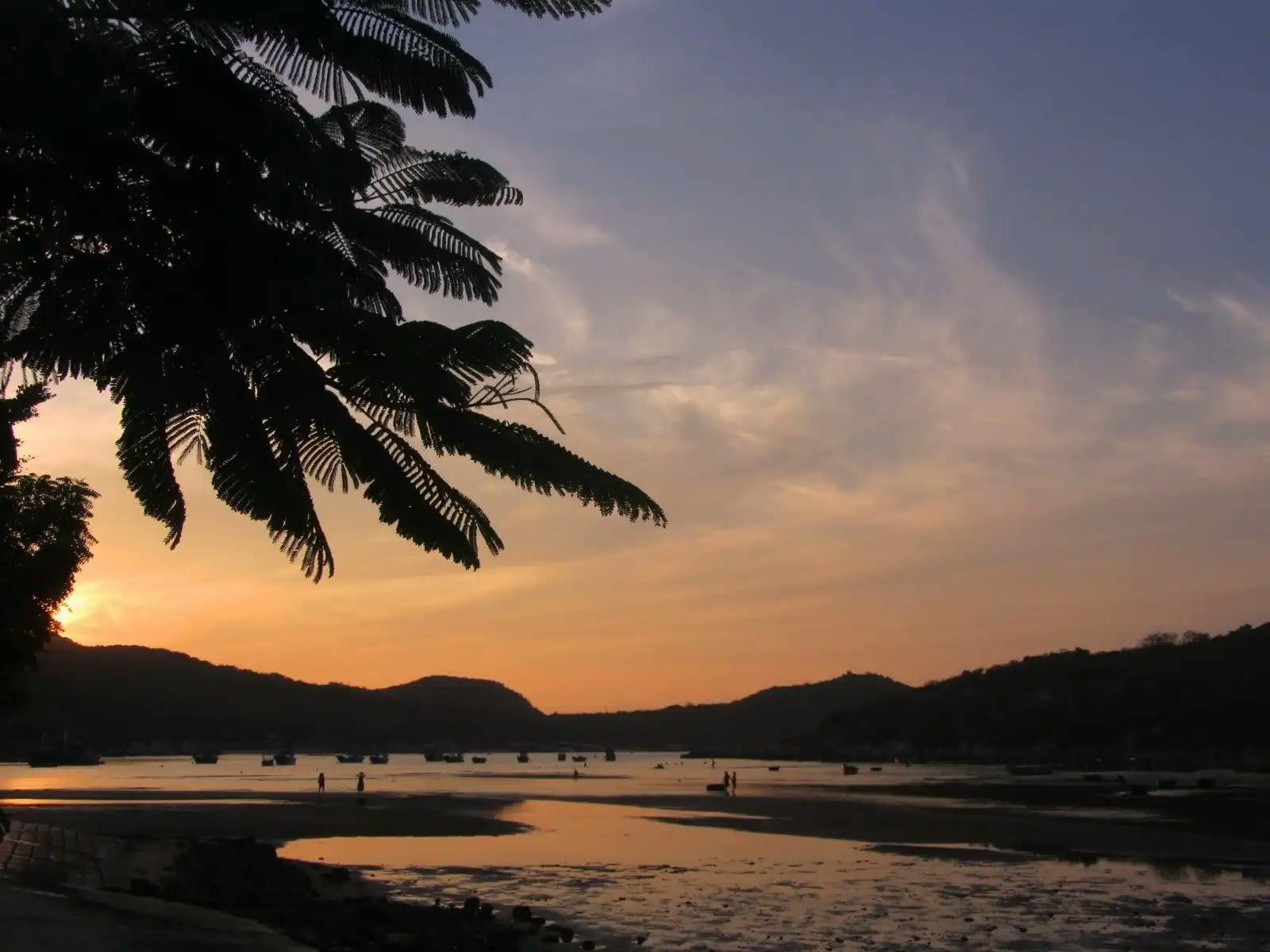 The activities in Vinh Hy, compared to the ones in Halong are much more chill and require less commitment and energy. Take a walk around town, have conversations with locals and go out on day trips. In fact, one of their most popular activities is going on a glass bottomed boat where you can look at the coral reefs in clear waters. Due to Vinh Hy's lower popularity, you'll be able to experience the local life much more. Witness the locals fishing, sorting their catch and finish off with a visit to the nearby markets. No doubt, it makes for the perfect short summer escape where you can relax and soak in the coastal views. 
To get to Vinh Hy Bay, you would need to get to Ho Chi Minh and drive to Vinh Hy, alternatively, you can fly Cam Ranh Airport and take a taxi to Vinh Hy. 
TLDR: You should choose Vinh Hy Bay if you
- want a no-frills, no commitment vacation
- want a great coastal landscape without having to travel out of Asia
- want to experience local life and living