Your Guide to Cat Ba: All You Need to Know Before Going + Highlights
Your Guide to Cat Ba: All You Need to Know Before Going + Highlights
Cat Ba is Halong Bay's more adventurous little sister. Here's what you need to know before you visit!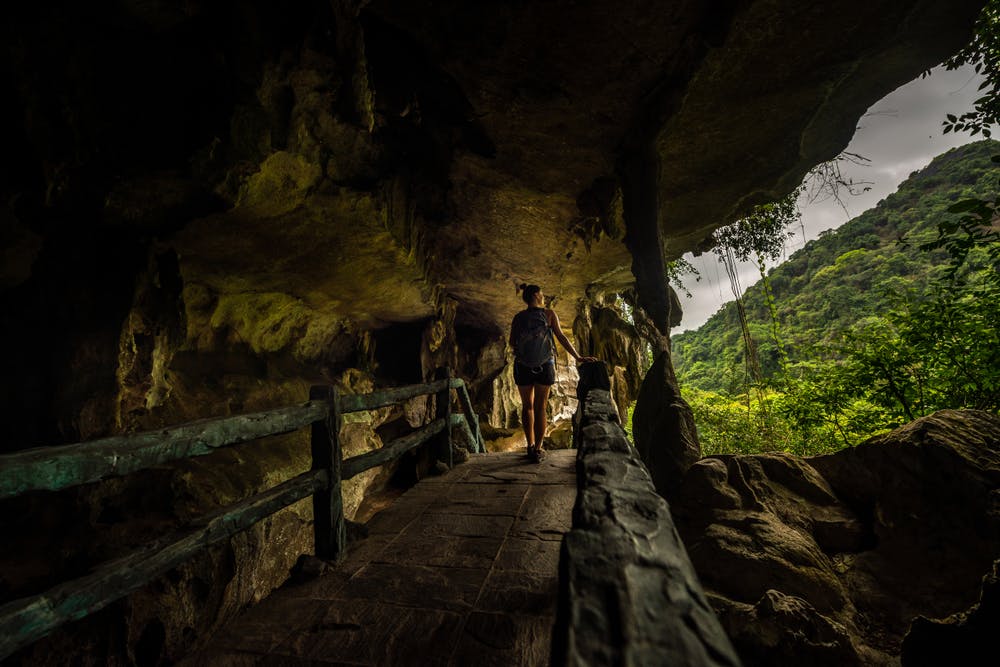 Known as Halong Bay's hidden gem, Cat Ba is the largest island on Halong Bay and has been growing in popularity recently. Despite this, it is still relatively unknown compared to Halong Bay and far less-touristy.
At Cat Ba, you can expect a myriad of fun-filled activities and a great spot for backpackers. Not to mention, Halong Bay's twin, Lan Ha Bay is also right here, so you won't miss out on the scenery! This is the spot to visit if you want a more secluded and untouched experience. To make your planning easier, we've compiled everything you need to know and make the best out of each highlight!
What kind of experience should I expect at Cat Ba?
Whether Cat Ba is the right place for you depends on what kind of experience you're after - a luxurious, pampering one or a laid-back, off-the-beaten path experience. If it is the latter, then yes, Cat Ba is definitely worth a visit. If it is the former, you're better off visiting Halong Bay, which we have a guide on here! The activities at Cat Ba are more suited for backpackers, those who want something more exciting, hands on and to be surrounded by nature. So, if you're someone full of energy and want a variety of activities, Cat Ba is the place for you.
Is it difficult to get to Cat Ba & how do I get there?
There are many ways for you to get from Hanoi to Cat Ba such as via motorbike or the train route but one of the fastest and most cost-efficient ways would be to take the bus + speedboat route.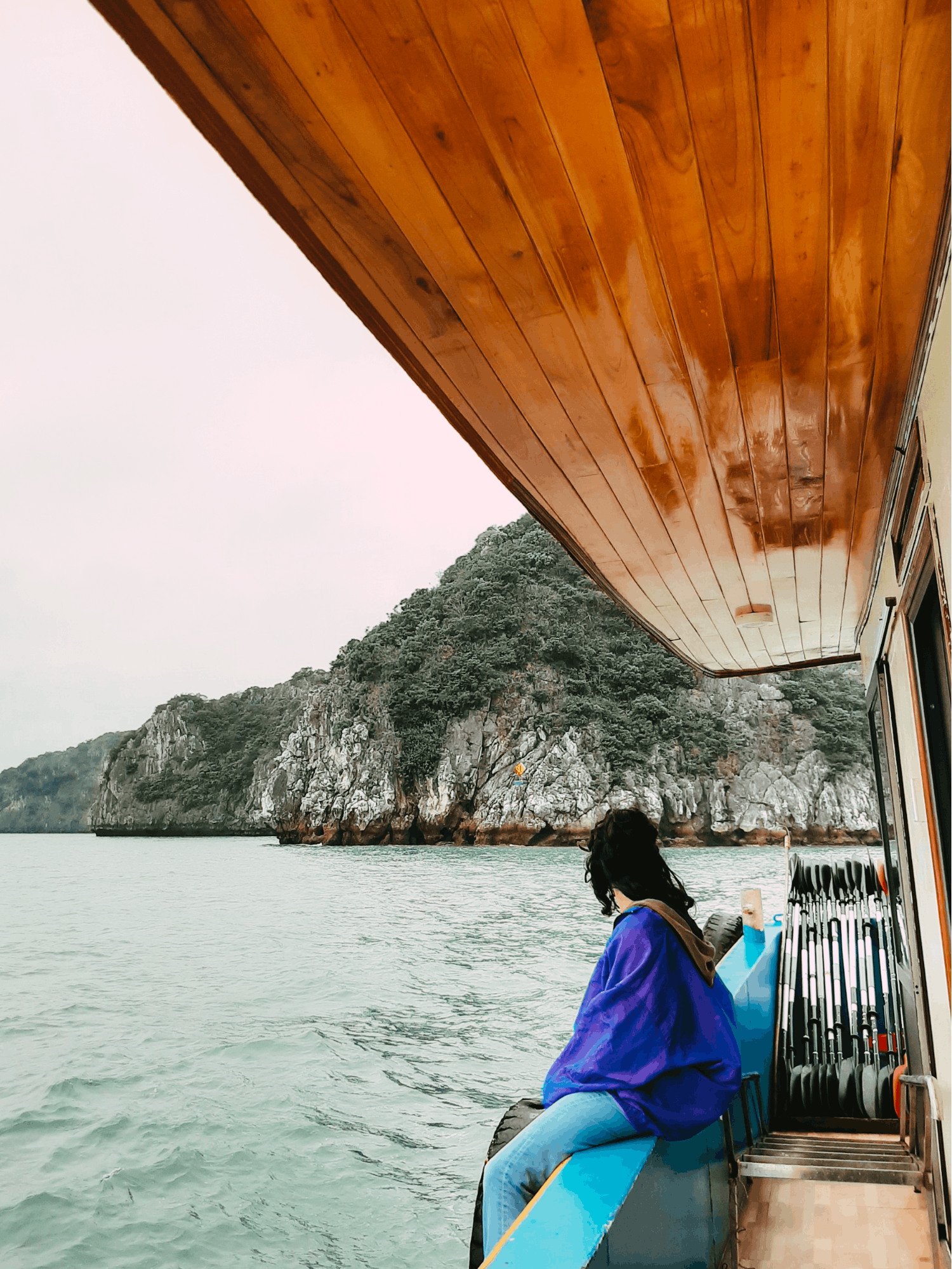 If you choose to depart from Hanoi, most cruises offer return transport so it'll be entirely fuss free. 
If you choose to depart from Cat Ba, you will most likely have to make your way to Cat Ba Island yourself.
Transportation 
There are many bus companies for you to choose from and you can book your tickets online, which would cost around $25 USD. This is the price for a round trip and you won't have to worry as they will arrange end to end transport from Hanoi to Cat Ba Town. The bus ride takes approximately 2 hours from Hanoi's Old Quarter to the port and from the port, it's a 10min speed boat ride to Cat Ba Island. From here, you'll take a 45 minutes bus ride to Cat Ba Town and arrive at the main area where all the hostels are located.
*Bonus
As you depart from the port and start sailing through the limestone cliffs, keep your eyes peeled for the Cat Ba Langur! We were incredibly lucky to have spotted two langurs just 10 mins out!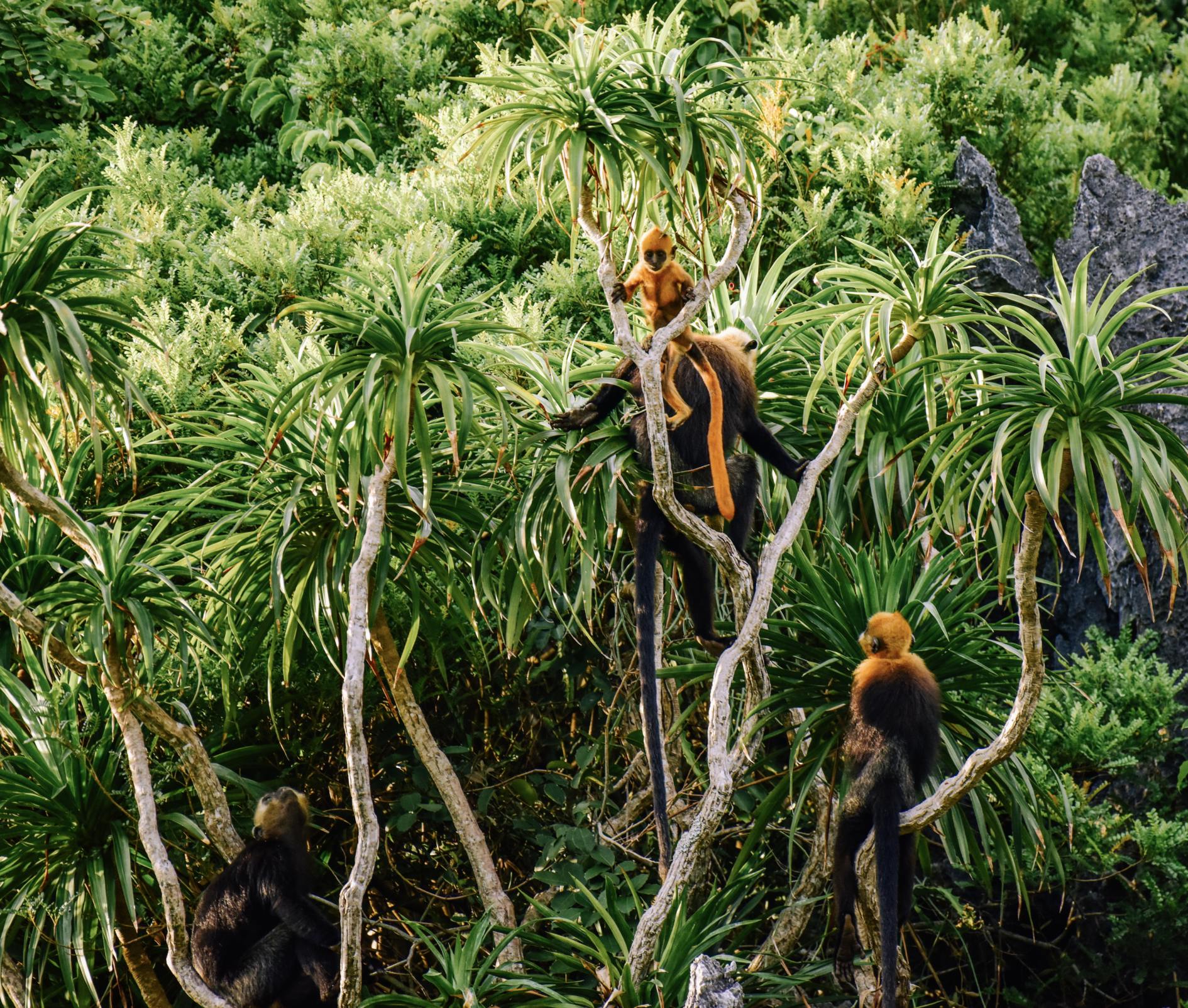 Cat Ba langurs are one of the rarest primates in the world and they live in this hidden gem - Cat Ba! They're critically endangered and it's estimated that there are less than 70 of them left in the world.  Poaching and tourists are two of their major threats. The noise from tourists scares them away from their natural habitat so we suggest that you keep the volume of music down so they don't get too scared!  
Should I go for a 1-day or 2-days cruise? 
1-day: The most popular option, most Cat Ba cruises such as Cat Ba Vision consist of a 1 day boat trip which is ample time for you to sail through the beautiful islets of Lan Ha Bay, kayak through caves to hidden lagoons and go on treks. 
2-days: For those with more time and would like to spread out their activities, you can choose the 2 days option with Cat Ba Vision would allow you to chill on the island, enjoy bonding activities and even get a chance to see the bioluminescent plankton. 
For the 1 day option, you'll visit these highlights:
Monkey Island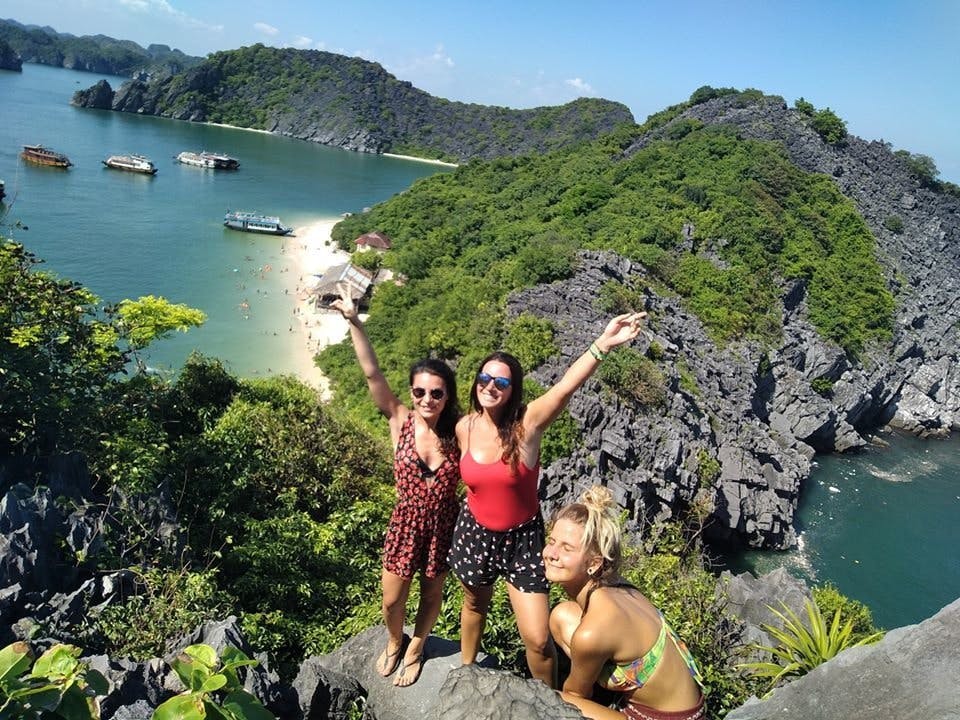 Probably one of the most visited highlights of Cat Ba, Monkey Island tends to be the first stop of many cruises. Hiking up to the summit is the most common activity as everyone wants a good panoramic view (and instagram picture) of the bay. Be warned that the hike up can be quite dangerous, we're talking sharp rocks and steep steps so make sure you are physically fit and those with a fear of heights? Avoid this. If you make it up, the view will be well worth it as you'll be greeted with Lan Ha Bay and its surrounding islets. Bonus would be it looks strikingly similar to Halong Bay, so you're not missing out!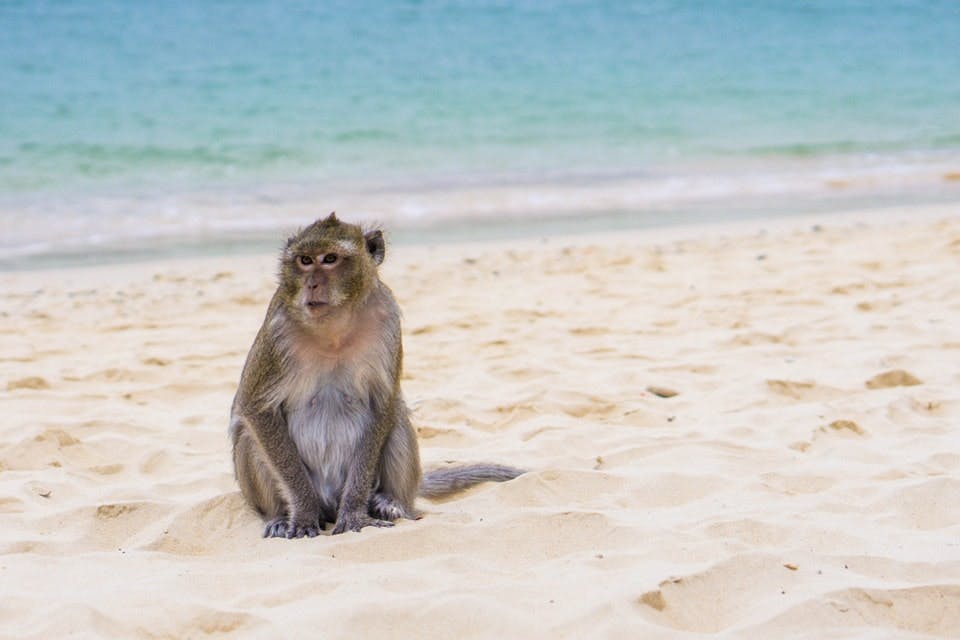 Of course, you can expect to see monkeys here too, it is after all, called Monkey Island. The monkeys here are known to be quite mean and like to snatch items so make sure to keep your distance and do not carry food, we repeat, DO NOT CARRY FOOD. Other than the slightly annoying monkeys it's a good place for those who enjoy hikes but you may have to squeeze with others on the hike up as this is quite a popular location.
Dark & Light Caves, Hidden Lagoons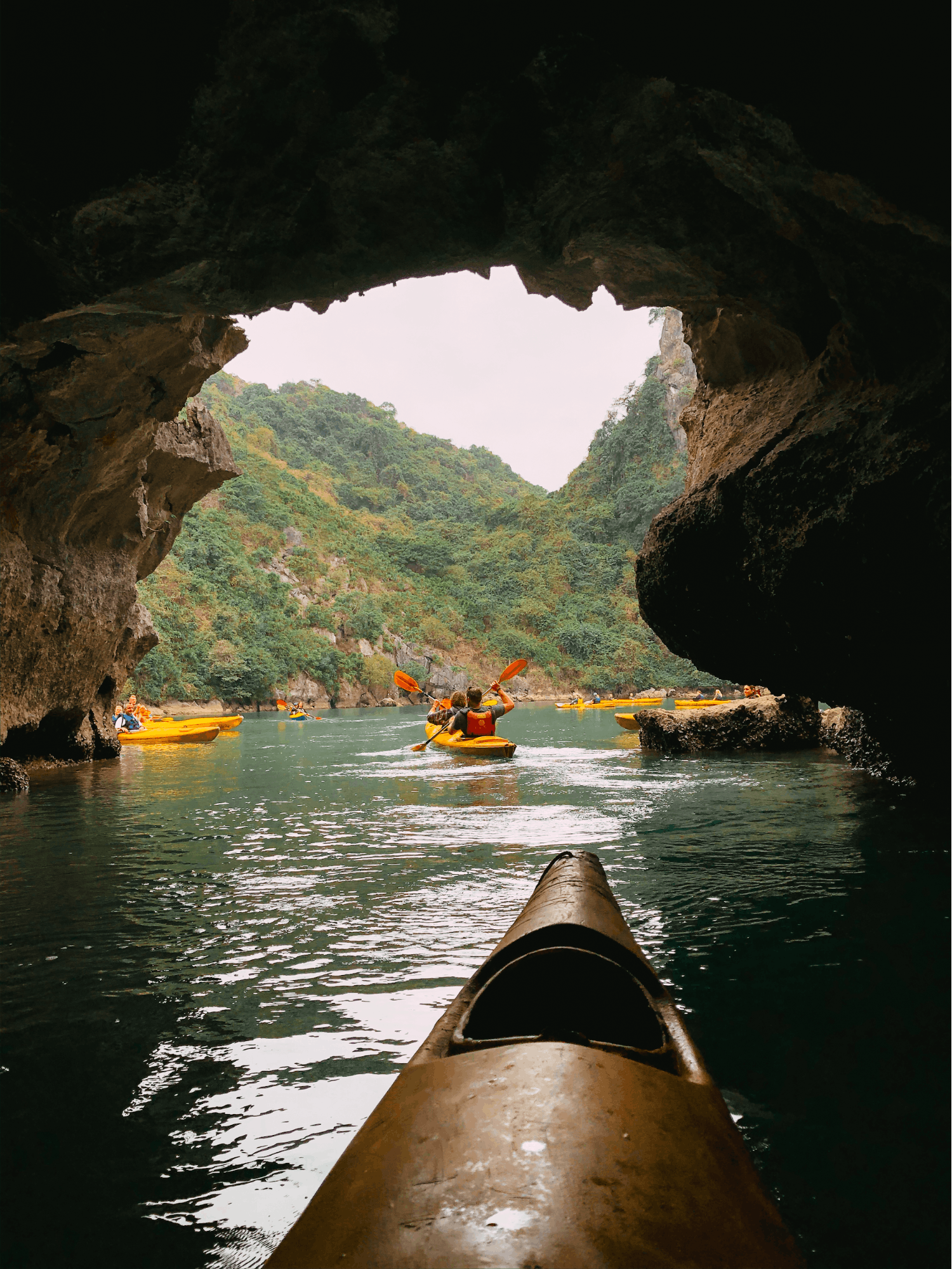 This is an interesting one where you'll get to kayak through a two in one cave system and discover hidden lagoons. Even though the caves itself may not be that impressive and there isn't much to see inside, the experience of kayaking through is quite fun, especially if you're with your friends. Over here, we suggest that you pay attention to your guide's lead as they'll be able to point you to the REALLY discreet caves that you probably will miss on your own. Plus you'll be happy to know because Cat Ba is lesser known, you won't have the issue of bumping into other kayaks (what's the point of kayaking if you keep bumping into others?).
Floating Fishing Villages
As you cruise through the fishing villages nearby, you'll find that it's not just the scenery of floating houses that is interesting, but seeing the way of living the locals have adopted is quite an eye-opening experience. Probably because we mostly come from cities, skyscrapers and are always bombarded with technology. Get real close to these floating villages and see how they lead their daily lives, from fishing to hauling up a catch, this will give you a slice of how real Vietnamese life is like. In addition, you'll most likely learn about many traditions and beliefs unique to the locals (such as keeping fish for good luck!) from your guide so keep your ears peeled!
Hospital Cave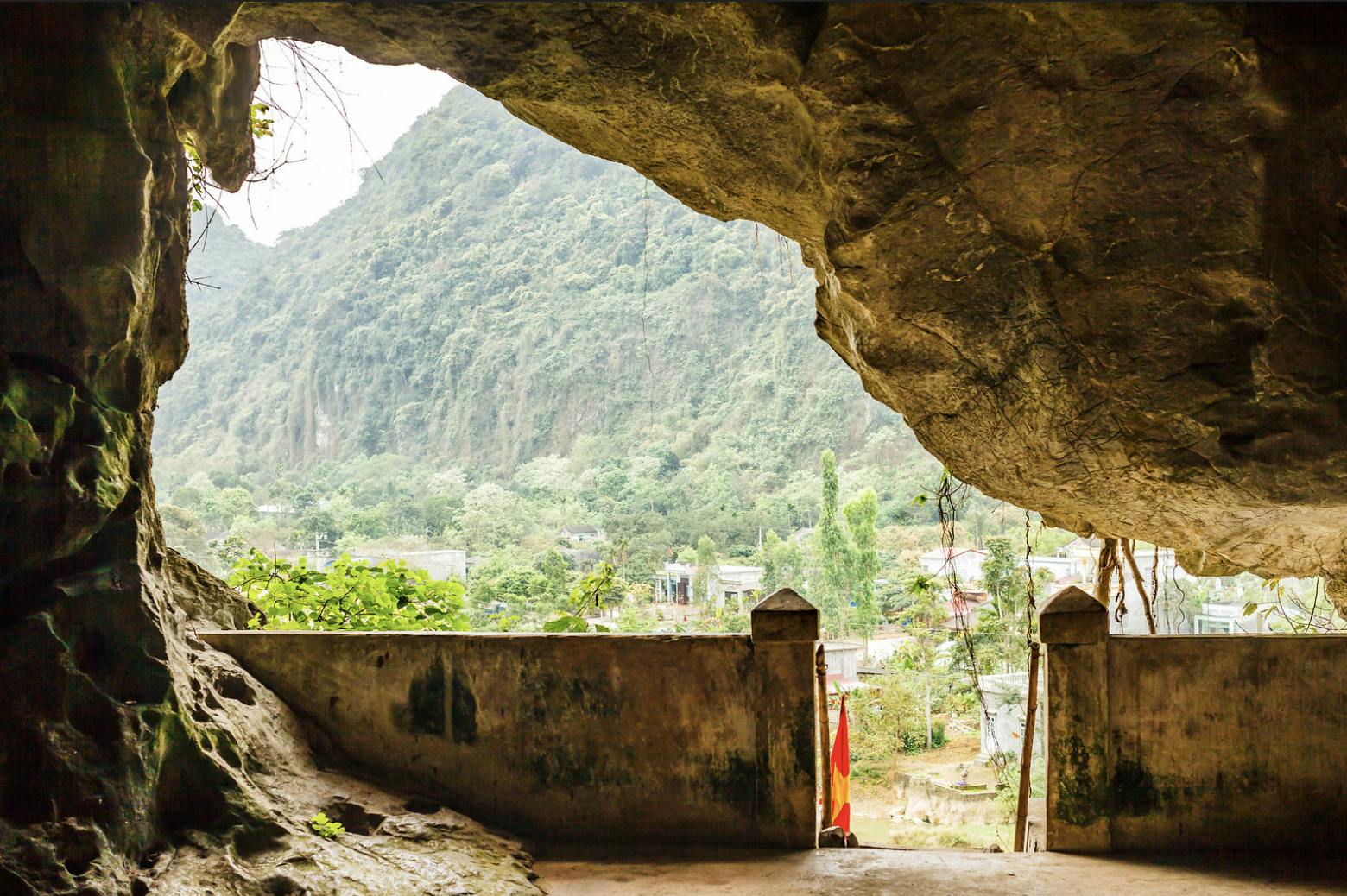 For all you history lovers, don't miss this cave. Originally used in the Vietnam War as a haven for the Vietnamese Army, this bomb proof safe house and hospital is a popular tourist attraction today. If nobody told you there was this cave here, you'd probably miss it because the secret location is precisely what makes it perfect for a hideout. And if you're expecting to see stalactites here, you will be disappointed. Instead, there are bunk rooms and hospital beds which give you an insight on the Vietnamese War. This cave visit will probably be shorter than you expect (about 30mins) so we feel it's worth squeezing in a visit. After all, it's not everyday you'll get to see a hospital built in a cave.
Jump In!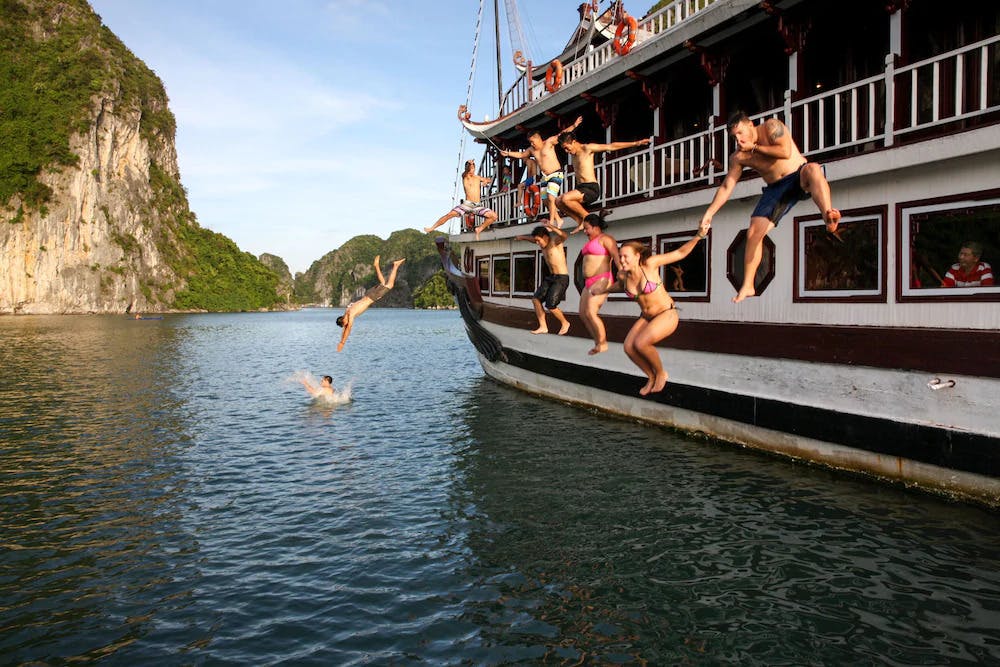 One of our favourite activities, jumping into the water! Cool and clear, the water is a great way for you to cool down after a day of touring in the humidity. It's quite a common sight to see and definitely a fun way to round up your trip. Don't forget to bring an extra set of clothes!
Tip: For a more adventure-filled 1-day trip: opt for itineraries that allow you to cycle through villages, and even rock climb!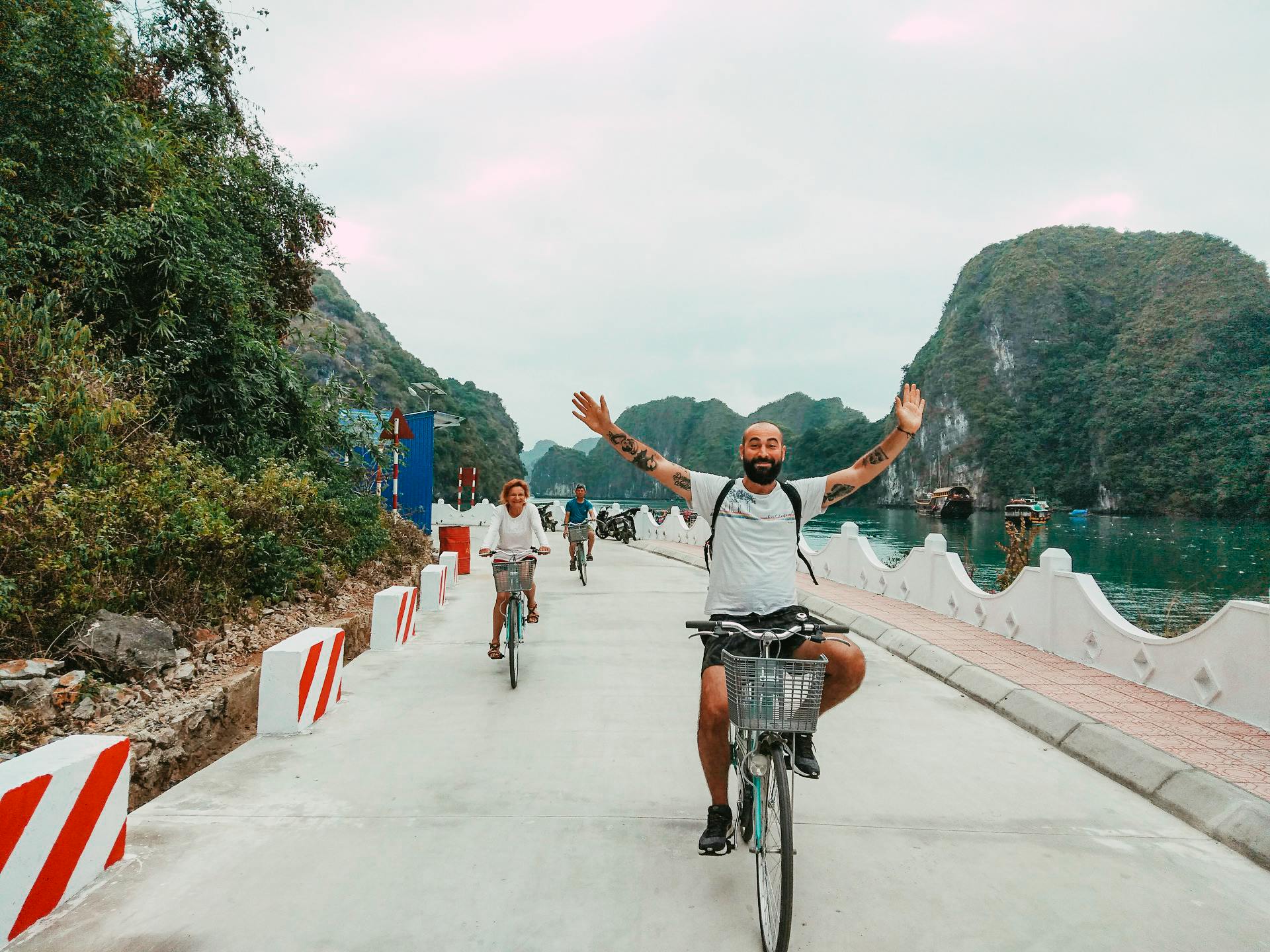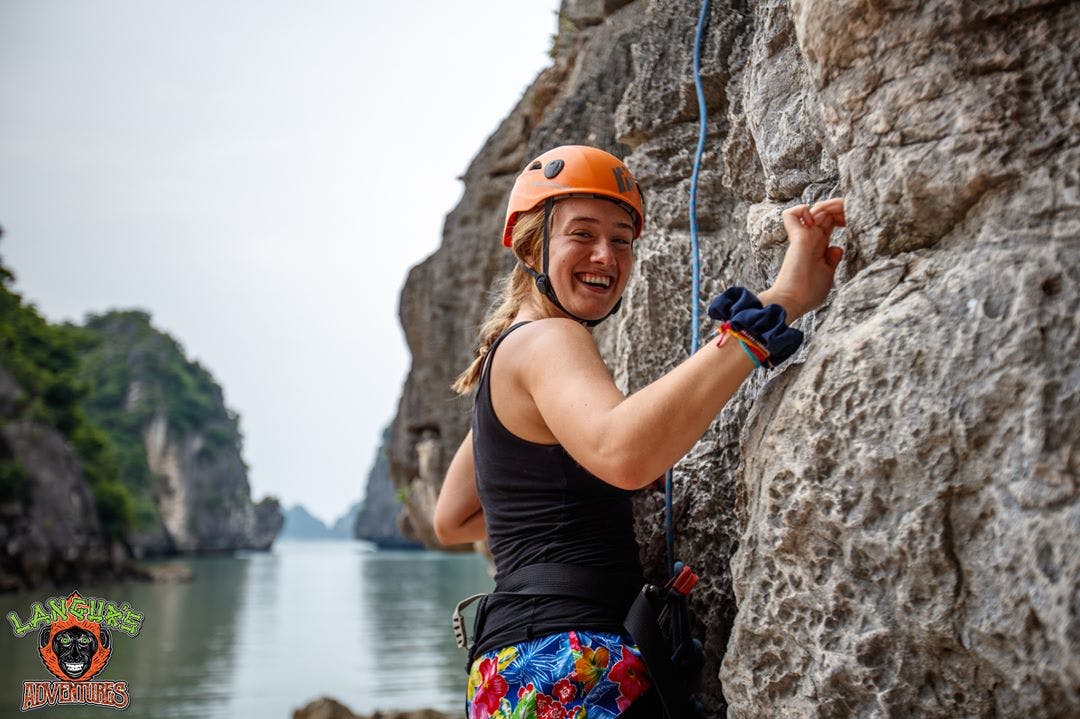 Cycling and rock climbing are other excursions you can do around Cat Ba, suitable for those seeking to see another side of the island that fewer travellers see. There are many bike routes to choose from in Cat Ba such as the coastal route or national garden route. It totally depends on what you would like to see. As for rock climbing, if you're a beginner, don't worry because they cater to all levels, no matter if you're just starting out or an expert climber!
For the 2 days option, this is the additional highlight you'll enjoy:
If you have more time, we highly recommend spending a night on a floating homestay and seeing bioluminescent plankton! This is the main highlight of 2 days Cat Ba cruises.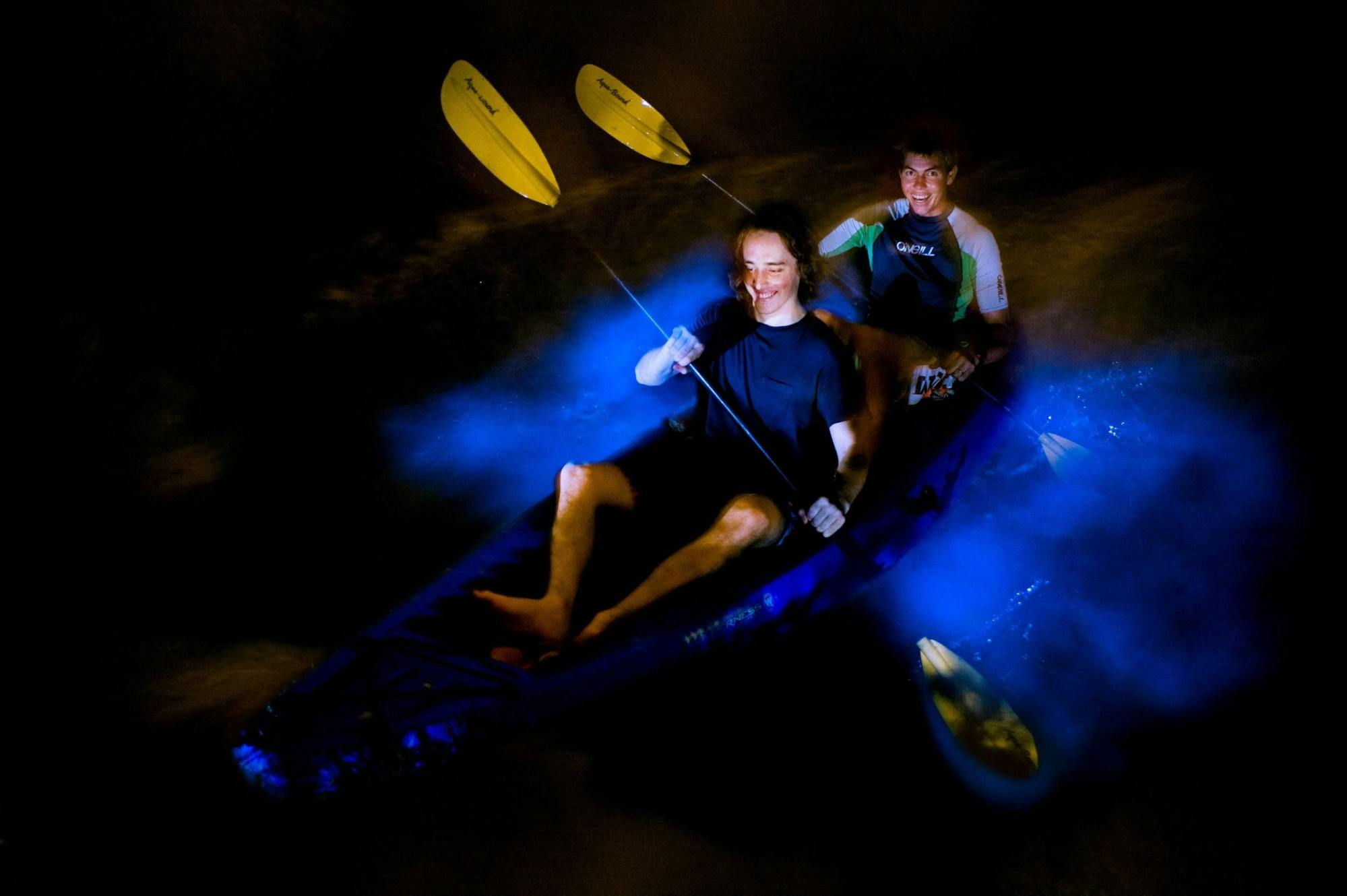 Known as 'tears of the ocean' or 'sea of stars', the neon-glowing waves are the result of a magical natural phenomenon - bioluminescent plankton. They can be seen around the world, particularly in Maldives, but you can see them in Cat Ba as well! The bioluminescent plankton only glow if there's movement in the water, meaning that you'll be able to night kayak and watch the water sparkle a magical blue.
Now that you have a better idea of what to expect, you might be wondering when is the best time to visit? 
Overall, Cat Ba Island's weather is quite favourable which is why it's so ideal for outdoor activities such as kayaking, rock climbing and hiking. When you choose to go depends on your focus and preference for your trip. 
June to August: If you enjoy the sun and tropical heat, this is the period you should choose as temperatures can go up to 30 degrees. Make sure to bring along sunscreen and an umbrella because this is also the rainy season!
October to March: Relatively mild weather of about 20-26 degrees, you can choose this period if you want to avoid the blazing sun and rainfall. 
Best months to visit would be March, April, September and October where there is lesser rainfall and a more forgiving temperature.
Important things to note:
For those with dietary requirements such as if you are vegetarian, don't worry as the cruises will be able to cater to your requirements as long as you request! 
If you are planning to hike or cycle, we recommend that you wear comfortable footwear and clothing.
Most of the options are similar in itinerary and price, covering the highlights of Cat Ba. The difference between the 1 or 2 days option would depend on your schedule and if you would like to see the bioluminescent plankton. The differences between the 1 day cruises are the types of activities they offer, whether that be cycling or rock climbing. If you wish to partake in a certain activity, make sure that it is on the itinerary! 
Ready to book a trip to Cat Ba now? Check out all our handpicked Cat Ba experiences here.