Private 2-Hr Art Jam Session
Private trip
·
Up to 50 persons
Private 2-Hr Art Jam Session
Private trip
·
Up to 50 persons
Know someone who might like this?
Highlights
Highlights
Private lovely studio for group art jamming
Great for teams and private parties
Chilled art jam session guided by an experienced instructor
Details
Details
This is a private option for large groups.If you're looking for a fun way to relax, you would love art jamming at this beautiful studio. At the end of the 2 hour session, you'll come away with your own acrylic painting masterpiece. This is suitable for those with no arts background and would like guidance from experienced instructors.What to ExpectNurture your inner artist by spending a relaxing session with Sage Artelier, a beautiful and cosy art and retail studio. Come prepared with a painting you want to do, and Sage Artelier's experienced instructors will guide you through applying different sketching and painting techniques. You'll be working on a 40cm by 30cm canvas that you will be able to bring home at the end of the session — feel free to use it as a decoration piece at home or as a gift to your loved ones!Here, you'll: Create your painting in a new, bright, and beautiful art and retail studio Have a small and cosy class size to have a peaceful sessionBe provided with a variety of paintbrushes and acrylic paints Be guided by an experienced instructorAvailable time slotsSage Artelier Art Jam is available every Tuesday, Wednesday, Thursday, Friday and Sunday, at 3 different timings for each day (12pm, 2pm, and 4pm). Refer to the booking form to see all available time slots.Maximum capacity: Sage can host up to 15pax at its studio, however it can accommodate up to 50pax at a third party venue (venue rental is not included).
Suitable For: Families with Kids, Couples
Tags: Other Creative Workshops, Art Jams & Classes
What's included
What's included
Use of all materials needed

Bring home your artwork (40cm x 30cm canvas)
Where You'll Meet
Where You'll Meet
Meet at
Sage Artelier Studio
Availability
Availability
Prices shown in SGD
What You'll Do
What You'll Do
Itinerary: Singapore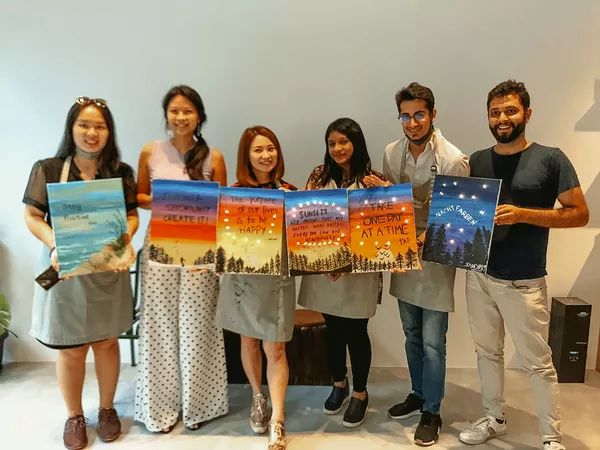 Today, you will enjoy a relaxing session of art jamming.
Create a masterpiece of your choice with the guidance of our experience Teachers.
Choose a painting to paint on canvas.
Start painting under the guidance of the instructors.
Bring home your artwork when completed.
View details
This is a sample itinerary and may be weather-dependent.
Meet your host
Meet your host
Sage Artelier is an inviting art studio and retail space that is designed for exploratory learning and discovery – suitable for adults and children alike. In the studio section, Sage Artelier host unique, structured art lessons (in painting and in 3D craft-modelling), for children between the ages of 5 and 12; they also organise art-play sessions, for people who may be looking for shorter classes that allow them to complete single paintings in a day. In the retail space, they offer craft items, stationery and other knick-knacks – for gift-shopping, to provide art supplies, or for sweetening up our various creative classes. The team is made up of dedicated individuals who are passionate about Art with a minimum graduate Diploma in the Fine Arts or as a MOE trained teacher with many years of experience teaching children. As practicing artists , the team strives to share their practical experiences and knowledge with their students.
Fluent English
What others are saying
What others are saying
Activity Reviews (1)

Host Reviews (189)
With the help of the teachers / instructors, some of our staff were able to complete or finish the products on time and had lots of fun.
I received many good comments (via HP internal email) about this workshop.
Thank you!
Cancellation & Rescheduling
Cancellation & Rescheduling
Cancellation Policy
As Sage Artelier would be holding the slot for you and turning down other potential customers, you won't be able to cancel after you book.
Extenuating Circumstances Policy
In the event that one or more participants are tested positive (or suspected) for Covid-19, customers can choose to reschedule the booking.
In the Event of a Government Lockdown
If there is a government lockdown that prevent you from going on your trip, you may get a full refund via Seek Sophie credits or reschedule at no additional costs. Otherwise, we would do our best to help you reschedule in other cases.
Read our full policy here.
Other Policies
Covid Safety Guidelines
29th March 2022, onwards:
*The maximum capacity of this workshop is 15 pax per session, with subgroups that do not exceed 5 pax.
*Vaccination or PET (Pre Event Test) is not needed as this activity does not require masks to come off.|
Helpful Questions

from Our Community
No Results Based On Your Search
Your question would also be very useful to the rest of the travel community!
No questions yet. Ask us anything, your question would be very useful to the rest of the travel community!
From S$ 350 / group of 10
Request to Book