Minneriya | Private Sunset Safari
Private trip
·
Up to 18 persons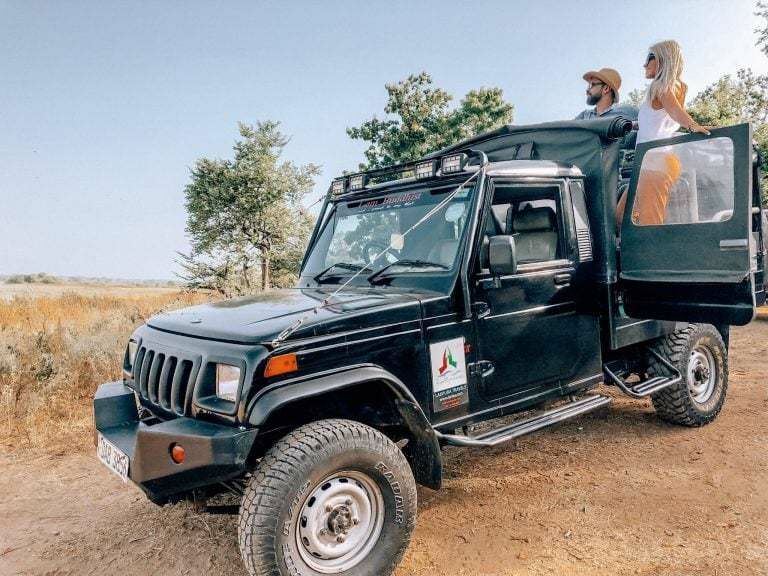 Minneriya | Private Sunset Safari
Private trip
·
Up to 18 persons
Know someone who might like this?
Details
Details
Capture the golden opportunity to witness the Asia's largest gathering of mighty elephants, wandering in the green grassland overlooking the beautiful Minneriya reservoir. Enjoy the flicker of monkeys swinging through the branches and search the forest for the sights of majestic elephants, leopards, sloth bear, mongoose, spotted deer, sambar deer, wild buffalo, porcupine and Indian pangolin.
Suitable For: Families with Kids, Solo Travellers, Couples
Tags: Hiking, Wildlife & Animals, Nature Walks, Monkeys, Elephants, Safari Tour
What's included
What's included
Professional Safari Game Driver

Jeep & Driver Entrance Fee

Park Service Fee + Park VAT Tax
Additional pickup & drop off charges may apply for the areas outside of Inclusions.
Show all inclusions & exclusions
Where You'll Meet
Where You'll Meet
Your host provides free pick up from:
Any location within the radius of 5 km from the Minneriya park gate.
Availability
Availability
Prices shown in SGD
What You'll Do
What You'll Do
This is a sample itinerary and may be weather-dependent.
Meet your host
Meet your host
Lakpura Travels (Pvt) Ltd is a Sri Lankan tour operator that had been creating great Sri Lanka vacations and amazing Sri Lanka holidays for over 11 years with rave reviews & testimonials from hundreds of clients. Registered in 2008, Lakpura has been in operation ever since and has been accredited by the Tourism Development Authority of Sri Lanka.
14 years experience
Fluent English
Community-Based
Litter-Free
Wildlife-Safe
What others are saying
What others are saying
Lakpura Travels, and in particular Mr. Malsiri Peiris provided me with a fascinating and well organized tour. From my young, enthusiastic and very competent driver to my experiences in the countryside the tour never disappointed. The high point was my 2 Safari visit to Wilpattu reserve where I saw Leopards, Sloth Bears, an incredible array of birds and a variety of other animals. My visits to a Spice farm, Tea Plantation and a Rubber Tree forest in the mountain areas near Kandy provided insights into Sri Lnaka's special produce, not to mention the panoramic views. Stops at small villages provided an opportunity to meet people, view local festivities and taste delicious foods.
reuven37105, Israel
28 Nov 2019
I wrote to several companies about arranging a 3-day whirlwind tour and ended up choosing Lakpura. Malsiri was very patient with our email deliberations, and he didn't freak out when we decided to book transport only and not a tour package. He also checked in just before and during our tour to make sure everything was on track. Our driver Andrew Noyahr was just fabulous, can't praise him highly enough. We visited Dambulla caves, Wilpattu National Park, Anuradhapura, Minneriya National Park, Sigiriya Rock, and Polonnaruwa; everything was flawless. Although Andrew was meant to be a driver only, his English was excellent and he provided plenty of guide-like information. He also suggested one lunch place that was just terrific (Priyamali Gedara near Polonnaruwa, reviewed separately), but he was not at all pushy. We enjoyed getting to know him and would use him again in a heartbeat.
widom, United States
28 Nov 2019
The whole day safari was unfortunately very underwhelming. Not really because of the lack of animals (even tho we just saw a few elephants in the first 2 morning hours, after that we drove around for 2 more hours basically seeing nothing) but because of the organization. The tour guide could not speak English at all and there was no plan which was told or shown us. We just hopped in the jeep and drove around. Then we parked the car somewhere and the driver took off for over 20 minutes to talk with his buddies. Didn't tell us what was going on (because he couldn't speak English..). For lunch he brought us 2 chicken and rice which looked really not good (chicken pieces with bone in rice) for 1600 rupies. After lunch we left.
Cyberpete2019
11 Oct 2019
We have been met at our hotel and taken without delay strait into the park. Our guide Ruwan Kumara has made the trip a great experience for us. His knowledge of the wild life made it possible for us to see all we would have missed otherwise. A well trained driver turned of the engine whenever we stopped to watch animals (drives of other cars did not care as much) so we could enjoy the sounds with the sights. We have been dropped of at our hotel at sunset with great memories and experiences.
Prabath was definitely one of the nicest people we met in Sri Lanka! He got in touch via WhatsApp after we booked the tour to arrange everything and already answered some questions we had. Then he picked us up earlier from the ETH, took us to lunch and then to the safari. He and the park ranger were a good team, both spoting the animals and talking to us, we had a really good time and saw lots of elephants, crocodiles, buffaloes and birds! In the end he even gave us a ride to his area so we could get a taxi, introducing us to his family while we waited. Really nice, trustworthy guy! Thanks Prabath!
raquelp25, Portugal
07 Oct 2019
Cancellation & Rescheduling
Cancellation & Rescheduling
Cancellation Policy
As Lakpura LLC would be holding the slot for you and turning down other potential customers, you won't be able to cancel after you book.
In the Event of a Government Lockdown
If there is a government lockdown that prevent you from going on your trip, you may get a full refund via Seek Sophie credits or reschedule at no additional costs. Otherwise, we would do our best to help you reschedule in other cases.
Read our full policy here.
Helpful Questions

from Our Community
No Results Based On Your Search
Your question would also be very useful to the rest of the travel community!
Not what you are looking for? Ask us anything, your question would be very useful to the rest of the travel community!