3D2N Giona Join-In Komodo Boat Trip | Canoe & Snorkeling Included
Details

Itinerary

Includes

Accommodation

Availability

Meet at

Host

Reviews

FAQ
3D2N Giona Join-In Komodo Boat Trip | Canoe & Snorkeling Included
Highlights
Bright and colorful design
Private ensuite bathroom in each cabin
Includes karaoke set, Playstation, and Wifi onboard
Comes with trip documentation - GoPro, drone and mirrorless camera!
Join this fun and colorful boat to enjoy a three day and two night trip around Komodo National Park. What makes this boat trip stand out is the bright and colorful design that provides a cheerful atmosphere and warm Indonesian hospitality. The inclusion of various facilities such as a karaoke set and Playstation adds an entertaining element to the trip, making it suitable for families and friends.What to expect Day 1: Hike to Kelor Island and witness the stunning sunset with thousands of flying foxes on Kalong Island.Day 2: Trek to the panoramic viewpoint on Padar Island, relax on the unique pink sand of Pink Beach, see the legendary Komodo dragons, swim with majestic manta rays in Manta Point and walk on the white sand of Taka Makassar.Day 3: Swim and snorkel in the beautiful coral reefs surrounding Kanawa Island before returning to Labuan Bajo.Facilities and InclusionsAir conditioned cabins with private ensuite bathroomsDaily meals (Breakfast, Lunch, Dinner and afternoon snack)Free flow mineral water, tea & coffeeKaraoke Set, Playstation, and Wifi Onboard Snorkeling equipment & CanoeIsland and Beach ExcursionsCabin InformationThere are 4 air-conditioned cabins each with ensuite bathroom which include shower and basic amenities1 Master cabin (4 pax max capacity) + double bed + 2 extra bed + balcony2 Private cabins (2pax max capacity) + double bed 1 Shared cabin (4pax max capacity) + double bunk bedBoat SpecificationsYear Built: 2018 Dimensions: Length ( 25m ) | Width ( 4m ) Cruising speed: 7 - 8 Knot Engine : Mitsubishi 6D15 Cylinder Navigation: GPS Map Garmin 585 Fresh Water Capacity: 4000 liters Safety Equipment : Life Jackets, Life Raft, Life Buoy, Fire Extinguishers, Distress Signals, First Aid Equipment , Fiberglass EngineCrew: 5 Persons Capacity: 14 Guests 
What You'll be Doing
6+
Day 1:
Island Hopping and Sunset Marvels
Day 2:
You will trek to Komodo Island and snorkeling in Manta Point
Day 3:
Swim and snorkel near Kanawa Island
Show Details
What's Included
Pick up and drop-off from hotel (in and out harbour)
Liveaboard boat with ensuite AC and bathroom for 3D2N
Daily Breakfast, Lunch, and Dinner fresh from the boat kitchen
Free flow Mineral water, coffee and tea
Afternoon snack and juice
Tender boats, canoes, floaties
Karaoke Set, Playstation, and Wifi Onboard
Guide and Trip Documentation (Drone, Gopro, Mirrorless)
Where You'll Sleep
Basic Accommodation
Giona Phinisi - Shared Thetis (Shared)
Shared Thetis
1 toilet
Boat Amenities
Room Amenities
Private Bathroom (Ensuite)
View details
Plus Accommodation
Giona Phinisi - Triton or Doris (Private)
Triton or Doris
1 toilet
Boat Amenities
Room Amenities
Private Bathroom (Ensuite)
View details
Superior Accommodation
Availability
Showing Availability for:
Prices in SGD
Select Time for 23 Sep 2023
Where We'll Meet
Start Point
Free pick-up from Labuan Bajo City Center (Labuan Bajo, Indonesia)
Useful Information
Start & Ends
10:00AM on Day 1 - 11:00AM on Day 3
Cancellation & Other Policies
Cancellation

As Akassa Giona would be holding the slot for you and turning down other potential customers, you won't be able to cancel after you book.
Suitability / Accessibility
Child Friendly (No Minimum Age)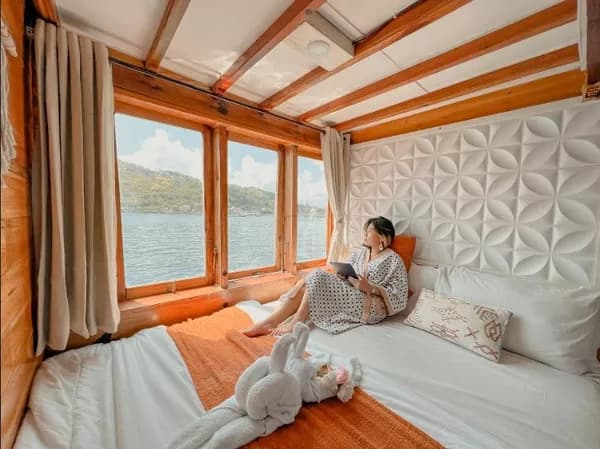 Akassa Giona
Our approach is to provide personalized holidays that cater to your specific needs. We understand that one-size-fits-all solutions are not always the best fit and that sometimes, you may want something a little more unique and tailored to you. That's why we offer bespoke holiday options.
Keep your payments secure by using the Seek Sophie website for all transactions and communications.
Helpful Questions
Hi, is the 3D2N Tour with startdate 15.09.2023 available for 2 person in a double room? Best regards Frank
Frank, 16 Aug 2023
Hi Frank, we're fully booked on the desired date. We have slot available for a shared room on either 8th or 22nd September.
Hi, everywhere else I've looked this boat is a private charter - could I confirm that this is a shared trip and do you have the rough price in USD to check I am doing the translation correct!
Emily, 30 Jul 2023
Hi Emily, We have options for private trip and join in trip (share boat). For private trip, you can check this link https://www.seeksophie.com/experiences/labuan-bajo-komodo-3d2n-giona-private-komodo-boat-trip-up-t-14-pax-oroz3eg9jv And for join in trip, check this link https://www.seeksophie.com/experiences/labuan-bajo-komodo-3d2n-giona-private-komodo-boat-trip-up-to-14-pax-57-owe5oml8jo
Hello, is it possible to book this trip in the shared cabin for just one person, cause the bunk beds seem to be double beds? Thanks a lot on advance ☺️
Stefanie Bock, 02 Jun 2023
Hi Stefanie, our shared cabins are typically shared with other passengers. However, if you prefer more privacy, we offer an alternative option. You can choose to pay for two passengers, which would allow you to occupy one of the beds by yourself. This way, you'll have the entire bed to yourself without having to share it with anyone else.
If my flight arrives at 9:10 on Friday 16 June, does that give me enough time to reach the harbour and join the excursion?
Soledad, 07 May 2023
Hi Soledad, It's always a good idea to plan some extra time to be on the safe side. It's better to arrive one day before.
Not your usual touristy stuff
Here you'll find some must-sees. But mostly you'll find what's real - not just what's on show for tourists.
Handpicked guides
We're a marketplace, but a highly curated one. We'll only recommend guides who we love.
Planet-Friendly
We believe that travel shouldn't harm our planet. We offset all carbon emissions for trips booked on Seek Sophie.