2D1N Mt Kinabalu Summit | Walk the Torq **Free Night at Kinabalu Pine Resort
Details

Itinerary

Includes

Accommodation

Availability

Meet at

Host

Reviews

FAQ
2D1N Mt Kinabalu Summit | Walk the Torq **Free Night at Kinabalu Pine Resort
Highlights
See Mount Kinabalu summit at sunrise
Walk the Torq activity
Complimentary stay near the park before start of trek!
This is a 2D1N Mt Kinabalu climb, which includes the regular summit climb up Mt Kinabalu, and an additional Walk the Torq via ferrata activity. It's a beginner to intermediate level hike. In addition, it also includes a complimentary one night stay at Kinabalu Pine Resort the night before your trek, so you get to enjoy the surrounds of Kinabalu Park for an additional night. The Walk the Torq via ferrata is an easy activity after your summit climb, and takes place off the side of the mountain. The Walk the Torq via ferrata is suitable for beginners, being 380m in length and takes an additional 2 hours to complete on average. Highlights of the activity include a 6m monkey rope bridge and a 10m hanging ladder.About the Summit ClimbThis is a 2 day 1 night climb. Depending on your fitness levels, you will be climbing 6 hours on the first day, and 10-12 hours on the second day. Please see the itinerary below for more details.Mount Kinabalu is a beginner-friendly climb, but we do recommend training up at least 1 month in advance. Do make sure that you're able to carry a pack of 8-10KG, and hike for up to 10km on an elevated surface.About Walk the Torq Via FerrataThe Walk the Torq via ferrata is an easy activity after your summit climb, and takes place off the side of the mountain. If you choose to do this, the additional activity will take place after you summit Mount Kinabalu, but before you descend.The Walk the Torq via ferrata is suitable for beginners, being 380m in length and takes an additional 2 hours to complete on average.Highlights of the Walk the Torq activity include a 6m monkey rope bridge and a 10m hanging ladder.Important info about booking processPlease indicate the date you would like to climb on the booking form. As all climbing permits are issued by Mount Kinabalu park, we will need to check the availability with Mount Kinabalu park before confirming your requested date.We will do our best to obtain your requested date. But if you have any flexibility in your dates, do let us know in the booking form and we can check those as well with the park.Only 160 permits are issued by the park each day, so we would recommend booking at least 3-4 months in advance for peak season (May to Aug), and 2-4 weeks in advance during off-season.As permits are issued by Mount Kinabalu park (and not us), any permits that have been issued are strictly non-refundable.OtherHealth: It is recommended that all climbers should have themselves medically checked before attempting any mountain climb. If you have a history of suffering from the following aliment, it is highly recommended that you should refrain from climbing: Hypertension, Diabetes, Palpitation, Arthritis, Heart Disease, Severe Anemia, Peptic Ulcers, Epileptic Fits, Obesity (Overweight), Chronic Asthma, Muscular Cramps, Hepatitis (Jaundice); or any other disease which may hamper the climber.  Age: There are no particular age limits for Mount Kinabalu climbers. As long as you are good in health status or you have seek approval from your doctor.  However, we suggest young children be at least 10 years old due to the numerous steps and steep slopes. Similarly, elderly climbers need to be in good health and fitness level to attempt the climb. 
What You'll be Doing
12+
Day 1:
Today you'll hike up to Laban Rata at 3,353m and see a variety of incredible landscapes along the way
Day 2:
Today you will summit Mt Kinabalu at sunrise, then head back down to the Base Camp
Show Details
What's Included
1 night accommodation at allocated mountain hut (dormitory)
Meals - packed lunch, dinner, early supper, breakfast and lunch
Certificate of achivement
Return transfer from Kota Kinabalu town (your hotel or airport)
Tourism tax of RM 10 per pax per night payable upon arrival at Kinabalu Park
Personal expenses / items not mentioned in Itinerary
Driver and Mountain Guide Overtime Charges (applicable 4pm onwards at RM 15 per hour/guide/driver)
Luggage storage, Video / Camera Fee
Beverages / Drinking Water at Laban Rata Resthouse Cafeteria
Peak season surcharge (if any by Kinabalu Pine Resort)
Personal Travel Insurance (covering cancellations of any kind)
Where You'll Sleep
Basic Accommodation
Availability
Prices in SGD
Select Time for 23 Sep 2023
Where We'll Meet
Start Point
Free pick-up from Your Hotel in Kota Kinabalu (Kota Kinabalu, Malaysia)
06:30am
Notes: Please note that the above pick up and drop off times are approximate and will depend on the location of hotel as well as descent timing as the transportation is shared with other groups.
Useful Information
Start & Ends
06:30AM on Day 1 - 07:00PM on Day 2
Cancellation & Other Policies
Cancellation

As Let's Climb Mount Kinabalu would be holding the slot for you and turning down other potential customers, you won't be able to cancel after you book.
Suitability / Accessibility
Child Friendly (Recommended Age: 12+)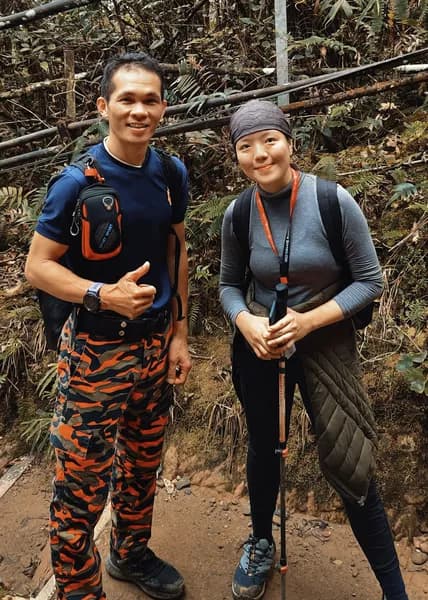 Let's Climb Mount Kinabalu
Let's Climb Mount Kinabalu is a small and super friendly shop, run by Olivia, a local Sabahan. Her strength is making travellers feel welcome and she really pays attention to the details, so your Mt Kinabalu climb will go as smoothly as possible. She loves to answer any question you have - so feel free to ask her everything from the logistics of your climb to what else you can do in Kota Kinabalu!
Experience: 13 years
Speaks: Fluent English
Acceptance rate: 72%
Top Rated Host
Keep your payments secure by using the Seek Sophie website for all transactions and communications.
Helpful Questions
Basic first aid supplies (e.g. painkillers, bandaid, ibuprofen, antiseptic and gauze)
Cash (we recommend RM100 - 150 in case you need to rent equipment, hire a porter, tip the guides, buy beer at the top, etc!)
High energy food such as chocolates, nuts, biscuits, sweets, energy bars
Jacket/Wind breaker (if your jacket isn't waterproof, we would also recommend bringing a disposable raincoat)
Long sleeves shirt/Hiking trousers
Refillable water bottle (0.5 - 1 Litre)
Towel (optional - in case you would like to shower at Base Camp - the showers at Base Camp can get chilly though!)
Trekking or running shoes with good grip
Walking poles (may be helpful for the peak ascend as parts of it can be slippy when wet)
Waterproof backpack to store your items
Pre-Requisites for The Trip
Should be in good medical condition.
Where can I store my bags during the climb?
MS, 22 Feb 2023
There is a luggage storage room available at Kinabalu Park and you may store your luggage there. Please note that the storage room charges RM 12 per luggage, and you can make the payment on the spot.
Not your usual touristy stuff
Here you'll find some must-sees. But mostly you'll find what's real - not just what's on show for tourists.
Handpicked guides
We're a marketplace, but a highly curated one. We'll only recommend guides who we love.
Planet-Friendly
We believe that travel shouldn't harm our planet. We offset all carbon emissions for trips booked on Seek Sophie.