Stand-Up Paddleboarding in Kota Kinabalu
Go paddleboarding in open water!
1/3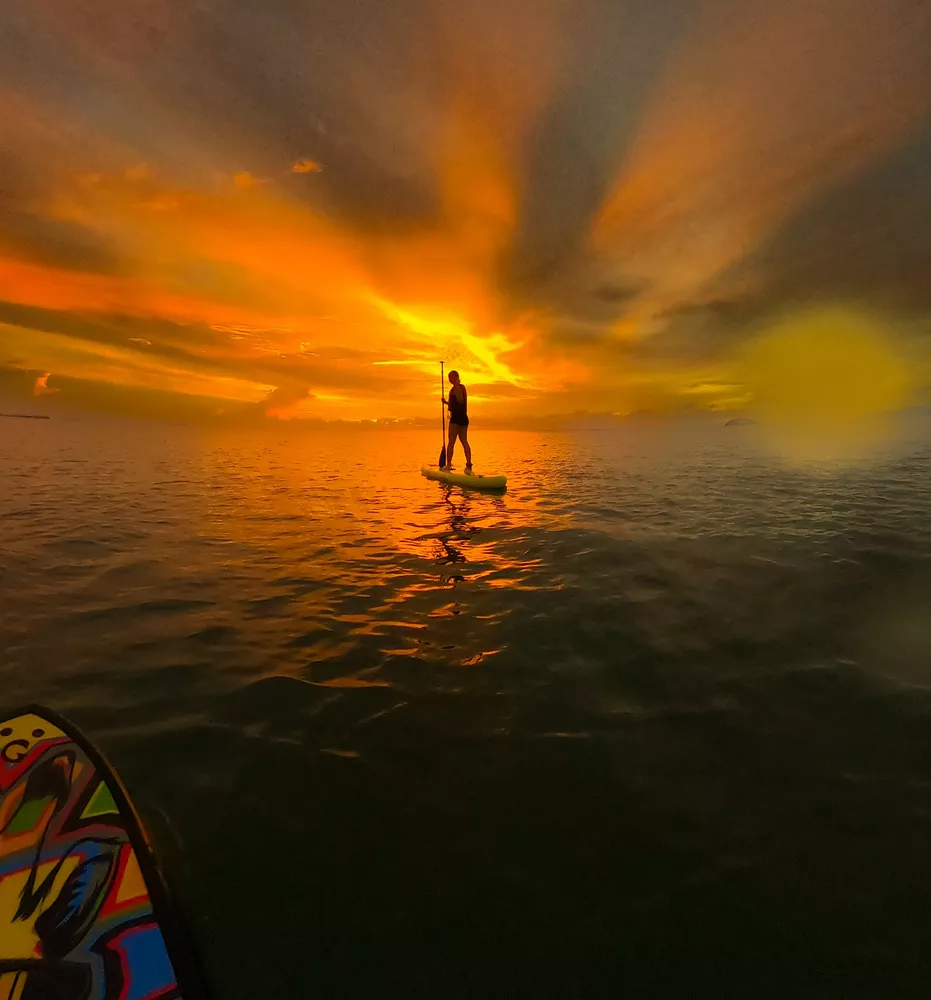 Get to Know Your Hosts
Meet heartfelt hosts who have been handpicked by our team.
Xtreme Paddlers
Xtreme Paddlers are serious water sports professionals who are also passionate about giving back to the local community. They are working to provide training in soft and hard skills, including rafting and hospitality skills, to members of the community. They are also a veteran in the tourism industry in Borneo and many founders of other local independent businesses had their start as guides in Xtreme Paddlers.
Professional and well-equipped with all the necessary safety gear.
Fun and enjoyable day with Xtreme Paddlers.
Also with photography of the event.
Highly recommended for friends and family.
Su weijie
Helpful Questions
What is stand-up paddleboarding?
Stand-up paddleboarding is a water sport that involves standing on a surfboard and using a paddle to propel oneself through the water. It requires balance and core stability and can be enjoyed in calm or rough waters.
Is stand-up paddleboarding popular in Kota Kinabalu?
Yes, stand-up paddleboarding is quite popular in Kota Kinabalu due to its warm waters and beautiful scenery. The city offers a variety of locations to rent boards and take lessons, making it a great destination for beginners and experienced paddlers alike.
Where can I go stand-up paddleboarding in Kota Kinabalu?
Kota Kinabalu offers several locations for stand-up paddleboarding, including Tanjung Aru Beach, Sutera Harbour Marina, and the Tunku Abdul Rahman Marine Park. Each location offers different scenery, difficulty levels, and rental options, so it's best to research which one suits your needs before going.
What should I bring with me when stand-up paddleboarding in Kota Kinabalu?
When stand-up paddleboarding in Kota Kinabalu, it's important to bring sunscreen, a hat, and sunglasses to protect yourself from the sun. Wearing comfortable clothing and footwear is also recommended, as well as bringing water and a snack. Additionally, it's a good idea to bring a dry bag to store your phone and other valuables.
Do I need experience to go stand-up paddleboarding in Kota Kinabalu?
No, you do not need experience to go stand-up paddleboarding in Kota Kinabalu. Many companies offer lessons and rentals for beginners, and the calm waters make it an ideal location to learn. However, it's important to listen to your instructor and always wear a life jacket for safety.
Not your usual touristy stuff
Here you'll find some must-sees. But mostly you'll find what's real - not just what's on show for tourists.
Handpicked guides
We're a marketplace, but a highly curated one. We'll only recommend guides who we love.
Planet-Friendly
We believe that travel shouldn't harm our planet. We offset all carbon emissions for trips booked on Seek Sophie.