2D1N Luxury Cruise (5-Star) | Halong & Lan Ha Bay **Deck Jacuzzi & Balcony Rooms
Join-in trip
·
Up to 25 people
2D1N Luxury Cruise (5-Star) | Halong & Lan Ha Bay **Deck Jacuzzi & Balcony Rooms
Join-in trip
·
Up to 25 people
Details

Includes

Meet At

Accommodation

Availability

Itinerary

Guide

Cancellation & Rescheduling
Details
Details
This is one of the newest luxury boats in Halong Bay, and all the rooms come with an ocean-view balcony. Experience the enchanting scenery of Halong and Lan Ha Bay while experiencing 5 Star luxury comfort of this boutique cruise. During this two day trip you will be able to visit Lan Ha Bay erea, breathtaking view. Drop anchor for swimming or just simply sunbathe on our cruise (private, wild and fresh air).You take part in cooking demonstration. We will guide you how to make the traditional Vietnamese dish – deep fried spring rolls.Traditional bamboo sampan or kayaking activities in the Light cave area – a perfect destination for the adventurous visitor who would love to row or kayak on calm water surface while enjoying the cave's impressive stonewalls.You will also be able to enjoy some of the most delicious meals on the bay - from delectable dinners to specially prepared vegetarian and vegan meals. 
Tags: Sightseeing Boat Cruise, Kayaking, Water Activities
Trip Highlights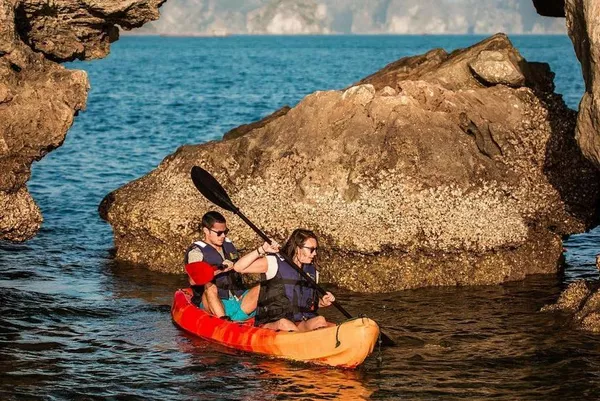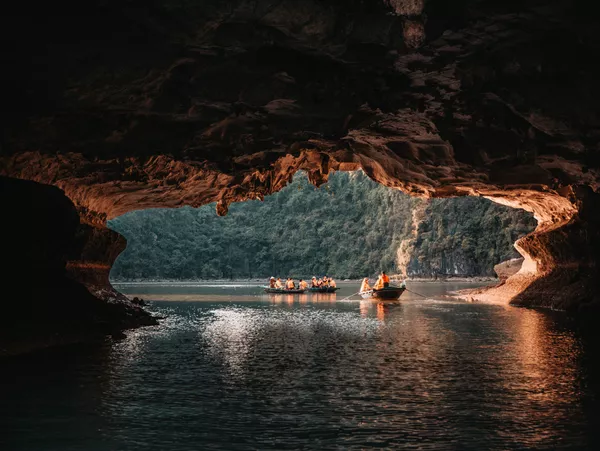 What's included
What's included
Fully equipped luxury cabin

Tai Chi, cookery demonstration, kayaking

Entrance and sightseeing fees
Surcharge for Christmas (24/12) & New Year's Eve (31/12), Lunar New Year Holiday

Tips and other personal expenses

All other services not clearly mentioned above
Show all inclusions & exclusions
Where You'll Meet
Where You'll Meet
This activity has no specified meeting point. Please contact your host if you require more information.
Transport Add-ons
Your host can provide transport add-ons for additional cost:
Return Transport with county (+

S$ 574.65

)
Accommodation
Accommodation
Basic Accommodation
Rosy Cruise Boat - Junior Balcony Suite (Double) (Private)
Junior Balcony Suite (Double)
1 toilet
Boat Amenities
Room Amenities
Private Bathroom (Ensuite)
View details
Plus Accommodation
Availability
Availability
Showing Availability for:
Prices shown in SGD
What You'll Do
What You'll Do
Day 1: HALONG BAY- BA TRAI DAO BEACH–SUNSET PARTY – DINNER( L/ D)
Today you will visit Ba Trai Dao Beach (Kayaking/Swimming)
11:30 – 11:45: Arrive to Tuan Chau harbor and transferred by small boat to Rosy Cruise
12:15 – 12:30: WELCOME SPEECH
Welcome to Rosy Cruise and enjoy Welcome drink, meet the captain, crew to get a brief introduction about cruise and safety guidelines.
13:00-13:30 : LUNCH TIME:
Enjoy Vietnamese seafood and vegetarian lunch, while cruising in the magnificent Halong – Lan Ha Bay, admiring the fascinating rock formations in the bay.
Discover lagoon natural area belonged to Lan Ha bay. Drop anchor for swimming or just simply sunbathe on our cruise (private, wild and fresh air).
14:00: COMPLETE CHECK-IN PROCEDURE.
15:30-17:00 KAYAKING/ SWIMMING AT BA TRAI ĐAO BEACH
You will do Kayaking under our captian's instructions in so many beautiful spots, then Swimming or just simply sunbathe on our cruise (private, wild and fresh air).
Heading back toward the sleeping area or free of using Jaccuzzi
17.30: SUNSET PARTY
Come back to our Rosy Cruise and participate in our Sunset party. Take photos and relax.
19:00: DINNER TIME: Time for dinner enjoying special seafood and Vietnamese typical food on the cruise.
20:00: EVENING ENTERTAINMENTS - Play game on the cruise: cards game, chess, - Relax on the sundeck or in a room
View details
Day 2: DAY 2: LAN HA BAY – TRA BAU AREA- HANOI ( B/L)
Today you will visit Tra Bau Area (Stunning views )
05:30 - 06:00: MORNING SUNRISE
Wake up early for the sunrise (Depends on the season and the weather-Not required)
7:00-7:45: BREAKFAST TIME:
Enjoy your breakfast. Morning view of bay's landscape with a cup of tea or coffee.
08:00: DISCOVERY TRA BAU AREA - Mingling yourself in the stunning views of the Bay and it's dramatic limestone islets
09:00: Back to your cabin, take relax and check carefully all the luggage before leaving your cabin.
9:30: CHECK-OUT TIME : Complete check-out procedure and leave Room key at Reception.
10:00: LUNCH TIME: Enjoy your last lunch at Rosy cruise.
11:10: Rosy Cruise are landing Tuan Chau Harbor by small boat, tourist say goodbye to sailors and finish the cruise.
View details
This is a sample itinerary and may be weather-dependent.
Meet your host
Meet your host
Join the Rosy Cruise family on one of the most luxurious 5-star cruises available for visiting Halong Bay and Lan Ha Bay. Handpicked for their warm personalities and unparalleled expertise, the Rosy Cruise team is dedicated to providing an exclusive and unforgettable experience for every guest with superior service of the highest safety standard. Travellers can look forward to a unique cruise experience with carefully curated itineraries that take you beyond the usual spots of larger ships.
Basic English
What others are saying
What others are saying
Activity Reviews (1)

Host Reviews (52)

 
Cancellation & Rescheduling
Other Policies
Other Policies
Child Pricing
Children will pay a discounted price
Please click on the
booking form
to see child prices
Helpful Questions
Are pickups and dropoffs from our hotels in Hanoi ?
Martine, 26 Mar 2023
Hi Martine, pick ups and drop offs are from your hotel in Hanoi Old Quarter.