Cook up an Indian Muslim Feast for Special Occasions (4-5pax)
Details

Itinerary

Includes

Availability

Meet at

Host
Cook up an Indian Muslim Feast for Special Occasions (4-5pax)
Highlights
Unique cooking experience in a private home
Learn to make big, grand dishes for Indian Muslim special occasions like Eid and weddings
Make dishes you can't find at restaurants, hawkers and food courts
Learn about food, history and culture while you're cooking
Learn about Indian Muslim food, heritage, and culture under the guidance of Mama Zi and Taahira (her daughter). Pick up heirloom Indian Muslim food recipes that have a unique twist to them- influenced by their presence in Singapore for three generations. This is a class suitable for 4-5 pax as you will be cooking the menu for Indian Muslims special occasions such as Eid Adha, Eid Fitri, big Iftars; usually celebrated with many family members. You will be making big, grand dishes that are meant for sharing. These dishes require patience from peeling off the leaves from the stems of the moringa plant for the vegetables, cooking the Mee Siam Biryani in parts over charcoal and also waiting for the coconut milk and sugar to caramelize over a slow fire to make a feast enough to make up for all the time you spent cooking.MAIN COURSE (Choose 1)Mee Siam Biryani (seafood/ meat) Vermicelli noodles slow-cooked with mutton or baked chicken or seafood, pair with biryani masala in dum style over charcoal. Paal Mee Siam (meat/ vegetarian) Vermicelli noodles slow-cooked in coconut milk, with eggs, chye sim, tofu, beansprouts and mutton, served with a side of Mama Zi's special sambal.EAT YOUR GREENS (Choose 1) Moringa Leaves Stir Fry- Moringa leaves stir-fry with mustard, urid dahl, dried chilli and grated coconut.Sambal Goreng- Long beans, tempeh, tofu stir-fry with curry powder, chilli paste, lengkuas and kicap manis plus mutton stock.Dalcha- Drumsticks, potatoes, carrots, eggplants and green mango cooked with bay leaves, lemongrass, mutton stock, channa dahl and toor dahl.SWEETEST ENDINGS (Choose 1)Onde Onde- Glutinous rice flour plus sweet potato, rolled into soft green balls, stuffed with fragrant palm sugar cubes and coated with coconut flakes Waajik- Steamed glutinous rice slow-cooked in caramelised thick coconut milk, fragrant palm sugar and pandan leaves. About your hostAt Spice Zi Kitchen, Mama Zi shares Indian Muslim dishes with you that you can't find at hawkers, restaurants or food courts. She is an expert in Indian Muslim food and has cooked for festivals like eid, weddings, family functions, birthdays for the past 20 years of her life. You will learn about food and history while getting your hands in the pot.Other Notes*Please bring at least 3 containers per group so that you can take home the leftover food from the session that you may be unable to finish in one sitting. *The host is Muslim so please avoid bringing any alcoholic items, pork or non-halal food to the premises.
What You'll be Doing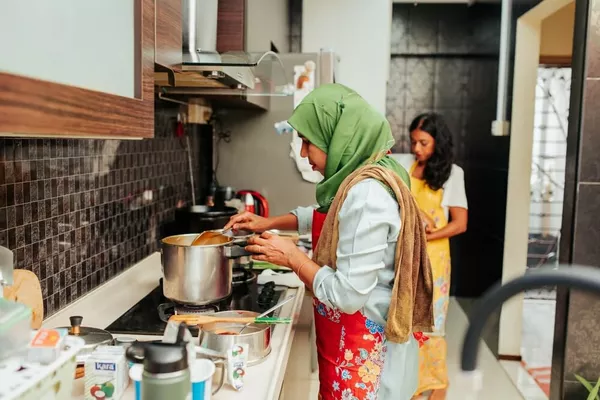 14+
Itinerary:
Singaporean home cooking
Show Details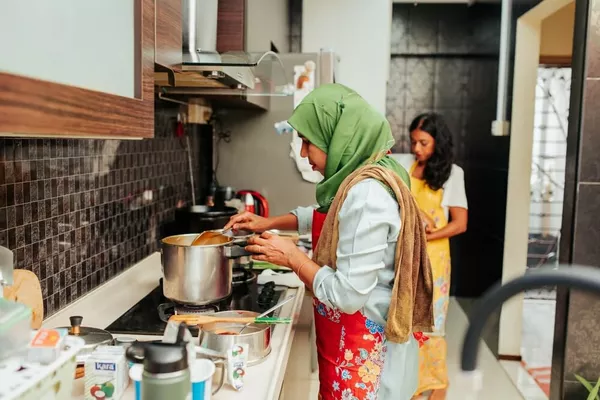 What's Included
Main course, greens and dessert
Cooking ingredients and equipment
Availability
Prices in SGD
Select Time for 28 Nov 2023
Where We'll Meet
Start Point
Meet-up at Toh Yi Drive, Bukit Timah (The exact location will be disclosed after booking confirmation) (Bukit Timah)
15 mins before selected timeslot
Know someone who might like this?
Useful Information
Start & Ends
Every Friday

11:30AM - 02:30PM

Every Saturday

11:30AM - 02:30PM

Every Sunday

11:30AM - 02:30PM
Cancellation & Other Policies
Cancellation

As Spice Zi Kitchen would be holding the slot for you and turning down other potential customers, you won't be able to cancel after you book.
Suitability / Accessibility
Child Friendly (No Minimum Age)
Spice Zi Kitchen
At Spice Zi Kitchen, Mama Zi shares Indian Muslim dishes with you that you can't find at hawkers, restaurants or food courts. Spice Zi Kitchen is an experience to learn heirloom recipes of Indian Muslim food homemade by grandmothers and mothers. They want you to taste, learn and share the joy of their culture and food.
Experience: 4 years
Speaks: Fluent English
Acceptance rate: 67%
Keep your payments secure by using the Seek Sophie website for all transactions and communications.
Have a question?
Your question would be very useful to the rest of the travel community!
Not your usual touristy stuff
Here you'll find some must-sees. But mostly you'll find what's real - not just what's on show for tourists.
Handpicked guides
We're a marketplace, but a highly curated one. We'll only recommend guides who we love.
Planet-Friendly
We believe that travel shouldn't harm our planet. We offset all carbon emissions for trips booked on Seek Sophie.