Explore The Farm and Try To Taste Coffee
Join-in trip
·
Up to 10 people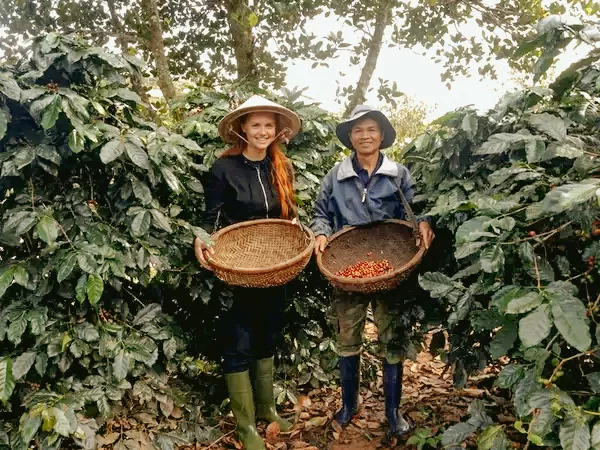 Explore The Farm and Try To Taste Coffee
Join-in trip
·
Up to 10 people
Highlights

Details

Includes

Meet At

Availability

Guide

Cancellation & Rescheduling
Highlights
Highlights
Learn our process From Farm To Cup
Explore the Farm
Lead by our expert
Taste coffee cherries*
Try to taste coffee
And many more ...
Details
Details
Son Pacamara is not a tourist coffee farm, here you're guaranteed to learn the nuances of specialty coffee and how it's different from the other 97% of the coffee that's grown in Vietnam. This day trip lasts for 6 hours during which you will discover different varieties of Arabica beans, and learn about coffee processing and quality evaluation. By the end of the trip, you will appreciate how much hard work is being put into one cup of coffee and know how the coffee is.Start at 8:30 am or 1:30 pm
Tags: Coffee Farms, Coffee Workshops
Where You'll Meet
Where You'll Meet
Meet at
Son Pacamara Coffee Farm
Son Pacamara Coffee Farm
Sơn Pacamara Specialty Coffee Farm, Phường 5, Thành phố Đà Lạt, Lâm Đồng, Vietnam
Details
Availability
Availability
Prices shown in SGD
What You'll Do
What You'll Do
This is a sample itinerary and may be weather-dependent.
Meet your host
Meet your host
At Son Pacamara farm, farmers and process experts are called the "Special People", they give their best to create the highest quality of specialty coffee. Producing coffee is a big and relentless effort.The owner at Son Pacamara believes that by sharing more coffee knowledge through experiential farm trips, they will be able to spread good values and farm-to-cup stories, affirming Vietnamese's quality coffee on the world coffee map.
9 years experience
Fluent English
Community-Based
Litter-Free
What others are saying
What others are saying
Activity Reviews (1)

Host Reviews (1)

 
Cancellation & Rescheduling
Other Policies
Other Policies
Local Discount
Citizen are eligible for local pricing. Son Pacamara Coffee Farm may ask for proof of eligibility before or during the trip.
Helpful Questions
Comfortable walking shoes