Private Fort Serapong Discovery| A Time Travel Adventure Trail
Details

Itinerary

Includes

Availability

Meet at

Host

Reviews

FAQ
Private Fort Serapong Discovery| A Time Travel Adventure Trail
Highlights
Travel back to the glory days of Fort Serapong, an abandoned fortress built in 1879
Experience history and nature with multi-sensory activities
Memorable photos taken for you
Great for adventurous teams looking to do something fresh & fun
Discovering Hidden History: Fort Serapong Corporate Team Building ExperienceWhile many have visited the bustling attractions of Sentosa, few are aware of the hidden gem that lies within – Fort Serapong. This historical fortress, constructed by the British in 1879, is a labyrinth of military bunkers and underground tunnels. Equipped with formidable naval guns, it once safeguarded Singapore's southern waters from pirates and enemy vessels.Today, Fort Serapong is a captivating blend of nature's reclamation and historical intrigue. Its structures are entwined with tree roots, once-impenetrable walls have yielded to time, and even the subterranean stairs have succumbed to rust. Who or what resides within its depths now remains a mystery. Are you ready to join Beyond Expeditions in unraveling the enigma of Fort Serapong?This immersive experience offers a glimpse into Singapore's colonial and wartime past, promising an unforgettable corporate team-building event.What to Anticipate:🌟 Engaging Storytelling: Immerse yourself in captivating narratives, multi-sensory simulations, and interactive props that breathe life into history. Assume the role of a fort's soldier and partake in enjoyable missions at historic sites.🌟 Intellectual Challenges: Put your problem-solving skills to the test as you decipher puzzles and crack intricate codes alongside your team. Sharpen your observational abilities to uncover hidden clues throughout the trek.🌟 Hidden Discoveries: Uncover panoramic viewpoints and secret structures concealed along the path, offering a unique perspective on this historical gem.Notes:* Physical Requirements: While participants don't need to be in peak physical condition, please be aware that this trek ventures into the jungle.* Minimum Participants: To ensure the best experience, a minimum of 10 participants is required for this event. Should this requirement not be met, Beyond Expeditions SG reserves the right to reschedule the event to a suitable alternative date, prioritizing the client's convenience to the best extent possible.
What You'll be Doing
16+
Itinerary:
Travel back to the glory days of Fort Serapong, an abandoned fortress built in 1879.
Show Details
What's Included
A personal guide who will also be your adventure photographer, capturing memorable moments which we'll send to you as a souvenir
Availability
Prices in SGD
Select Time for 03 Dec 2023
Where We'll Meet
Start Point
Meet-up at Sentosa Cove Village bus bay (Sentosa Cove Village)
15 mins before selected timeslot
Know someone who might like this?
Useful Information
Start & Ends
Daily
08:30AM - 11:00AM
10:00AM - 12:30PM
12:00PM - 02:30PM
Cancellation & Other Policies
Cancellation

As Beyond Expeditions would be holding the slot for you and turning down other potential customers, you won't be able to cancel after you book.

Bad Weather Policy

This is a rain-or-shine event, with various shelter points along the way. Please bring along your umbrella or poncho!
See More
Suitability / Accessibility
Child Friendly (No Minimum Age)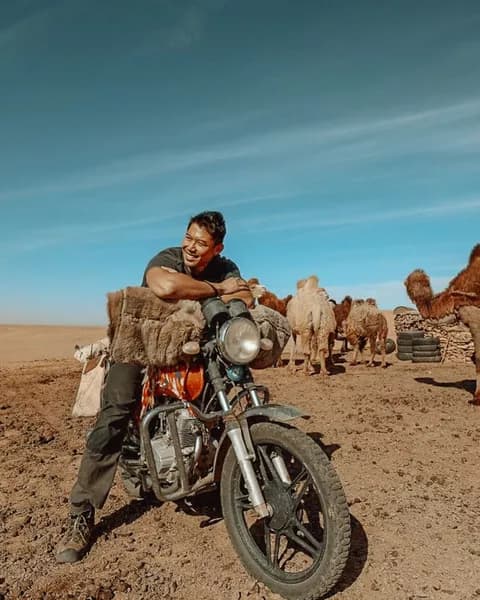 Beyond Expeditions
Scott Tay, the founder and owner of Beyond Expeditions, started backpacking at the ripe age of 17. During those years and into adulthood, Scott developed into an seasoned traveller. Whenever Scott steps out into the world for travel, he makes a point to go off the beaten path. "Unconventional destinations", that's his mantra. He is a celebrated photographer with a diverse portfolio ranging from landscape to portraiture. His outgoing and friendly demeanour makes him a charismatic and effable facilitator for your expedition, while his sense of humour and love for the locals and nomads is contagious to those around him. This brawny gentleman was also a former fire fighter certified in emergency response and imbued with grit, tenacity and a deep sense of responsibility. Scott brings along with him an immense wealth of experience in adventure and the outdoors. Most recently, Scott embarked on a personal journey to raise funds for the Singapore Cancer Society and trekked 800 km across the Gobi Desert of Mongolia.
Speaks: Fluent English
Acceptance rate: 94%
Keep your payments secure by using the Seek Sophie website for all transactions and communications.
Helpful Questions
Towel and change of clothes (optional)
Umbrella or poncho (in case of wet weather)
Dear sir, madam, We would like to book the teambuilding activity 'private fort serapong discovery' for our business trip to Singapore. We are with 18 persons. We would like to book it on Thursday February 16th, from 15.00 - 17.30 o clock. On the website, I did not find this timing as a possibility. Can you please let me know if this time fits? Other timeslots are not feasible for us. Thank you in advance. Best regards, Danielle van der Linden
Danielle van der Linden, 26 Jan 2023
Hello Danielle, Thanks for reaching out! Our customer service team will get in touch with you soon to discuss further about your query. Hope it helps!
Looking to book the Adventure in Sentosa for 15/20 people for a team building (13 or 14th December in the afternoon). Could i get more details ? I dont have the budget for SGD 150 pp however my company allows around SGD 100 pp for recreational activities Thanks and best, Quentin
Quentin Bortolin, 11 Nov 2022
Not your usual touristy stuff
Here you'll find some must-sees. But mostly you'll find what's real - not just what's on show for tourists.
Handpicked guides
We're a marketplace, but a highly curated one. We'll only recommend guides who we love.
Planet-Friendly
We believe that travel shouldn't harm our planet. We offset all carbon emissions for trips booked on Seek Sophie.