Kalisuci Cave Tubing & Timang Beach Adventure
Private trip
·
Up to 7 people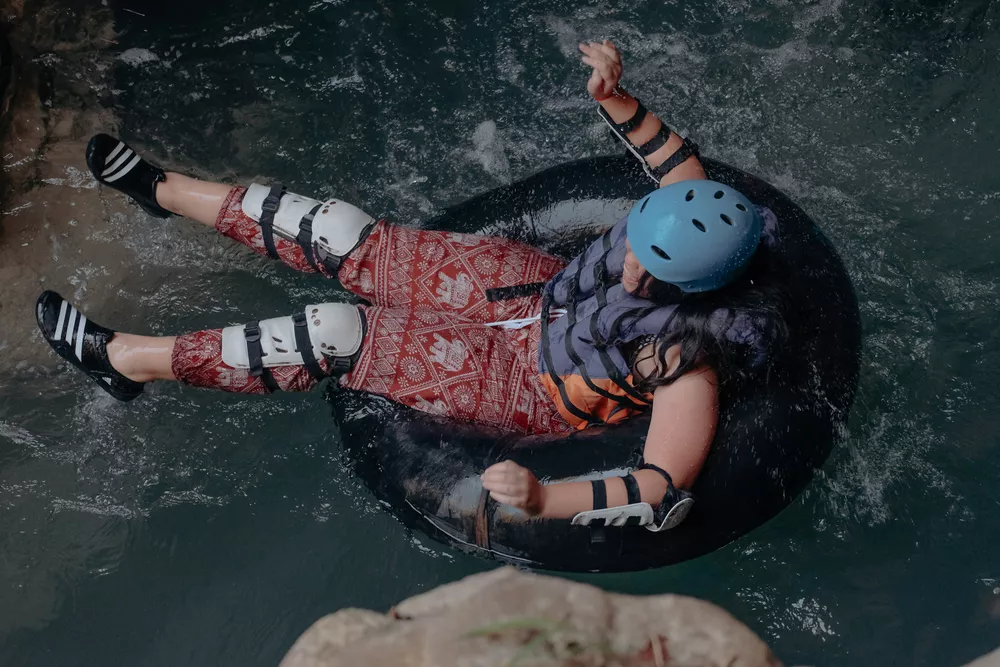 Kalisuci Cave Tubing & Timang Beach Adventure
Private trip
·
Up to 7 people
Know someone who might like this?
Highlights

Details

Includes

Meet At

Availability

Guide

Cancellation & Rescheduling
Highlights
Highlights
Glide along an underground river and admire stunning rock formations at Kalisuci
The unique gondola ride at Timang Beach takes you to a small offshore island, offering breathtaking views.
Adventure-filled activities that cater to thrill-seekers, with cave tubing and the exciting gondola ride.
Details
Details
Experience this exhilarating day tour that combines the thrill of cave tubing at Goa Kali Suci Cave with the breathtaking beauty of Timang Beach. Get ready for an adventure-filled day that promises both excitement and natural splendor.The tour begins with a pick-up from your hotel. From there, you'll head to Goa Kali Suci Cave, known for its underground river and fascinating rock formations. Grab your tube and plunge into the cave's cool waters, gliding along the river as you marvel at the stunning stalactites and stalagmites that surround you.After an adrenaline-pumping cave tubing experience, the tour continues to Timang Beach. Prepare to be captivated by the picturesque scenery as you gaze upon the turquoise waters and towering cliffs. Timang Beach is renowned for its unique feature - a thrilling gondola ride (like a crate on a zipline!) that takes you across the sea to a small offshore island. Feel the rush of excitement as you traverse the waves and take in the panoramic views.At the Timang Beach you have 2 options whether you can take a bridge or take a manual Gondola Ride and you can pay the ticket on the spot.Gondola ride : IDR 200.000Bridge : IDR 100.000
Tags: Other Culture & Sightseeing
What's included
What's included
Jeep Ride at Timang Beach

Kali Suci Entrance Ticket & Guide
Show all inclusions & exclusions
Where You'll Meet
Where You'll Meet
Your host provides free pick up from:
Yogyakarta
Yogyakarta, Indonesia
Details
Availability
Availability
Prices shown in SGD
What You'll Do
What You'll Do
Itinerary: Yogyakarta - Kali Suci - Timang - Yogyakarta
You will have cave tubing at Kali Suci
7:00 AM - Hotel Pick-up: Your friendly guide and driver will pick you up from your hotel in Yogyakarta.
8:00 AM - Journey to Goa Kali Suci Cave: Enjoy a comfortable ride as you head to Goa Kali Suci Cave, located approximately 2 hours away from Yogyakarta.
10:00 AM - Cave Tubing Adventure: Arrive at Goa Kali Suci Cave and gear up for an exhilarating cave tubing experience. Float along the underground river, surrounded by stunning rock formations and mesmerizing cave scenery.
12:00 PM - Lunch Break: Take a break and savor a delicious Indonesian lunch at a local restaurant near the cave.
1:00 PM - Depart for Timang Beach: Leave Goa Kali Suci Cave and continue your journey to Timang Beach, approximately 2 hours away.
3:00 PM - Timang Beach Gondola Ride: Arrive at Timang Beach and get ready for an exciting gondola ride to the offshore island. Experience the thrill as you traverse the waves and enjoy panoramic views of the beach and cliffs.
5:00 PM - Departure to Yogyakarta: Bid farewell to Timang Beach and start your return journey to Yogyakarta.
7:00 PM - Hotel Drop-off: Arrive back at your hotel in Yogyakarta, where your day tour concludes.
View details
This is a sample itinerary and may be weather-dependent.
Meet your host
Meet your host
Picnic Indonesia owned by Sulis a driver organization in Yogyakarta, possesses expertise in providing tailored and distinctive tours in Yogyakarta and its neighboring areas along with his team.
Fluent English
Cancellation & Rescheduling
Have a question?
Your question would be very useful to the rest of the travel community!