3D2N Join-In Trip on Sea Familia 1 | Luxury Boat with Jacuzzi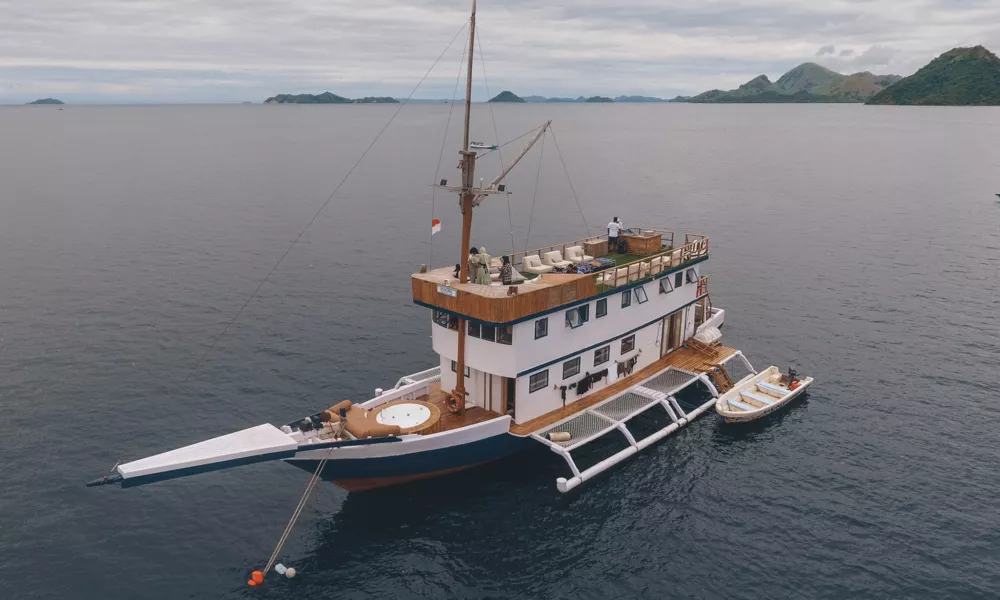 Details

Itinerary

Includes

Accommodation

Availability

Meet at

Host

Reviews

FAQ
3D2N Join-In Trip on Sea Familia 1 | Luxury Boat with Jacuzzi
Highlights
Superb amenities including a jacuzzi.
Sunrise on Padar Island for a less crowded experience.
Entertainment system including Karaoke set.
Experience sailing in Komodo National Park on this stylish and classic wooden boat, designed to impress and make your holiday memorable. While you take in the beutiful beaches and amazing wildlife of the National Park, you will also be pampered by Sea Famillia's superb amenities such as the jacuzzi and entertainment system, including a karaoke set. What to ExpectDay 1: Explore the stunning island of Kelor, snorkel the pristine waters of Manjarite, and end the evening near Kalong Island where you will see the departure of thousands of bats at sunset.Day 2: Greet the sun on the iconic Padar Island and take in the beautiful views; be impressed by nature at Pink Beach; meet the famous dragons on Komodo Island, and swim with the manta rays at Manta Point.Day 3: Swim and snorkel near Kanawa Island before heading back to Labuan Bajo.Boat Details & AmenitiesLuxurious, AC equipped cabins with ensuite bathrooms (total of 6)A cozy, traditionally decorated deck space with wooden furnishingsA jacuzzi soaker on the main deck for ultimate relaxation Documentation of your trip provided by a professional photographer/videographerEntertainment system including Karaoke setBoat SpecificationGuest Capacity: 12 PersonLength : 25 Meters , Width : 5,3 Meters and Depth : 2,1 2,1 metersSpeed : 6 KnotsYear Built : 2019Material : Ulin & Teak WoodFuel Capacity : 1500 LitersWater Capacity : 7000 LitersOrigin : IndonesiaMain Engine : Mitsubishi 6D16Dinghy : 1 Tender with 40hp engineSafety equipment: GPS Garmin Map 585 MArine, 25 life jackets, 4 ring buoy, 1 life raft capacity 25 persons, Icom radio marine, Smoke signal, flare gun.
What You'll be Doing
Day 1:
Boat adventure in Labuan Bajo
Day 2:
Sunrise trek, snorkel, Komodo, Manta, beach
Day 3:
Komodo Snorkeling Adventure
Show Details
What's Included
Transportation Airport – Hotel/ Meeting point
All meals during trip (Breakfast, Lunch, Dinner)
Snorkeling Set (Mask & Snorkel)
Local Guide / Tour Leader
Unlimited mineral water, Coffee & Tea
Life Jacket & Basic first aid on board
Hotel before and after the trip
Transportation from hometown to Labuan Bajo (Return)
Tipping Tour Guide / Boat Crew
Drone ticket for Padar/Gili Lawa
Komodo National Park fee (Local : IDR 220.000/Foreigner : IDR 650.000)
Where You'll Sleep
Basic Accommodation
Sea Familia 1 - Turtle Room - Private Bedroom (Private)
Turtle Room - Private Bedroom
1 toilet
Boat Amenities
Room Amenities
Private Bathroom (Ensuite)
View details
Plus Accommodation
Sea Familia 1 - Manta Room - Private Bedroom (Private)
Manta Room - Private Bedroom
1 toilet
Boat Amenities
Room Amenities
Private Bathroom (Non-Ensuite)
View details
Availability
Showing Availability for:
Prices in SGD
Select Time for 30 Nov 2023
Where We'll Meet
Start Point
Free pick-up from Hotels in Labuan Bajo City Area (Labuan Bajo, Indonesia)
09:00am
Notes: Please note that your host will contact you to inform the exact pick up time.
Useful Information
Start & Ends
09:00AM on Day 1 - 12:00PM on Day 3
Cancellation & Other Policies
Cancellation

As Sea Familia would be holding the slot for you and turning down other potential customers, you won't be able to cancel after you book.
Suitability / Accessibility
Vegetarian food available
Child Friendly (No Minimum Age)
Sea Familia
We're Sea Familia, your sanctuary when you're miles away from home. Imagine us as your favorite, slightly quirky relatives who happen to love the sea as much as you do. Whether you're into diving or just want to float on the surface of serenity, we're here to make every moment feel like a warm hug from your ocean-loving family. Meet our pride and joy, KLM Sea Familia I & KLM Almalfi. They're not just boats; they're floating havens waiting to whisk you away on the adventure of a lifetime. Dive into the wonders of the deep or simply soak up the sun - the choice is yours. Every trip is a canvas, and we're here to help you paint it with the colors of joy, laughter, and discovery. Our story starts with a transformative dive trip in 2018. Picture this: the ocean breeze, the laughter, and the shared love for the deep blue. That experience sparked a flame in our founder's heart, leading to the creation of KLM Sea Familia I in 2019. It's not just a business; it's a love letter to the ocean and the connections it helps us forge. Legally sailing under PT. Famindo Wisata Bajo, Sea Familia has grown into a close-knit family. From the Dive Academy to the upcoming KLM Sea Familia III, every step is taken with love and the shared excitement for what lies beneath the waves. We're not just building ships; we're creating spaces for you to discover, laugh, and connect. Here's to more laughter, more discoveries, and more moments that make you feel like you're right where you belong - with family, under the endless sky and beside the boundless sea.
Keep your payments secure by using the Seek Sophie website for all transactions and communications.
Not your usual touristy stuff
Here you'll find some must-sees. But mostly you'll find what's real - not just what's on show for tourists.
Handpicked guides
We're a marketplace, but a highly curated one. We'll only recommend guides who we love.
Planet-Friendly
We believe that travel shouldn't harm our planet. We offset all carbon emissions for trips booked on Seek Sophie.