4D3N Labuan Bajo to Lombok (through Komodo Islands)
Join-in trip
·
Up to 30 people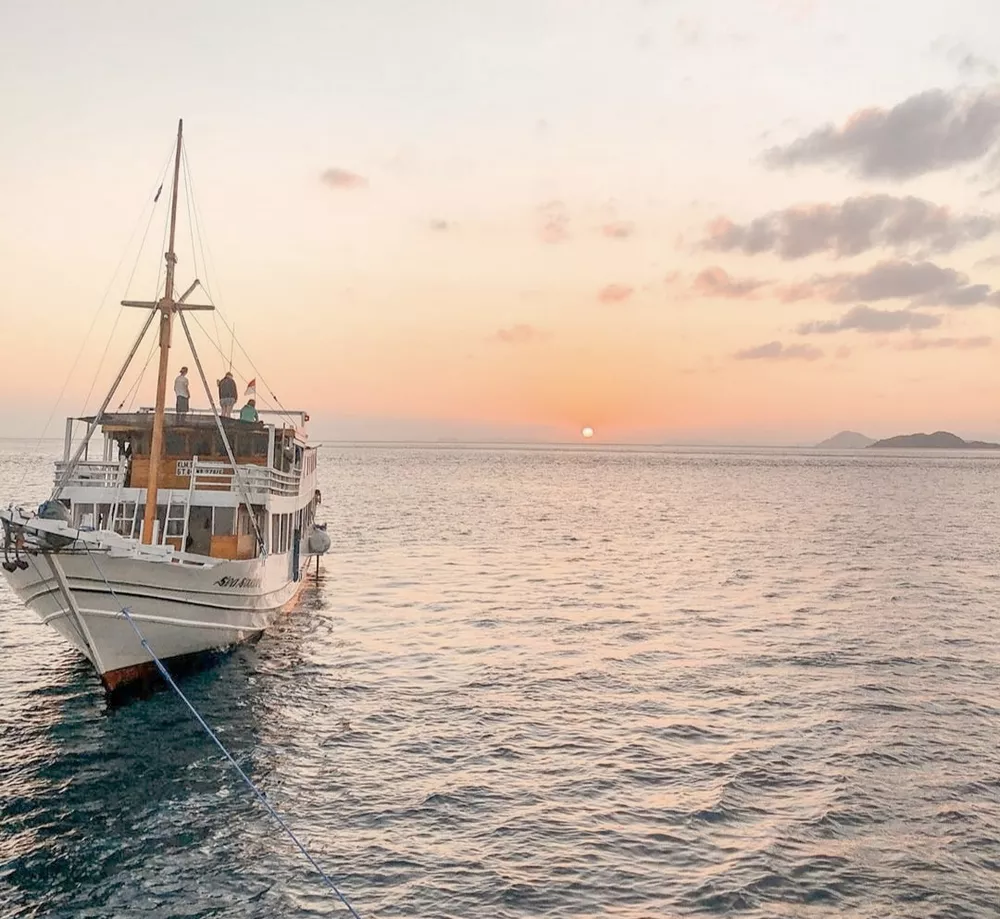 4D3N Labuan Bajo to Lombok (through Komodo Islands)
Join-in trip
·
Up to 30 people
Highlights

Details

Includes

Meet At

Accommodation

Availability

Itinerary

Guide

Cancellation & Rescheduling
Highlights
Highlights
Off-the-beaten-path route: Explore less-touristed areas for a more authentic Komodo National Park experience
Moyo Island visit: Discover the secluded, enchanting Mata Jitu Waterfall surrounded by lush fores
One of the rare trips that sails between Labuan Bajo and Lombok
Multiple Komodo Dragon encounters: Increase your chances of spotting these fascinating creatures on both Rinca and Komodo Islands.
Details
Details
Embark on a breathtaking 4-day, 3-night adventure from Labuan Bajo to Lombok with Wanua Adventure, and experience the lesser-explored wonders of Komodo National Park. This unique journey is one of the few that sails between Labuan Bajo and Lombok, offering an unforgettable escape from the ordinary. Departing every week on Fridays and Mondays between April and mid-December, this trip is perfect for travelers seeking a more immersive and off-the-beaten-path experience.Included in your adventure are Komodo Park entrance fees, government taxes, three daily home-cooked Indonesian meals, a refillable water bottle, unlimited drinking water, coffee, tea, and snorkeling masks.What to expect:Day 1: Start at Wanua Adventure's office, visit Rinca Island to trek and spot Komodo Dragons, and enjoy snorkeling at Pink Beach. Overnight on the boat.Day 2: Hike to Padar Island's summit for remarkable views, snorkel at Namo Beach, and explore marine life at Gili Laba/Gili Banta. Sail overnight to Moyo Island.Day 3: Experience the secluded Moyo Island, visit the ancient Mata Jitu Waterfall, and unwind at Gili Bedil/Gili Bola's pristine beaches.Day 4: Trek on Kanawa Island before arriving in East Lombok's harbor, with transfers to Kuta, Bangsal Harbour, or Senggigi included.
Suitable For: Vegetarians
Tags: Sightseeing Boat Cruise, Mountain Climbing, Nature Walks, Snorkelling, Hiking, Water Activities, Animal & Wildlife
Trip Highlights
What's included
What's included
Entrance fee Komodo Park, Government Tax

3x fresh home-cooked Indonesian meals a day on the boat

Free 1 bottle for refill your mineral water

Unlimited mineral water for drink

Unlimited coffee and tea during the trip
Show all inclusions & exclusions
Where You'll Meet
Where You'll Meet
Meet at
Wanua Adventure Counter at Labuan Bajo Harbour.
Wanua Adventure Counter at Labuan Bajo Harbour.
Pelabuhan Labuan Bajo, Jalan Flores, Sea, Manado City, North Sulawesi, Indonesia
Details
Accommodation
Accommodation
Basic Accommodation
Wanua Adventure Boat - 10-Person Outdoor Shared Deck (Shared)
10-Person Outdoor Shared Deck
Boat Amenities
Room Amenities
View details
Plus Accommodation
Availability
Availability
Showing Availability for:
Prices shown in SGD
What You'll Do
What You'll Do
This is a sample itinerary and may be weather-dependent.
Meet your host
Meet your host
Wanua Adventure is a family-run operation that has been operating in Labuan Bajo since 1994. Their boat is basic, but their staff are well-trained and polite.
29 years experience
Basic English
What others are saying
What others are saying
Activity Reviews (1)

Host Reviews (32)

 
Cancellation & Rescheduling
Helpful Questions
Towels (please note that you'll only be allowed to have a simple rinse shower without soap, because they can only carry a limited amount of fresh water on the boat)
Is this trip suitable for children? My son is 6,5 years old.
Huaping, 06 Jun 2023
Hi Huaping, While there is no specific minimum age requirement for the trip, we do recommend parental guidance/supervision, especially considering your son's age of 6.5 years. Our primary concern is ensuring the safety of all customers including young children. Hope that helps :)
What time the tour start ?
Asier , 23 May 2023
Hi Asier, the trip will start at 7.30 am however, you'll need to be at the meeting point at 7. 10 am. Hope it helps :)
at what time does the excursion start on the first day?
Soledad, 16 May 2023
Hi Soledad, the trip starts at 7.30am on the first day! Hope that helps :) Let us know if any other questions.