4D3N Labuan Bajo to Lombok (through Komodo Islands)
Details

Itinerary

Includes

Accommodation

Availability

Meet at

Host

Reviews

FAQ
4D3N Labuan Bajo to Lombok (through Komodo Islands)
Highlights
Off-the-beaten-path route: Explore less-touristed areas for a more authentic Komodo National Park experience
Moyo Island visit: Discover the secluded, enchanting Mata Jitu Waterfall surrounded by lush fores
One of the rare trips that sails between Labuan Bajo and Lombok
Multiple Komodo Dragon encounters: Increase your chances of spotting these fascinating creatures on both Rinca and Komodo Islands.
Embark on a breathtaking 4-day, 3-night adventure from Labuan Bajo to Lombok with Wanua Adventure, and experience the lesser-explored wonders of Komodo National Park. This unique journey is one of the few that sails between Labuan Bajo and Lombok, offering an unforgettable escape from the ordinary. Departing every week on Fridays and Mondays between April and mid-December, this trip is perfect for travelers seeking a more immersive and off-the-beaten-path experience.Included in your adventure are Komodo Park entrance fees, government taxes, three daily home-cooked Indonesian meals, a refillable water bottle, unlimited drinking water, coffee, tea, and snorkeling masks.What to expect:Day 1: Start at Wanua Adventure's office, visit Rinca Island to trek and spot Komodo Dragons, and enjoy snorkeling at Pink Beach. Overnight on the boat.Day 2: Hike to Padar Island's summit for remarkable views, snorkel at Namo Beach, and explore marine life at Gili Laba/Gili Banta. Sail overnight to Moyo Island.Day 3: Experience the secluded Moyo Island, visit the ancient Mata Jitu Waterfall, and unwind at Gili Bedil/Gili Bola's pristine beaches.Day 4: Trek on Kanawa Island before arriving in East Lombok's harbor, with transfers to Kuta, Bangsal Harbour, or Senggigi included. Since the location is remote, Wanua may not be able to accommodate more specific dietary requirements (only able to provide Halal, Vegan, or Vegetarian meals) Therefore, we kindly request that you bring any necessary medical supplies or meals catering to specific dietary needs with you
You're looking for one of the most unique routes in Komodo - with islands that few have seen
You don't mind roughing it out for an adventure of a lifetime
What You'll be Doing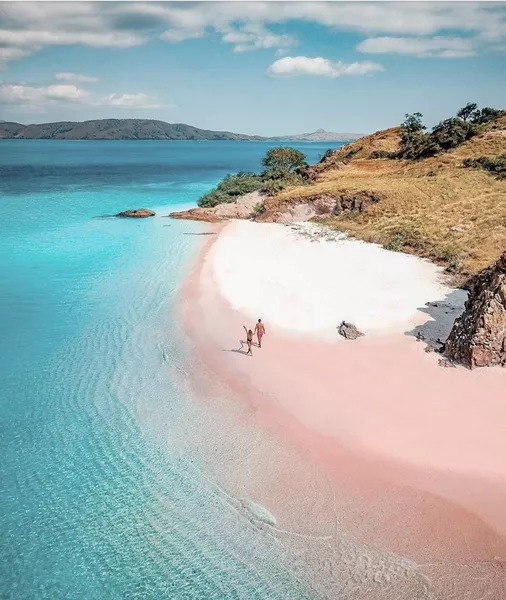 9+
Day 1:
Today you'll trek at Rinca Island and Komodo Island to spot the endangered Komodo Dragon
Day 2:
Today you'll see the iconic views atop Padar Island and the beautiful coral-hued Pink Beach
Day 3:
Remote island adventure with hidden waterfall
Day 4:
Today you'll do a short trek before arriving at East Lombok in the morning
Show Details
What's Included
Entrance fee Komodo Park, Government Tax
3x fresh home-cooked Indonesian meals a day on the boat
Free 1 bottle for refill your mineral water
Unlimited mineral water for drink
Unlimited coffee and tea during the trip
Where You'll Sleep
Basic Accommodation
Wanua Adventure Boat - 30-Person Outdoor Shared Deck (Shared)
30-Person Outdoor Shared Deck
Boat Amenities
Room Amenities
View details
Plus Accommodation
Availability
Showing Availability for:
Prices in SGD
Select Time for 23 Sep 2023
Where We'll Meet
Start Point
Meet-up at Wanua Adventure Counter at Labuan Bajo Harbour. (Pelabuhan Labuan Bajo, Jalan Flores, Sea, Manado City, North Sulawesi, Indonesia)
07:30am
Notes: Please note that you would need to check-in at the Wanua Adventure Counter at least 1 day before your departure date. Their opening hours are 7:30am to 7:30pm daily. The boat will arrive in the harbour of East Lombok between 8:00 - 9:00 am on the final day. Guests can choose between 3 options for onward transfer from Lombok: 1. Transfer to drop-off point in Kuta; or 2. Transfer to drop-off point in Senggigi; or 3. Transfer to Bangsal Harbour (North of Lombok) for transfer to Gili islands. After arriving in Bangsal Harbour, we will give you a ticket for a public boat transfer to Gili Meno, Gili Trawangan or Gili Air (your choice). Note that the last boat to Gili Meno is at 2 pm (which may be touch and go due to Lombok traffic).
Useful Information
Start & Ends
07:30AM on Day 1 - 09:00AM on Day 4
Cancellation & Other Policies
Cancellation

As Wanua Adventure would be holding the slot for you and turning down other potential customers, you won't be able to cancel after you book.
Suitability / Accessibility
Vegetarian food available
Child Friendly (No Minimum Age)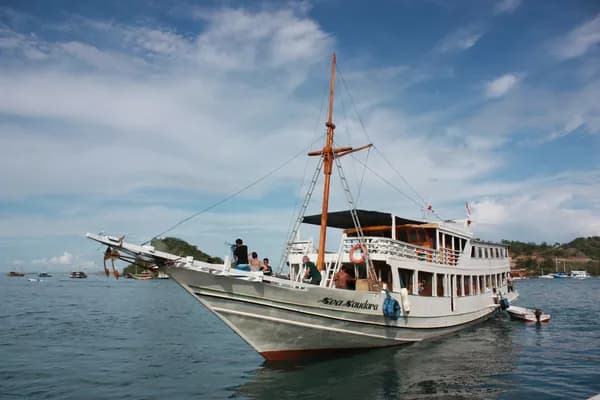 Wanua Adventure
Wanua Adventure is a family-run operation that has been operating in Labuan Bajo since 1994. Their boat is basic, but their staff are well-trained and polite.
Experience: 29 years
Speaks: Basic English
Acceptance rate: 84%
Keep your payments secure by using the Seek Sophie website for all transactions and communications.
Helpful Questions
Towels (please note that you'll only be allowed to have a simple rinse shower without soap, because they can only carry a limited amount of fresh water on the boat)
What is the thing with the Check in? How does ist works? And how Long will IT Takes from the arrival Point to Lombok international Airport?
Mariella , 20 Sep 2023
Hi Mariella, the check-in process requires you to be at the meeting point and present your booking to the host to confirm your participation in the trip. Upon your arrival at the destination point, the host's local bus will be waiting for you at the harbor to take you to either Bangsal Harbor or Kuta Lombok. This transfer is expected to take approximately 3 hours from East Lombok Harbor to Bangsal Harbor or Kuta Lombok. From Kuta Lombok, you can take a taxi to the airport, which will take an additional half an hour.
Is there life jackets for everyone available on this boat in case of an emergency?
elyse, 07 Sep 2023
Hi Elyse, yes, life jackets are available on the boat, as mandated by the local government for safety purposes.
On the last day it says we're going to kanawa island, but it's very far away from lombok. is that a mistake? because i don't see how we're going to arrive in lombok on time like that. also, i didn't find the gili islands on google maps. do they have another name or why are there so many mistakes in the description?
ellen, 17 Aug 2023
Hi Ellen, we apologize for the typo. On the last day, you'll be visiting Kenawa Island, which is located 2 hours from East Lombok. The boat trip will conclude in East Lombok. As for the Gili Islands, they refer to 3 tiny islands – Gili Trawangan, Gili Meno, and Gili Air. We hope this information is helpful.
Hello! At the end of the trip I should catch a flight to get to Yogyakarta. There are different options available to be dropped-off in different harbors, but I find it hard to understand what is the best solution, if going to Bangsal and catch a ferry to Bali and then a flight from Bali or if there are any airport transfers available from the harbors to Lombok airport. Thank you!
Emanuela Cosma, 03 Aug 2023
Hi Emanuela, You can go to Kuta Lombok first, then take a taxi from Kuta Lombok or Mataram City to Airport. Or Mataram City. Because if you don't go to Kuta Lombok or Mataram first, it's usually a bit difficult to find a taxi on the road.
Not your usual touristy stuff
Here you'll find some must-sees. But mostly you'll find what's real - not just what's on show for tourists.
Handpicked guides
We're a marketplace, but a highly curated one. We'll only recommend guides who we love.
Planet-Friendly
We believe that travel shouldn't harm our planet. We offset all carbon emissions for trips booked on Seek Sophie.