Make Balinese Daily Offering (Canang Sari) with Locals in Ubud
Join-in trip
·
Up to 10 people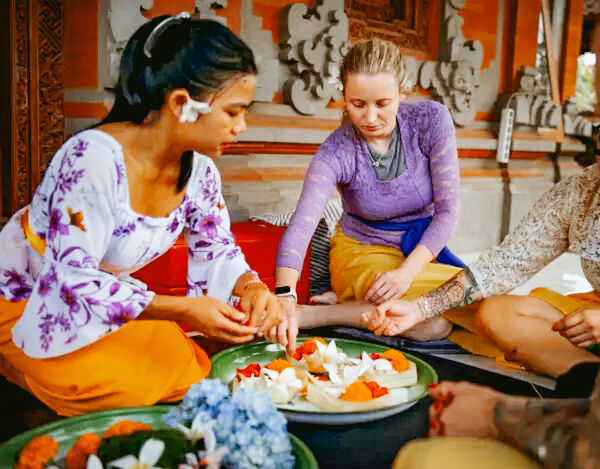 Make Balinese Daily Offering (Canang Sari) with Locals in Ubud
Join-in trip
·
Up to 10 people
Know someone who might like this?
Highlights

Details

Includes

Meet At

Availability

Guide

Cancellation & Rescheduling
Highlights
Highlights
Understand the intention and meaning behind Canang Sari
Experience a sense of local community and gain insights into Balinese culture and lifestyle
You'll be dressed in beautiful Balinese outfits!
Details
Details
This unique and authentic experience offers the opportunity to learn about the fascinating Balinese culture and daily life. By making Canang Sari, a small offering given to the gods every morning, participants can understand the meaning and significance of this important ritual in Bali. What to expect This 2-hour experience takes place in the host's backyard garden, where participants will be dressed in traditional Balinese outfits and receive a briefing on the process. You will then tour around the Balinese house and backyard, and learn how to assemble the offerings in a meaningful placement. The experience also provides the chance to interact with the local community and enjoy coffee, tea, and local sweets. This intimate and personalized experience offers an insight into the beauty of Balinese people and culture, and is highly recommended for those seeking an authentic cultural experience in Bali.Approximate travel times with moderate trafficFrom Ubud - 20minFrom Canggu - 50minFrom Kuta - 1h00minFrom Seminyak - 1h00minFrom Uluwatu - 1h40min
Tags: Creative Workshops, Mindfulness Techniques
What's included
What's included
Get dressed in Balinese outfits

Canang Sari making experience
Where You'll Meet
Where You'll Meet
Pranasanti Yoga
Pranasanti Yoga
Details
Availability
Availability
Prices shown in SGD
What You'll Do
What You'll Do
This is a sample itinerary and may be weather-dependent.
Meet your host
Meet your host
Pranasanti will take you to the heart of Bali through spiritual and cultural experiences. Pranasanti's experiences are completely unique and utterly unforgettable.
8 years experience
Fluent English
What others are saying
What others are saying
Activity Reviews (2)

Host Reviews (2)

 
Cancellation & Rescheduling
Helpful Questions
Is this class only for women? Can my partner do it as well?
Jasmin , 15 Jan 2023
Hi Jasmin, the class is suitable for women and men. Your partner is more than welcome to come and take part in the class :)