Perfume Making Workshop with Top Scent Engineers (Extrait de Parfum Edition)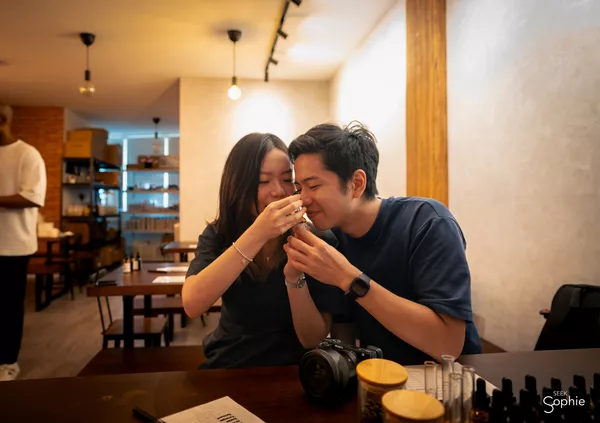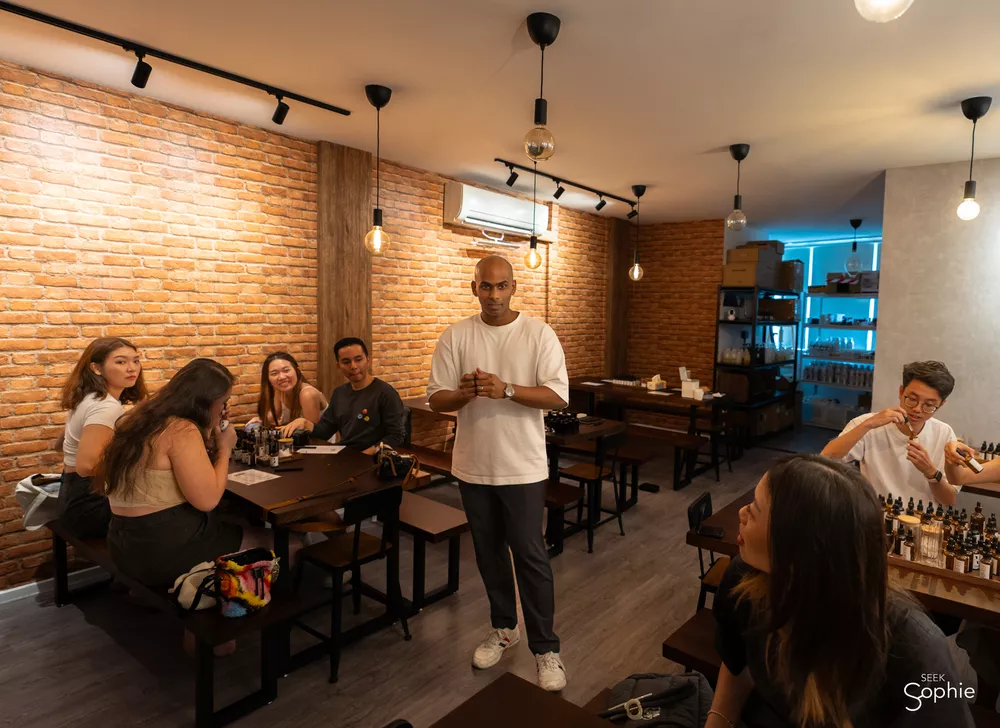 Details

Itinerary

Includes

Availability

Meet at

Host

Reviews

FAQ
Perfume Making Workshop with Top Scent Engineers (Extrait de Parfum Edition)
Highlights
Learn perfumery from a scent engineer
Understand the history of fragrances and essential oils
Select, formulate and blend your customised fragrance from essential oils
Take home your gorgeous one-of-a-kind perfume!
Craft your own home scent for different settings and moods. This experience is ever more needed since we spend most of our time at home. You may choose to make a concoction to spice up your love life, get you relaxed or for a cosy evening dinner with your family! You'll be spoiled for choice with lots of floral notes, green notes and even foodie notes for you to choose from.You'll have 1 to 1.5 hours to work with dozens of raw materials to create a home scent which would include top notes, middle notes, base notes or blends that have been professionally created in-house. What to expectWith a variety of fragrance and essential oil options to choose from, you will be guided to explore and break down the ingredients, their scent profile and usage in your daily lifeFind out how everyday brands have used scent marketing to induce certain behaviours in consumersSniff away and select the essential oils that you enjoy (based on what your brain tells you, preferences and purpose of what you would like your fragrance to do.The scent engineers will guide you throughout the process of selecting, formulating and eventual blending of your customised fragrance.Take home your customised spray perfume (30ml)What you'll learnIntro and history of fragrances and essential oilsAccess how fragrances are built and their natural ratioEvoke your senses by smelling some unique and rare oilsBasic perfumer knowledgeSpecialtyYou'll be crafting the top tierd perfume, also known as Extrait de Parfum/Pure Parfum. It's the longest lasting and most highly concentrated fragrance in the perfume categoryYou would also get to name your fragranceFamily FriendlyThis is a family-friendly option with older children (Recommended age: 10+). Children under 10 years old should be under parents' supervision throughout the workshop.
You want to learn how to create seriously one-of-a-kind scents - ask the super knowledgeable scent engineers anything!
You are looking for a semi-private workshop
What You'll be Doing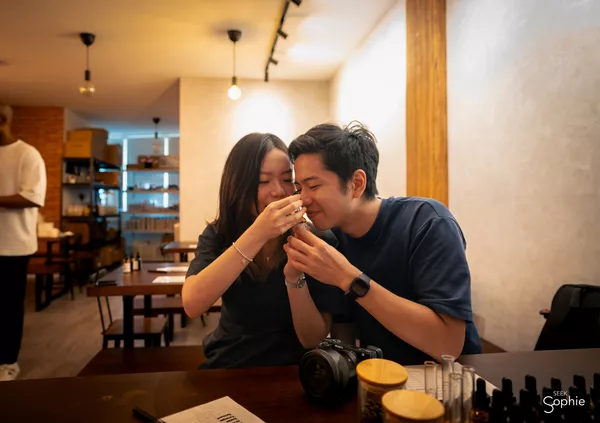 16+
Itinerary:
Learn to formulate your own fragrance!
Show Details
What's Included
Customised perfume 30ml (Top-up available in the add-on section)
Guidance from experienced scent designers
Available Add-ons:
Upgrade: 50ml Perfume (

S$ 40

)
Limited Series Fragrances (

S$ 48

)
Add-on Candle Making (4oz) (

S$ 52

)
Add on Candle Making (8oz) (

S$ 75

)
Party Decorations (

S$ 148

)
Transportation to your venue (

S$ 215

)
Availability
Prices in SGD
Select Time for 28 Nov 2023
Where We'll Meet
Start Point
Meet-up at 64 Boat Quay, Level 3 (049852) - yellow building (64 Boat Quay, Level 3 (049852) - yellow building)
15 mins before selected timeslot
Know someone who might like this?
Useful Information
Start & Ends
Daily
11:00AM - 12:30PM
01:00PM - 02:30PM
02:00PM - 03:30PM
03:00PM - 04:30PM
04:00PM - 05:30PM
See More
Cancellation & Other Policies
Cancellation

As Vcube Scenting would be holding the slot for you and turning down other potential customers, you won't be able to cancel after you book.

Reschedule Policy

No unless due to extenuating circumstances and up to the discretion of Vcube Scenting.
See More
Suitability / Accessibility
Child Friendly (Recommended Age: 5+)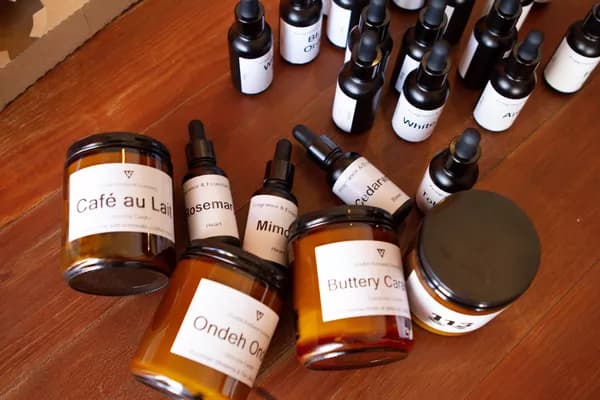 Vcube Scenting
VCube is made up of of scent designers and perfumers who want to use scents to fix problems, create opportunities and evoke inspiration. They love to encourage experimentation, visualisation and play through scents!
Experience: 3 years
Speaks: Fluent English
Acceptance rate: 99%
Top Rated Host
Keep your payments secure by using the Seek Sophie website for all transactions and communications.
Helpful Questions
Hi, I am interested in booking a workshop for 2 pax tomorrow afternoon. We are also thinking of doing an add-on for candle-making and wondering if we can do the add-on class immediately after the perfume making workshop, or if it would be held on a different day. Thank you!
Ivy, 03 Sep 2023
Hello Ivy, Yes, the activity is available for tomorrow. You can make a reservation directly through our website. However, if you are interested in booking another activity, I recommend doing so at least one day in advance, as there is a possibility that the activity may become fully booked.
We are a family of 3 and was wondering whether it is possible to have a class tomorrow Fri 28 Jul at 730pm onwards?
Faith, 27 Jul 2023
Hi Faith, Yes, It is available for tomorrow. You can make the booking through our website.
Can I use skill future credit for this workshop?
Irene, 12 Jul 2023
Hi Irene, unfortunately we don't accept skill future credit.
If in the case that we have already finished the perfume we created, is it possible for us to purchase the same exact perfume in the future?
Syarina, 09 May 2023
Hi Syarina, yes it's really possible! Just have to drop the host a Whatsapp message with your name :)
Hi, are we able to book a perfume making class for 9 person on 21 april 6pm?
Yuhzhen, 05 Apr 2023
Hi Yuhzhen, Yes, you can book the 6PM Time slot.
Not your usual touristy stuff
Here you'll find some must-sees. But mostly you'll find what's real - not just what's on show for tourists.
Handpicked guides
We're a marketplace, but a highly curated one. We'll only recommend guides who we love.
Planet-Friendly
We believe that travel shouldn't harm our planet. We offset all carbon emissions for trips booked on Seek Sophie.