Roast Your Own Coffee + Brunch @ The Sundowner
Join-in trip
·
Up to 6 people
Roast Your Own Coffee + Brunch @ The Sundowner
Join-in trip
·
Up to 6 people
Know someone who might like this?
Highlights

Details

Includes

Meet At

Availability

Guide

Cancellation & Rescheduling
Highlights
Highlights
Conducted in the scenic surrounds of The Nomad's Tent, a sand floor cafe/bar.
One of the few places in SG you'll get to roast green coffee beans over a live fire
Take home freshly roasted beans
Run by the same people from The Sundowner who run Pizza Making Experience & the Rooftop Farm Experience
Details
Details
So you love coffee. And you can buy one from virtually anywhere. But do you know how the world's favourite beverage gets to you, from farm to table? At The Sundowner, we love doing things from scratch-- this is probably Singapore's first and only coffee roasting experience, where you'll hand-make the freshest, most personal cuppa you'll ever drink!This 1.5hr workshop is designed for casual coffee enthusiasts, to explore the origins and expressions of coffee. Most people simply pop a capsule into a machine. Now you'll get to see a live coffee plant growing on the farm; select and roast raw coffee beans over a fire; grind them up by hand; and experiment with different brewing techniques (Pour-over + Moka). We roast our beans to a light or medium roast that reveals their grassy and tea-like flavours, very different from the caramel / chocolate notes of the ubiquitous dark roast. You'll walk away better appreciating the provenance of your drink, and of course a little happier after enjoying a simple but hard-earned brunch!*Minimum 4 pax to start a session. If the minimum number of participants isn't met, the workshop will be rescheduled.
Min 4 persons requirement:
Please note that this experience require a minimum of 4 persons to proceed. You may book for fewer than 4 persons, but if there are fewer than 4 persons booked for the date, you may be asked to reschedule to another date.
Suitable For: Vegetarians, Pet-Friendly
Tags: Coffee Workshops
What's included
What's included
Use of all roasting, grinding, and brewing equipment

Your own pouch of roasted coffee beans to take home
Any food or beverages outside of the coffee roasting workshop
Show all inclusions & exclusions
Where You'll Meet
Where You'll Meet
Meet at
The Sundowner Rooftop
The Sundowner Rooftop
705a E Coast Rd, East Coast Road, Singapore
Details
Availability
Availability
Prices shown in SGD
What You'll Do
What You'll Do
Itinerary: Roast, Grind, and Brew your own coffee with our barista + brunch to round it off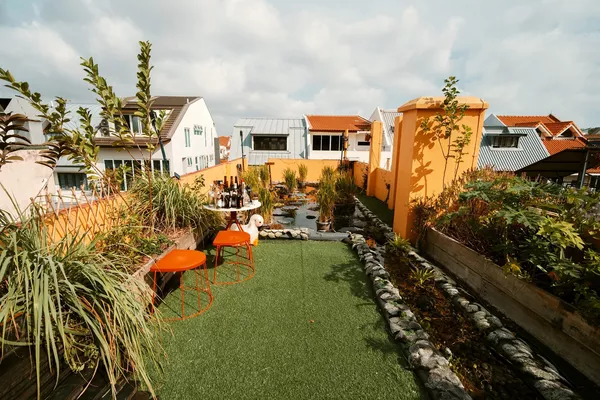 The freshest, most original cup of coffee you'll ever taste!
10 mins: Welcome and intro to the coffee plant and cultivated species
30 mins: Handling and roasting raw green coffee beans, over your personal stove. In depth knowledge about the scientific roasting process
20 mins: Grinding and brewing using a variety of equipment
30 mins: Coffee tasting over a simple breakfast
View details
This is a sample itinerary and may be weather-dependent.
Meet your host
Meet your host
We bet you've never seen something like this in Singapore. The Unexpected is a collection of unique experiences: rooftop farming, secret pizza club, desert-themed bar and kayaking in the mysterious waters. Each one transports you to different places as if you are overseas.
3 years experience
Fluent English
Community-Based
Litter-Free
What others are saying
What others are saying
Activity Reviews (5)

Host Reviews (143)

 
Cancellation & Rescheduling
Helpful Questions
Casual wear, short sleeve tops as you will be handling food
Do you have session on weekday instead?
AT, 27 Apr 2023
Hi there, We can accomodate a private session on weekdays. If you're interested, please send an email to us at chat@seeksophie.com
Hi, we have a 10 month old, can we bring him?
Hide wee, 03 Feb 2023
Hi, may I know if you will be opening classes in Jan 23?
Hailey, 06 Nov 2022
Can we request for a date that is not available? Eg. Public holiday that falls on a monday
Bella, 27 Sep 2022
Hi Bella, Please provide us with what date you have in mind, and how many people are in your group by replying to this! So that we can help check :)