Rooftop Farm Experience, inc Bee Encounter
Details

Itinerary

Includes

Availability

Meet at

Host

Reviews

FAQ
Rooftop Farm Experience, inc Bee Encounter
Highlights
Whimsical, raw, and thoughtfully-crafted rooftop farm/ lounge not open to the public
Child-friendly and pet-friendly!
Learn the ins-and-outs of bee-keeping!
Honey-tasting to learn about the different flavour notes of rare unifloral honeys
End the session with a yummy garden-garnished cocktail
This is one of our favourite experiences that doesn't neatly fit into any box. This 2-hour session takes place on a secret rooftop farm + lounge in Siglap over sunset, and it reminds us of speakeasies abroad!The Sundowner's passionate hosts will show you how everything in nature is interconnected: From feeding soil critters with vegetable scraps, you'll also create organic compost, which boosts healthy plants free of chemical pesticides, making them bee-friendly! Then the bees on the rooftop help pollinate the flowers which will bear bountiful fruit. Finally you'll get to taste rare flavours of honey, and forage from the herbs around you to garnish your sunset drink.What to ExpectThis one-of-a-kind experience packs in 3 hands-on and fun activities over 2 hours: an organic farming class, an up-close honeybee encounter, and farm-to-table tastings of unifloral honeys and garden cocktails.1. Organic Farming Class: A hands-on lesson by an expert gardener on the forgotten secrets of organic farming — you will learn how healthy crops starts with good soil; how to avoid the use of pesticides; inspect soil critters up close; and end off with mixing and creating high nutrient compost using food scraps!2. Bee Encounter: An up-close encounter with thousands of live honey bees, while wearing real working bee suits — learn about the crucial role these misunderstood animals play for our environment; different species' nests and hives, and observe them foraging from the flowers growing all around the farm.3. Farm-to-table tastings: Begin with a honey-tasting session and learn about the different flavours and textures of unifloral honey, then end the evening with cocktails/mocktails topped with fresh garnishing, straight from the garden.NOTE: Interacting with bees come with the inherent risk of being stung. While you will be well taken care of, those with severe allergies to bee stings should not sign up.You'll leave with great photos and memories you and your friends or kids will talk about for weeks to come! As a value-add The Unexpected offers on all its experiences, your hosts will take photos of your experience and share them with you after (free-of-charge) so it's very Instagram-friendly too!Child-FriendlyThis Experience is suitable for children aged 3 years and up. We will provide bee suits for all participants. ​Take note that you will have to climb a spiral staircase 3 levels up (and down). We encourage all guests to wear covered shoes for safety reasons.Pet-FriendlyYes! You can bring a your pet along for this experience.
What You'll be Doing
16+
Itinerary:
Discover a hidden rooftop farm, learn about bees and organic farming.
Show Details
What's Included
Samples of unifloral honey
Garden-garnished cocktail/mocktail (1 per person)
Garden Fruits Water (1 jar to share for the group)
F&B (You can order this ala carte)
Availability
Prices in SGD
Select Time for 27 Nov 2023
Where We'll Meet
Start Point
Meet-up at The Sundowner (East Coast Road, The Sundowner Farm & Speakeasy, Singapore)
15 mins before selected timeslot
Know someone who might like this?
Useful Information
Start & Ends
Every Saturday

05:00PM - 07:00PM

Every Sunday

05:00PM - 07:00PM
Cancellation & Other Policies
Cancellation

As The Unexpected would be holding the slot for you and turning down other potential customers, you won't be able to cancel after you book.

Minimum Participants

If there are fewer than 4 participants, the host may reschedule or refund your booking.
See More
Suitability / Accessibility
Pet-Friendly
Child Friendly (Recommended Age: 3+)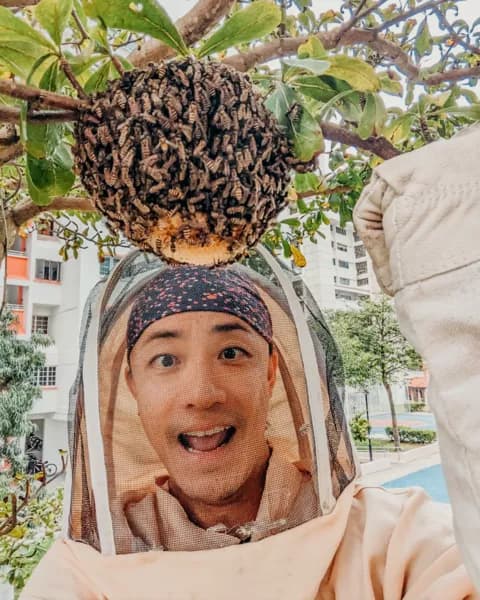 The Unexpected
Founded by Clarence and Candice, the coolest husband and wife team, the Unexpected is a collection of the most fascinating passion-led experiences in Singapore. They first started with a rooftop farm to house their rescue bees, then kayaking to hidden places in Singapore, then cocktail making, and so much more! To make it even cooler, their experiences (other than kayaking!) also take place in their home - a secret rooftop speakeasy that feels like you're in London or New York.
Experience: 3 years
Speaks: Fluent English
Acceptance rate: 94%
Top Rated Host
Keep your payments secure by using the Seek Sophie website for all transactions and communications.
Helpful Questions
Closed toe shoes with high socks (to climb up the spiral staircase)
Reusable bag (To take home some plants!)
Hi, we plan to book the session this Sat. Just to check, what if it rains?
Leshel Lim, 02 Aug 2023
Hi Leshel, in the event of light rain, the activity will proceed as planned, whereas in the case of heavy rain, the host will reschedule the activity and make the call 1.5 hours before the start time.
Hi, We are planning to do this as a teambuilding event. Participant is between 10-14 pax. What teambuilding elements are involved in this? Our budget is $100/pax. Is this do-able ?
Shaun Yap, 30 Jan 2023
Hi, We are from a local pre-school and we are learning about the importance of bees to our environment. We are looking at your May schedule. Our class size is 10 and the targeted age group is 4 years old. May I know if there is any organization or educational tour price?
Alyssa, 27 Jan 2023
Hi Alyssa, Thanks for your queries. Our customer service team will get in touch shorty via email :)
Hello, we are so excited to book our experience with you! What happens if it rains? The weather lately has not been ideal or predictable so we thought we would check first! Thank you so much.
Kylie Boyd, 14 Jan 2021
Hi Kylie, thank you for your questions. Part of The Sundowner's appeal is its open rooftop, but in the event of heavy rain at the start of your Experience / Lounge session, they may postpone the booking to a later date of your choice, subject to availability. If it starts raining after you begin your Experience / Lounge session, there is a gazebo at the rooftop so you can continue without getting wet!
Not your usual touristy stuff
Here you'll find some must-sees. But mostly you'll find what's real - not just what's on show for tourists.
Handpicked guides
We're a marketplace, but a highly curated one. We'll only recommend guides who we love.
Planet-Friendly
We believe that travel shouldn't harm our planet. We offset all carbon emissions for trips booked on Seek Sophie.