Sentosa Intertidal Exploration (Any Age)
Join-in trip
·
Up to 30 people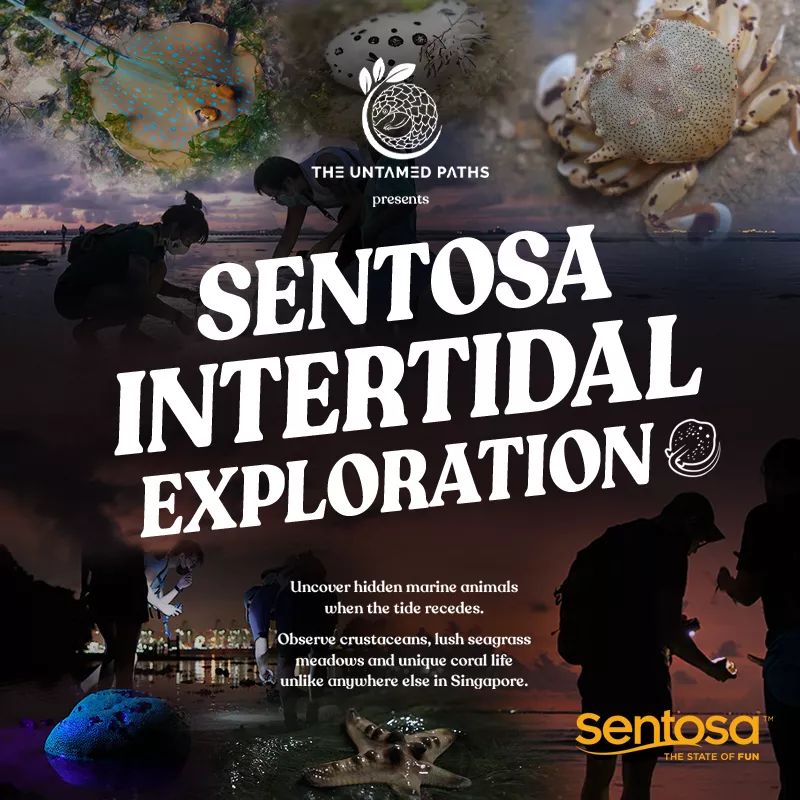 Sentosa Intertidal Exploration (Any Age)
Join-in trip
·
Up to 30 people
Know someone who might like this?
Highlights

Details

Includes

Meet At

Availability

Guide

Cancellation & Rescheduling
Highlights
Highlights
Experienced nature guides!
Get up close with marine life and pick up some marine biology knowledge.
Different creatures inhabit our Southern Shores - exciting trip even for repeat guests from our mainland exploration!
Perfect family bonding activity to introduce children to basic marine ecology
Details
Details
Disclaimer Please only sign up for this programme if you truly value our knowledge and expertise in the field. Wildlife can be expected, however animal sightings are not guaranteed. Come with an open mind and what we can promise is an enriching, educational and immersive experience nonetheless.IntroductionDiscover a hidden world beneath the ocean, all this and more when the tide retreats. Intertidal zones refer to the area of a shoreline that is submerged during high tide and exposed during the low tide. The Southern shores host different creatures than the mainland intertidal zones and the clear waters are a catalyst for optimum coral growth. Our walk is a rare opportunity for participants to get up close with marine life that is so often overlooked. Observe closely as sand gobies and swimmer crabs scurry away with the waves. Learn simple marine biology and gain an insight into how the different biotopes on our shores work hand in hand.Preview Link - https://www.youtube.com/watch?v=hpCuvTi_a5M This walk will be conducted along the Coastal Trail. Torchlights and a guide sheet will be provided.There is no age limit for the nature walk. Children must be accompanied by 1 adult. Other NotesCome dressed in sportswear or something comfy with covered shoes. This activity requires walking, participants may sweat. Bring sufficient water and be prepared for light drizzle. You may also want to bring along a small camera.
Min 2 persons requirement:
Please note that this experience require a minimum of 2 persons to proceed. You may book for fewer than 2 persons, but if there are fewer than 2 persons booked for the date, you may be asked to reschedule to another date.
Tags: Intertidal Walks, Nature Walks
What's included
What's included
Usage of Torches (if required)
Refreshments and all other things not listed under 'Inclusions'
Where You'll Meet
Where You'll Meet
Meet at
Siloso Point Station (7-11)
Siloso Point Station (7-11)
Siloso Point Station, Singapore
Details
Availability
Availability
Prices shown in SGD
What You'll Do
What You'll Do
This is a sample itinerary and may be weather-dependent.
Meet your host
Meet your host
The Untamed Paths was conceived by a youthful bunch of passionate naturalists who believe in taking the learning outdoors. What started out as just a hobby scrambling around tidal pools and sorting out different frog calls quickly turned into a more serious hobby. The team now hope to bring these immersive nature experiences to everyone in Singapore.
4 years experience
Fluent English
What others are saying
What others are saying
Activity Reviews (8)

Host Reviews (95)

 
Cancellation & Rescheduling
Other Policies
Other Policies
Child Pricing
Children will pay a discounted price
Please click on the
booking form
to see child prices
Helpful Questions
Covered Shoes/Aqua Shoes/Booties (very important)
Fresh attire to change out after as your feet WILL get wet and sandy
Torchlight (for sessions before 7am and after 6pm)
Hello! Will there be more available dates for the sentosa intertidal exploration?
Qian Yu, 17 Mar 2023
Hi Qian Yu, Yes, we'll be opening more slots on May so keep your eye on Seek Sophie's website.