Details

Itinerary

Includes

Availability

Meet at

Host

Reviews

FAQ
Highlights
One of a kind night adventure- kayak & fish!
Fresh catch-of-the-night seafood dinner
2 people to 1 kayak
Enjoy the quiet serenity and cool breeze of the night while you fish
This trip is perfect for folks looking for after-work fishing activity and also an ideal kayak fishing trip for anyone who dislikes burning up in the Singapore sun.As the sun sets and night falls, the seabed becomes a hive of activity from the bigger predatory fishes. They start hunting for the smaller fishes amongst the nooks and crannies of the coral reef. Big fishes like Mangrove Jack, Barramundi, Grouper and even Shark lurk below your kayak! You will be using larger bait like Tanbam and Shrimp to target these fishes. Your guide will then cook your 'catch of the night' at an exclusive seaside home on Pulau Ubin. Sit back and enjoy the freshest fish in your life!Each kayak is equipped with a marine navigation light visible from more than 2 nautical miles away. On top of that, you are also equipped with a waterproof headlamp, so you can see everything around you. There will be an adventure photographer, capturing photos as your souvenir!Fishing Experience: Beginner & Intermediate Physical Difficulty: EasyOverviewRoute: 4-7 kmDuration: 5 hoursStart Time: 6.00pm
What You'll be Doing
7+
Itinerary:
Fish along the shores of Changi!
Show Details
What's Included
Hobie Leg-Powered fishing kayaks (#1 in the world)
Hobie Leg-Powered Mirage Drive
Fishing rod and reel (Penn)
VHF radios (everyone gets one!)
All fishing rigs prepared (hook, line and sinker)
Professionally taken photo edited and sent to you for FREE
Availability
Prices in SGD
Select Time for 30 Nov 2023
Where We'll Meet
Start Point
Meet-up at Changi Beach Car Park 7 (Changi Beach Car Park 7)
15 mins before selected timeslot
Know someone who might like this?
Useful Information
Start & Ends
Every Monday

06:00PM - 10:00PM

Every Tuesday

06:00PM - 10:00PM

Every Wednesday

06:00PM - 10:00PM
See More
Cancellation & Other Policies
Cancellation

As Fever SG would be holding the slot for you and turning down other potential customers, you won't be able to cancel after you book.

Minimum Participants

If there are fewer than 4 participants, the host may reschedule or refund your booking.
See More
Suitability / Accessibility
Child Friendly (No Minimum Age)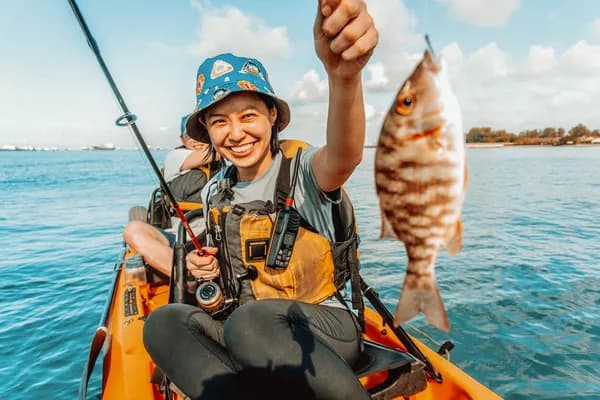 Fever SG
Experience the most thrilling way to catch a fish in Singapore. Rocket through the water on the leg-powered fishing kayak to the best fishing locations in Singapore. Whether you're a complete novice or a seasoned angler, we'll have a trip that's perfect for you! You can learn everything you need to know about kayak fishing in Singapore on the gentle waves of the East Coast or island-hop from Sentosa to the Southern Islands, home to Singapore's richest reefs and unspoilt beaches.
Experience: 6 years
Speaks: Fluent English
Acceptance rate: 75%
Top Rated Host
Keep your payments secure by using the Seek Sophie website for all transactions and communications.
Helpful Questions
Hi, what is a good time of year for night fishing in Singapore? I am also aware that fish activity is tide dependent, could you recommend a few dates with good tides at the night for me? Thanks.
Brian, 07 Nov 2023
Hi, I would like to book for tmr but we can only be there at around 630pm, what time does it start? Thanks. We are 2 ppl
Clarissa , 16 Jun 2023
Hi Clarissa, Unfortunately we don't have night fishing available tomorrow just day fishing at 7-11 am. Sorry for the inconvenience this may cause.
Hi, may I know what time will the trip end?
Shari, 28 May 2023
Hi Shari, the trip will end at around 10 pm. Hope that helps :)
Hi, Keen for night kayak fishing, but I'm 1 pax. Do you have a slot especially fri, if not Sat? Flexible on most fri and Sat. Thanks.
Melvyn, 16 Oct 2022
Hi Melvyn, this is a join-in trip so you can book for any slots and you would be put together with a group. This trip is not available on Fridays, but is available most Saturdays. I hope that works for you!
Hi, Our family of five is interested in this. But why no slots on sat n Sundays till even next year? Thanks,
Hong yee, 07 Jun 2022
Hi Hong Yee, This activity only available from Monday to Thursday only :)
Not your usual touristy stuff
Here you'll find some must-sees. But mostly you'll find what's real - not just what's on show for tourists.
Handpicked guides
We're a marketplace, but a highly curated one. We'll only recommend guides who we love.
Planet-Friendly
We believe that travel shouldn't harm our planet. We offset all carbon emissions for trips booked on Seek Sophie.