Make Your Own Cute Fluffy Plushie
Details

Itinerary

Includes

Availability

Meet at

Host

Reviews

FAQ
Make Your Own Cute Fluffy Plushie
Highlights
Craft plush toys with a knitting machine
Unique art jamming experience with machine knitting
Create furry BFFs in a fun and easy session
Experience the only craft studio and yarn shop in Singapore that offers a unique machine knitting art jamming session. During this 1.5-hour experience, you will have the opportunity to create furry friends using a knitting machine. Explore your creative side and have fun while making adorable plush toys.What to ExpectLearn how to use a knitting machine to create plush toysReceive 1 skein of furry yarnAccess to all the tools necessary for creating your furry friendGuidance and support from the friendly staff at Tiny Rabbit HoleThis experience is perfect for anyone who enjoys crafts and knitting. It is suitable for beginners and experienced crafters alike. Whether you want to create a special gift for someone or simply enjoy a relaxing and creative activity, the machine knitting art jamming session at Tiny Rabbit Hole is the perfect choice.
What You'll be Doing
15+
Itinerary:
Create Furry Friends with Knitting Machine
Show Details
What's Included
Tools required to create a Furry friend
Access to the Knitting Machine
Availability
Prices in SGD
Select Time for 30 Nov 2023
Where We'll Meet
Start Point
Meet-up at Tiny Rabbit Hole (Blk 4 Everton Park, #01-48, Singapore 080004)
Meet at selected timeslot
Notes: Near Nylon Coffee
Know someone who might like this?
Useful Information
Start & Ends
Select your preferred date to see timings.
Cancellation & Other Policies
Cancellation

As Tiny Rabbit Hole would be holding the slot for you and turning down other potential customers, you won't be able to cancel after you book.

Reschedule Policy

Whatsapp us at 80239234 at least 3 days in advance to reschedule your session with us
Suitability / Accessibility
Wheelchair-accessible
Child Friendly (Recommended Age: 7+)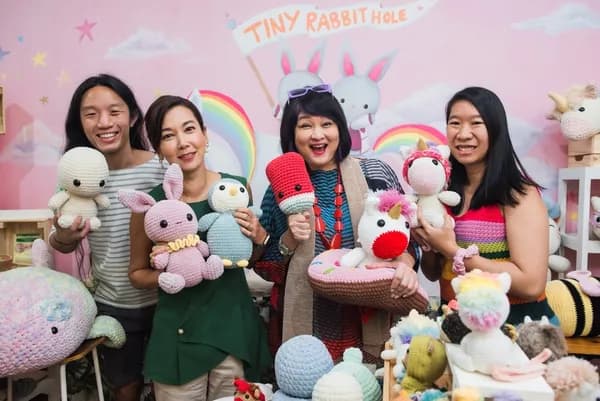 Tiny Rabbit Hole
Tiny Rabbit Hole is created out of the imaginations of Angie, and brought to life with Terrix's photography magic. Together, we have inspired many to make magical creatures, warming everyone's hearts. We devote the majority of our time sourcing for quality yarns from reputable brands that have been manufacturing yarns for decades. How yarns are produced is as important as how we, the makers, transform yarns into wearables or huggables for yourself or for others. At Tiny Rabbit Hole, we promise you a lifetime companion with the most heartwarming character. We use only the finest materials and delicate craftsmanship to make crochet plushies and accessories that outlast time. We believe in selling only materials we trust and tools that are practical and ergonomic. Our library of yarns is highly curated to give you a splendid outcome, and they will never fail you. Having taught intensively for a span of 6 years with over 7,000 students, Angie, and the team have discovered that every individual has a unique way of learning and there is no one size fits all. With that, Angie and Terrix developed a series of in-studio and online classes based on the commonly made mistakes, problems, and questions that beginners are usually faced with. We want beginners to have 100% confidence in learning a new craft and loving it. Crocheting goes a long way, and we hope that you can join us in this lovely journey together :)
Speaks: Fluent English
Acceptance rate: 100%
Keep your payments secure by using the Seek Sophie website for all transactions and communications.
Helpful Questions
May i know if i can sign up together with my child please? She is 10 years old.
catherine chan, 17 Nov 2023
Hi Catherine, certainly! Feel free to proceed with the sign-up process for yourself and your daughter through this booking site. Wishing both of you a fantastic and memorable experience! :)
No weekday slot in November for Paper Recycle Workshop?
Xu Ling, 28 Oct 2023
Hi Xu Ling, in order for us to assist you better, could you please email us at chat@seeksophie.com and include the specific date you are looking at? Thanks in advance! :)
Not your usual touristy stuff
Here you'll find some must-sees. But mostly you'll find what's real - not just what's on show for tourists.
Handpicked guides
We're a marketplace, but a highly curated one. We'll only recommend guides who we love.
Planet-Friendly
We believe that travel shouldn't harm our planet. We offset all carbon emissions for trips booked on Seek Sophie.