Tanglin Gin Distillery Tour and Tasting
Details

Itinerary

Includes

Availability

Meet at

Host

Reviews

FAQ
Tanglin Gin Distillery Tour and Tasting
Highlights
Smelling gin ingredients and later identifying them in the gins
Trying homemade bitters, with cool flavours like szechuan peppers and cinnamon! A few drops of bitters can change the taste of your G&T - and can even make your gin heckin spicy!
Getting to taste A LOT of drinks
This is a 1-hour gin distillery experience (with gin tasting at the end!). Option details Join the Tanglin team for an unexpected experience in Singapore as they take you on a journey from wet market to gin bottle at Singapore's original gin distillery!You will have the opportunity to taste locally sourced ingredients, learn the process from distillation to mixing and then bottling. After the tour you will have the opportunity to savor four different Tanglin Gin expressions, followed by a bespoke Gin and Tonic cocktail.On the day you can also purchase Tanglin Gin to enjoy at home or as a present at our reduced cellar door rates. This is a truly unique experience to learn about Singapore's Original Gin Distillery and sample some of their award winning products along the way.
What You'll be Doing
11+
Itinerary:
Gin Tasting at Singapore's Original Gin Distillery
Show Details
What's Included
Tanglin Gin to enjoy at home or as a present at our reduced cellar door rates
Availability
Prices in SGD
Select Time for 23 Sep 2023
Where We'll Meet
Start Point
Meet-up at TANGLIN GIN (26*b* Dempsey Road, 247693.)
Meet at selected timeslot
End Point
End at TANGLIN GIN (26a Dempsey Road, Singapore)
Know someone who might like this?
Useful Information
Start & Ends
Every Tuesday

05:30PM - 06:15PM

Every Wednesday

05:30PM - 06:15PM

Every Thursday

05:30PM - 06:15PM
See More
Cancellation & Other Policies
Cancellation

As Tanglin Gin would be holding the slot for you and turning down other potential customers, you won't be able to cancel after you book.

Extenuating Circumstances Policy

In the event that one or more participants are tested positive (or suspected) for Covid-19, they are required to inform 24 hours prior to the trip if possible. Customers can choose to reschedule the booking.
Suitability / Accessibility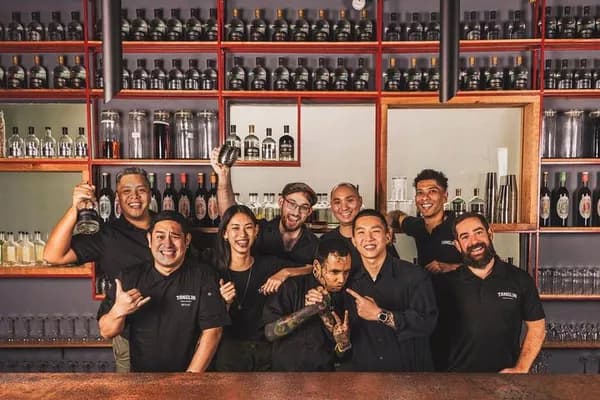 Tanglin Gin
Step into the heartfelt world of Tanglin Gin, Singapore's pioneering distillery, born from a casual remark and a dream. Co-founders Tim Whitefield, Andy, Charlie, and Chris embarked on an 18-month journey of experimentation and planning, leading to the birth of Tanglin Gin in July 2018. Amidst the challenges of Covid, their passion endured, and they found a new home at Dempsey Hill, creating The Creations Lab and The Tanglin Gin Jungle – a sanctuary for gin enthusiasts. Awards and international recognition followed, but the spirit of adventure never wanes. Enter the gin jungle for a really cool experience at Singapore's first gin distillery!
Speaks: Fluent English
Acceptance rate: 95%
Top Rated Host
Keep your payments secure by using the Seek Sophie website for all transactions and communications.
Helpful Questions
we are looking at this activity to be part of our agenda. our visitors will be from offices around the globe and we are thinking to give them a travel size gin bottle. will this be possible? the event is in the 2nd or 3rd week of October 2023
Gretchen Francisco, 31 Jul 2023
Hi Gretchen, sure, the host can sell them on the day of organised ahead of time what you need since this is not something they normally sell.
Is there a tour in the afternoon around 12 pm? Need to arrange a tour for 10-12 ladies . Is a private tour possible ?
Shradha Goenka , 28 Jul 2023
Hi Shradha, kindly sent your query along with your preference dates to our email at chat@seeksophie.com so we can help you further.
Hi there, do you still have slots for 3 on 23 April? Thanks.
V, 11 Apr 2023
Hi there, unfortunately we don't have classes on 23rd April. You might consider Fridays or Saturdays :)
I'd like to purchase this as a gift. Can I have an open date booking?
WC, 07 Jan 2022
Hi WC, Yes! You can find the direct link for the gift below "Request to Book" button. Let us know if you have any questions (:
Can check in the timing of Gin tour at Tanglin. Thanks.
Julie, 07 Nov 2021
Hi Julie, The timing available are : 12pm, 2pm and 4pm :)
Not your usual touristy stuff
Here you'll find some must-sees. But mostly you'll find what's real - not just what's on show for tourists.
Handpicked guides
We're a marketplace, but a highly curated one. We'll only recommend guides who we love.
Planet-Friendly
We believe that travel shouldn't harm our planet. We offset all carbon emissions for trips booked on Seek Sophie.