[Exclusive] Build Your Own Mini Garden with Unlimited Materials! | Terrarium Workshop
Details

Itinerary

Includes

Availability

Meet at

Host

Reviews

FAQ
[Exclusive] Build Your Own Mini Garden with Unlimited Materials! | Terrarium Workshop
Highlights
Unlimited Materials Available in Store!
Make your own mini home garden!
Child-friendly (any age can join)
Practice Your Creativity with Our Wide Variety of Materials
Experienced Facilitators to Guide You Every Step of the Way
Love nature? Hoping to have a mini garden at home? A terrarium is just the thing for you! A terrarium is usually a sealable glass container containing soil and plants, and can be opened for maintenance to access the plants inside.Spend your weekend with plant-loving couple, Jason and Joy, at this terrarium workshop to learn how to create and maintain your very own terrarium! Not only will this workshop teach you the basics to create a landscape in a jar using living plants, it's also a lovely bonding activity to spend time with your family, friends or colleagues. Experienced Facilitators to Guide You Every Step of the Way: Our expert facilitators have years of experience in creating beautiful terrariums and will provide you with detailed guidance throughout the workshop. You'll learn all the tips and tricks you need to create a stunning terrarium that you can take home and display with pride.Unlimited Materials Available in Store: We provide all the materials you need to create your own unique terrarium, and there's no limit to the amount you can use. Our store is fully stocked with a wide range of stones, plants, and figurines, so you can let your creativity run wild!Practice Your Creativity with Our Wide Variety of Materials: We believe that the best way to create a beautiful terrarium is to let your imagination run wild. That's why we encourage you to practice your creativity and experiment with different materials in our studio. With our unlimited materials and expert guidance, you'll have everything you need to create a truly unique terrarium.Child policy:Suitable for children Children 6 years and above require 1 ticket for the workshop.Children below 6 y/o can attend with an accompanying parentMax capacity: 20 paxJoin us for our terrarium workshop today and discover the joy of creating something beautiful with your own hands. Book your spot now and get ready to unleash your creativity!
What You'll be Doing
3+
Itinerary:
You will learn how to make your very own mini garden in a glass jar!
Show Details
What's Included
All materials required (Layering)
Different colours of decorative sands
1 FREE complimentary figurine of your Choice
Availability
Prices in SGD
Select Time for 30 Sep 2023
Where We'll Meet
Start Point
Meet-up at J²​ Studio (A'Posh Bizhub 1 Yishun Industrial Street 1, #04-33 Singapore 768160)
Meet at selected timeslot
Know someone who might like this?
Useful Information
Start & Ends
Every Saturday

01:00PM - 03:00PM

Every Sunday

01:00PM - 03:00PM
Cancellation & Other Policies
Cancellation

As J2 Terrarium would be holding the slot for you and turning down other potential customers, you won't be able to cancel after you book.

Reschedule Policy

In any condition that participant is unable to attend the workshop, he/she is to reschedule at least 48 hours in advance.
See More
Suitability / Accessibility
Child Friendly (No Minimum Age)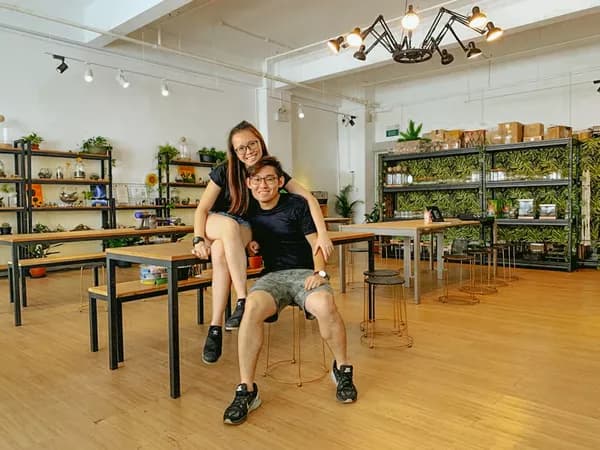 J2 Terrarium
J² Terrarium was started by a couple that is passionate about greeneries and nature. The name J² actually came from their names - Jason and Joy! Some years ago, when Jason and Joy were doing a long distance relationship, they wanted to find a hobby that they could do together to help them grow closer despite being miles apart. They both love nature and had green thumbs so they did a virtual terrarium making date. They loved it so much, they formed a thriving terrarium business from it!
Speaks: Fluent English
Acceptance rate: 93%
Top Rated Host
Keep your payments secure by using the Seek Sophie website for all transactions and communications.
Helpful Questions
Please help to set a quotations on Terrarium for our senior to participate in Terrarium Workshop .can its be on our side for the workshop .
Ambun Atnan, 20 Jul 2023
hi! would like to check if we would be making open or closed terrariums? thank you
Chew Lin, 07 Jun 2023
Hi Chew Lin, you will get to choose either one of it :) Hope it helps :)
Hi, I'm interested in booking a session on 22 Apr for 7 pax. Just wondering if it is possible for the start time to be from 2pm - 4pm instead?
G, 12 Apr 2023
Hi there, Thanks for your interest in our terrarium workshop . Unfortunately we can't accomodate your request to start at 2 pm as our timing schedule is a fixed at 1. Apology in advance for the inconvenience this may cause.
Hi, I have booked a session on 26 Sept @ 1pm utilising my KPMG redemption code for our special tie-up with travel platform Seek Sophie! this morning. Please let me know if i will get a confirmation email for this workshop? Thanks.
Alicia Chan, 19 Aug 2021
Not your usual touristy stuff
Here you'll find some must-sees. But mostly you'll find what's real - not just what's on show for tourists.
Handpicked guides
We're a marketplace, but a highly curated one. We'll only recommend guides who we love.
Planet-Friendly
We believe that travel shouldn't harm our planet. We offset all carbon emissions for trips booked on Seek Sophie.