[Exclusive] 2-Hr Art Jam Session in a Zen Studio
Join-in trip
·
Up to 15 persons
[Exclusive] 2-Hr Art Jam Session in a Zen Studio
Join-in trip
·
Up to 15 persons
Know someone who might like this?
Highlights
Highlights
Create your painting in a new, bright, and beautiful art and retail studio
Small and cosy class size to have a peaceful session
Variety of paintbrushes and acrylic paints provided
Guidance from an experienced instructor
Details
Details
If you're looking for a fun way to relax, you would love art jamming at this beautiful studio. At the end of the 2 hour session, you'll come away with your own acrylic painting masterpiece. Even though art jamming is usually an unguided session, the instructors here are super patient and lovely so they would be happy to give you a tip or two if needed! What to ExpectNurture your inner artist by spending a relaxing session with Sage Artelier, a beautiful and cosy art and retail studio. Come prepared with a painting you want to do, and Sage Artelier's experienced instructors will guide you through applying different sketching and painting techniques. You'll be working on a 40cm by 30cm canvas that you will be able to bring home at the end of the session — feel free to use it as a decoration piece at home or as a gift to your loved ones!Available time slotsSage Artelier Art Jam is available every Tuesday, Wednesday, Thursday, Friday and Sunday, at 3 different timings for each day (12pm, 2pm, and 4pm). Refer to the booking form to see all available time slots.Other NotesChildren ages 7 and above can join this session as well!Max pax for weekends: 6 paxMax pax for weekdays: 8 pax
Tags: Other Creative Workshops, Art Jamming
What's included
What's included
Use of all materials needed

Bring home your artwork (40cm x 30cm canvas)
Where You'll Meet
Where You'll Meet
Meet at
Sage Artelier Studio
Availability
Availability
Prices shown in SGD
What You'll Do
What You'll Do
Itinerary: Singapore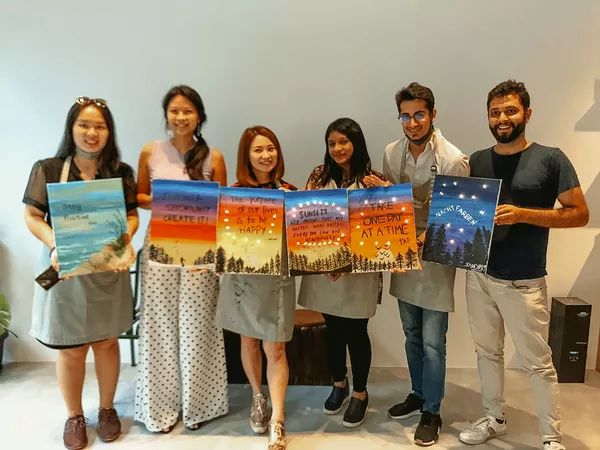 Today, you will enjoy a relaxing session of art jamming.
Create a masterpiece of your choice with the guidance of our experience Teachers.
Choose a painting to paint on canvas.
Start painting under the guidance of the instructors.
Bring home your artwork when completed.
View details
This is a sample itinerary and may be weather-dependent.
Meet your host
Meet your host
Sage Artelier is an inviting art studio and retail space that is designed for exploratory learning and discovery – suitable for adults and children alike. In the studio section, Sage Artelier host unique, structured art lessons (in painting and in 3D craft-modelling), for children between the ages of 5 and 12; they also organise art-play sessions, for people who may be looking for shorter classes that allow them to complete single paintings in a day. In the retail space, they offer craft items, stationery and other knick-knacks – for gift-shopping, to provide art supplies, or for sweetening up our various creative classes. The team is made up of dedicated individuals who are passionate about Art with a minimum graduate Diploma in the Fine Arts or as a MOE trained teacher with many years of experience teaching children. As practicing artists , the team strives to share their practical experiences and knowledge with their students.
Fluent English
What others are saying
What others are saying
Activity Reviews (110)

Host Reviews (218)
I bought this experience for my mom's birthday and we went as a family of 6 with my aunts & cousins too. It was really lovely. The ladies at Sage Artelier were so attentive and patient with my family. We took some time to pick what we all wanted to create and only probably started 30 mins after we reached and ended an hour after. The ladies were very accommodating and helpful. It was an amazing experience, one that i recommend for everyone.
Tasneem Nasrulla
26 Mar 2023
It was my first time painting and the staffs are very involved to help me out and give me some ideas on where to start, I am very happy with the tips that Natalie gave me especially on the brush strokes technique to my get my painting right and also blending! It's the best art jam I have ever went to.
Santhia Ravichandran
12 Feb 2023
Ifah Sulaiman
04 Feb 2023
Went with my cousin and both of us went home with paintings we really liked! We're pretty much beginners but the staff there (i think her name is shermaine) was super friendly and she helped us with whatever questions we had and gave really helpful suggestions. We could choose what to paint and she guided us with whatever style we picked. We also over stayed our booking but since no one was coming in we were allowed to stay and finish our paintings which was super nice! Overall love the vibe and would definitely come back again!!
Nice comfortable environment with really friendly and helpful staff!
Sebastian Guek
18 Dec 2022
Cancellation & Rescheduling
Cancellation & Rescheduling
Cancellation Policy
As Sage Artelier would be holding the slot for you and turning down other potential customers, you won't be able to cancel after you book.
Extenuating Circumstances Policy
In the event that one or more passengers are tested positive (or suspected) for Covid-19, customers can choose to reschedule the booking.
In the Event of a Government Lockdown
If there is a government lockdown that prevent you from going on your trip, you may get a full refund via Seek Sophie credits or reschedule at no additional costs. Otherwise, we would do our best to help you reschedule in other cases.
Read our full policy here.
Other Policies
Covid Safety Guidelines
*The maximum capacity of this workshop is 15 pax per session
*Vaccination or PET (Pre Event Test) is not needed as this activity does not require masks to come off.
Helpful Questions

from Our Community

Hi, may I know this class is it suitable for kid 12 yrs old?

Hi Nicole, yes it's suitable for 12 years old kid :)

Hi is this class suitable for who has never painted in their lives but would love to try it for first time? Thank you.

Hi Lovi, this is a perfect class for a first timer! You will get a bit of instruction and will be able to explore this medium at your own pace!

Hi! May I get a "gift card" for 2 with an open date? I'm not sure when my sister and her fiancé would be free in the coming weeks and it's meant to be a gift so I don't really want to ruin the surprise yet! Thanks for your time :)

Hi Jaslyne, Yes! You may go to the option page here : https://www.seeksophie.com/options/2hr-fun-art-jam-session?gift_experience=1

It's for my birthday — can all of my friends painting together on 1 large canvas? I would like to keep 1 painting done by all of us

Hi Sussan, Yes, they can. Please note that you will be charged per pax regardless of whether you paint your own/share canvas. Also, kindly leave a note if you would like to paint on a shared canvas, so Sage Artelier is aware of that :)
No Results Based On Your Search
Your question would also be very useful to the rest of the travel community!
Not what you are looking for? Ask us anything, your question would be very useful to the rest of the travel community!