Private Rooftop Movie Screening with Cocktails (Pet-friendly!)
Know someone who might like this?
Highlights
Highlights
Whimsical, raw, and thoughtfully crafted space reminiscent of an Australian Vineyard
Enjoy a perfect evening under the stars surrounded by greenery
Wifi, speakers, projector, screen, and fridge provided for a complete outdoor movie experience
Includes 3 cocktails per person!
Pet-friendly venue
Details
Details
Escape to a private oasis as you soak in the chill vibe of this secret rooftop farm + lounge + apiary in the evening, all to yourselves. You can either bring your laptop with downloaded movie on it, or stream movies from your Netflix account (via the host's Apple TV). DetailsProject your favourite movie on the giant outdoor movie wall at The Sundowner, an urban farm atop a shophouse in the hip Siglap restaurant belt. The rooftop is fully covered in greenery, with a reflection pond, rows of organic vegetables, and bee hives! This option gives you the entire space for the evening.Comfortable seating, a screen, speakers, and projector will be provided. You'll just need to bring your own laptop with your chosen movie on it. Alternatively, the host also provides an Apple TV - you can stream movies from your own Netflix account from the device. As a value-add The Unexpected offers on all its experiences, your hosts will take photos of your experience and share them with you after (free-of-charge, so it's very Instagram-friendly too!Food and DrinksFeel free to bring your own food, or order it from the next door restaurants when you get here. (Psst, the host even has a pulley system to haul up the packaged food to the rooftop!) Each Movie Screening booking comes with drinks: a unique Farm-to-bar infusion, which is prepared live using fresh organic garnishing growing around you. Each person will enjoy 3 drinks each. If you don't like cocktails, you can also opt for a bottle of wine from the host. You can bring your own bottles of wine at $30/bottle corkage fee. Special EventsSundowner is also able to host special event bookings such as proposals and birthday celebrations. Just let us know beforehand!Pet-FriendlyThe Sundowner is a pet-friendly venue so you can bring your small-to-medium-sized pet along!
Details
Private trip
Up to 10 persons
Activities

Farm Visits
Suitable For
Families with Kids
Couples

Small Groups
Trip Highlights
What's included
What's included
3 cocktails/mocktails per person (OR if you don't drink cocktails, the host can provide instead a bottle of housewine per group on request)

Cables to connect your laptop
Movie (bring your own laptop with movies on it, or stream movies on the host's Apple TV with your Netflix account)
Show all inclusions & exclusions
Where You'll Meet
Where You'll Meet
The Sundowner

Meet at selected timeslot

Details
The Sundowner
East Coast Road, The Sundowner Farm & Speakeasy, Singapore
Availability
Availability
Scheduled Trip Dates
Unavailable
Prices shown in SGD
What You'll Do
What You'll Do
Itinerary: The Sundowner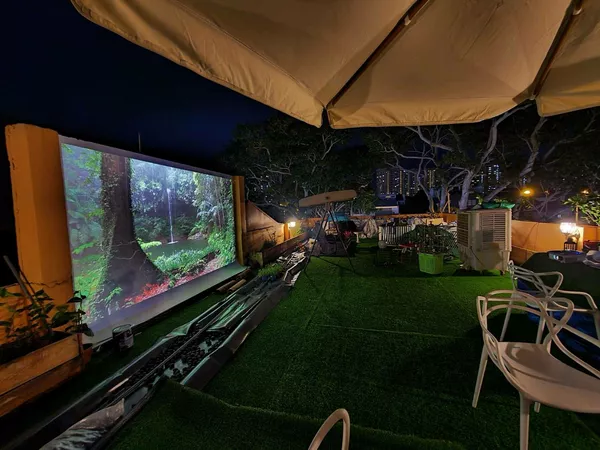 Soak in the vibe of the bustling bars of Siglap from this private oasis - just you, your friends, and the great evening ahead.
The Sundowner (East Coast Road, The Sundowner Farm & Speakeasy, Singapore) - exactly selected time
Your journey to the rooftop itself is a mini-adventure, via a retro spiral staircase from the rear of a 1950s shophouse.
Start your evening with a welcome drink - Farm-to-bar infusions, prepared live using fresh organic garnishing growing around you!
Project your favourite movie on the outdoor movie wall for a perfect evening.
View details
This is a sample itinerary and may be weather-dependent.
Exceptional Experiences.
Tried & Tested

By Seek Sophie

Our team has personally tried out this option and verified it for the guides' dedication, expertise and knowledge.

Learn More
Meet your host
Meet your host
We bet you've never seen something like this in Singapore. The Unexpected is a collection of unique experiences: rooftop farming, secret pizza club, desert-themed bar and kayaking in the mysterious waters. Each one transports you to different places as if you are overseas.
2 years experience
Fluent English
Community-Based
Litter-Free
What others are saying
What others are saying
4.9
out of 67 helpful reviews
Cancellation & Rescheduling
Cancellation & Rescheduling
Cancellation Policy
As The Unexpected would be holding the slot for you and turning down other potential customers, you won't be able to cancel after you book.
Extenuating Circumstances Policy
In the event that one or more participants are tested positive (or suspected) for Covid-19 72 hours or less prior to the trip, they are required to present verification from the MOH and customers can choose to reschedule the booking with a fee as follows:
- Reschedule with 50% top-up
- Get a 50% refund if customers wish to cancel altogether
More than 72 hours beforehand, customers can reschedule the booking at no additional cost.
In the Event of a Government Lockdown
If there is a government lockdown that prevent you from going on your trip, you may get a full refund via Seek Sophie credits or reschedule at no additional costs. Otherwise, we would do our best to help you reschedule in other cases.
Read our full policy here.
Other Policies
Other Policies
Covid Safety Guidelines
March 29, 2022 onwards:
*Up to 10 persons are allowed for this experience.
Helpful Questions

from Our Community

Comfortable shoes (to climb up the spiral staircase)
No Results Based On Your Search
Your question would also be very useful to the rest of the travel community!
Not what you are looking for? Ask us anything, your question would be very useful to the rest of the travel community!