2H Intertidal Walk | Discover Coastal Marine Life (Age: 2+)
Know someone who might like this?
Highlights
Highlights
Explore Singapore's biodiverse marine life in hidden intertidal zones
Learn from passionate marine guides
Perfect for kids & families, and wildlife lovers!
Receive a small souvenir at the end of the exploration!
Details
Details
Aren't you curious about how animals adapt to survive the harsh intertidal environment and make the shore their home? Join Young Nautilus for a hands-on learning experience with the rich biodiversity of the intertidal zone! Your little ones will have a whale of a time getting their feet wet and learning fascinating facts about the living things that exist alongside us, like crustaceans and invertebrates.What you'll seeHere you'll get your feet wet and learn about hermit crabs, sea cucumbers, swimmer crabs, sand dollars and many other amazing animals in our own backyard! Explore the adaptation strategies taken by the variety of animals to survive in the habitats.This programme is suitable for children 2 years old and above.The intertidal walk location differs based on your booking date. Please refer to the information below before booking:Changi Beach Sandy Intertidal Walk6th June | 8.30 am6th July | 9 am13th September | 6.30 pm28th September | 6 pmChangi Seagrass Intertidal Walk17th July | 7.45 am30th September | 7.15 pmPunggol Promenade Intertidal Walk16th August | 8 amPasir Ris Park Intertidal Walk *19th June | 8.15 am14th September | 7.15 pm*Recommended for children aged 6 years and above due to the muddy terrain
Details
Join-in trip
Up to 28 persons
Suitable For
Families with Kids
Activities
Nature Walks
Guided Tours
Where You'll Meet
Where You'll Meet
Changi/ Punggol/ Pasir Ris (*Depending on your booking date)

15 mins before selected timeslot

Details
Changi/ Punggol/ Pasir Ris (*Depending on your booking date)
Singapore
Availability
Availability
Scheduled Trip Dates
Unavailable
Prices shown in SGD
What You'll Do
What You'll Do
Itinerary: Changi/ Pasir Ris/ Punggol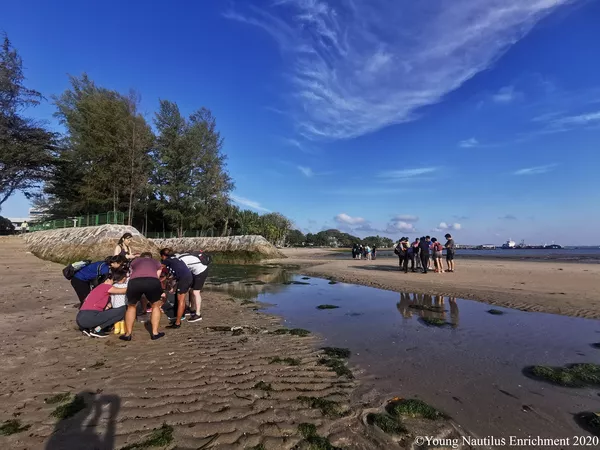 Learn how marine animals live in the intertidal environment!
Changi/ Punggol/ Pasir Ris (*Depending on your booking date) (Singapore) - 15 mins before
Introduction and safety briefing
Guided Exploration (60 mins). Participants will visit different spots with interesting marine life. Kids will be given an animal checklist and they will learn to identify the animals
Debrief
View details
This is a sample itinerary and may be weather-dependent.
Meet your host
Meet your host
Founded by educators equipped with degrees in Life Science and Marine Biology, Young Nautilus is an education enrichment partner for schools and families that provide fun and engaging science learning journeys. By fostering a deeper understanding of the world and the dynamic changes that shape it, they enrich what is taught in the MOE syllabus. Most importantly, Young Nautilus' educators are equipped with the pedagogy skills required to inspire participants' learning through application and critical thinking activities. Together with their patience and enthusiasm in sharing their passion of marine wildlife to the young ones, your kids are sure to learn a lot as they are encouraged to explore and ask away!
7 years experience
Fluent English
Refuse Plastics
Litter-Free
What others are saying
What others are saying
4.9
out of 78 helpful reviews
Cancellation & Rescheduling
Cancellation & Rescheduling
Cancellation Policy
As Young Nautilus would be holding the slot for you and turning down other potential customers, you won't be able to cancel after you book.
Extenuating Circumstances Policy
In the event that one or more participants are tested positive (or suspected) for Covid-19, they are required to present a verification from MOH 2 weeks prior to the trip. Customers can choose to reschedule the trip one time only to a later date within 3 months.
In the Event of a Government Lockdown
If there is a government lockdown that prevent you from going on your trip, you may get a full refund via Seek Sophie credits or reschedule at no additional costs. Otherwise, we would do our best to help you reschedule in other cases.
Read our full policy here.
Other Policies
Other Policies
Covid Safety Guidelines
Participants can join this activity in a ratio of 1 educator: to 10 participants, regardless of vaccination status.
PET (pre-event test) isn't required as this is a mask-on activity.
Child Pricing
Children (age 0 - 12) will pay a discounted price
Please click on the
booking form
to see child prices
Helpful Questions

from Our Community

hihi, any possibility to squeeze in 4 pax on 11 June AM please?

Hi Yvonne, I'm afraid that will not be possible

Hello, I would like to book a slot for 3 adults on 19 feb for the intertidal walk at Changi but I'm not sure what's the difference between the two walks highlighted besides the pricing. May I know a little more?

Hi Nora, The difference between Changi beach and Pasir Ris is the location and the marine lives you will find in each location (:

What time does this activity start pls? There is only one available slot in 28 feb :( and we have a wedding to attend that day. Hope we can still make it.

The activity on the 28th starts at 6pm :)
No Results Based On Your Search
Your question would also be very useful to the rest of the travel community!
Not what you are looking for? Ask us anything, your question would be very useful to the rest of the travel community!