Organic Coffee Farm Visit near Ubud | Learn Traditional Coffee Growing Methods
Join-in trip
·
Up to 6 people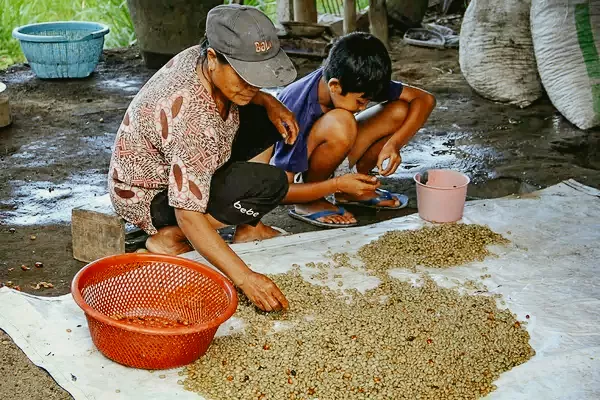 Organic Coffee Farm Visit near Ubud | Learn Traditional Coffee Growing Methods
Join-in trip
·
Up to 6 people
Know someone who might like this?
Highlights

Details

Includes

Meet At

Availability

Guide

Cancellation & Rescheduling
Highlights
Highlights
The local guide has been hosting for more than 20 years
Visit a Balinese coffee garden with local farmers and watch the organic coffee-making process unfold.
Details
Details
Venture into mixed-crop coffee gardens with local farmers and watch the organic coffee-making process unfold. Coffee almost runs in the veins of the people here and you will gain in-depth insight into the work involved in filling your coffee cup and behind-the-scenes issues of staying afloat in the coffee business. Put on your trekking shoes and explore Plaga's jungle-like gardens, sprinkled with cinnamon, vanilla, clove and cocoa among many other plants. Find out which plants are used for what, and community strategies for conserving their local resources.What to expectEnjoy freshly brewed organic Pelaga coffee with local delicacies. Meet some of the village elders and have an opportunity to learn about daily life in Pelaga and the history of coffee growing in the area.Understand the coffee production cycle - from farm to cupAppreciate the lush tropical forest scenery while seeing how local coffee beans are cultivated and pickedAuthentic Balinese lunch incorporating some of Pelaga's local produce **Please note that start and end times might differ based on your pick-up and drop-off location in Bali. Approximate travel times with moderate trafficFrom Ubud - 1h20minFrom Canggu - 1h30minFrom Kuta - 1h50minFrom Seminyak - 1h45minFrom Uluwatu - 2h30min**Free of charge for kids under 5 years old, and please add notes in the booking form.
Min 2 persons requirement:
Please note that this experience require a minimum of 2 persons to proceed. You may book for fewer than 2 persons, but if there are fewer than 2 persons booked for the date, you may be asked to reschedule to another date.
Suitable For: Pet-Friendly, Vegetarians
Tags: Coffee Farms
What's included
What's included
Government tax & service charge

Private full air-conditioned car with gasoline and experience driver

Coffee & local delicacies

1 (one) x lunch at the village (traditional cuisine)

1 (one) x bottle mineral water and can be refilled with clean drinking water at the village
Show all inclusions & exclusions
Where You'll Meet
Where You'll Meet
Your host provides free pick up from:
Your accommodation in Ubud
Your accommodation in Canggu
Your accommodation in Kuta
Your accommodation in Seminyak
Your accommodation in Uluwatu
Please indicate in the booking form where you would like to be picked up from.
Your accommodation in Ubud
Ubud
Details
Availability
Availability
Prices shown in SGD
What You'll Do
What You'll Do
Itinerary: Coffee Village - Kiadan Plaga Village
A full comprehensive tour of the Villagers of Kiadan Plaga with their specialty being coffee this will surely intrigue all caffeine lovers. The tour focuses on the entire process of coffee bean cultivation to harvesting and finally freshly brewed and poured into your cup
Arrive at Pelaga Village and enjoy a freshly brewed cup of organic Pelaga coffee with some local delicacies.  
A trek around Pelaga will provide an opportunity to enjoy some of the scenery, as well as to see how the Pelaga coffee beans are cultivated and picked.
Lunch provides another opportunity to taste some more of Pelaga's local produce.
A stroll around the village after lunch will enable you to experience daily life in the village and interact with the local people.
Prior to leaving Pelaga, a short tour of the coffee production house will explain the coffee production cycle from coffee plant to cup. 
View details
This is a sample itinerary and may be weather-dependent. Start/end times may depend on transport chosen.
Meet your host
Meet your host
JED is a strong statement from four communities who want to decide for themselves the future of their people, their culture and their environment. Inviting visitors to their villages is a way not only to raise funds for cultural and conservation activities but also to raise community esteem for these assets. It is an opportunity for villagers to share their pride in Bali with visitors, and present Bali as they know and love it, to the world. The result is a unique chance for travelers to directly experience village life and see what Bali is all about
21 years experience
Fluent English, Bahasa
Community-Based
Litter-Free
Social Enterprise
Cancellation & Rescheduling
Helpful Questions
Comfortable clothes and shoes such as runners or hiking boots