Know someone who might like this?
Highlights

Details

Includes

Meet At

Availability

Guide

Cancellation & Rescheduling
Highlights
Highlights
Unique route up Mount Batur - no crowds & easier climb
Only experience that includes a boat ride across Mount Batur lake
Superb guides with top reviews
Optional stop at Trunyan village, Bali's oldest village (featured in the BBC)
Details
Details
This Mt Batur experience will take you off-the-beaten path with the best and most heartfelt guide - just read the reviews!This experience offers a shorter and easier climb to the caldera rim, making it accessible to people of different fitness levels. Plus, the views from the caldera rim are just as breathtaking (if not better) than the summit, without the crowds.The experience also includes a serene and magical boat ride across Lake Batur, where you can take in the tranquil beauty of the lake and its surroundings. Our optional add-ons include visiting Trunyan Village, an ancient Bali Aga village, and relaxing in a hot spring in the Kintamani area. What to ExpectPick up from hotel You will be picked up from your hotel in Ubud or South Bali. You will arrive at the start of your trek at around 4am where you will take a short walk through some local farm to Lake Batur.Crossing Lake Batur Once you arrive at the shore of the lake, the boat will be waiting for you. It will take about 20-30min to cross while you watch the stars glimmer in the night sky and get to the hillside of the caldera. The Ascent and Sunrise It will take 45 minutes to 1 hour to get to the top. The terrain is a fairly mild upward gradient surrounded by jungle vegetation. You will reach around 5.30-6am just in time for the sunrise. At this point your guide will also serve you a light breakfast which you can enjoy while you watch the sun come up and illuminate the volcanic peaks of Mt Agung, Mt Abang, Mt Rinjani on Lombok Island and Mt Batur itself. The Descent You will make your way down the same trail you arrived. From there you will get back on the boat and take a short ride just a bit further up the shore to get to Trunyan Village. This portion is optional and can be added to your trip as a separate add-on.Optional Add-onsOptional add-on 1: visiting Trunyan Village, an ancient Bali Aga village with unique burial customs, offering a glimpse into the island's rich culture and traditions. Trunyan village was featured in BBC Travel for its unique cultural heritage. Trunyan Village is famous for having a magic tree which the village's fascinating burial practices revolve around. It's one of the most unique villages in the world, and well worth a visit. Optional add-on 2: visiting a cozy hot spring in the Kintamani area, the perfect place to relax and ease your muscles after trekking.Approximate travel times with moderate trafficFrom Ubud - 1h00minFrom Canggu - 1h45minFrom Kuta - 2h00minFrom Seminyak - 2h00minFrom Uluwatu - 2h40min
Tags: Mountain Climbing, Mountain Climbing
Trip Highlights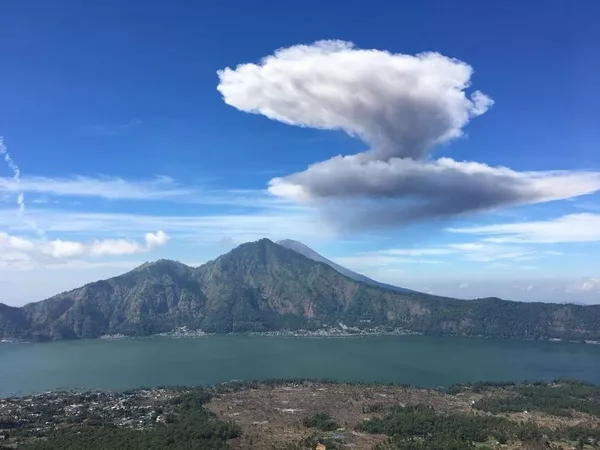 What's included
What's included
Round trip transportation from your hotel in Bali (Kuta, Seminiyak, Canggu and Ubud area only)

Breakfast & Hot Drink In Caldera Batur

English-speaking local guide and driver

Boat Ticket + Safety Equipment

Donation for every temple visited
Transfers outside of Kuta, Seminiyak, Canggu and Ubud

Tips for guide and driver
Show all inclusions & exclusions
Where You'll Meet
Where You'll Meet
Your host provides free pick up from:
Anywhere in Kuta
Anywhere in Seminyak
Anywhere in Canggu
Anywhere in Ubud
Please indicate in the booking form where you would like to be picked up from.
Anywhere in Kuta
Kuta Beach, Indonesia
Details
Availability
Availability
Prices shown in SGD
What You'll Do
What You'll Do
Itinerary: Caldera Batur Highland Sunrise Hiking
We'll hike the local trekking route of Batur only known to locals. We also contribute to the village around by donating some of your spendings to local people there. So indirectly, you contribute to the local economy of the villages and the lives of the people around there. :)
2 AM-3 AM: Pick-up from your hotel (exact time depends on the hotel location).
4 AM: Arrival at the trekking starting point. A short walk through local farms to reach the lakeside, where a boat will be waiting to take you across Batur Lake to the Caldera hillside. Begin hiking through the jungle hills to reach the Batur Caldera Summit.
Around 5 AM-6 AM: Reaching the summit after trekking for around an hour and settling in for the amazing sunrise views. Enjoying a fresh breakfast with hot drinks provided by your guide.
8 AM: Climbing down from the hill to the lakeside, where the boat will be ready to bring you back across Batur Lake while you enjoy the magnificent view.
Optional add-on: Visit to Trunyan Village with a short detour via boat to get there. Disembarking and having your guide lead you around the village and the cemetery to see how the locals bury their dead.
Optional add-on: Visit to the coziest hot spring in the Kintamani area, the perfect place to spend the rest of the morning easing the muscles after trekking.
2 PM: Drop-off at your hotel with plenty of memories that will last you a lifetime (exact time depends on the location of your hotel)
View details
This is a sample itinerary and may be weather-dependent. Start/end times may depend on transport chosen.
Meet your host
Meet your host
Bali Yok! offers a unique perspective on exploring Bali. Founded by a passionate team of avid travelers, they strive to create authentic and off-the-beaten-path experiences that show travellers the real Bali. Unlike traditional guides, Bali Yok! really goes out of their way to find off-grid and interesting ways to explore even the most popular places - from forging their own treks to taking guests to yummy hole-in-the-wall food places that only locals know. As a small, close-knit team of locals, they treat their guests like friends and go above and beyond to ensure each trip is truly special.
6 years experience
Fluent English, Bahasa
What others are saying
What others are saying
Activity Reviews (9)

Host Reviews (28)

 
Cancellation & Rescheduling
Helpful Questions
Hi, we would like to book with hot spring add-on. Does Grade A refer to Toya Devasya hot spring and Grade B to Batur hot springs?
Cathy, 05 Jun 2023
Hi Cathy, The Grade A hot spring at Toya Devasya and Grade B hot spring at Batur.
I'm planning to add-on the Hot Springs after the Batur Caldera Hike. Is there a place to change out of our hiking gear to swimwear in the area?
Donna Alvior, 24 May 2023
Hi Donna, Yes, there is a changing room in the hot spring which you can use to change your fits :)
Hi, we would like to book the tour with our 7 year old son. He's very active and starting hiking as young as 4. He's done many 10+ kilometers hike so we don't foresee any problem with him. You have an age limit of 10 for booking. So I want to double check that we can book for 3 still? Thanks.
Dora, 24 May 2023
Hi, my husband and I are keen on the Mt Batur - Unique Route + Trunyan village add-on trip. We will be checking out of our accomodation in Ubud and intending to spend a night in Kintamani after visiting Trunyan village. Are we able to request for the driver to bring us for lunch and subsequently drop us off at our accomodation in Kintamani, instead of the return trip back to Ubud? Since this trip technically includes both pick up and drop off. Thanks!
Shee Mun, 11 Apr 2023
Hi Shee Mun, sure thing! we can do that as long as the lunch is still in Kintamani area :) Hope it helps!