Make Amazing Fair Trade Chocolate | Featured in Chef's Table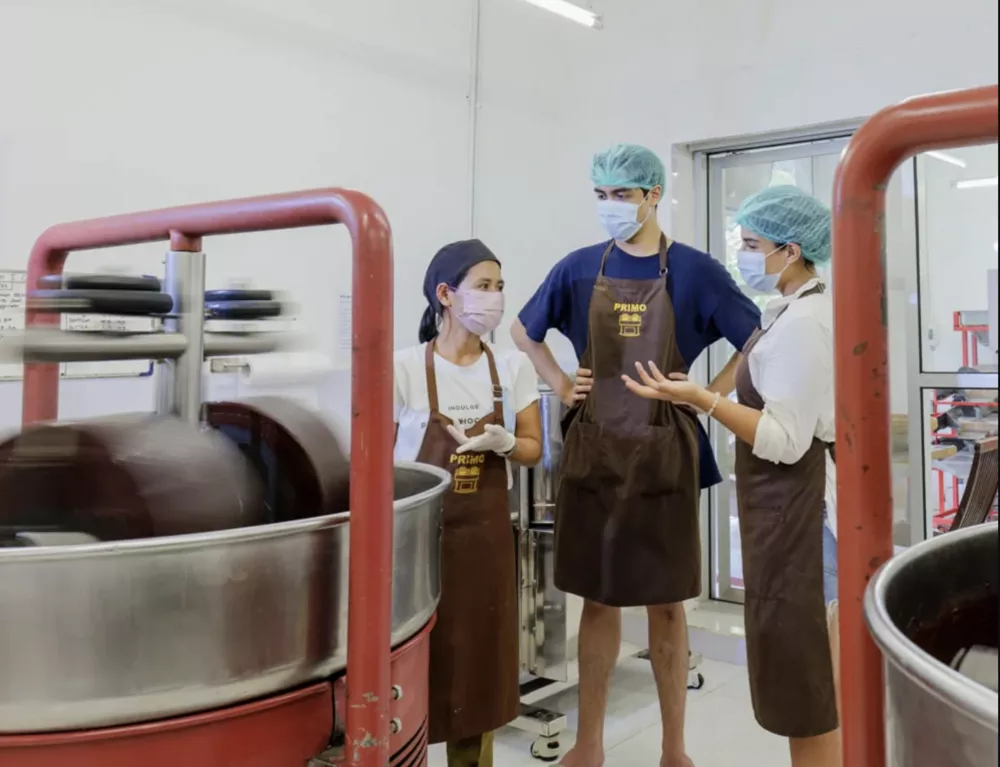 Details

Itinerary

Includes

Availability

Meet at

Host

Reviews
Make Amazing Fair Trade Chocolate | Featured in Chef's Table
Highlights
High-quality artisan chocolate factory featured on Chef's Table
Ethical and sustainable chocolate experience
Learn every step of the chocolate making process
Featured on Chef's Table, Primo Chocolab produces incredible high-quality chocolate that is sure to delight any chocolate lover.Here you'll get to experience the full chocolate making process at Primo Chocolab, a small manufacturer of high-quality, single-origin chocolate located in Bali. This immersive experience allows participants to learn every step of the process in creating artisanal chocolate and taking it home to enjoy. Not only is this a fun and educational experience, but you'll also get to sample the delicious chocolate treats made on-site and even take some home with you. Plus, Primo Chocolab places a strong emphasis on sustainability and fair trade partnerships with local farmers, so you can feel good about supporting ethical and responsible chocolate production.What to ExpectLearn every step of the chocolate making process, from sorting the cacao beans to molding the chocolate.Try traditional techniques like hand crushing the beans, separating the skin and nibs, and tempering the chocolate on cold marble.Get a chance to chat with expert guides about where the beans come from and the social aspects of chocolate production.Take home the chocolate you make, along with delicious chocolate bars and drinks.Enjoy the sustainable and fair trade practices implemented by Primo Chocolab.
What You'll be Doing
25+
Itinerary:
Learn every step of the process in creating artisanal, high-quality chocolate and by the end, you can take home your amazing creations!
Show Details
What's Included
Food: Chocolate Bars, Chocolate Drinks, Everything Chocolate.
Equipment: Aprons, Bandannas, Gloves, Masks, Shoe Covers.
You get to take home the chocolate you make!
Availability
Prices in SGD
Select Time for 23 Sep 2023
Where We'll Meet
Start Point
Meet-up at Primo Chocolab (Primo Chocolab Bali - Chocolate Factory, Jalan Verdacchi, Indonesia)
30 mins before selected timeslot
Know someone who might like this?
Useful Information
Start & Ends
Every Saturday

10:00AM - 12:00PM

02:00PM - 04:00PM

Every Sunday

10:00AM - 12:00PM

02:00PM - 04:00PM
Cancellation & Other Policies
Cancellation

Cancel 7 days before activity for a full refund

Reschedule Policy

Yes, with proper notice 2-3 days before at max
See More
Suitability / Accessibility
Wheelchair-accessible
Pet-Friendly
Vegetarian food available
Child Friendly (No Minimum Age)
PRIMO CHOCOLAB.
Primo Chocolab is a small but dedicated team that is committed to making a difference in the world. They believe that chocolate can be a force for good, and they are working to make sure that their chocolate is produced in a way that is ethical and sustainable. Primo was founded by Giuseppe, a passionate chocolatier who takes great pride in every step of the chocolate-making process, from sourcing the cocoa beans to hand-crafting the final product. Giuseppe is also a strong believer in fair trade and sustainable agriculture. He works closely with farmers' collectives to ensure that they are paid a fair price for their cocoa beans and that their land is managed in a sustainable way.
Speaks: Fluent English
Acceptance rate: 67%
Keep your payments secure by using the Seek Sophie website for all transactions and communications.
Have a question?
Your question would be very useful to the rest of the travel community!
Not your usual touristy stuff
Here you'll find some must-sees. But mostly you'll find what's real - not just what's on show for tourists.
Handpicked guides
We're a marketplace, but a highly curated one. We'll only recommend guides who we love.
Planet-Friendly
We believe that travel shouldn't harm our planet. We offset all carbon emissions for trips booked on Seek Sophie.