Mt Batur Sunrise Jeep | Hot Springs & ATV Add-ons **Flex Start Time
Details

Itinerary

Includes

Availability

Meet at

Host

Reviews

FAQ
Mt Batur Sunrise Jeep | Hot Springs & ATV Add-ons **Flex Start Time
Highlights
Great-value deal
Comfortable jeep ride - no climbing!
Includes a yummy breakfast and hot coffee ☕
Flexible start time - no early wake up needed!
This Mount Batur Jeep adventure offers a comfortable way to enjoy breathtaking sunrise views over Mount Batur without the tiring trek. First you'll take the jeep to see the sunrise at Mount Batur (with breakfast!), and after sunrise you can have a thrilling jeep ride across the black sand lava fields of Mount Batur. It's a really fun adventure for those who want to see Mount Batur without the trek! What to expectSee Mount Batur at sunrise, with gorgeous views of the surrounding volcanic mountains - Mt Agung, Mt Abang, and Mt Batur itself as well as Lake Batur! Your guide will prepare your breakfast, so you can enjoy your breakfast with the viewsAfter sunrise you will head for the black sand lava fields passing by forests and villages, getting a glimpse of local life. Once you arrive at the black sand lava field it will be a truly incredible sight - black sand appears to go on forever making the landscape seem like something from another planet. Flexible Start Time As this is a private trip, you can choose your own start time: you can start at 5am (for sunrise); 8am or 3:30 pm (for sunset). If you choose a start time later than 5AM you will miss the sunrise, but you will still get some great views. If you don't like the crowds, we would recommend going at sunset because you'll get the amazing views but with far fewer people.Optional add-ons (extra charge)You can opt for transport from your accommodation in Bali You can add on a trip to the natural hotsprings around Batur (additional 1.5-2 hours). You can also add on a ATV ride to your experience (additional 1.5 to 2 hours). This will allow you to delve deeper into the black lava area, through wet and moody terrain, rivers, and rice fields.About your guideThe best part of this experience is that it's owned and managed by Jero, a Mt Batur local, who has been a trekking guide for over 25 years. He employs over 20 local guides, and by choosing this experience, you are supporting the local community around Mount Batur. Approximate travel times with moderate trafficFrom Ubud - 1h00minFrom Canggu - 1h45minFrom Kuta - 2h00minFrom Seminyak - 2h00minFrom Uluwatu - 2h40min
You want to see Mount Batur without the hike!
You want to avoid the crowds or an early morning wake-up - this has a flexible start-time so you can go later when it's less crowded
What You'll be Doing
Itinerary:
Trek and Enjoy Jeep Ride at Mt Batur
Show Details
What's Included
Entrance ticket to Mount Batur area
1 bottle mineral water per person
Light breakfast at the sunrise point
Transportation to Mt Batur area (extra charge)
Availability
Prices in SGD
Select Time for 23 Sep 2023
Where We'll Meet
Start Point
Meet-up at Bintang House Kintamani (Bintang House Kintamani, Jalan Bukit Selat, Indonesia)
15 mins before selected timeslot
Transport Add-ons
Add-on #1
Pick up and return transfer from Hotel (per group of 6 people)(Price:

S$ 54.86

for up to 6 guests)
Useful Information
Start & Ends
Daily
05:00AM - 08:30AM
08:00AM - 11:30AM
03:30PM - 07:00PM
Cancellation & Other Policies
Cancellation

As Mt Batur Sunrise Trekking would be holding the slot for you and turning down other potential customers, you won't be able to cancel after you book.

Bad Weather Policy

In the event that bad weather prevents the trip from happening, customers will receive a full refund.
Suitability / Accessibility
Child Friendly (No Minimum Age)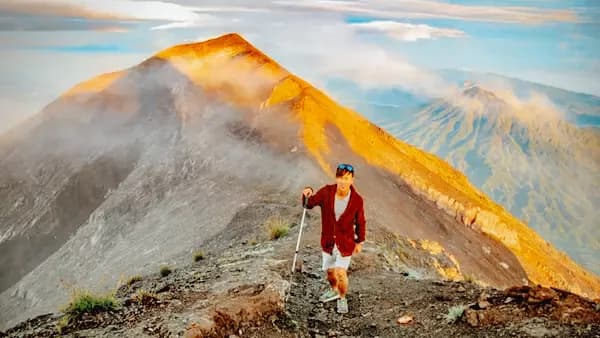 Mt Batur Sunrise Trekking
Mt Batur Sunrise Trekking is owned and managed by Jero, a Mt Batur area local who has come from a farming family. Although he had grown up helping the family with onion and tomato farming, he had always loved hiking the mountain with his cousins and friends. After getting a degree in business at a local university he decided that his own native land was rich with opportunity. He created a website with out much experience and started Mount Batur Sunrise Trekking hoping to share the beauty of the mountain with visitors and make a better living for himself and his family. Jero and his team have been Mt. Batur trekking guides since they were kids, for more than 25 years. He now employs over 20 local guides which he trains for English and deep understanding of the mountain and makes sure they are licensed by the government.
Speaks: Fluent English
Acceptance rate: 98%
Keep your payments secure by using the Seek Sophie website for all transactions and communications.
Helpful Questions
Sunblock and extra T-shirt
Does the jeep tour take us to the same place to see the sunrise as the walking tour to Mount Batur summit? Best regards, Silvia.
Silvia , 22 May 2023
Hi! Does height (in km oi meters) the jeep go up to how height in Mount Batur (km or meters)? If it did not reach mount Batur Summit, can we climb it by foot? How much time and how many km os the hike up to the summit in that case?
Silvia, 22 May 2023
Your response to a previous question was unclear. Can I be the one who drives the jeep? Or only the guide can drive? Your previous reply of "only expetienced drivers can drive the jeep" was unclear, because sometimes tourists are experienced drivers. If I cannot drive, are there any other jeep trips where I can drive? Thank you.
Ben, 20 Apr 2023
Hi Ben, One of the rules that we need to emphasize is that guests or customers are not allowed to drive the jeep themselves. Only the guide from the jeep organization is permitted to drive the jeep. This rule is in place for safety reasons, and it is crucial that we adhere to it. We understand that driving the jeep may seem like an exciting and adventurous experience, but we want to ensure that everyone stays safe during the tour. Our guides are experienced and trained to handle the jeep, and they will make sure that you have a memorable experience without compromising your safety. Hope it helps!
Which hot spring will the add on take us to? How will we access this hot spring after the sunrise? What's the rough itinerary like?
Ling, 13 Apr 2023
Hi Ling, The hot spring called Natural Hot Spring located in Batur. After finishing your sunrise trip at 08:30 am and if you have the option to add on return transport, our driver will then bring you to the hot spring and wait for you. Our driver will send you back to your hotel around 12 or 1 depending on the distance of your hotel.
Not your usual touristy stuff
Here you'll find some must-sees. But mostly you'll find what's real - not just what's on show for tourists.
Handpicked guides
We're a marketplace, but a highly curated one. We'll only recommend guides who we love.
Planet-Friendly
We believe that travel shouldn't harm our planet. We offset all carbon emissions for trips booked on Seek Sophie.