Private Puzzle Hunt Adventure - Chinatown | Explore Hawker Culture
Details

Itinerary

Includes

Availability

Meet at

Host

Reviews

FAQ
Private Puzzle Hunt Adventure - Chinatown | Explore Hawker Culture
Highlights
Explore the vibrant streets of Singapore while uncovering secret trails and hidden gems Pepper laid for you.
Assemble your dream team to tackle the challenges, decode cryptic messages and solve intricate puzzles.
Embark on a thrilling 2.5-hour escapade with our award-winning puzzle hunt activity! Join Pepper, our lovable and clumsy dinosaur, as he faces a culinary catastrophe. In a disastrous mishap, he accidentally sends the dinner party preparations into chaos, leaving his favourite dishes in shambles. It's up to you and your team to race against the clock and restore the feast to its former glory before the hungry guests arrive!As you navigate the bustling alleys of Chinatown, you'll uncover hidden trails and secret corners carefully curated by Pepper himself. Unravel intriguing challenges and put your problem-solving skills and creativity to the test.But the excitement doesn't end there! An exhilarating finale awaits you at the end of your journey. Pepper will reward all adventurers brave and smart enough to complete the quests with an exclusive prize. This isn't just a game—it's an immersive and unforgettable experiential learning adventure.Corporate Benefits•      Enjoy the exclusive experience of having your own private game master.•      Take charge of your gaming sessions by dictating your preferred timing in a private setting.•      Personalize your experience with simple customization options, giving you more control over your gameplay, and more!Program Details•      We'll kick off with a brief 10 minutes introduction to the rules and game mechanics•   Your group will divide up into smaller teams of 3-8pax (depending on your total group size)• You'll be provided with a map & game kit, and use a phone to enter solutions to puzzles (one per team is needed)•      You'll then have a thrilling 90 minutes to solve puzzles, gather scattered clues, and unravel the ultimate mystery•      Once all the clues are collected, head to final puzzle at end point where the game master will confirm your solution Terms and Conditions•      Each ticket admits one person which will be checked at entry•      Arrive at the meet-up location 10 minutes before the scheduled activity time•      Each team will embark on the puzzle hunt as a cohesive unit, enjoying the experience exclusively without merging with other players•      Latecomers or no-shows can't be refunded•      The Puzzle Hunt is an all-weather experience, and there is no cancellation or rescheduling policy on the day of the activity. In case of rain, players are advised to find shelter while extra time will be given to each team•      This activity is not recommended for anyone with impaired physical mobility Eligibility•      Children under the age of 7 play for free•      Children aged 0–14 must be accompanied by a paying adult
What You'll be Doing
6+
Itinerary:
Immerse yourself in a puzzle hunt for a unique discovery of the local hawker culture!
Show Details
Availability
Prices in SGD
Select Time for 03 Dec 2023
Where We'll Meet
Start Point
Meet-up at Chinatown MRT (Exit C - Garden Bridge) (Chinatown MRT)
15 mins before selected timeslot
Know someone who might like this?
Useful Information
Start & Ends
Every Monday

09:00AM - 11:30AM

10:00AM - 12:30PM

11:00AM - 01:30PM

12:00PM - 02:30PM

01:00PM - 03:30PM

02:00PM - 04:30PM
See More
Cancellation & Other Policies
Cancellation

As Monster Day Tours would be holding the slot for you and turning down other potential customers, you won't be able to cancel after you book.
Suitability / Accessibility
Child Friendly (Recommended Age: 7+)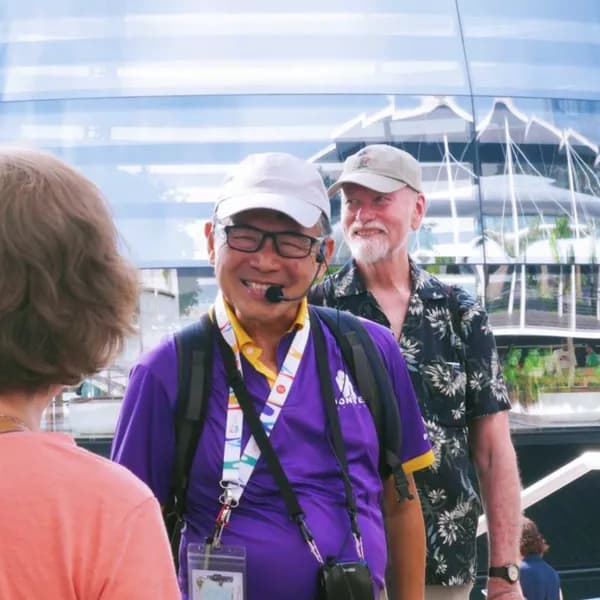 Monster Day Tours
Monster Day Tours is a next-generation tour company that was built upon the team's mission of having the world discover the true joy that comes with authentic local experiences. It all started with one man's dream back in 2015. "Open your mind and try new things," our founder TY Suen believes. It is the willingness to embrace different things, people, and cultures that makes travel desirable for so many travelers, and it is this same adventurous spirit that spurred him to create Monster Day Tours. With the vision to bring authentic experiences to as many travelers as possible, TY set on a resolute journey to set things right. It was a bold step, not to mention an uphill battle, and it stirred the industry up a little. Against all odds, Monster Day Tours grew to become the biggest walking day tour operator in Singapore after 4 years, and we have more than 1,000 positive reviews on Tripadvisor as testimonials to our dedication. Today, we stay rooted in our belief of offering day tours that are authentic, immersive, affordable, and memorable. So that you can fulfill your travel goals and enjoy travel freedom to the fullest. Exactly like our 'King Kong-inspired' logo, our tagline "Go Big or Go Home" promises to offer only king-sized adventures and king-sized fun - eat, play, explore, and party as hard as you can! 
Speaks: Fluent English
Acceptance rate: 100%
Keep your payments secure by using the Seek Sophie website for all transactions and communications.
Helpful Questions
Comfortable outfit (or sportswear as you will be moving around quite a bit!)
Do you have shorter plan? 1.5h would be best for us.
Tatsuki Hanada, 03 Jul 2023
Hi Tatsuki, We can adjust the game's duration as per your request. In this case, you'll have 10 minutes to brief and an exciting 90-minute puzzle-solving session.
Looking at organising team bonding for abt 160pax but given budget is at $35/pax, any way to customise the route to meet budget?
Sharon, 04 May 2023
Hi Sharon, thanks for your interest in our team bonding activity. Our customer service team will get in touch with you shortly to answer your query :)
Can we have this event done on a Friday evening perhaps around 6.30pm ? As we intend To attend after our work hours.
Linda , 10 Jun 2022
Plan to have team bonding with our dept for approx 14pax. Where to meet the host ?
Jasmine, 01 Jun 2022
Hi Jasmine, Meeting point will be at Chinatown MRT (Exit C - Garden Bridge) For more information, please contact us at chat@seeksophie.com
Not your usual touristy stuff
Here you'll find some must-sees. But mostly you'll find what's real - not just what's on show for tourists.
Handpicked guides
We're a marketplace, but a highly curated one. We'll only recommend guides who we love.
Planet-Friendly
We believe that travel shouldn't harm our planet. We offset all carbon emissions for trips booked on Seek Sophie.